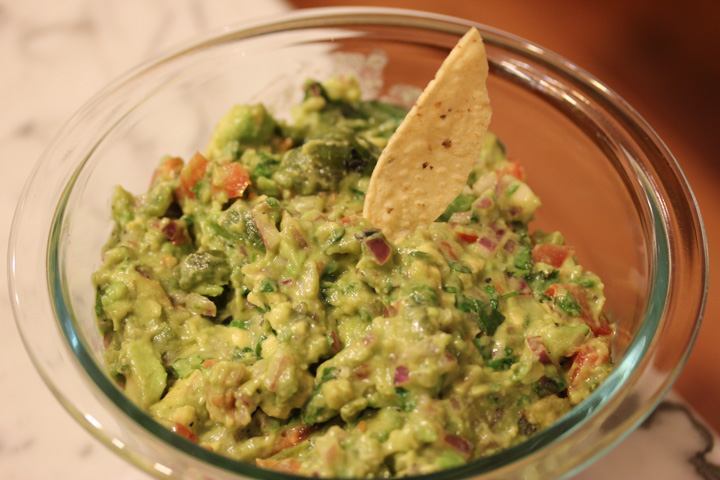 What makes a great guacamole? Brian and I don't have a single favorite, but we do like a spicy version that uses hot pickles and the pickle juice instead of jalapenos. The pickles are southwestern and as incendiary as any jalapeno, just sweeter.
In time for Super Bowl parties, Brian and I are happy to present you with a different guacamole, one designed to let you enjoy the full avocado flavor. This guacamole is really simple to prepare, ideal for a party day. More importantly, it has a very, very pure flavor. By not using an overwhelming amount of pepper or cilantro, this guacamole lets the very pure flavor of the avocado dominate. The result is a guacamole that is smooth, subtle, and delightful to just munch away on.
For chips, for nachos, for any Mexican food you concoct, this guacamole is refreshingly different.
This recipe calls for roasting your peppers. Here's the quick way to accomplish that, assuming you have a gas burner or grill. Wash the peppers, place them on the grill and put the heat on high. Turn the peppers every minute or so, and keep roasting until they are blackened on the outside. Place the peppers in a bowl and seal the bowl for about 10 minutes to steam.
Remove the peppers from the bowl, and wipe away the blackened outer skin — whether you should or can rinse under water to help this process is the subject of conversation or outright argument. We don't rinse. The peppers are ready to be diced. The more inner seeds you retain at this point, the hotter your guacamole will be.
Really Simple Guacamole
Yield: 3 cups
Ingredients:
1 red onion, finely diced
2 cloves garlic, finely diced
Juice of 2 lemons
2 Poblano peppers, roasted, and then diced
1 jalapeno pepper, roasted, and then diced
3 avocados, skins and pits removed, then diced
2 Roma tomatoes, finely chopped
¾ cup cilantro, finely chopped
Salt to taste
Preparation:
Place the onion and garlic in a bowl. Add the lemon juice and stir to coat.
Add the peppers, then the avocadoes. Using a pastry cutter, mash the mixture until he avocados are the size you want.
Add the tomatoes and cilantro.
Add salt to taste, at least 1 teaspoon and very likely up to 1 tablespoon.
Notes:
The Roma tomatoes are a terrific idea, primarily for color. Unlike regular tomatoes, the Romas are very meaty and will not "weep" over time.
You can add chili powder or pepper if you wish for more heat, but remember the goal of this recipe is to let you enjoy the pure avocado flavor.
Source: Suzen O'Rourke
"But we have to have guacamole," Brian complained.
"We agreed we'd have different, better things for Super Bowl Weekend," I replied.
"It's un-American not to have guacamole," he pleaded.
"Guacamole is Mexican," I commented.
"Are you sure?"
Brian and I have been married for twenty-four years. I have never done a background check on him. I'm reconsidering.
We compromised. We are testing ideas for these football weekends and found a great resource: Nathan Myers has written Guac Off, a slim book with a bevy of guacamole recipes, some classic and some very modern:
Flaming Lips Habanero Guac, intended only for the brave or suicidal
Asian guacamole with ginger and rice
High desert guacamole with juniper berries and tequila
French guacamole with blue cheese
The author himself terms some of these recipes extreme. But this one, Crab Guacamole, caught our eyes. No one can deny the marriage of crab and avocado is delightful. You've probably had it in salad form but here it's melded into the guacamole format. It's good, it's certainly different, and it's a definite party pleaser.
This recipe calls for serving the guacamole elegantly in martini glasses. And in the preparation, you want to exercise care not to break up the crabmeat. You do want those crabby chunks visible and appealing.
Crab Guacamole
Yield: 4 cups
Ingredients:
2 large avocados, diced (about 2 cups)
Juice of 2 limes
⅓ cup minced cilantro
1 tablespoon mince jalapeno pepper
½ cup minced red onion
½ cup finely chopped Roma tomato
2 cloves garlic, mince
1 teaspoon ground cumin
½ pound lump crabmeat, shells and cartilage sorted out
2 teaspoons extra-virgin olive oil
¼ teaspoon cayenne pepper
Salt and pepper
Preparation:
In a large bowl, combine the avocados, lime juice, cilantro, jalapeno, onion, tomato, garlic, and cum with a large spoon.
In a separate bowl, combine the lump crabmeat with the olive oil, cayenne and salt and pepper to taste. Lightly fold the crab mixture into the avocado mixture, taking care not to break apart the crabmeat. Adjust the seasoning if necessary. Serve immediate in chilled martini glasses with tortilla chips.
Notes:
In the interest of full disclosure, we made this recipe without the tomato or ground cumin. You may have found that the tomatoes tend to weep liquid into the guacamole over time. If you eat the guacamole all at once, that is not a problem. We typically avoid the problem up front by leaving out the tomato. The resulting guacamole has more avocado flavor.
For heat, we love the pure intensity of the freshly minced jalapeno, so we rarely add cumin or chili powder to our guacamole. It's a matter of personal preference.
Source: Guac Off by Nathan Myers