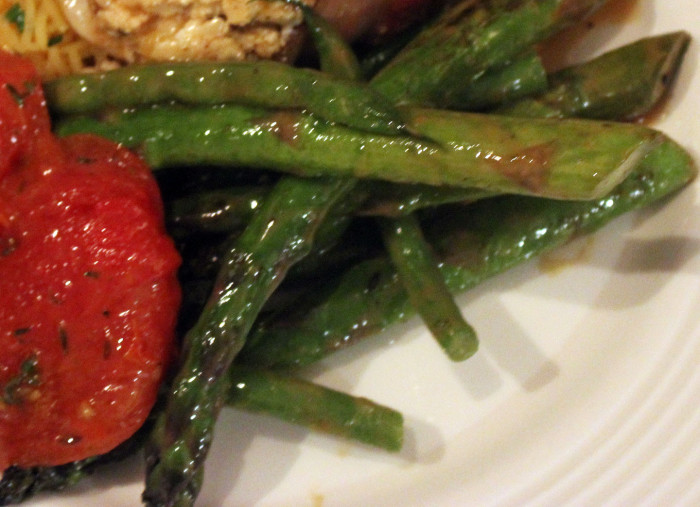 My mother was deathly allergic to garlic, so I never had garlic until I was about twenty-four and tried an Italian restaurant in East Baltimore. Cheap restaurant, so when the food tasted different to me, I made a face. A discussion with a waitress followed and I suggested she get her own fork and taste the very strange flavor that permeated the pasta. "That's garlic, sir," she said. But she really meant to say, "That's garlic, you idiot. What planet are you from?"
I have come to understand, enjoy and even relish garlic. Suzen and I use so much that I worry about inviting my mother to visit now. I think the brick walls are permeated with garlic scent. Two steps in by Mom, and we'd be calling 911. Too risky. And, besides, I don't think I'm in the will. Long story. Nothing to do with garlic. Now, since you can't have too much garlic — yes, make the chicken with twenty or forty cloves of garlic and you'll see — this recipe doubles down. There is roasted garlic tossed in among the beans and asparagus. They are hidden in that picture above, but they really are there. And the garlic is definitely present in the garlic vinaigrette which has enough oomph to raise the dead.
This combination of both green beans and asparagus offers modest contrast in color and major contrast in texture. With asparagus at, or perhaps already just beyond, its peak season, this is the time to take advantage of this recipe. It pairs well with a roasted or barbequed chicken and is substantial enough to be the "main" side dish. In preparing the asparagus, the amount of spices — and even the spice selection — is at your discretion. We used a lot of cumin here to give the asparagus some heat. Use more or less cumin — or chili powder — to satisfy your personal preferences. I would not use garlic powder. Enough is enough.
The instructions for the garlic vinaigrette come last here, but the vinaigrette takes the longest time to make. If you want to serve this salad chilled, then you can make the vinaigrette last. If you want to serve the beans and asparagus warm, then the vinaigrette should be the first thing you make. In that case you can deal with both heads of garlic at the same time and, yes, use the same oven temperature of either 400° or 425°F.  
Green Bean and Asparagus Salad with Roasted Garlic and Garlic Vinaigrette  
Yield: serves 6   Ingredients:
For the Green Beans:
1 pound green beans, trimmed and cut diagonally into 2-inch pieces [or longer as pictured!]
2 tablespoons extra-virgin olive oil
1 head of garlic
Water
Salt and pepper to taste
For the Asparagus:
1 bunch asparagus, washed
1 teaspoon cumin
1 teaspoon caraway seeds
1 teaspoon fennel seeds
For the Garlic Vinaigrette:
1 head of garlic
¾ cup olive extra virgin olive oil
Kosher salt to taste
2 teaspoons Dijon mustard
¼ cup balsamic vinegar
1 tablespoon agave
Zest and juice of 1 orange or 2 lemons, optional
Freshly ground black pepper
Preparation:
For the green beans, first preheat the oven to 450°F. Put the garlic clove with 1 tablespoon of olive oil and 1 tablespoon of water in an oven-proof baking dish and cover. Cook until the cloves are soft and will easily slide out of peeling. Toss the green beans with the remaining olive oil on a large rimmed baking sheet pan. Roast until browned and almost tender, stirring occasionally, about 10 minutes. Sprinkle beans with the garlic cloves, salt and pepper. Toss to combine. Continue roasting for 2 to 5 minutes, then remove from the stove.
At the same time, for the asparagus, after washing cut off the hard stems and then halve the remaining stalks. Put the asparagus in a cast iron skillet with the spices and dry roast them all. Stir to avoid burning. Pull from the stove when the asparagus is fork tender. Add the asparagus to the still hot green beans. Stir to mix.
For the garlic vinaigrette, raise the oven temperature to 425°F.
Cut the top off the head of garlic. Place it on a square of aluminum foil, drizzle it with 1 teaspoon olive oil, wrap it up, and put it in the oven for 30 to 40 minutes or until soft. Whisk together the mustard, balsamic vinegar and salt to taste. Add the agave and orange or lemon zest and juice [if using those optional ingredients]. Squeeze out the roasted garlic and mash it or chip it finely and add the garlic to the dressing. Whisk together and drizzle in ½ cup of olive oil. Season with salt and pepper to taste. Pour half the vinaigrette over the vegetables. Taste and adjust the seasoning adding more dressing if need, or additional salt and pepper.
Sources: epicurious.com for the green beans and Chef Kim Piston at CBTB for the asparagus and dressing
Photo Information: Canon T2i, EFS 60 mm Macro Lens, F/4.5 for 1/13th second at ISO-3200    
Everybody probably recognizes the phrase "sufferin' succotash." The phrase was uttered by the cartoon cat Sylvester and at times by Daffy Duck. That was in a gentler time when F-bombs were not strafing our cultural environment.
"Succotash" itself is an Indian word from the Northeast meaning "boiled corn kernels." The dish was once very popular, and perhaps a necessity, in depression-era America. Perhaps that is why it fell out of favor. Times got better and anything that reminded families of those sad times was left behind.
Well, these times are not great, but the flavors of succotash are wonderful in good or bad times. It's appropriate to bring back this dish, updated a bit with some parsley and cream and that dash of lime juice. And, then, to prepare it, it's just downright symbolic to revert to the dish's origin: grill the vegetables to gain all the flavors that direct flame creates on the charring veggie skins.
Vegetables cooked in water are blah. We have the French to thanks for the butter and garlic techniques that infuse flavor galore. But this direct-over-the-fire technique is my favorite. At summer camp, I did hot dogs and marshmallows. I wish I had done succotash.
This dish is bright with color and flavor. Of course, you can experiment a bit and perhaps add some roasted peppers. As a side dish, succotash is a powerful complement to all kinds of proteins: beef, pork, chicken, and, yes, even fish. It's versatile and a superb alternative to the "standard" potatoes or beans.
Grilled Succotash
Yield: Serves 4 to 6
Ingredients:
½ pound green beans, trimmed
6 scallions, trimmed
4 medium ears corn, shucked
2 large firm-ripe tomatoes, halved crosswise
¼ cup flat-leaf parsley, chopped
2 tablespoons fresh lime juice
1 tablespoon heavy cream
Preparation:
Brush the green beans, scallion, corn, and tomatoes with the 1 tablespoon of oil and season with salt and pepper.
Heat a stove-top grill pan or charcoal grill over medium-high heat. Grill the vegetables, turning occasionally, until softened and lightly charred, 1 to 2 minutes for the scallions, 3 to 5 minutes for the beans, 4 to 6 minutes, and 8 to 10 minutes for the corn. Transfer to platter as they finish and set aside.
Seed and chop the tomatoes; transfer to a large bowl. Cut the kernels from the cobs and add to the bowl with the tomatoes. Working over the bowl, scrape the dull side of a table knife down the length of each cob to remove as much of the corn "milk" as possible; discard the cobs. Roughly chop the green bean and scallions and add to the bowl along with, parsley, lime juice, and cream. Toss well and season to taste with salt and pepper.
Source: Adapted from Fine Cooking Magazine