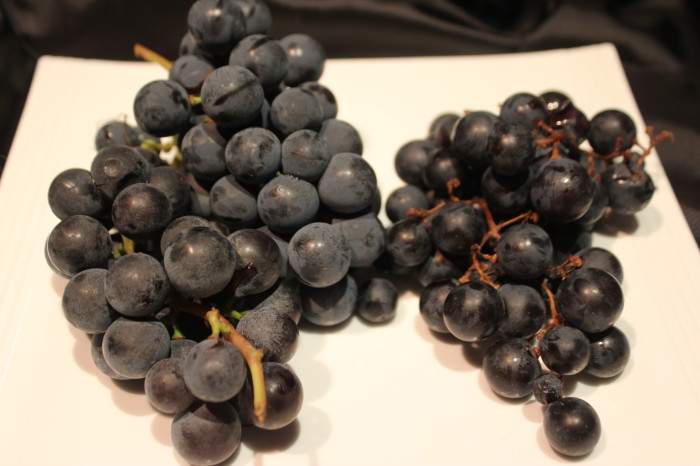 A couple of months ago, Suzen and I took a weekend and paid our first visit to the Finger Lakes. It's an area everyone hears about but I just had no idea what to expect. It's a lovely, expansive land that, it turns out, is not north of us in the Catskills, just due west. Over a mountain range with lots of ridge lines. More up and downs that I have driven in a long time.
The lakes are beautiful and, thank God, not overdeveloped. If you have ever seen Lake George in New York, or maybe a beach strip in the Carolinas, you have some idea about what it means for civilization to come to a spot of natural beauty. Beauty can lose out to tee-shirt stores.
But not there in the Finger Lakes with low rolling hills of agriculture and deep blue lakes that seem more like inland seas. We visited Cornell University, just shopping ahead for our grandchildren, and were struck by the size and breadth of the place. Being from New York, it's funny to see a big engineering building flanked by greenhouses that are part of the very massive agriculture and farming programs at Cornell.
Sometimes there's a Cornell Farm Extension service at our Kingston Farmers Market, a 150 miles from the campus. And, today, at my Tribeca Farmers Market I was able to purchase a product resulting from Cornell research: Buffalo Grapes.
When does fall begin? Oh, ignore that September 20th stuff. Fall arrives with the Concord grapes, those purple bombs of flavor. I have a love/hate relationship with Concords. I do like that first snap of flavor, but my goodness the aftereffects go a long time. Sometimes for me, a Concord is just, well, just too much.
I'm not the only person who feels that way. A team at Cornell thought so too. In the picture above, those are fresh Concords on the left and Buffalo grapes on the right. They are smaller, slightly different in color. Bite one, and you get the first notes of Concord flavor, but then it stops. There is no long lingering favor in your mouth. They are juicy, wonderful but not off-putting as Concords can be.
If you Google "Buffalo Grapes" you'll find pictures and discussion. They are hardy to -20⁰F, which is a bit of a necessity in Cornell.
My grandsons live in Austin where they spend weeks at over 100⁰F. They play football and soccer but not ice hockey is not on the menu. Cornell, with that hockey and ice fishing and the Ice Sculpture Festival, may be a stretch for them.
But the Buffalo grapes, they are not a stretch for anyone. Try to find some and enjoy a new fall treat.
UPDATE:
So I post this thing and tell Suzen and she asks me why I did it.
"I like the grapes," I say in all honesty.
"No, you like them because they are sweeter."
"No they are not," I protest.
"Oh, yes they are," she continues the prosecution.
Well, maybe they are. Just a little. Give them a try, and let me know what you think. I can only win an argument with Suzen if I have hard evidence. And it has to be notarized.
Suzen does like the grapes, too. In a side by side taste test, she admits they are different. "Sweeter," she says. I'm not sure.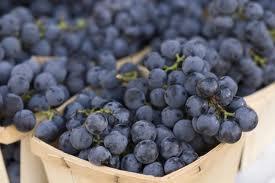 Concord grapes. They come only in the fall and they cannot be forgotten. They are the definitive sweet grape flavor. They also have skins you could make a tire from.
Or, a great, great syrup. Look, it is fall. The kids are returning to school and each weekday morning is a madhouse. Parents scrambling to get the kids to school by foot, bike or bus and then be off to your own jobs. Those kids are often scrambling too, hoping to stay home or just pick one more fight with a sibling.
And everybody is hungry. Now, I have never eaten a frozen, pre-made waffle. But people do, and I understand. If you are in that fast food lane, but want to send your kid or your spouse off with something special, then adorn that waffle with some wonderful syrup. Not store bought. Not maple.
No, make it home brew and very, very flavorful. Make your own concord grape syrup. This is a superior syrup, destined for many things:
Waffles, of course
Pancakes, naturally
Biscuits, in place of jam or honey
Beverage of all kinds, like with champagne
Ice cream
This is universal syrup with a very intense flavor. We actually served it last night on watermelon granita, a red on red flavor powerhouse.
Now, about those grape skins. The original recipe calls for using a blender. We did. But it was a Vitamix, that very powerful blender you see in places like Jamba Juice. The Vitamix is able to truly pulverize the tough skins of the concord grapes, the exact place where so much nutrition and flavor is stored. The Vitamix simply outclasses a conventional blender here. So, next time you look at one at your cooking store, really, really consider getting your own Vitamix. They are incredible machines.
As a point of full disclosure, we have four of the Vitamixes here, donated by the company. We use them regularly and we could never, never go back.
And finally, about those frozen waffles. I have this corn waffle recipe that I'll be testing this week. Since it, too comes from I Love Corn, I have high expectations.
Concord Grape Syrup
Yield: 1 cup
Ingredients:
1 ½ pounds of concord grapes
2/3 cups sugar
Juice of one medium lemon
Preparation:
Pull the grapes off the stems and place is a blender, ideally a Vitamix. Puree for at least one minute. In the Vitamix, you'll hear the grape seeds smacking the sides of the container and then gradually the sound will dissipate. Those seeds, with important anti-oxidants, are being ground up to be healthfully enjoyed.
Strain the liquid through a sieve, pressing to get as much juice out as possible.
Put the juice, the sugar, and the lemon juice in a medium sauce pan and stir to mix. On medium-low heat, cook uncovered until the mixture is simmering, while stirring occasionally. Continue to cook, stirring occasionally, until the mixture reduces to a syrupy consistency.
Cool to room temperature. Refrigerate in a glass container. Use within two weeks.
Source: adapted from I Love Corn by Lisa Skye