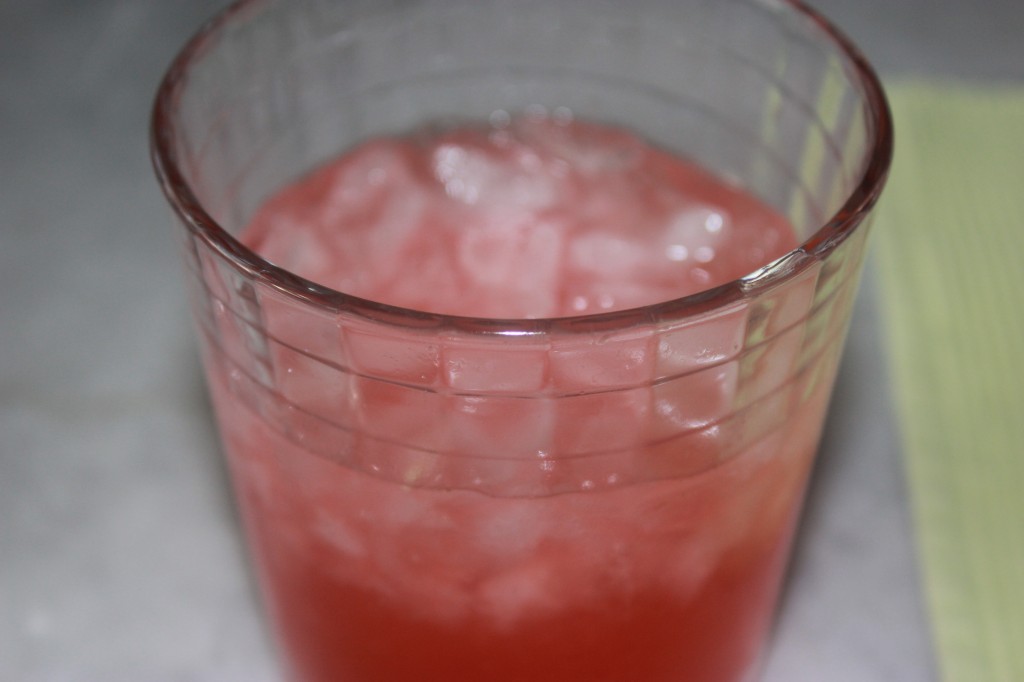 Alright, it's a bad picture. I understand that but I have a very, totally, perfectly legitimate reason.
I made this drink and just took a little sip to make sure it was blogable. Well, it's very blogable, so I took another sip and then a deep sip and then some more. And then I realized I had yet to take the picture. So I put the glass down and tried to angle a decent picture of what was left. That was a lot of work and I got thirsty so I finished the drink.
It's that good.
It all began with Suzen. "There's a grapefruit in here that is dead. Use it or toss it," she said staring into the refrigerator. I hate to be wasteful so I went to www.difforsguide.com, the best online source for constructing cocktails. You tell them what you have, and they give you options — sometimes lots of options — for creating a beverage.
This cocktail calls for Maraschino syrup, but I used Grenadine, hence the very red color. I did NOT add any additional sugar, but I found the drink sweet to my tongue. I'd expected some tang with the grapefruit and lime juice. Maybe the secret is to use very, very, very old grapefruit!
This is an easy cocktail to assemble and will certainly scale well for a summer party. Just plan ahead when buying the grapefruit.
Fruit Tree Daiquiri
Yield: 1 cocktail
Ingredients:
2 shots rum
¾ shot apricot brandy
¾ shot freshly squeezed grapefruit juice
¾ shot freshly squeezed lime juice
¼ shot Maraschino syrup
½ shot mineral water [optional]
Preparation:
Fill a cocktail shaker with the ingredients. Add ice. Shake to very cold. Pour into a cocktail glass filled with shaved ice.
Source: www.diffordsguide.com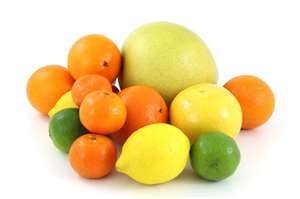 Suzen came right up to me, gave me a kiss, and said, "Sweetie, we need to talk. Sit down."
"I didn't do it," I said. The best starting step is simply to deny everything. Open one little crack and you are dead. Ask any defense attorney.
"No, it's not that," she reassured me. "You have a choice to make."
A choice? A choice? Was this going to be what kind of cheese on my burger? How mocha the frosting should be? How many cheese croutons on the Caesar salad?
I was hopeful. Then she gave up one of her "tells." She shifted her head a little to the right. Here it came.
"You have to choose between separate beds and separate refrigerators." There was no warmth in her smile.
"I don't understand," I said. I didn't.
"Come with me."
We walked into the kitchen. She opened the refrigerator door and like the hostess on a TV game show let her arm arc over the two main shelves.
"Shall we inventory?" she asked.
One by one, the largest containers came out. Suzen put them on the marble top on our central island.
Two Prosecos, lying on their side.
One big heavy cream, two small ones.
One plain sugar syrup, quart container.
One mint syrup, quart container.
One two-quart glass pitcher of lemonade, half full.
One two-quart pitcher of strawberry lemonade, newly made and still chilling.
"Okay," I said. I get the point.
"Do you?" she questioned.
"It's time for compromise," I said. "Of course, you do use the cream, too. And the Proseco."
I put my arm down on the central island and made the great division: "our" stuff and "Brian's" stuff. "Now, we don't have room for another refrigerator, and if I go to a separate bed it will either be with the mice in the basement or the squirrels in a tent on the deck outside."
"Ah, you understand," Suzen said.
"And you understand it is snowing outside?"
"We all face choices in life, Brian. I'm sure you'll find a solution."
The culprit in this is the lemonade. Those big pitchers are fine, but they take up space. And they tempt me to drink lots and lots of lemonade when maybe, just maybe, one glass would do it.
What's the solution? Well, there are many solutions. I've been experimenting with 'ades of all types: limeade, lemonade, lime + lemon, grapefruit, lime + grapefruit.
I have found a solution: make the 'ade one glass at a time. My solution is quick and delicious. All you need in advance is one medium container of simple sugar syrup in your refrigerator.
Fortuitously, I recently I blogged about how to make that syrup so that the sugar does not begin to harden at the bottom of the container [make the syrup with equal amounts of sugar and water!].
The recipe below fashions a wonderful limeade, fresh and tangy but with enough sweetness to satisfy anyone. Yes, you can decrease the amount of syrup if you want. And you can top it off with club soda, too.
Here is where the variations come into play. It literally is play. Besides using two limes, I have tried the juice of one lemon. Or, you can add the juice of one grapefruit for a dizzying polished beverage. I really like this one. You can mix and match the juice of all these in whatever proportions you like:
Limes
Lemons
Oranges
Tangerines
Grapefruits
Just make sure to combine some sour with sweet. So I do the lime + grapefruit combo, for example.
I haven't mentioned the "V" word at all. I drink these beverages virgin during the day. But at night, you can add vodka. Either straight or flavored. There are orange, lemon, lime, and grapefruit vodkas you apply, to the degree you prefer, to spike your beverage.
The best news is this will be accommodated by one refrigerator. And you can sleep in the same bed with your spouse. No tent. No squirrels. No snow. Who says you can't save a marriage.
Fresh Limeade
Yield: 1 glass
Ingredients:
Juice of two limes [about 2 ounces]
4 ounces of simple sugar syrup.
Ice cubes and shaved, crushed ice
Club soda [optional]
Preparation:
Put the lime juice and syrup in a cocktail shaker. File with ice cubes, shake until very cold.
Fill a cocktail glass with crushed ice and pour in the shaken limeade. Top with club soda if you desire.
Source: Brian O'Rourke