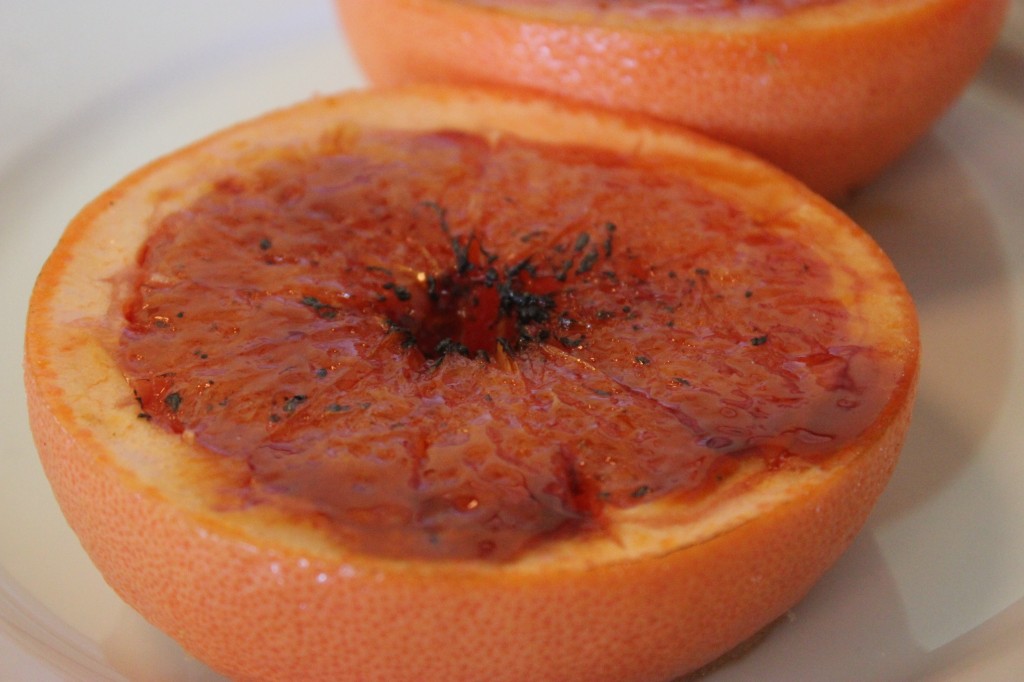 "What are you having?" I asked. I had a hidden and hopeful purpose in that question. I was having the famed burger with the bacon and onion jam. But there was this other thing on the menu at Skillet Bar in Grill on Capitol Hill in Seattle. Skillet began as street food and, with its overwhelming success, has expanded to brick and mortar.
Oh, the other thing. The candied grapefruit.
"I wonder what the Candied Grapefruit is?" Suzen responded. "I'm going to try it."
Lucky me. The burger was good, the jam a little weird — very thick and with long strings of onion — but still a good burger. However, the hit was this candied grapefruit. It's brilliant. It's simple. It's tasty. And I suspect you could repeat the idea with large oranges, too.
All you need is one of those handy home torches used for crème brûlée. You have, don't you. Don't you? For God's sake, you need one. Especially now.
Candied Grapefruit
Yield: 1 serving
Ingredients:
1 grapefruit
2+ tablespoons of sugar, the bolder the better
Preparation:
Wash the grapefruit and cut it in half. Use a knife to section the grapefruit pieces. Top each grapefruit half with sugar, just as you would a crème brûlée. Depending on your sweet tooth, you may just want a dusting of sugar or you may want to have a heavy hand.
What kind of sugar? Something rich and dark. Demerara would be excellent.
Use your blow torch following the manufacturer's directions. Please do not ignite the grapefruit, the counter or other parts of your kitchen.
Serve warm and enjoy.
And do experiment with other fruits, such as a large, juicy orange.
Source: Skillet Café and Bar, Seattle, Washington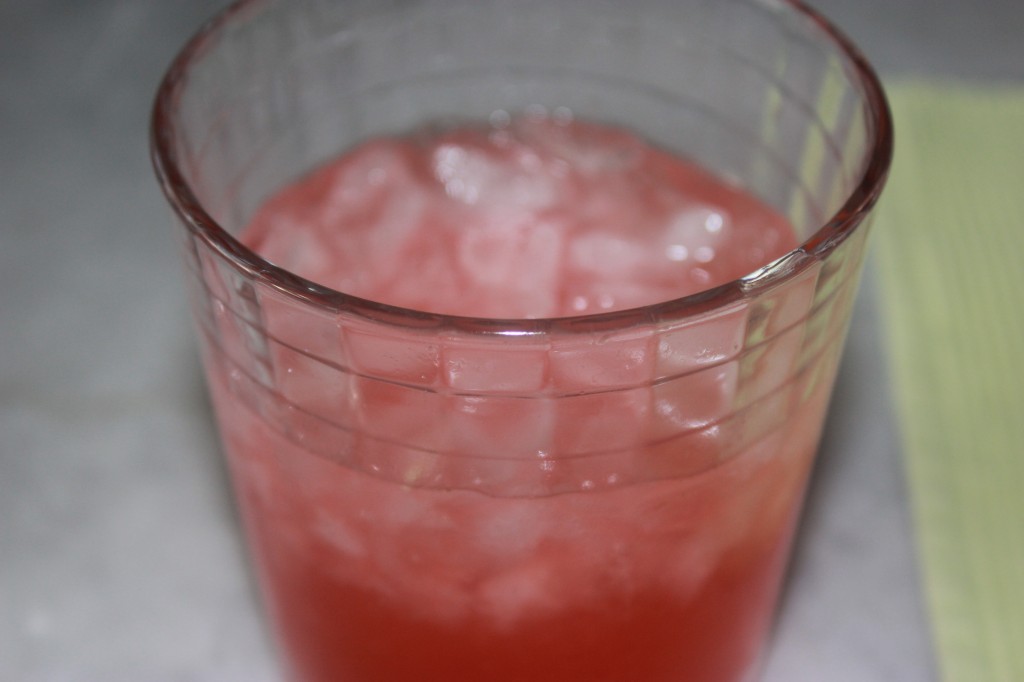 Alright, it's a bad picture. I understand that but I have a very, totally, perfectly legitimate reason.
I made this drink and just took a little sip to make sure it was blogable. Well, it's very blogable, so I took another sip and then a deep sip and then some more. And then I realized I had yet to take the picture. So I put the glass down and tried to angle a decent picture of what was left. That was a lot of work and I got thirsty so I finished the drink.
It's that good.
It all began with Suzen. "There's a grapefruit in here that is dead. Use it or toss it," she said staring into the refrigerator. I hate to be wasteful so I went to www.difforsguide.com, the best online source for constructing cocktails. You tell them what you have, and they give you options — sometimes lots of options — for creating a beverage.
This cocktail calls for Maraschino syrup, but I used Grenadine, hence the very red color. I did NOT add any additional sugar, but I found the drink sweet to my tongue. I'd expected some tang with the grapefruit and lime juice. Maybe the secret is to use very, very, very old grapefruit!
This is an easy cocktail to assemble and will certainly scale well for a summer party. Just plan ahead when buying the grapefruit.
Fruit Tree Daiquiri
Yield: 1 cocktail
Ingredients:
2 shots rum
¾ shot apricot brandy
¾ shot freshly squeezed grapefruit juice
¾ shot freshly squeezed lime juice
¼ shot Maraschino syrup
½ shot mineral water [optional]
Preparation:
Fill a cocktail shaker with the ingredients. Add ice. Shake to very cold. Pour into a cocktail glass filled with shaved ice.
Source: www.diffordsguide.com