It was early afternoon and, although I was not feeling ill, I was preparing a precautionary medication.
"Bit early?" Suzen gave me a loving glare.
"It's medicine," I explained with utmost patience. How can she be married to me for so long and not understand my basic needs?
"For what?" she persisted.
"Prevention of scurvy," I said calmly. Why not? It was true.
"Oh," she finished. I had the distinct impression that my credibility was being challenged, but I needed to focus on my medicine.
Gimlets were never massively popular in the US, at least in recent times. The world's best detective, Philip Marlow learned in 1953's The Long Goodbye that a real gimlet was half gin and half Rose's lime juice. I can't quite imagine that bottled lime juice going down my throat.
Where did gimlets really come from? Supposedly, to prevent scurvy, British sailors had to down a daily dose of lime juice. Gin was available and added for palatability. Over time, there was a lot of palatability with recipes having the gin to lime juice ratio as high at 4:1, not the hair-on-chest 1:1 ratio of Marlow.
In our lifetime, gimlets have been dominated by their peer: the margarita, which only differs in using tequila plus orange liquor for sweetness. And, the vodka folks, always eager to gain a toehold, have sponsored the concept of a vodka gimlet. Recipes and ratios abound.
Now, for a prior post, I happen to have at hand a bottle of grapefruit vodka. So, feeling inspired, I developed this Grapefruit Vodka Gimlet. It is, I assure you, very lovely. With a high content of ruby red grapefruit juice, the flavor here is, without question, grapefruit. There is, just to tone things appropriately, a little sugar syrup. And, of course, Ruby Red Grapefruit vodka.
If it's been a hard day, if scurvy is getting you down, or if you think you are at risk of scurvy, then I recommend this beverage. I hope your wife understands. You might take this as an opportunity to introduce her to the novels of Raymond Chandler. I've walked the hilly, noir pathways in San Francisco where he lived and wrote. I can understand his beverage preferences.
Brian's Ruby Red Grapefruit Gimlet
Yield: Serves 1 big time
Ingredients:
3 ounces freshly squeeze ruby red grapefruit juice
3 ounces ruby red grapefruit vodka
1 ounce simple sugar syrup
Preparation:
Place all the ingredients in a cocktail shaker, add ice, and shake until thoroughly chilled. Pour into the glass of your choice and add crushed ice.
If you are nibbling, you need a cheese or protein with bite to compete, in a friendly way, with the grapefruit.
Source: Brian O'Rourke
Photo Information: Canon T2i with EFS 18-55MM macro lens, shot at F/2.8 for 1/50th second at ISO 3200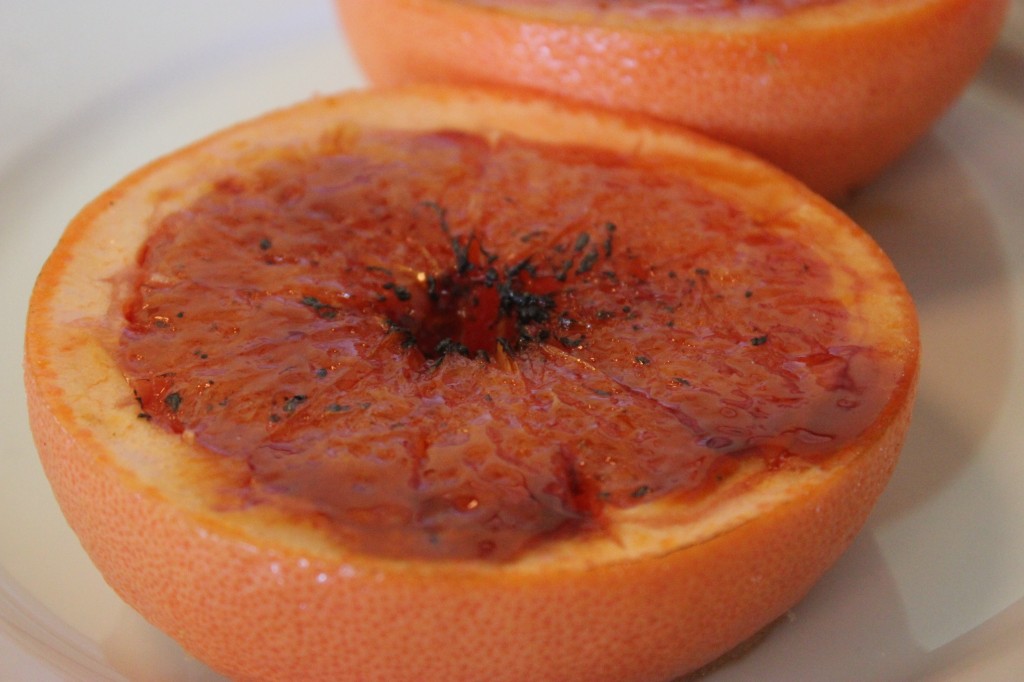 "What are you having?" I asked. I had a hidden and hopeful purpose in that question. I was having the famed burger with the bacon and onion jam. But there was this other thing on the menu at Skillet Bar in Grill on Capitol Hill in Seattle. Skillet began as street food and, with its overwhelming success, has expanded to brick and mortar.
Oh, the other thing. The candied grapefruit.
"I wonder what the Candied Grapefruit is?" Suzen responded. "I'm going to try it."
Lucky me. The burger was good, the jam a little weird — very thick and with long strings of onion — but still a good burger. However, the hit was this candied grapefruit. It's brilliant. It's simple. It's tasty. And I suspect you could repeat the idea with large oranges, too.
All you need is one of those handy home torches used for crème brûlée. You have, don't you. Don't you? For God's sake, you need one. Especially now.
Candied Grapefruit
Yield: 1 serving
Ingredients:
1 grapefruit
2+ tablespoons of sugar, the bolder the better
Preparation:
Wash the grapefruit and cut it in half. Use a knife to section the grapefruit pieces. Top each grapefruit half with sugar, just as you would a crème brûlée. Depending on your sweet tooth, you may just want a dusting of sugar or you may want to have a heavy hand.
What kind of sugar? Something rich and dark. Demerara would be excellent.
Use your blow torch following the manufacturer's directions. Please do not ignite the grapefruit, the counter or other parts of your kitchen.
Serve warm and enjoy.
And do experiment with other fruits, such as a large, juicy orange.
Source: Skillet Café and Bar, Seattle, Washington