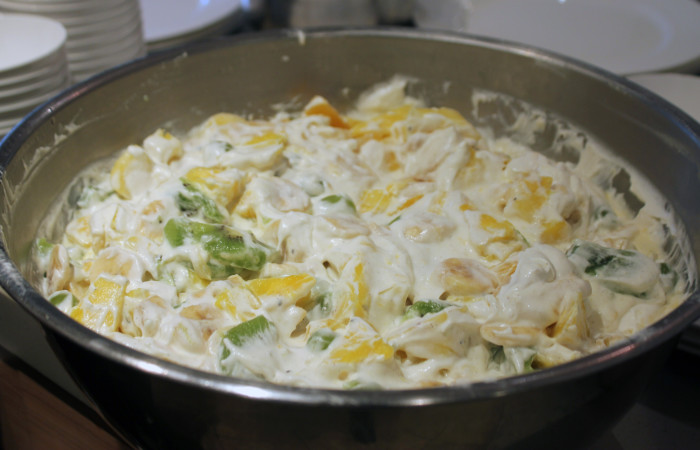 In Greek mythology, ambrosia was the food of the gods. What better way to conclude a brunch than with an Ambrosia Fruit Salad, filed with fruit, yogurt, coconut, whipping cream, …
And miniature marshmallows. I'm not kidding. It's listed as an optional ingredient below. We offered this for a family brunch a couple of weeks ago and tactfully left the marshmallows out. The recipe already was feast for man or gods.
Despite the Greek gods reference, ambrosia appears to be an American creation form the early 19th century, probably in the south. It is the coconut that distinguishes ambrosia from a pack of sibling recipes. And no, while people speak in mythology ambrosia no one ever penned the recipe used by the gods.
So, maybe we should have included the marshmallows? Can you picture them sitting on Mount Olympus, around a fire pit, making s'mores. I can't. It's just not dignified.
Ambrosia Fruit Salad
Yield: 2 pounds or 16 2" patties
Ingredients:
2 cups cubed fresh pineapple
2 large navel oranges, peeled and sectioned
1 ½ cups green grapes
1 cup miniature marshmallows (optional)
1 large banana, sliced
½ cup flaked coconut
¼ cup chopped almonds
¾ cup (6 ounces) vanilla yogurt
¾ cup heavy whipping cream
Preparation:
In a large serving bowl, combine the first seven ingredients.
Whip the heavy whipping cream and yogurt together until well blended, then gently fold in fruit to yogurt mixture. Chill until serving.
Source: Alton Brown, of course
Photo Credits: Canon T2i, 18-55MM Macro lens, F/5, 1/60th second, ISO-250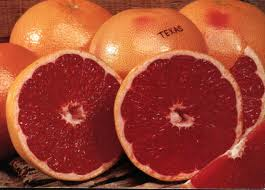 Brooklyn Soda Works is a brand new firm with a flotilla of ideas. They create artisanal carbonated juices employing only fresh squeezed juices and minimal amounts of cane sugar. Suzen and I met them today, Sunday, at the upscalel New Amsterdam Market in lower Manhattan. We tried their Grapefruit, Jalapeno and Honey. It's amazingly wonderful by itself. We cannot wait to try some in a "fortified" beverage.
Other flavor combinations include:
Raspberry and Mint
Concord Grape and Fennel Seed
Rhubarb and Thai Basil
Lemon, Pink Peppercorn and Thyme
Because the firm is new, it is local. And you can only sample their beverages now from kegs at the Brooklyn Flea Market on weekends. Or again from kegs at Danny Meyer's restaurants like the North End Grill. What better recommendation could there be than to have Danny Meyer offering your product. That fact itself is the ultimate testimony.
Suzen and I will be following their progress as time evolves. We cannot wait for them to begin bottling so we can purchase the beverages in stores. That may be a while. But, rest assured, you are going to hear many things in the years to come about Brooklyn Soda Works. Your going to drink these products, smile, and just wonder at what flavors are to come.
Please visit their website at www. brooklynsodaworks.com.
Ah, one thing. Suzen and I have no intention of competing with these guys. Our talents lie else where. But think about it. You've seen those "carbonate" your own beverage gizmos in upscale cooking stores. I'm feeling a bit inspired. The creativity of Brooklyn Soda Works, including the pairing of fruit and herb or spice, suggests that we could all  have fun devising wonderful new beverages. Who knows? Brooklyn Soda Works may be establishing an entire new trend and even a sub-industry. Good for them.