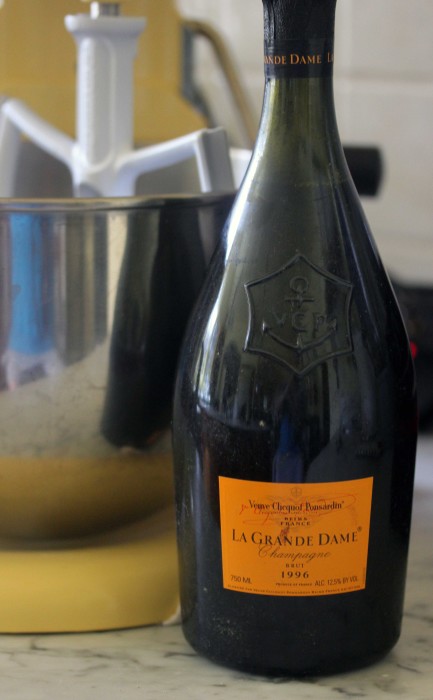 Frostings by Courtney Dial Whitmore and Courtney Whitmore is a slim treasure of a book dedicated to decadence. Frostings in all forms and flavors appear here. I'm fond of buttercreams and prefer them very lightly flavored. I want my frosting subtle, with hinted flavor and with the ability to let me taste the richness of that underlying butter.
This recipe is just my style. This Champagne Buttercream offers the promise of bubbly now suitably encased in butter and sugar. Use the best quality butter you can. Champagne is fine, but Prosecco or Cava or other sparkling wines will give you alternative, but equally rich, experiences.
This Champagne Buttercream atop a classic white layer cake will dominate any summer brunch on your horizon.
---
Champagne Buttercream

Yield: 4+ cups

Ingredients:

1 cup unsalted butter at room temperature
4 cups [1 pound] powdered sugar
1 teaspoon vanilla extract
3 tablespoons champagne
Preparation:

In the bowl of an electric mixer fitted with the paddle attachment, beat the butter for 2 minutes on medium speed. Adjust the speed to low and add the powdered sugar to the butter 1 cup at a time until well incorporated.
Add the vanilla extract and the Champagne. Beat on medium speed for 3 minutes. Add ore powdered sugar to thicken the frosting or some milk to loosen.
Source: Frostings by Courtney Dial Whitmore and Courtney Whitmore

Photo Information: Canon T2i, EFS 60 mm Macro Lens, F/2.8 for 1/100th second at ISO‑1000