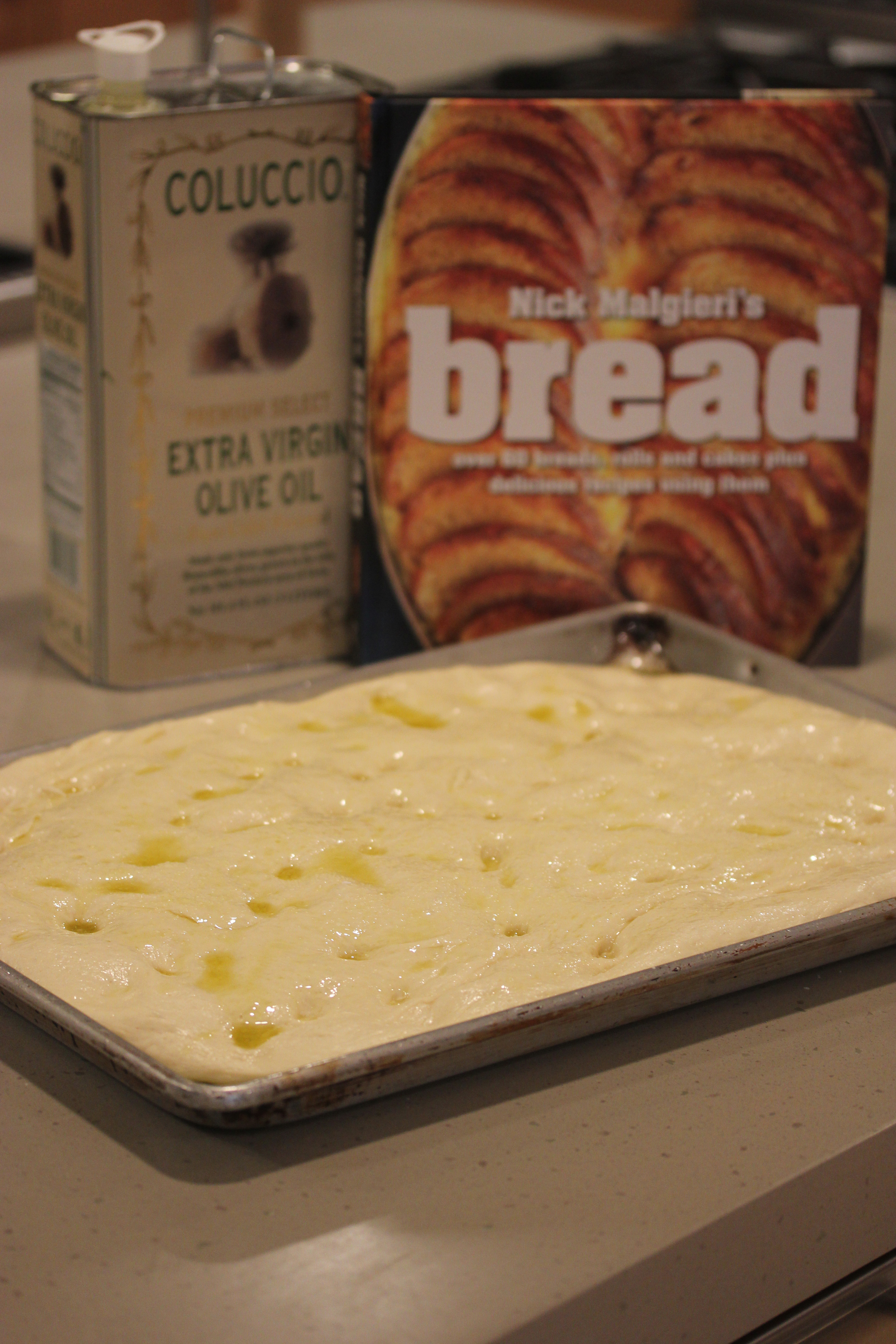 Famed baker and teacher Nick Malgieri has new book, Bread, with a clever twist. Each chapter begins with a basic recipe followed by several variations or options. So the chapter on pan-baked breads begins with a basic dough, then offers alternatives such as cinnamon raising swirl bread, cheddar bread, whole wheat sandwich bread, seed bread, and French sandwich bread. Ah, that sandwich bread is put to multiple uses with recipes for a 6-layer Italian Tramezzini that will exercise your jaw, a tomato sandwich Nick remembers his father loved, and a ham sandwich with green tomato chutney.
In other words, Bread is stuff with great recipes reflecting Nick's experience and imagination. Those chapters in Bread include:
One-Step Breads
Slow-Rise Breads
Pan-Baked Breads
Roll and Individual Breads
Yeast-Based Two-Step Breads
Sourdough Breads
Whole Grain Breads
Flatbreads and Crisp Breads
Filled Breads
Enriched and Sweetened Breads
Coffeecakes and Buns
Desserts
That Dessert Chapter includes Coach House Bread and Butter Pudding and Lemon Meringue Bread Pudding. The photographs of those treats, and all the others in the book, are by Romulo Yanes and will certainly inspire you.
Suzen's first bread out of Bread is Nick's focaccia. For her cooking classes at Cooking by the Book, Suzen often prepares focaccia for the appetizer. Fresh and warm, focaccia is the perfect greeting.
For his focaccia, Nick offers several options. Some for add-ins to the dough and some for making that topping much more than just olive oil and salt.
Consider these quick additions to the dough while in the mixer:
4 tablespoons finely chopped fresh rosemary leaves or coarsely chopped fresh sage leaves
¾ cup pitted olives, black or green or mixed, coarsely chopped
¾ cup sun-dried tomatoes chopped, plus 1 teaspoon dried oregano
And for the topping, consider:
½ cup finely grated Parmigiano-Reggiano or Pecorino Romano; omit the slat with the Romano, ½ cup finely shredded fresh sage leaves or ¼ cup fine chopped rosemary leaves; sprinkle them on the risen focaccia before dimply the dough so they'll stick inside the impression made by your fingertips.
1 ½ cups well drained chopped canned plum tomatoes or ripe fresh tomatoes that have been peeled, seeded, and chopped. Spring with ¼ cup Pecorino Romano and 1 teaspoon dried oregano
Drain a 12-ounce jar of roasted red pepper [not the kind packed with vinegar and sugar] and cut them into ¼ inch strips. Mix them with 3 peeled and thinly sliced cloves of garlic and 4 tablespoons olive oil. Let them marinate while the focaccia is rising in the pan. Distribute the whole mixture over the risen focaccia before dimpling it. Sprinkle with salt but no added oil. Sprinkle with dried oregano too, if you wish.
Basic Focaccia Dough
Yield: one 11" X 17" dough
Ingredients:
2 cups room-temperature tap water, about 75°F
2 ¼ teaspoons fine granulated active dry or instant yeast
8 tablespoons olive oil
5 cups bread flour [spoon into a dry-measure cup and level off]
2 teaspoons salt
3 tablespoons olive oil, for the topping
2 teaspoons kosher salt, for the topping
Preparation:
Whisk the water and yeast together in the bowl of an electric mixer. Wait 30 seconds, whisk again, and whisk in half the oil.
Use a large rubber spatula to stir in the flour about one quarter at a time. Place the bowl on the mixer with dough hook and mix on the lowest speed for 2 minutes — the dough will be soft. Stop the mixer and let the dough rest for 10 minutes.
Start the mixer again on medium speed and sprinkle in the salt. Mix until the dough is smoother, about 2 more minutes. Leave the dough in the mixer bowl and cover it with oiled or sprayed plastic wrap. Let the dough ferment until it doubles in bulk, 45 minutes to 1 hour.
Coat the pan — and 11" x 17" inch jellyroll pan or half sheet pan — with the remaining 4 tablespoons olive oil, remembering to cat the sides, too. Use a plastic scraper to remove the dough from the bowl, letting it fall onto the pan without folding it over on itself. Oil your hands and, pressing and stretching with your fingertips spread apart from each other, dimple and ease the dough to fill the pan. Try not to pierce the dough all the way through, but at this stage any holes should close while the dough is proofing.
Cover the dough with oiled or sprayed plastic wrap and let it proof until it doubles in bulk, about 30 to 45 minutes.
When the dough is almost proofed, set a rack in the lowest level of the oven and preheat to 425°F.
Uncover the dough. If most of the impressions you made earlier have closed up, used oiled fingertips to dimple it again, without pressing through to the bottom, at unevenly spaced 1-inch intervals. For topping, drizzle on the oil and sprinkle with the salt.
Bake the focaccia until well risen and well colored, 30 to 40 minutes. After about 20 minutes, use a metal spatula to life a corner of the focaccia and check to see whether the bottom is getting too dark. If so, slide another pan of the same size under the baking pan to insulate the bottom and turn the oven down to 375°F. Once baked, slide the focaccia to a rack to cool. Use a sharp serrated knife or pizza wheel to cut the focaccia into 3-inch squares and serve warm or at room temperature.
Source: Bread by Nick Malgieri [published by Kyle books]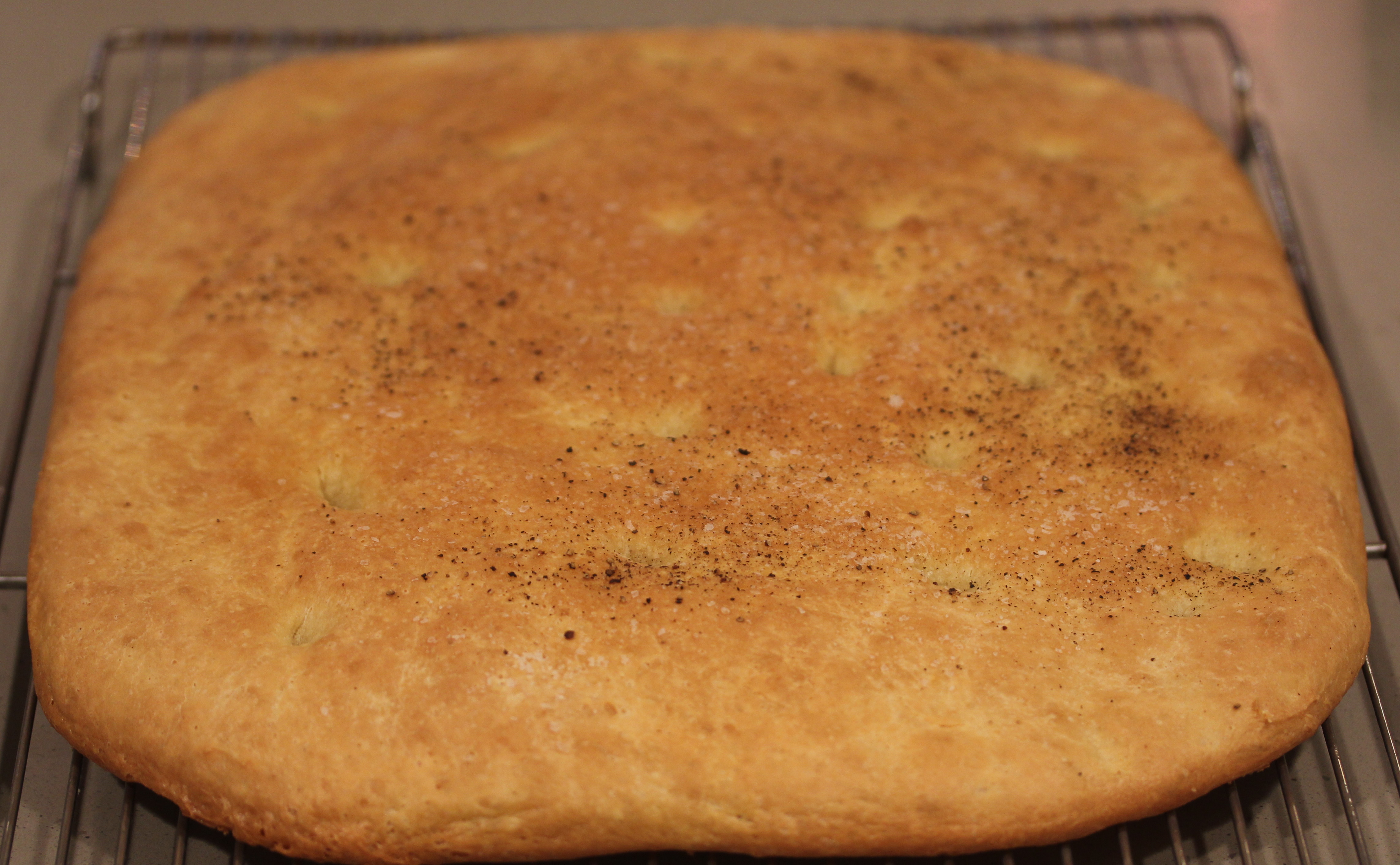 Have you ever looked at something and just wanted it? When I was a junior in high school, in fourth period English class, there was a red-headed guy who … Oops, wrong path here.
I was watching Lidia Bastianich on Public Television with my husband Brian. He had been in the midst of making guacamole, when we both realized that for the past five minutes he had been standing, with spoons dripping avocado on the floor, while we were both mesmerized by what Lidia was doing on the screen. We turned towards each other in disbelief.
"We're going to do that," he said.
"Damn right," I seconded.
That's why we get along. The red-headed guy is out of my mind.
The "That" Lidia was doing was an Umbrian filled focaccia that yields a "sandwich" unlike anything you have ever sampled. Without question, Lidia is a food genius. Her new book, Lidia Cooks from the Heart of Italy, has chapters for each region in Italy and is filled with intriguing dishes you've never heard of. How about Spaghetti in Tomato-Apple Sauce? Lidia says you might do a double take at that idea, but that we should all try it. Look at this important book, and you'll have a month of ideas you simply have to try.
On to the focaccia. The idea is this. You bake a thin focaccia in a cast iron pan. Let it cool, cut it in half, fill it with good stuff — certainly cheese, and return to the oven to warm the good stuff and melt that cheese. I know the Earl of Sandwich gets credit for inventing the "sandwich" but let's be honest here: the whole sandwich family belongs to Italy. There is panini, piadina, and this filled focaccia. That's an unmatched spectrum of flavors and textures.
Filled Focaccia or Torta al Testo
Yield: makes 2 torts, enough for several people for appetizers, fewer as a main course
Ingredients:
Ingredients for the focaccia:
1 package active dry yeast
Warm water
3 ½ cups all purpose flour
1 teaspoon kosher salt
Filling ideas for the torte:
Thinly sliced prosciutto: about 6 slices for each torta
Grated Taleggio or stracchino: about 5 ounces for each torta
Prosciutto-and-grated cheese combination: 4 slices of prosciutto and 3 ounces cheese for each torta
Broccoli di rape or other greens, sautéed with garlic
Tangy salad greens like arugula or mesclun mix
Your imagination in terms of meat, cheese, and veggies!
 
Preparation:
Dissolve the yeast in ¼ cup warm water in a small bowl. Let it sit for several minutes, until it starts to bubble. Put the flour and the salt in the bowl of a food processor and pulse for a few second to blend.
Combine the dissolved yeast with 1 cup of warm water. With the food processor running, pour all the liquid into the flour. Process until the dough clumps on the blade and cleans the side of the bowl, about 20 seconds. Process another 20 seconds, for a total of about 40 seconds. If the dough does not gather onto the blade or process easily, it is too wet or too dry. Feel the dough, then work in more flour or warm water in small amounts.
Turn the dough out on a lightly floured surface, and knead for a minute into a smooth round. Put it into a large, oiled bowl, cover with plastic wrap, and let rise until doubled, about 1 hour.
Put a rack in the bottom third of the oven, and heat to 450°F. Deflate the risen dough, and cut it in half. Flatten each piece into a round, about 9 inches in diameter, and lay each round in a cast-iron skillet. [Or use all the dough in one large 12 inch skillet.] Press and stretch the dough to fill the entire bottom the skillet, then dimple the top all over with your fingertips.
If you only have one suitable skillet, put one piece of dough back in the oiled bowl and let it rise again, covered, while you shape and bake the first torta. When the skillet is empty, deflate the second piece of dough, shape it, and bake it.
Bake the breads about 15 minutes in the skillet, until light brown on top. Turn them out to cool on a wire rack. Another option is to cook it on top of the stove in the skillet over medium heat, flipping it several times until done, about 10 to 15 minutes.
To fill the torta, slice off the top half of each with a long serrated knife, and cover the bottom with slices of prosciutto, grated cheese, sautéed greens, or a combination of these. Replace the tops of the torte, set them on a baking sheet, and return to the oven. Bake another 10 minutes or so, until the torte are golden and the fillings hot. If you like, lift the top of the torta and scatter salad greens on the hot fillings, then cover. Slice the torte into pieces or wedges and serve.
Source: Lidia Cooks from the Heart of Italy by Lidia Bastianich