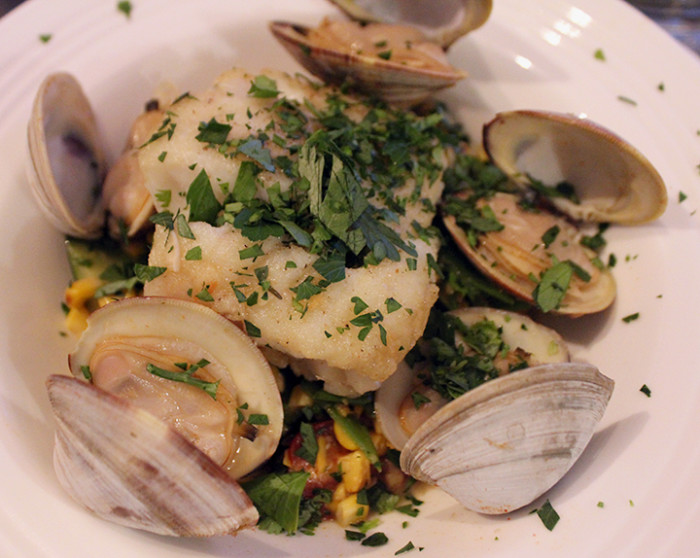 This is a powerfully flavorful fish recipe. Chef George Mendes has a quick cod solution: instead of using salt cod and soaking it for days, he quick cures fresh cod by letting it stand in kosher salt for just 10 minutes. The conversion from days to minutes means this is a dish that you can pop on your table with ease.
Complementing the cod is base of corn and a necklace of clams. The cod picks up some additional heat along the way from pepper and paprika. It's not the bland old cod you know too well. This cod bites at you before you can get in your first chew.
The presentation is lovely and will impress your dinner guests. Even if it is just the two of you, you are entitled to impress yourselves.
Ten Minute Cod
Yield: serves 4
Ingredients:
·       4 skinless center-cut cod fillets (about 5 ounces each)

·       ½ cup kosher salt

·       2 ears of corn, shucked

·       1 tablespoon unsalted butter

·       1 teaspoon freshly squeezed lemon juice

·       Freshly ground white pepper

·       ¼ cup extra-virgin olive oil

·       Wondra flour, for dusting

·       20 littleneck clams, scrubbed

·       2 garlic cloves, minced

·       2 cilantro sprigs

·       1 thyme sprig

·       ½ cup dry white wine

·       ½ teaspoon smoked sweet paprika

·       1 tablespoon chopped parsley

·       Crusty bread, for serving
Preparation:
Set the cod on a plate and cover all over with the salt. Let stand for exactly 10 minutes. Rinse off the salt and pat the cod dry.
Meanwhile, bring a medium saucepan of water to a boil. Add the corn and cook for 2 minutes; drain and pat dry. Cut the kernels off the cobs. In a small skillet, toss the corn with the butter and lemon juice and season with white pepper. Cook until heated through, about 1 minute.
In a large, deep nonstick skillet, heat the olive oil. Dust the cod with Wondra flour and season with white pepper. Add the fish to the pan, skinned side down and cook over high heat until golden, about 4 minutes. Flip the cod and cook over moderate heat for 1 minute. Add the clams, garlic, cilantro and thyme and season with pepper. Add the wine, cover and cook over moderate heat until the clams open and the fish is cooked through, about 6 minutes. Discard the herb sprigs and any clams that do not open.
Rewarm the corn and spoon it into 4 shallow bowls. Top with the cod and sprinkle with the smoked paprika. Spoon the clams and broth all around and garnish with the parsley. Serve with crusty bread.
Source: Chef George Mendes of Aldea in Food and Wine, July 2011
Photo Credits: Canon T2i, 18-55MM Macro lens, F/3.5, 1/25th second, ISO 3200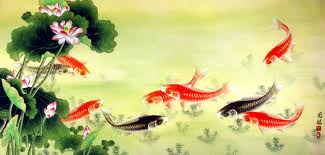 This is a recipe for a very authentic Southeast Asian soup. That authentic character means this is a multistage recipe, building to a sumptuous conclusion. There are a lot of ingredients and the preparation time is going to be about 3 hours.  Now, there is a tradition of fish on Christmas Eve. If you have that tradition, or want to start one, and want something sensationally different, then this is a festive dish that you will devour with delight.
You begin by making a broth to serve as the base for a curry soup. Once the curry soup is made, fish is marinated, then added to the soup. This is project involving many ingredients and flavors. The effort produces a flavor rainbow you will relish.
Hot Pot Fish Soup
Broth for Soup
Ingredients:
2 stalks lemon grass, sliced
1 ½ tablespoons sesame oil
5 garlic cloves, minced
3"-piece galangal, sliced, optional
3"piece ginger, peeled and sliced
5 Kaffir lime leaves or the zest of 3 limes
4 cups water
2 tablespoons cup brown sugar
Preparation:
Mix all ingredients together in a large pot, bring to a boil then simmer together for 1 hour, then strain.
Curry Soup
Ingredients:
2 cans Thai red curry paste curry powder
2 can unsweetened coconut milk (14 ounces)
3 limes fully juiced
¼ cup gluten free tamari or soy sauce, or to taste
Vegetables for soup, listed below are good options
2 heads bok choy, sautéd
1 bunch Chinese broccoli, sautéd –
1 pound long beans, sliced into 1 inch pieces –
1 red peppers seeded and julienned –
1 yellow peppers seeded and julienned –
Preparation:
Mix curry paste, coconut milk, lime juice and tamari into a large pot. Add strained broth mixture to Curry Soup.
Bring to a boil and then simmer for 30 minutes. While the soup is simmering, prepare optional ingredients and marinade for fish.
Marinated Fish 
Ingredients:
4 pounds salmon filets – skin on, cut into individual portions
¾ cup of red miso
¼ cup gluten free tamari
½ cup of water
¼ cup honey
2 tablespoons sesame oil
2 packages Rice noodles
1 tablespoon vegetable Oil
For Garnish
1 scallion trimmed and cut on diagonal
½ cup minced cilantro
½ cups roasted shiitake mushrooms
Preparation:
Thoroughly mix miso, tamari, water, sesame oil, and honey and place in a large zip lock bag or flat casserole dish with 2 inch sides.
Add fish to marinate in bag close or dish seal closed with plastic wrap or sealable top. Set aside for 30 minutes.
Prepare rice noodles according to package instructions.
In a hot cast iron pan add vegetable oil, sear fish skin side down till crisp then flip and cook to desired doneness.
Assembly of the final dish:
Construct the soup by placing noodles into individual bowls, add curry soup mixture with vegetables and topped with cooked fish serve with garnish.
Source: Cooking by the Book