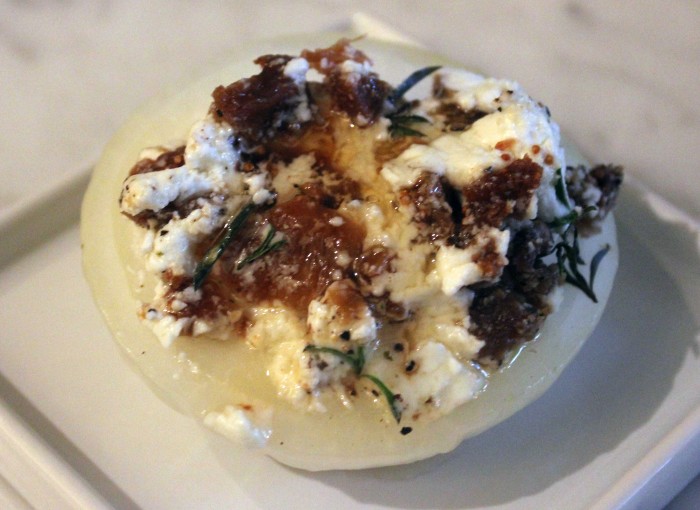 I feel a little guilty. I just ate a steak with a wonderful side dish, a barbecued onion topped with goat cheese and fig and honey. The recipe came from Vegetarian Grilling: 60 Recipes for a Meatless Summer by Karen Schulz and Maren Jahnke. I hope the authors don't mind, but I do want them to know: their 60 recipes are not for vegetarians alone.
Actually, this onion with the goat cheese is so hearty that, in a different world, you could make it the main course and simply pair it with a salad. You should take a look at Vegetarian Grilling for a bounty of interesting ideas that anyone can enjoy, steak eater or not.
This dish can be made in about 30 minutes. It's simple and its presents a combination of textures and flavors that you may not have experienced. Truthfully now, how often do you eat figs? Figs and honey? Ah, you are thinking about it aren't you. Figs and honey and goat cheese? You have to have tried that sometime. You have to.
Okay, you haven't. And now you can. Using the barbecued onion as the foundation for this dish is clever. That onion tang is the perfect mate for the fig and honey sweetness. And the goat cheese adds that distinctive raspy mouth feel that makes this dish seem complicated.
Actually, it is complicated which contributes to its enjoyment.
The recipe call for thyme and goat cheese. You can substitute the herb or herbs that you personally prefer. And the goat cheese gives you additional options. There is plain, "vanilla" goat cheese aplenty, and then there are the other ones. I selected a round from France glowing with herb fragments. Those additional, random herb flavors simply added to the mystery.
---
Barbecued Onions with Goat Cheese and Fig and Honey Topping

Yield: serves 4 people

Ingredients:

2 onions, about 9 ounces each
2 large figs
3-4 thyme sprigs
Salt
2 teaspoons ground peppercorns, mixed colors [red, black, white]
4 ounces goat cheese
Oil for brushing
Honey for pouring over the cooked onions [at least 1 teaspoon per onion half]
Preparation:

Boil the unpeeled onions in salted water for about fifteen minutes. Rinse with cold water and let cool briefly. Peel the onions and cut in half.
Remove the skins from the figs with a sharp knife and finely dice the figs. Remove the thyme leaves the sprigs. Insert some thyme leaves between the onion layers. Salt the onions lightly. Mix the remaining thyme with the diced figs and one teaspoon of ground pepper. Crumble the goat cheese into the mixture, and mix to combine.
Divide the cheese mixture between the onion halves. Place each onion on a piece of oiled aluminum foil, close the foil into envelopes, and grill for about 10 minutes on high heat. Open the foil and drizzle the filling with honey and the remaining ground pepper.
Serve hot.
Source: Vegetarian Grilling: 60 Recipes for a Meatless Summer by Karen Schulz and Maren Jahnke

Photo Information Canon T2i, EFS 60 mm Macro Lens, F/5 for 1/50th second at ISO‑3200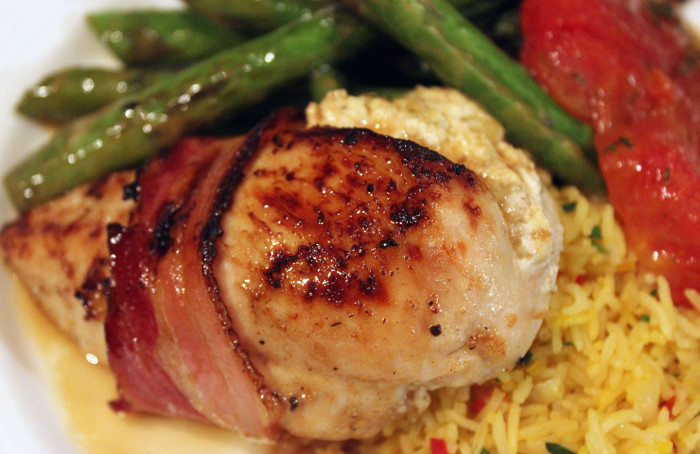 Here's a dish to surprise your dinner guess. The chicken breast is wrapped with bacon so visually each person knows what to suspect when they take that bite. Of course, as they cut that bite, there will be something squishy in the middle: that's the first hint of the bounty to come.
When they take that first chew, the surprise begins delivery: the strong bacon taste is paired with something cheesy and then, then there is more. An underlying sweetness that serves to bind the whole dish together. The secret, and the surprise is there in the middle of each chicken breast: a mixture of earthy goat cheese and fig.
And, as a final surprise, there will be heat. A combination of all-spice and chili powder has been sprinkled on each chicken breast for sensory acceleration.
Several years ago our friend Marie Simmons wrote Fig Heaven. This is her recipe and the book title is not, as it turns out, an overstatement about fig power. Figs can be heavenly. Sticky, that's true. But heavenly as well, particularly when paired with a good cheese. [If you are not a goat cheese fan, then feel free to substitute any other softer cheese.]
This post is coming up on a Sunday. A June Sunday that is supposed to be filled with sunshine and warmth. There is still time to get to the grocery store, fire up your grill [instead of the suggested oven], and end the weekend with a superb treat. If grilling and not cooking in the oven, use your barbecuing senses, plus smell and touch, to judge doneness.
We paired this chicken dish with rice, grilled tomatoes, and grilled green beans and asparagus. It's an homage to summer, an early summer feast that you do not want to miss.
With the sides we used, this is a meal unto itself. No need for other sides or salad. Just save room for dessert.
One other point. Suzen uses this dish for her culinary team building events at Cooking by the Book. It's the perfect dish to create with a "team" because there are many steps. Particularly if you are preparing this dish for a group, say 20 or 30 people, you can have assignments for making the stuffing, pocketing the chicken, wrapping with the bacon, and grilling. It's an assembly line dish that would put a smile on Henry Ford.
Bacon Wrapped Chicken Stuffed with Figs and Goat Cheese
Yield: 4 servings
Ingredients:
For the chicken:
4 large boneless and skinless chicken breast halves
1 tablespoon fresh thyme leaves
Kosher salt and fresh ground black pepper
For the stuffing:
2 cups diced fresh green or black dried figs [about 12 figs]
½ cup crumbled well-chilled goat cheese
2 tablespoons extra virgin olive oil
1 teaspoon minced garlic
1 egg
For the spice mixture and wrapping:
½ teaspoon ground all-spice
½ teaspoon ground chili powder
Pinch of salt
4 thick slices pancetta or bacon [about 1/8 inch thick]
½ cup dry white wine
Preparation:
If the chicken breasts come with the fillet attached, remove them. The fillet is the long slender piece attached to the bottom side of each breast half. They are sometimes removed from the chicken breasts and sold separately as "chicken tenders." Pull them off and reserve them for another use, such as in stir-fries or soup.
Preheat the oven to 400°F.
Place the chicken breasts, smooth side up, on a work surface with the thickest portion to your right. Butterfly the breast by cutting through the thick side toward the tapered side so that you can open the breast like a book.
Sprinkle the butterflied chicken breasts inside and out 'with ½ tablespoon of the thyme leaves, pinch of salt, and a grinding of pepper.
For the stuffing: In a small bowl combine the figs, goat cheese, 1 tablespoon of the olive oil, garlic, egg, ½ tablespoon thyme,½ teaspoon salt, and a grinding of black pepper. Toss to combine.
For spice mixture: In a small bowl combine the allspice, ground chili and salt, toss to combine.
Spoon the stuffing onto one side of each chicken breast, dividing it evenly. Close the chicken over the stuffing. Sprinkle on closed over chicken the spice mixture.
Wrap a slice of bacon or pancetta around each chicken breast. Use a tooth pick (or a small metal skewer) to hold the breast closed and keep the bacon or pancetta in place.
Oil a large (about 13 X 9-inch) shallow flameproof baking pan with the remaining 1 tablespoon of olive oil.
Place the chicken breasts in the pan and roast in the oven for 10 minutes. Turn and roast the other side until cooked through, about 10 minutes.
Remove the pan from the oven; transfer the chicken to a serving platter and cover with foil.
Add the wine to the roasting pan and heat to a boil over high heat, scraping up the browned bits and reducing the wine to a syrup, about 5 minutes. Drizzle the wine over the chicken, and serve.
Source: Fig Heaven by Marie Simmons
Photo Information [top]: Canon T2i, EFS 60 mm Macro Lens, F/4 for 1/10th second at ISO-3200