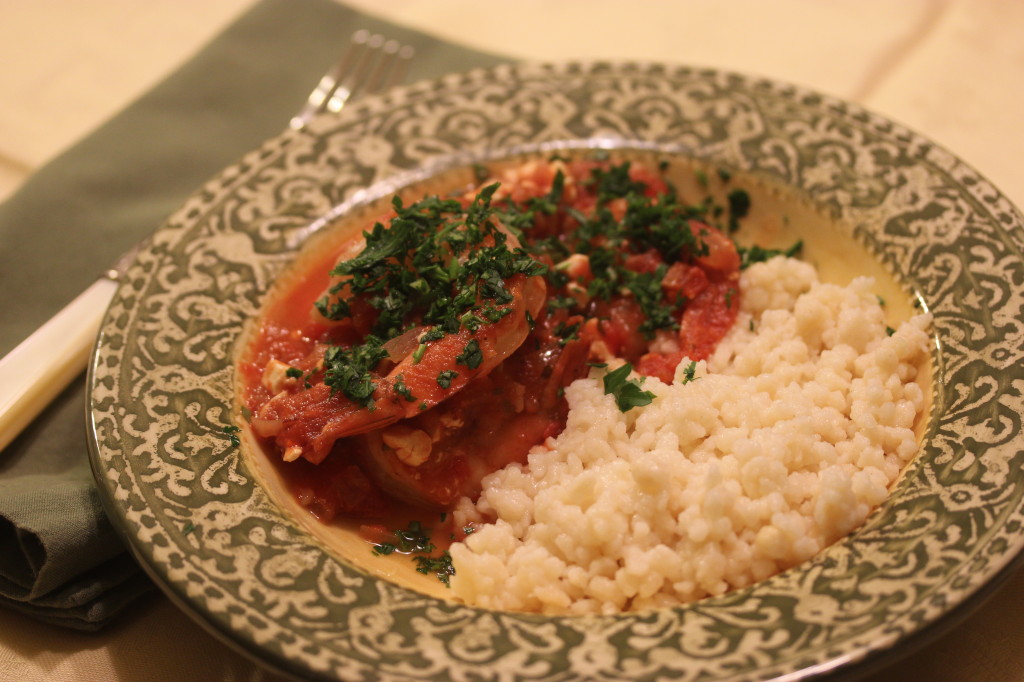 Our friend Michele Scicolone earned her general's four stars writing a slew of wonderful Italian cookbooks. Not Italian-American. Italian. She and her husband Charles must have traveled through every village and byway in Italy by now. You can trust her books for their authenticity and the guarantee that a Michele recipe will work as advertised. Every time and perfectly. Few cookbook authors have such quality.
But Michele has not rested on those earned general's stars. She has just published her third slow cooker cookbook. First there was Italy, of course. Then France. And now The Mediterranean Slow Cooker is ready for you to enjoy. And you will.
At the beginning of this book, Michele answers that question you now have: why a slow cooker? She tells you the why and how to choose one, provides great tips and techniques, and she even offer some safety facts — well, let's face it, you go off to a soccer match and leave the slow cooker plugged in and what do you expect. Your next meal may be a fund raiser for the firemen who have saved you house. More seriously, for this book, Michele also outlines the ingredients you should have on hand for Mediterranean cuisine.
The book ranges from starters to desserts. Here are the chapters with a representative recipe from each:
Soups: Winter Squash and Chickpea Soup
Eggs: Zucchini Flan
Seafood: Shrimp with Tomatoes and Feta
Poultry: Turkey Breast with Lemon, Capers, and Sage
Beef and Veal: Rioja Short Ribs with Chorizo
Pork and Lamb: Lamb and Pine Nut Meatballs
Pasta, Grains and Beans: Truffled Polenta
Vegetables: Golden Vegetable Tagine
Desserts: Coffee Caramel Flan
There are recipes here to suit every skill and taste bud. You can do something pretty familiar or you can venture off into a recipe that is deeply Mediterranean.
We chose the Shrimp with Tomatoes and Feta. Now, shrimp themselves don't need a slow cooker. In fact, they are only added at the very end here for 10-15 minutes. This dish could be prepared in a few minutes on the stovetop, except for the sauce part. Here, the sauce ingredients you could cook in those few minutes are slow cooked instead. Is there a difference? Of course. Hours of slow cooking generate a different flavor profile and texture. The resulting sauce is exceptionally wonderful. This recipe is the perfect example of what has been lost in our hurry-up-now world.
Michele's book is a both a tasting and learning experience. All you have to do is plug in that slow cooker and wait. Time for a book or a bottle or both.
Shrimp with Tomatoes and Feta
Yield: serves 6
Ingredients:
¼ cup olive oil
1 medium onion, chopped
1 28-ounce can crushed tomatoes
½ cup dry white wine
½ teaspoon dried oregano
Salt
Pinch of crushed red pepper
1 ½ pounds medium shrimp, shelled and deveined
1 cup crumbled feta cheese [about 4 ounces]
2 tablespoons chopped fresh flat-leaved parsley
1 12-ounce Collins or sling glass
Preparation:
In a small skillet, heat the oil over medium heat. Add the onion and cook until tender, about 10 minutes. Scrape the onion into a large slow cooker. Stir in the tomatoes, wine, oregano, salt to taste, and crushed red pepper. Cover and cook on high for 2 hours.
Rinse the shrimp and pat them dry. Stir in the shrimp into the sauce. Sprinkle with the cheese. Cover and cook on high for 10 to 15 minutes, or until the shrimp are tender and cooked through.
Sprinkle with the parsley and serve hot.
Source: The Mediterranean Slow Cooker by Michele Scicolone
If there were a 12-step program for dill addiction, I would be on my way. I love the stuff, and apply it in many, many dishes. When Brian first met me, he had to consider his future: her and dill or .. He has accommodated. He wasn't anti-dill, just inexperienced. After all, let's face it: 99% of the use of dill is in making pickles. I have a broader horizon.
Over the next few weeks there will be some dill recipes sprinkled here. It turns out that the very bright dill flavors, ones we all recognize, work successfully with cheeses, cucumbers, and in beverages. Dill can be an accent, or it can be a dominant player.
Dill is very prominent is this tart recipe, from Puff by Martha Holmberg, that we cooked last weekend. It was very hot, we were very tired, and we wanted a simple dish to be the entire meal. This tart had us both satisfied and rested, because it's also a breeze to make. The dill makes for an eye-opening flavor experience. The feta cheese and puff pastry give it substance. A small slice of this tart is a great first course, but we did big slices and made it the meal. With a Vouvray or Riesling, this is all you need.
Oh, maybe not quite all. Look for a dill dessert this weekend.
Feta and Dill Tart with Lemony Spinach Salad
Yield: serves 4
Tart Ingredients:
2 large eggs
⅓ cup crème fraîche or heavy creams
2 tablespoons chopped fresh dill plus ½ cup loosely packed dill sprigs
1 teaspoon freshly grated lemon zest
½ teaspoon kosher salt, plus more for the salad
Freshly ground pepper
1 sheet (about 9 ounces) frozen pastry, thawed
1 cup (about 4 ounces) crumbled good-quality feta
Salad  Ingredients:
4 small handfuls baby spinach or baby arugula leaves, washed and dried well
3 tablespoons extra virgin olive oil
1 tablespoon fresh lemon, plus more to taste
Tart Preparation:
Preheat the oven over 425°F. In a medium bowl, whisk the eggs, crème fraîche, chopped dill, lemon zest, ½ teaspoon salt, and about 10 grinds of pepper.
On a lightly floured counter, roll pastry into an 11 x 13″ rectangle. Line a baking sheet with parchment paper. Wet the edges with water and fold over a ¾-inch border. Distribute the feta evenly within the border and then carefully pour the egg mixture and cheese, taking care that it doesn't slosh onto the border. Carefully transfer the baking sheet to the oven and bake until the pastry is puffed and brown on the border and the underside, and the filing is golden brown, about 18 t0 20 minutes.
Slide tart off the pan onto a rack to cool a bit. Transfer to a cutting board and cut into four rectangles, so that each piece gets some border. Put the tart onto plates.
Salad Preparation:
In a large bowl, toss the spinach and dill sprigs with the olive oil and lemon juice until evenly coated. Sprinkle with salt, pepper, and more lemon juice to taste. Arrange a handful of salad on each piece of tart and serve immediately.
Source: Puff by Martha Holmberg