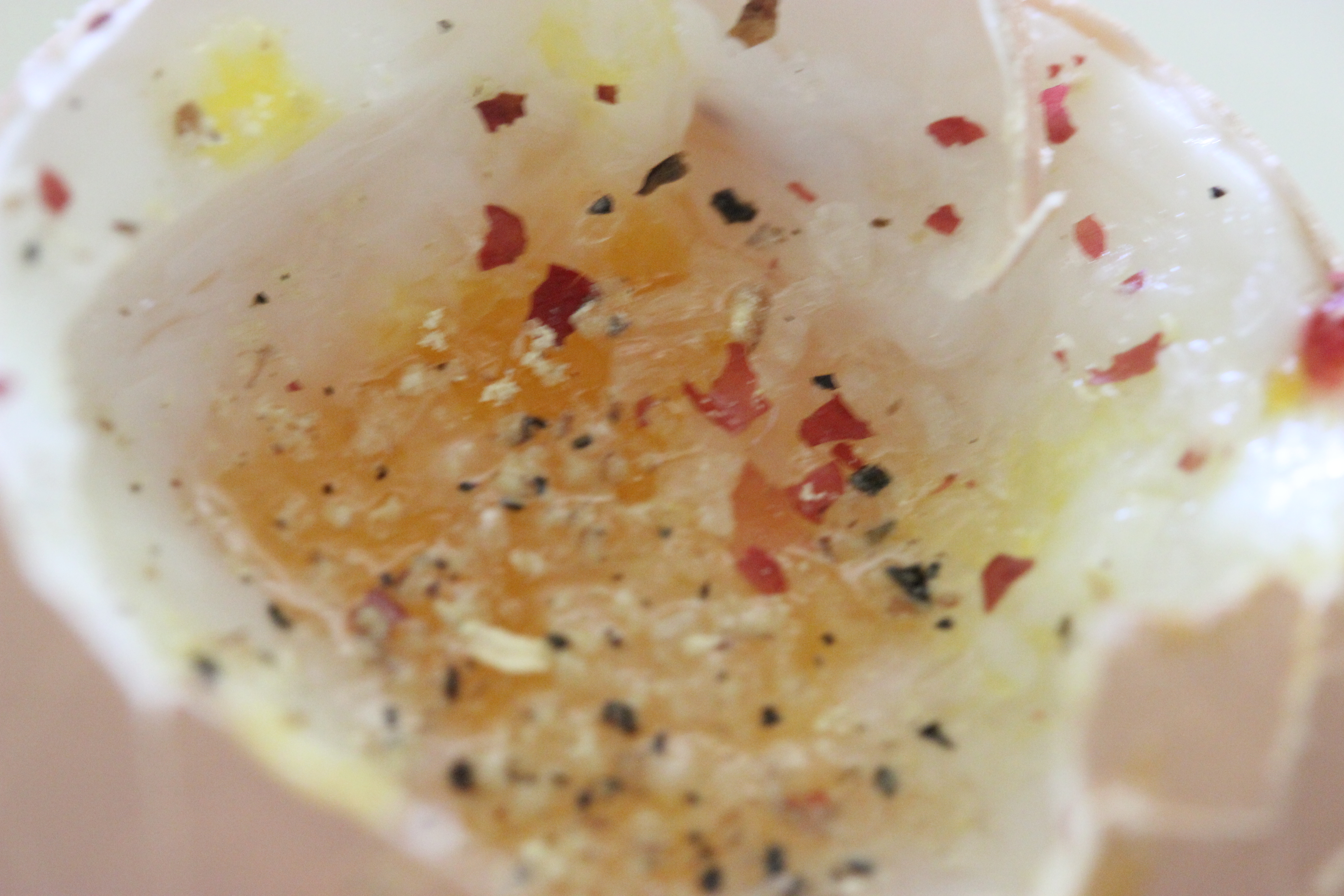 Looks good? It was. Actually, all three of them were. I had the egg on Sunday. On Saturday morning, it was inside the chicken. By late Saturday afternoon, it was in my refrigerator.
According to NPR this week, unwashed eggs don't have to be refrigerator. They come out of the chicken with a membrane over the surface that provides preservation. Of course, refrigeration is always helpful. So helpful, that eggs can last 2-3 months. So helpful, that the carton of eggs in the store — the one that announces it is "Farm Fresh" — can contain eggs that are really weeks old.
My Sunday eggs were really fresh. And that means different in look, taste and feel. This picture at the top has some special salt from, naturally, Trader Joe's. But the picture below here shows the yolk, that wonderful yellow yolk that went so well with Suzen's homemade bread.
Where to get fresh eggs? Well, farmers market. Perhaps someone in your community. Perhaps you. Yes, you or someone down the block. There is a incredible new movement of people raising chickens in their back yards. Even if they live in a city. Now, Suzen and I have three acres upstate but our deed forbids us from raising chickens. But our daughter Kelly has 1/3 of an acre inside the Seattle city limits and she can have chickens. Up to eight. No roosters. Kelly and her architecturally adept boyfriend Mark even made a home for their egg layers. That's the final picture below. Kelly and Mark have been stops on the annual tour of Seattle chicken coops — yes, there is such a thing and they occur all around the country.
Over time, Kelly and Mark have become experts, as you might, in what breeds to house for their eggs. The national favorite is Rhode Island Reds because they tend to produce an egg a day. Pretty regularly. Although, chickens are a bit seasonal and they lay at different rates over the different seasons of the year. There are ways to spur their production. Apparently, visual display of sharp hatchet often gets them crackin'.
Look around your neighborhood, find those fresh eggs, and treat yourself next Sunday to an unsurpassed flavor.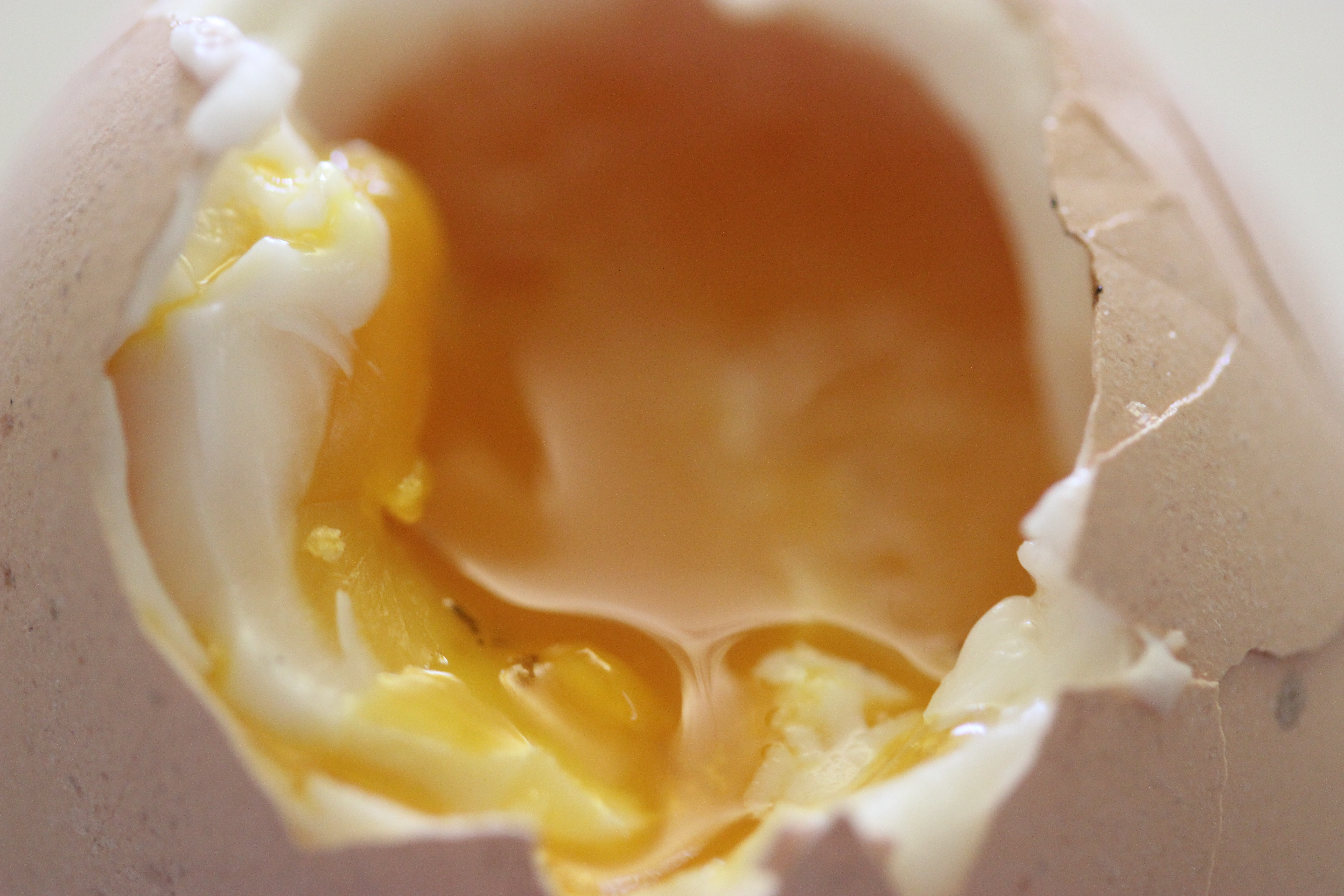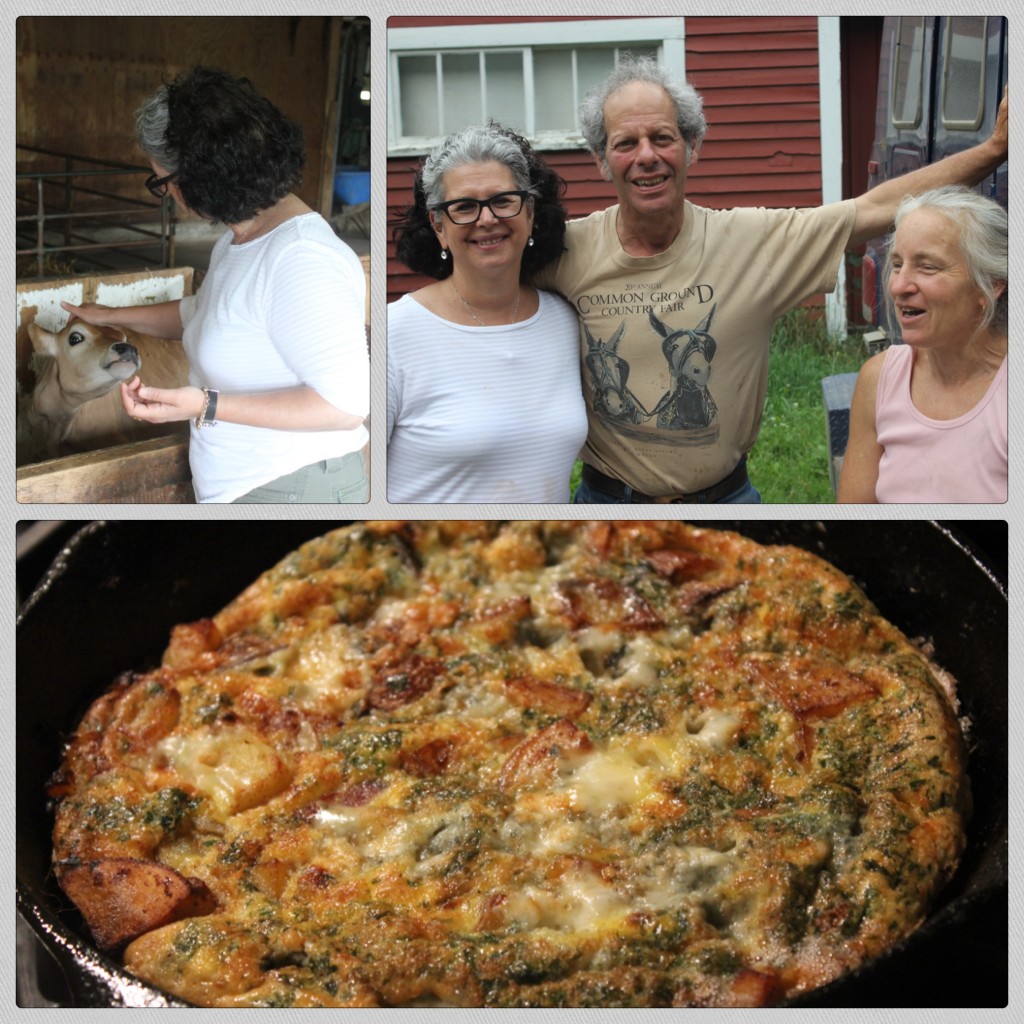 On our trip to Bread Camp in Maine, Suzen and I stopped at her cousins' organic dairy farm in China, Maine.
That is Spencer and Page, Suzi's cousins, there in the group shot. And that is Suzi petting the calf. Her cousins have 130 head of Jersey cows, with 65 milking at any one time. That youngster was one of fifteen been cared for in one of several barns on the rolling acres.
"He's cute," I said.
"He's adorable," Suzen said.
"We should name it," I said.
"That's sweet," Suzen smiled at me.
"Let's call it Veal," I suggested.
The smile was gone.
We ate a lunch there in Maine with everything fresh from the hen house and the vegetable garden. Real food and as local as you could possibly be, short of having the garden in your living room.
And we left Maine that day generously loaded with food, including eggs and potatoes. The next day we were back in New York City, which can really seem to be very, very far from Central Maine. But Maine memories were abundant when Suzi took the eggs and potatoes and crafted this lovely frittata. I don't think a chemist could really tell you why the combination of cast iron and egg works so well, but it does.
As our lunch ended the day before in Maine, I got a little irritated. Suzen was sympathetic as Spencer and Page describe the life of dairy farmers: 5 in the morning until 10 at night, seven days a week. It all sounded so burdensome. Now, I wasn't born in New York City and I do try not to come across as one of those know-it-all city types. But as the conversation around the table continued, I lost my patience. I had the New York City answer to their workload.
"For Pete's sake," I said, "all you have to do is dump those Jersey cows and get real union ones. You know union. Five days a week. No weekend work."
First Spencer then Page got up from the table. Suzen trailed behind them. But not before I got another look.
Classic Frittata
Ingredients:
3 tablespoons extra virgin olive oil
2 medium russet potatoes, about 1 pound
¼ cup diced red bell pepper
¼ cup diced onion
¼ cup sliced oil-packed sun-dried tomatoes, drained and patted dry
½ teaspoon fresh rosemary
Salt and freshly ground black pepper to taste
½ cup crumbled blue cheese (optional but great)
Preparation:
In a large cast iron or nonstick skillet heat the oil over medium heat. Add the potatoes and cook, turning as they brown, until golden, about 10 minutes. Add the bell pepper and onion and cook over medium-low heat until tender, about 5 minutes. Add the sun-dried tomatoes, rosemary, salt and pepper.
Meanwhile, in a large bowl, whisk the eggs and cheese until blended. Add the egg mixture to the skillet and cook until the eggs are set on the bottom and around the edges, about 4 minutes. With a spatula, lift one side of the frittata and tilt the pan so the raw eggs flow under the set edges. Repeat at least twice at different places around the edge until the egg is no longer runny.
Cover the frittata, reduce the heat to low and cook until set, 10 minutes. If you prefer the top browned, preheat the broiler, then set the (ovenproof) skillet under the heat just until the top is lightly browned, 1 to 2 minutes.
To serve, loosen the edges with a spatula and slide the frittata onto a platter or turn out, browned side up by inverting the serving plate on the skillet and turning the frittata out. Serve warm, or at room temperature, cut into wedges. Serve with a nice green salad.
Source: Adapted from The Good Egg by Marie Simmons