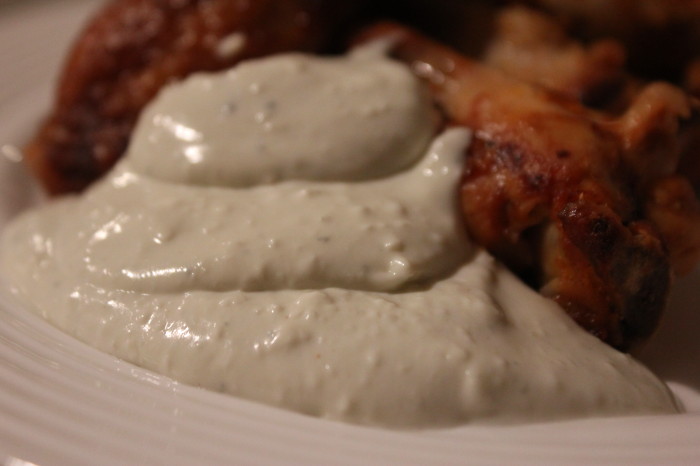 Blue cheese dip is just automatically required for hot chicken wings. Absolutely.
However, many versions of this dip compete with the wings. The blue cheese flavor is so intense that it can distract from the wings. This version is less intense — depending of course on the exact blue cheese you choose. For most blues, though, the balance of the amount of cheese with the mayo and sour cream is going to give you a different flavor experience. Subtle, smooth, and complementary to those wings.
Of course, you are free to add in some cilantro or parsley. The blue cheese can be swapped out for Gorgonzola or other options. Do make this dip the day before to get the full power of "one-day" aging!
Blue Cheese Dip
Yield: 3 cups
Ingredients:
1 ½ cup blue cheese crumbles
1 cup mayonnaise
1 cup sour cream
2 garlic cloves, pressed
2 teaspoons Dijon mustard
1 ½ teaspoon fresh ground black pepper
½ teaspoon salt
Preparation:
Combine the blue cheese crumbles, mayonnaise, sour cream, garlic, Dijon mustard, pepper and salt in the bowl of a food processor. Blend for 30+ second to create a smooth creamy mixture.
Cover and refrigerate. This dip is best made a day in advanced to let the flavors thoroughly blend.
Source: Wings by Debbie Moose
Photo Information: Canon T2i, EFS 18-55mm Macro Lens, F/5.0 for 1/80th second at ISO 3200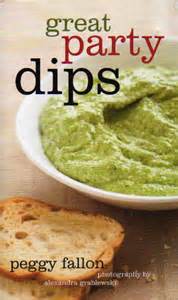 Crab. I love crab. Crab in salads. Crab cakes. Crab all by itself. Well, with cocktail sauce. [But NOT with tartar sauce]
Since we all enjoy crab, and since crab can be a tad pricey, here's a lovely way to enjoy crab flavor with many people at once. This Creamy Crab Dip appeals to all your senses. The smell of crab, the visual excitement of red peppers, and the smooth texture of cream cheese on your palette. Author Patty Fallon of Great Party Dips suggests serving this dip with water biscuits, toasted brioche or endive spear. Actually any cracker will pair marvelously with this dip. Blanched asparagus spears? Heaven.
I've enjoyed Peggy's recipes because they are balanced: they reflect lots of testing and tasting. Still, you've got your options here. A little more lemon juice, perhaps lime. More crab, of course. Another scallion or two. There's plenty of maneuvering room here for you to play and personalize.
This dip is distinctive, easy to make, and memorable. Don't count on having leftovers.
Creamy Crab Dip
Yield: 1 ¾ cups, enough for 6 to 8
Ingredients:
8 ounces cream cheese, at room temperature
½ cup mayonnaise
1 teaspoon fresh lemon juice
1 teaspoon prepared white horseradish
¼ teaspoon celery salt
8 ounces lump crabmeat, picked over to remove any bits of shell or cartilage, and well drained
2 tablespoons finely chopped red bell pepper
1 scallion, finely chopped
Preparation:
In a medium bowl, combine the cream cheese, mayonnaise, lemon juice, horseradish, and celery salt. Mix until well blended.
Stir in the crab, bell pepper, and scallion.
Transfer to a small serving bowl, cover, and chill for 2 hours or overnight to allow the flavors to develop. Remove from the refrigerator about 15 minutes before serving.
Source: Great Party Dips by Patty Fallon