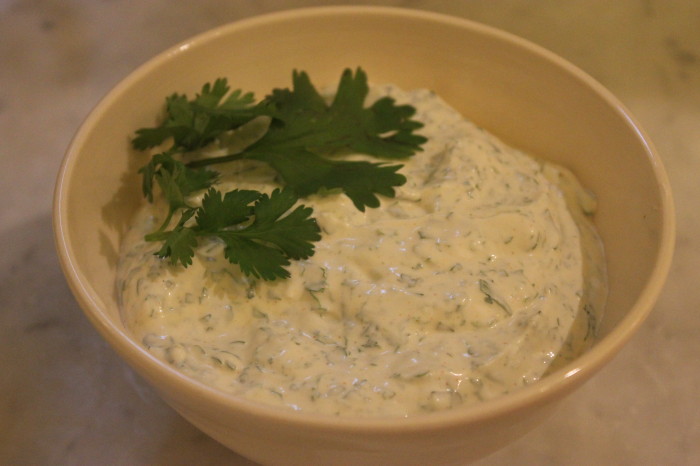 For our weekend party, we marinated 25 pounds of chicken wings in two quarts of Franks Red Hot sauce.
I like people. I believe in mercy. I though some folks just, just might enjoy a dipping sauce that could counter all that heat. Suzen and I had homemade blue cheese dip for the wings, of course. But this recipe, from Wings Across America by Armand Vanderstigchel, had caught my eye years ago. It seemed to offer a cool option for those hot wings.
Everyone liked and used our blue cheese dip — which is my next post. But this cilantro dip won the hearts and mouths of everyone at the table. And, it wasn't just used for hot wings. We had grilled asparagus spears, too. Dipped into the chilled cilantro dip, the asparagus disappeared. When was the last time you made asparagus and had it be the first thing to be totally devoured?
When I mentioned to our guests that this was a cilantro dip, there was bit of hesitancy. I have a modest reputation for over-flavoring things. Why use ¼ teaspoon of cumin when a tablespoon is handy?
I made the recipe exactly as suggested and I always will.
For wings, veggies, or crackers, you cannot surpass this dip.
Cilantro Dip
Yield: 2 cups
Ingredients:
1 cup sour cream
½ cup mayonnaise
½ cup chopped fresh cilantro
1 glove of garlic, minced
2 tablespoons fresh lime juice
Zest of one lime
⅛ teaspoon cumin
⅛ teaspoon onion powder
Preparation:
In a medium bowl, combine the sour cream, mayonnaise, cilantro, garlic, lime juice and zest, cum and onion powder. Whisk to mix very thoroughly.
Chill before use.
Source: Wings Across America by Armand Vanderstigchel
Photo Information: Canon T2i, EFS 18-55mm Macro Lens, F/5.0 for 1/80th second at ISO 3200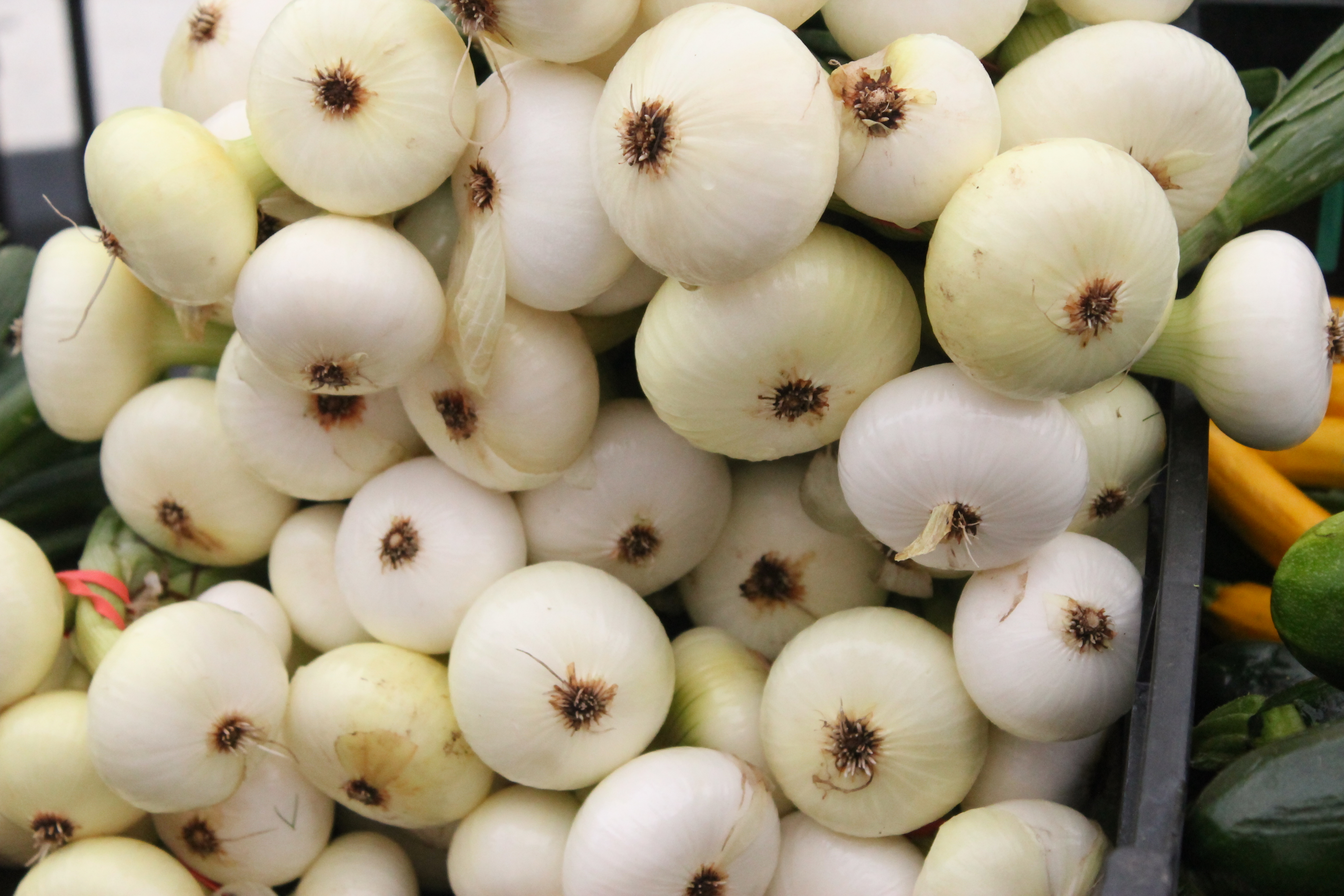 Last year, we posted a home-made onion dip that far surpasses the onion-soup-mix version. In this honest recipe, real life onions and garlic are cooked in a pan, not dehydrated and coated in chemicals. The resulting dip is fresh and bright. In this updated version, to add some kick, white pepper and hot sauce are being contributed. Onion dip is often so "smooth" that it just flows from bowl to stomach. The kick here is to give you little pause as you chew, a tad bit of surprise as you bite.
What onion to use?  It's up to you. White, red, Vidalia,  Spanish, … Honestly, my palette — scarred by decades of sugar and chocolate — just can't detect much difference. The same with garlic. I have gone to the Saugerties Garlic Festival for years, bought several varieties, planted them, harvested them, eaten them, and truly shaken my head. The differences are modest and often lost in the mix with the other ingredients. Suzen's palette is far more refined and she is sensitive to the differences. She shakes her head, too, but not at the food.
I'm used to it.
In the picture above, I do show spring onions, which offer a more mellow flavor that even I can appreciate. You might, might, encounter some early samples in your market from Florida or points further south of the Snow Line.
Spiced Onion Dip
Yield: serves 6
Ingredients:
2 heads of garlic
2 medium onions [or equivalent volume of shallots]
2 shallots
Olive oil
1 package cream cheese [4 to 6 ounces depending on your taste]
1 cup sour cream
1 teaspoon white pepper
1 teaspoon [or more] hot sauce
Preparation:
Roast the garlic heads in foil at 400°F for 1 hour.
Skin and slice the onions and shallots. Put on a half sheet pan covered with foil. Sprinkle with olive oil and roast at 350°F for 40 minutes.
Allow the roasted garlic and roasted onions to cool to room temperature. Put into the bowl of a food processor. Add half the cream cheese and half the sour cream. Process until smooth. Taste test and add additional cream cheese and sour cream to achieve the consistency and flavor you desire.
Stir in the pepper, adjust to taste. Then the hot sauce, again adjusting to taste.
Source: Brian O'Rourke