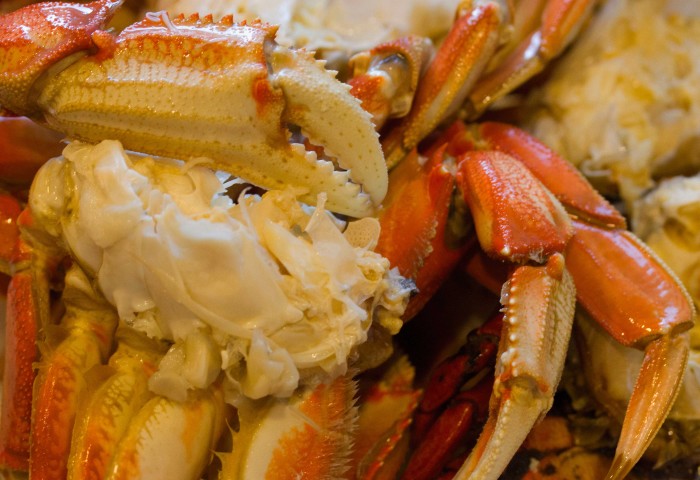 While half of all marriages end in divorce, no marriage of corn and crab ever has. Be it in a salad, a dip, a soup — or some other creation — the two flavors seem to automatically merge into one overpowering burst of pleasure. This dip is rich, so it can serve as the centerpiece for you cocktail party appetizers. This dip is rich, so you really don't want to "make a meal" of it.
Although, some of us …
Everything in moderation. I've adapted the recipe from the one in Comfort Foods by Better Homes and Gardens. Here I suggest fresh corn and fresh crab. Try to get your crab from one of those pictured crab legs, meaty and moist. Canned crab simply does not have the vitality of freshly cooked.
This recipe calls for Monterey Jack with jalapeno, but you can easily use another cheese of your preference and, again if you wish, add some heat with sliced jalapeno or other hot peppers. Adjust the amount of onion, if you desire, and the color as well: red or white instead of green. For some non-jalapeno zip, a single diced clove of garlic can be substituted. A dash or two of hot sauce will simple seal the deal between crab and corn.
If you were to use an abundance of cheese — 2 cups instead of 1, so the bubbly mass at the end is rather fluid, then you have an excellent adornment for baked potatoes.
---
Roasted Corn and Crab Dip

Yield: 10 servings

Ingredients:

1 cup corn kernels, off the cob
1 cup chopped red sweet pepper [1 large]
2 tablespoons olive oil
1 cup cooked crabmeat, cartilage removed
1 cup shredded Monterey Jack cheese with jalapeno peppers [or similar "hot" cheese], about 4 ounces
⅓ cup mayonnaise
¼ cup sour cream
¼ cup sliced green onion
¼ teaspoon ground black pepper
Broken tostada shells, toasted baguette-style French bread slices, and/or crackers
Preparation:

Preheat an oven to 375°F. Coat a 1-quart quiche disk or shallow baking dish with cooking spray and set aside.
Heat a small cast iron skillet on medium-high and add two tablespoons of olive oil. Add the corn and red pepper. Cook stirring constantly until the pepper has softened and the corn kernels are still al dente. You goal is to have pepper pieces and corn kernels just past the first point of being comfortably eaten.
In a medium bowl stir together crabmeat, cheese, mayonnaise, sour cream, green onions, and black pepper. Stir in the cook pepper and corn. Transfer the mixture to the prepared quiche dish.
Bake, uncovered, about 20 minutes or until bubbly around the edges.
Served with the broken tostada shells, toasted bread, or cracker.
Source: modified from Comfort Food by Better Homes and Gardens

Photo Information Canon T2i, EFS 60 mm Macro Lens, F/4 for 1/25th second at ISO‑1600

Bribe is such an ugly four-letter word. I know, there are five letters, but it seems to reek of four-letter connotation. I think inducement is a better way to phrase what is about to transpire.
Few of us, vegetarians aside, eat enough veggies. There are reasons for that, some of them legitimate genetic hangovers from our hunter-gatherer days [see my post on the book Taste]. But, today, few of us hunt and few gather, except in the parking lot of the super market where we find our veggies showcased in metal, plastic and glass. All of them wet from the sprays meant to inspire visions of freshness. It may be wet, but it traveled 800 miles or so to get to your store.
To get more veggies in us, we need that inducement. I won't eat raw carrots. Period. Ever. Unless, and here's the exception, there's a dip involved. That's where dill comes in. Distinctive and powerful, that dill flavor can make any raw veggie seem yummy. Well, almost any.
Far and wide, dill is an herb of utility and prowess. Scandinavians use it on seafood. In northern and central Europe dill is used in preparing root vegetables, cabbage, and cauliflower, transforming them from bland to interesting. In Turkey and Iran, dill is added to rice, beans, zucchini, and celery root. In Iran, spinach with dill and shallots is common. In India, it is lentils and spinach with both dill leaves and seeds. And when most of us pickle, the first herb in the jar is that sprig of dill. Dill pickles, anyone?
Not only does dill have that marked flavor, it also is able to mate well with other flavoring items: basil and capers, garlic and horseradish, mustard in all its forms, paprika both normal and smokey, and parsley and cilantro.
That means that when making a dip with dill, there is a bounty of additional notes you can add to the culinary score.
The starting point for many dip recipes is equal amounts of mayonnaise and sour cream. To that is added the dill [fresh, or in seed form], perhaps some salt and pepper, then onion and then … On and on it goes.
For the diary, you can use cream cheese, or yogurt or crème fraiche. And here "use" means substituting or adding and adjusting the relative proportions. There is no "right" way to make this dip — although your mother or mother-in-law might have an opinion.
So here's my kitchen sink recipe for a dill dip with a matrix of ingredients and a spectrum of flavors. Feel free to adjust quantities, add new things, or leave some of these out. Just to stir your imagination, this recipe has no chili, no celery salt, no grated cucumber [a Greek thing], no bell pepper, and no hot sauce.
If you were in the Army, you'd recognized this as a free fire zone, but we're in the kitchen instead. Have fun, and do taste test along the way.
Oh, as a little aside, if you like this dip, you could utter the phrase, "It's a dilly." People have been using dill for thousands of years. How long have we been saying, "It's a dilly?" Only since about 1935. At that point, it meant something was remarkable or delicious. Now, if we say it, it means something is special. Like this dip.
Brian's Dill Dip

Yield: 3 cups

Ingredients:

1 cup mayonnaise
1 cup sour cream or crème fraiche
1 cup plain yogurt
3 tablespoons snipped fresh dill or 2 tablespoons dried
2 tablespoons chopped onion [scallions are fine]
2 garlic cloves, finely diced
2 tablespoons cilantro
2 tablespoons of lemon juice, plus more to taste
Salt and pepper to taste
Preparation:

In a metal bowl, combine the mayonnaise, sour cream and yogurt. Mix until completely blended. Short of the salt and pepper, stir in the other ingredients being careful to fold over and obtain a uniform distribution of the flavor.
Stop and taste test. Add salt and pepper to refine the taste, then consider adjusting any of the earlier ingredients. If you using fresh dill, you may want more for a higher flavor level. If it's too "dilly" then stir in more plain yogurt to ensure mellowness.
Source: Brian O'Rourke with input from Herbs & Spices: The Cook's Reference by Jill Norman

Photo Information Canon T2i, EFS 60 mm Macro Lens, F/4 for 1/25th second at ISO‑3200