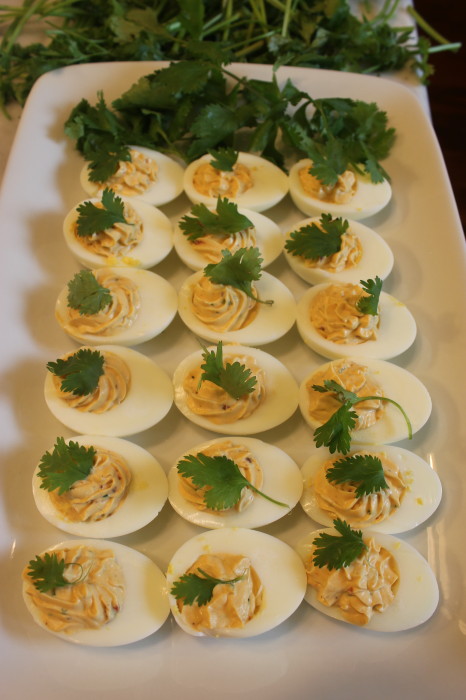 Well, if you are going to do deviled eggs, while not go all in. Chipotle Deviled Eggs from D'lish Deviled Eggs will fool you. They are not fiery hot. There is just a smooth heat that glides along as you sample the softness of the deviled egg.
Before this book came out, I was not a deviled egg fan. I found them, well, yucky. The fillings I tried, just a couple of time, were sticky and staggering in harsh flavor. Not now. D'Lish Deviled Eggs provides a full platter of recipes to court your attention.
Suzen chose this one because we were having a "hot party:" homemade pickled carrots, fiery chicken wings, spiced potato salad, grilled asparagus, … And vodka on the rocks for all who wanted it. Or gin. Or just a good hearty red.
These eggs were a careful introduction to the night's heat. I had two. That doubles my lifetime intake!
Chipotle Deviled Eggs
Yield: 24 halves
Ingredients:
One dozen hard-cooked eggs
Filling:
3 tablespoons mayonnaise
3 tablespoons regular or low-fat sour cream
½ teaspoon Dijon mustard
1-2 tablespoons chipotle chile puree
1 teaspoon mince fresh garlic
¼ teaspoon salt
2 tablespoons thinly sliced green onions
Topping:
Cilantro sprig
Diced tomato or red pepper [optional]
Preparation:
Halve the eggs lengthwise and transfer the yolks to a mixing bowl. Set the egg white halves on a platter, cover, and refrigerate
With a fork, mash the yolks to a smooth consistency. Add the mayonnaise, sour cream, mustard, chipotle puree, garlic, and salt, and mix until smooth. Stir in the green onion. Taste and season accordingly.
Spoon the mixture into a pastry bag fitted with a plain or large star tip, then pipe the mixture evenly into the egg white halves. Or, rill the eggs with a spoon, dividing the filling evenly.
Decorate the top of each egg with a sprig or cilantro or diced tomato or pepper.
Serve cooled, but not ice cold.
Source: D'Lish Deviled Eggs by Kathy Casey
Photo Information: Canon T2i, EFS 18-55mm Macro Lens, F/5.0 for 1/40th second at ISO 250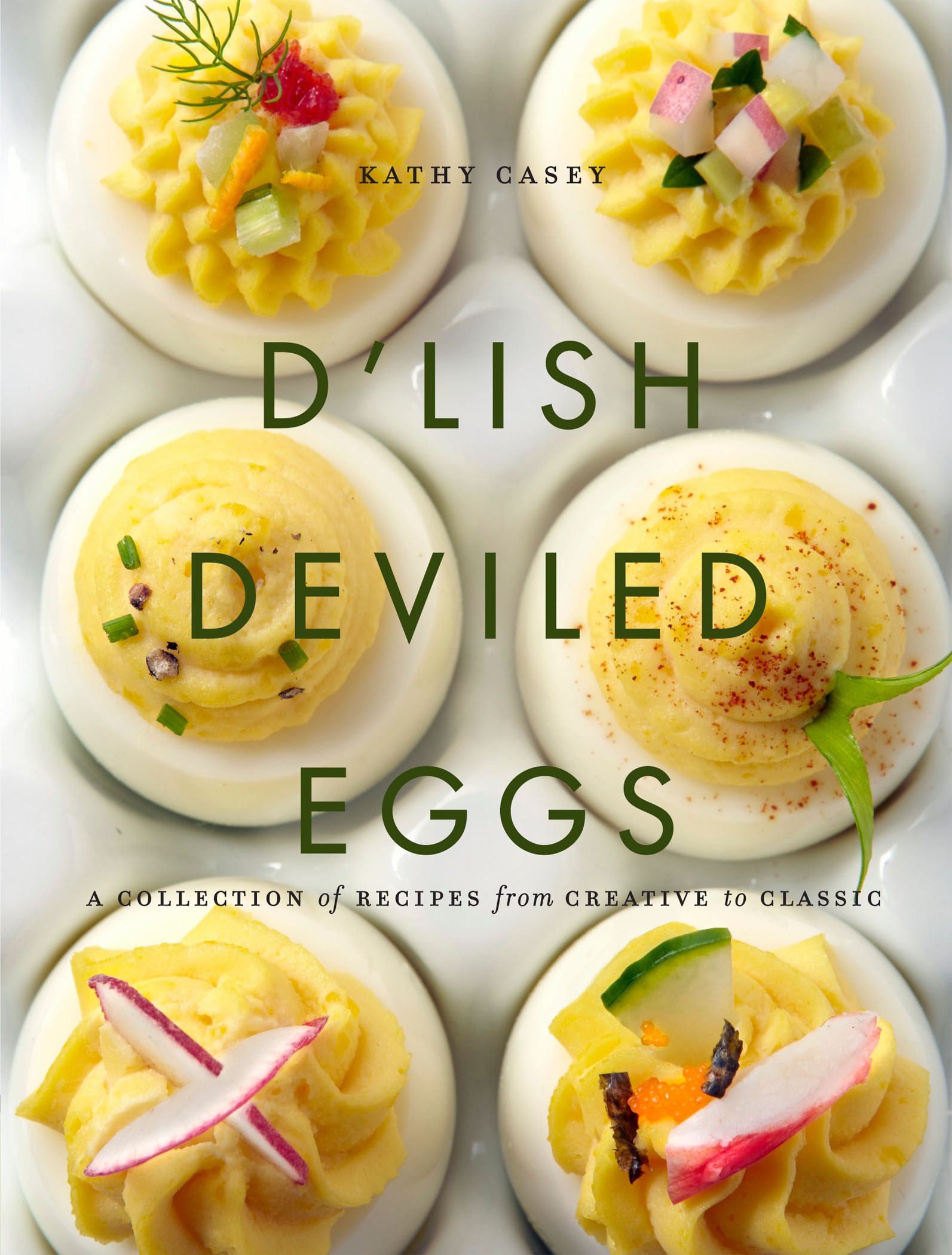 I love puns. My family does not love mine. So I search for people who know how to pun well. It turns out that Kathy Casey can both pun and cook. In D'Lish Deviled Eggs, Kathy has a section called The Hard Facts: All About Eggs. "Hard" and "Deviled." Even I get that!
The mission of this delightful book is simple: give deviled eggs a marvelous makeover. Provide you enchanting ideas and lip-smacking flavors. Kathy succeeds. I posted one of her excellent recipes yesterday, the Green Goddess Deviled Eggs with avocado and sour cream. There are almost 60 other recipes in this book, many with equally yummy photographs providing you a visual roadmap to success.
Before the recipes, Kathy has laid careful foundations for you:
Some history of deviled eggs — which date at least back to Roman times
Dishware ideas for presentation
Menu ideas using the recipes in this book: for everything from New Year's Day to the Chinese New Years to Eggs Benedict Day [of course it exists!] to Christmas [which we all know exists]
Party ideas ranging from a cocktail funfare to a real Mad Men knockoff
That important All About Eggs section describing your egg buying options: it's getting to be like buying milk with many different cartons greeting you in the grocery store
A How To section that covers cooking different types of eggs [chicken, duck and quail], how to prepare different fillings ahead of time, how to garnish, and how to store
By the time you get to the recipe section, you are armed and ready. And probably excited. That bland picture in your brain of "normal" deviled eggs will have long vanished. And you'll simply be bubbling with the ideas presented in this lovely book.
There are a year's worth of recipes to follow here. And, D'Lish Deviled Eggs will liberate your imagination. You are certain to find yourself mixing, matching, experimenting, and enjoying the multitude of flavor possibilities that D'Lish Deviled Eggs opens up.
Go buy a dozen eggs now. And this book. Maybe two dozen eggs. And a second copy. Your mother will like it, too!