Posted by: Brian on | Leave a comment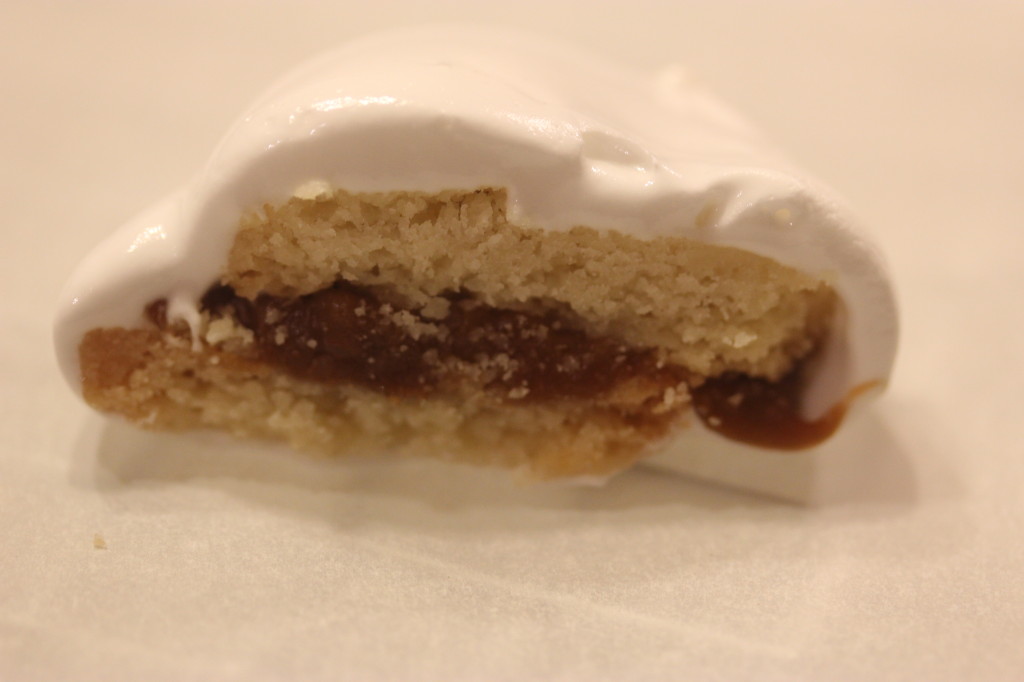 This not just a cookie. It is an experience. I'm posting this on the Saturday before Super Bowl. If you are partying and if you want to impress folks — and certainly give your own mouth a bushel of flavors — then you need to consider this marvelous cookie. It's from Meringue, a wonderful new cookbook from Linda Jackson and Jennifer Evans Gardner.
I've blogged recently about sables, which is  the French name for just a great butter cookie. One made with no egg and lots of butter. By themselves, sables are good. Their great value though is being a flavor vehicle. Here is Latin American treasure where sables are married into a sandwich with dulce de leche. And then the whole assembly is bathed in Italian meringue.
Decadent. Perfect for breakfast with espresso. Or at lunch. Or for dessert. Or for that 2AM kitchen raid that you make and you think your spouse does not know about but they do and you've begun to suspect it.
I will admit that these cookies are not "quick" or "easy" at least not for me. I found the sandwiched sables to be moving around because my dulce de leche was bit too fluid. Coating that moving target with meringue was not easy.
So, I chilled the dulce de leche. Then I made the sandwiches and refrigerated them. Then and only then, did I attempt to coat with meringue. And I put those critters right in the refrigerator to firm up quickly, too, so that the meringue would not slide off.
It's worth every step. The multiple layers of flavors and textures are a treat that, in one bite, will appear in everyone's eye. Then come the sighs.
Alfajores Con Bano Blanco
Yield: 22-24 sandwich cookies
Ingredients:
For the cookies:
2 cups sifted flour
¼ cup sifted powdered sugar
½ teaspoon salt
1 cup (2 sticks) unsalted butter, softened, cut into 1 tablespoon-size pieces
1 ½ cups dulce de leche, room temperature from a 13.4 ounce can or ajar of store-bought dulce de leche or, better, home-made and chilled
For the bano blanco meringue:
1 cup sugar
¼cup water
2 large egg whites, room temperature
Preparation:
For the cookies, preheat the oven to 350°F.
In the bowl of an electric stand mixer, beat flour, sugar, salt, and butter on medium speed until the dough comes together. Form the dough into a ball, cover in plastic wrap, and refrigerate for 20-30 minutes.
Sprinkle some flour onto your work surface and, with a rolling pin, roll the dough ⅛-inch thick. Cut into circles, using a 2-inch round cookie cutter, and transfer to parchment paper-lined baking sheets. Bring the dough scraps together and gently press into a ball. Flour your work surface again and re-roll the dough to ⅛-inch thick and cut out more circles. (You should end up with between 44 and 48 circles.)
Bake the cookies until they are golden and firm, about 15-20 minutes. Remove from the oven and let cool for 5 minutes before transferring to a wire rack to cool completely, about 30 minutes more.
Spread about 1 teaspoon of dulce de leche on the flat side of a cookie and top with the flat side of another cookie. Continue until all of your sandwich cookies have been formed. Set aside.
For the meringue, placed the sugar in a small saucepan then cover with water. Heat on medium, tilting and swirling the pan occasionally, but do not stir. In the meantime, start beating the egg white — instructions below. When all the sugar has dissolved, increase the heat to medium-high and boil until the sugar syrup reaches 235°F [soft ball stage] on a candy thermometer. Immediately remove from the heat.
In the bowl of an electric stand mixer fitted with the whisk attachment, beat the egg whites on medium-high speed until they form soft peaks. Slowly drizzle the sugar syrup into the bowl with the egg whites. Continue beating until the meringue is glossy but not stiff.
One by one, use a pastry brush to "paint" the meringue on the tops and sides of the dulce de leche-filled cookies. Transfer to a baking sheet lined with wax paper. Let the cookies dry for several hours or overnight so that the bano blanco forms a crust on the outside of the Alfajores. Store in an airtight container with the cookies separated by wax paper.
Source: Meringue by Linda Jackson and Jennifer Evans Gardner
Posted by: Brian on | Leave a comment
zv7qrnb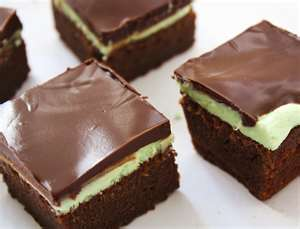 No Super Bowl party can conclude with a victory dessert. Long ago in Portland, Oregon, Rose Nataflin had a bakery that drew crowds out the door. Her two cookbooks, now sadly out of print, are treasures. This layered chocolate cookie from Rose is a reminder of how grand a cookie can be. A chocolate brownie cookie is baked, then topped with a mint cream which becomes the middle when chocolate glaze crowns the entire affair. These are easy to make, easier to eat, and impossible to forget. I cannot tell you how many times I have made these. Suzen suspects, but currently I am not under oath or in witness protection.
Grandma Rose's Chocolate Layer Cookies
Yield: one 9″ square which is more than enough for … [I don't want to get personal here]
The Cookie Layer:
2 ounces unsweetened chocolate
½ cup sweet butter
2 eggs
1 cup sugar
½ cup slice nuts [pecans, walnuts, or almonds -- all work but I prefer pecans now]
½ cup unsifted, all-purpose flour
Preheat the oven to 350°F.  Thoroughly grease a 9" square pan.  Melt the chocolate and butter together over hot water.  In a bowl, beat together the eggs and sugar until thick.  Add nuts, flour and chocolate mixture and stir until smooth.  Pour batter into pan and bake for 25 minutes.  Let cool.
The Mint Cream Filling Layer:
1 ½ cups powdered sugar
3 tablespoons  softened sweet butter
2 tablespoons  heavy cream
¾ teaspoon peppermint flavoring
Beat together all the ingredients until smooth.  If you like, sprinkle a drop of green coloring in this mint cream.
Spread the filling evenly over the cookie layer, cover and chill until firm.  About 1 hour.
The Chocolate Glaze on Top:
2 ounces  sweet chocolate
2 tablespoons butter
1 teaspoon vanilla
Melt together all ingredients over hot water.
Drizzle the glaze over the mint topping.  For some added visual elegance, you can top with chopped nuts. I haven't tried shredded coconut, but that might be a very different flavor contrast with the mint.
Cover and chill again until firm.  Cut the layer into bite-sized squares and place in paper candy cups. [Oh, to be honest, I never bothered with the cups. I just began nibbling.]
Source: Grandma Rose's Book of Sinfully Delicious Cakes, Cookies, Pies, Cheese Cakes, Cake Rolls & Pastries by Rose Nataflin

Archives
Authors of Note
Foodie Finds