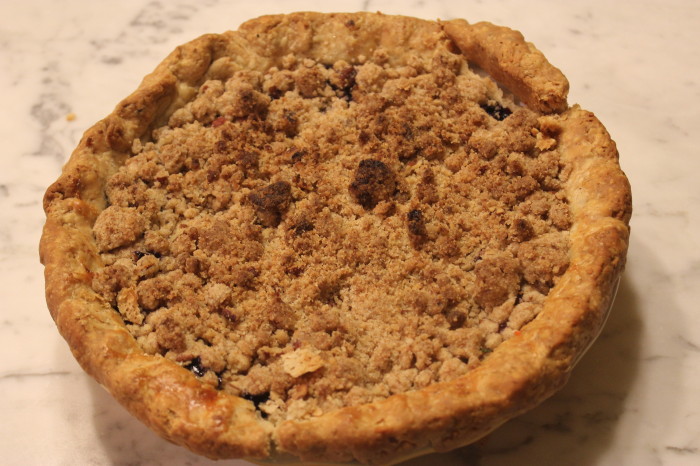 The 4th of July approaches. Dessert is needed. There is nothing more American than blueberry pie on the 4th of July. For this treat, which we tested last weekend, Suzen turned to Great Pies and Tarts by Carole Walter. Carole is a friend, a wonderful author, and truly an American treasure. If you have not encountered one of her recipes before, then here is the place to start.
Now, about Carole. She is charming and lovely. And detailed. And very detailed. Don't let this recipe frighten you. There are a lot of steps and your hand is being held every micro-step along the way. That's Carole being a perfectionist. What's going to happen when you follow these instructions? You'll have the best fruit pie of your life.
This recipe calls for 6-7 cups of blueberries. Suzi actually made an 80-20 mixture of blueberries and perfectly ripe plums. Suzen beamed at the results, which she pronounced to be "pie perfect."
Carole would be proud.
Oh, several of the steps here call for using aluminum foil. In fact, this recipe has more aluminum in it than any I have ever seen. Don't worry. You're not eating the foil and it can be recycled. It's very necessary and very important to use the foil as directed to protect the pie and your oven.

Blueberry Crumb Pie with Warm Blueberry Sauce
Yield: serves 6 to 8
Ingredients:
Crust:
Your favorite Flaky Pie Pastry [Carol has two on pages 98 and 100 of Great Pies and Tarts, which is another good reason to buy her book!]
1 large egg white
1 teaspoon water
Filling:
¾ cup granulated sugar
2 tablespoons cornstarch
½ teaspoon ground cinnamon
¼ cup water
6-7 cups blueberries, washed and dried
1 tablespoon instant tapioca
1 tablespoon unsalted butter
1 ½ to 2 teaspoons fresh lemon juice
6 limes
Streusel Crumb Topping:
1 cup unsifted all-purpose flour
¼ cup finely chopped walnuts
¼ cup granulated sugar
¼ cup lightly packed light brown sugar
½ teaspoon ground cinnamon
¼ teaspoon baking powder
⅛ teaspoon salt
⅓ cup unsalted butter, melted and cooled to tepid
Warm Blueberry Sauce:
Reserved syrup from filling
½ cup water
1 to 2 tablespoons crème de cassis or Kirschwater
1 teaspoon fresh lemon juice
Preparation:
The Crust:
Preheat the oven to 400⁰ F. Position the oven rack in the lower third of the oven. Butter a 9-inch ovenproof glass pie plate.
On a floured pastry cloth, roll the pastry into a circle measuring approximately 13 inches in diameter. Fit loosely into the pie plate. Trip the edge with scissors, leaving 1-inch overhand. Fold over and flute or crimp the edge. In a small bowl, lightly beat the egg white and water. Brush the dough with a thin layer of egg white to seal the surface.
The Filling:
Whisk together the sugar, cornstarch, and cinnamon in a large skillet. Stir in the water. Add the blueberries and stir gently. Bring to a slow boil, then cook over low heat, stirring occasionally with a rubber spatula, for about 5 minutes, or just until the mixture thickens. Avoid mashing the blueberries. Be careful not to overcook them.
Using a slotted spoon, empty the blueberries into a large shallow container about 1/3 at a time, sprinkling each layer with tapioca. Let stand for 15 minutes to soften the tapioca. Reserve the syrup for the blueberry sauce. Empty the filling into the pie plate. Dot with lemon and sprinkling with lemon juice.
The Streusel Crumb Topping:
Combine the flour, walnuts, sugars, cinnamon, baking powder, and salt in a medium bowl. Add to the cooled melted butter and toss with a fork to make crumbs. Take a clump of the crumb mixture in your hand and squeeze gently to form a larger clump. Then break the large clump apart over the blueberry filling. Repeat using all of the crumbs. Do not press the crumbs into the filling.
To prevent the edges from burning, make aluminum foil bands. Cut two 3-inch-wide strips of 18-inch heavy-duty aluminum foil. Fold 1 inch of each strip to the center, making a double thickness of foil. Mold the foil around edge of the pie, keeping the double fold on top of the dough. Be careful not to crush the edge of pasty. Secure the bands with tape.
Make an aluminum foil drop pan to place on the rack below the pie halfway through the baking. Cut an 18-inch square of heavy-duty aluminum foil. Fold each edge twice [about 1 inch per fold] standing the folding edge upright to form a 4-sided pan.
To prevent the crumbs from overbrowning, cove the pie loosely with a sheet of aluminum foil.
Bake for 40 minutes. Remove the foil bands the foil form the top and continue baking for 10 to 15 minutes, or until the bottom crust and crumbs are golden brown. Cool on a rack for 4 hours before cutting. Serve with vanilla ice cream or frozen yogurt and Warm Blueberry Sauce
Warm Blueberry Sauce:
Place the reserved blueberry syrup and water in a medium, heavy saucepan. Bring to a slow boil, stirring constantly. Off the heat, stir in the cassis, then return to the boil, and cook for 30 seconds longer. If the sauce is too thick, add a little more water. Stir in the lemon juice and empty into a container. This sauce can be made ahead and reheated as needed.
Source: Great Pies and Tarts by Carole Walter
Photo Credits: Canon T2i, 18-55mm lens at F/5.0, 1/60th and 1/60th and 1/80th seconds at ISO 1250, 3200, and 2000 respectively [no flash]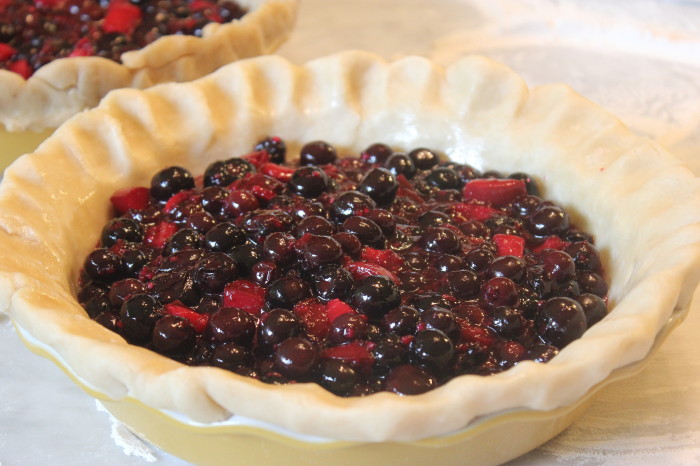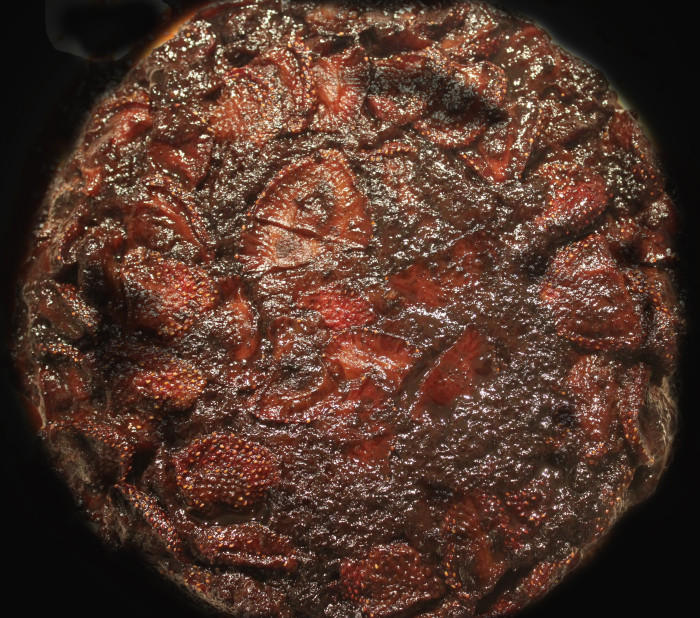 I was in error yesterday. The Strawberry Balsamic and Olive Oil Upside Down Cake was fine, but my description of the version that Suzen was so proud of – well, I did not do justice to her version.
Cooking by the Book works very closely with Center for Celiac Disease at Columbia University. Founded by Dr. Peter Green, the world's foremost expert in celiac disease, the Center provides a variety of services for people with celiac. Those expanding rows of gluten-free products in your grocery store? They are in response to the rapidly growing population of children and adults who have developed the disease. Untreated, celiac can wreak havoc with both the patient and their family.
How does Cooking by the Book help? We offer monthly events for the Center's patients, showing families how to prepare gluten-free dishes that are a match for any gluten-based dish out there. There is no reason, none at all, for someone with celiac to ever feel food-compromised. Our gluten-free meals here bring smiles to everyone.
Which is why Suzen was so proud of her gluten-free cake. It's delicious. It's every bit as incredible as the original. Suzen's modifications to the recipe are included in the reworked recipe below.
What changes did Suzen have to make? Well, obviously, the flour in the original recipe had to go, replaced by a Gluten-Free All Purpose Flour, a product available from the famous grain product firm Bob's Red Mill. If you have a special need, look to Bob's to assist you.
Oh, three was one more change: adding some xanthan gum as a new dry ingredient. What's that? Xanthan is produced by fermenting corn sugar — it seems corn is embedded into our culinary lives where ever we turn. Xanthan is a thickener, emulsifier and stabilizer. You most probably have had it in some dairy products or commercial salad dressing.
Here, the properties of xanthan are exactly what is needed to compensate for the absence of gluten and the structure that if provides in, say, a cake.
With or without gluten, this recipe is superior. Its creator has suggested it be consumed for an eye-opening breakfast. Let's see: cereal or outstanding cake?
Cake, please!
Strawberry Balsamic and Olive Oil Upside Down Cake: Gluten Free Version
Yield: 8 to 10 servings
Ingredients:
For the balsamic vinegar glaze and strawberry spiral:
1 pound fresh strawberries
½ cup brown sugar
½ cup golden balsamic vinegar
2 tablespoons olive oil
1 tablespoon honey
For the cake:
1 cup sugar
¼ cup golden balsamic vinegar
½ cup buttermilk
3 eggs
1 ¾ cup Gluten Free All-Purpose Flour from Bob's Red Mill
1 ½ teaspoon baking powder
½ teaspoon salt
¾ teaspoon xanthan gum
⅔ cups olive oil
Preparation:
Preheat the oven to 350 degrees F.
Spray an 8-inch cake pan with olive oil spray. Line the bottom with a circle of parchment paper (this is an important step — it will help your cake release from the pan after baking without disturbing the arrangement of your strawberries). Spray again with olive oil.
Remove stems and slice strawberries vertically. Arrange them in a spiral, starting with the outside layer and overlapping slightly at the bottom of the cake pan.
Combine the brown sugar, golden balsamic vinegar, olive oil, and honey in a stainless steel pan and whisk to emulsify. Bring to a boil and stir frequently until thickened enough that it drips more slowly from your stirring spoon. Remove from heat and pour carefully over the arranged strawberries.
To make the cake batter, start by whisking together in one bowl the sugar, buttermilk, vinegar, and eggs.
In another bowl, whisk together your dry ingredients: the flour, baking powder, xanthan and salt.
Add your wet ingredients to your dry ingredients in three stages, stirring to incorporate each time.
Add your olive oil in 3 stages, folding and stirring to incorporate each time.
Slowly and carefully pour the batter over the strawberries. Don't pour too rapidly, or you'll displace your carefully-arranged spiral.
Bake for approximately an hour. The cake is done when the top is golden and it has pulled away slightly from the edges of the pan.
Cool for 10 minutes, and then run a knife between the cake and the pan to make sure it is completely loosened.
Put a flat plate atop the pan, and then, using potholders to protect your hands, quickly flip the cake while holding the plate tightly to the pan.
Slowly lift the pan, and the cake will be sitting, covered in parchment paper, on the plate. Peel off the parchment paper and be greeted by a beautiful spiral of sweet-tart fruit atop a golden cake.
Source: indieculinary at Food52c with modifications by Suzen O'Rourke
Photo Credits: Canon T2i, 18-55mm lens at F/4.5, 1/50 second at ISO 3200 [no flash]