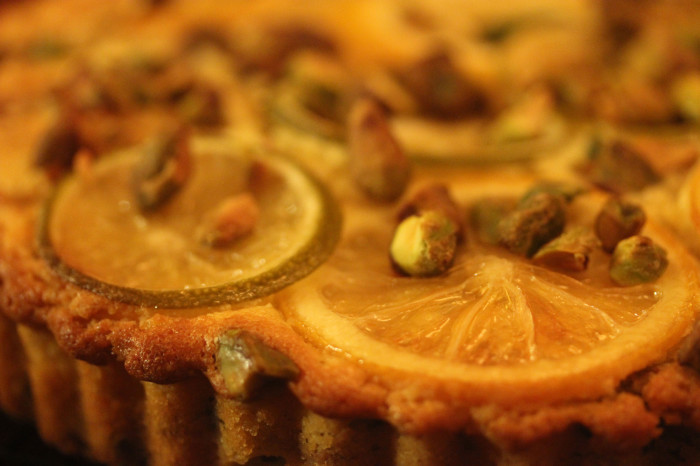 From the back of the book, you learn that Roger Pizey is a renowned baker and patissier. His experiences in Great Britain, in top restaurants and television food shows, have given him eminent skills.
But as you turn the pages of World Class Cakes, his latest book, none of that matters. All that you will care about is how quickly you can get to baking yourself.
Tomorrow, I'll post an overview of this powerfully packed book with recipes that are, truly, from around the world. In a tribute to Turkish ingredients, Roger has created this cake filled with lemon flavor and pistachio crunch. The cake is spectacularly beautiful.  As you turn pages of World Class Cakes, you'll stop on many pages, but this one captured my attention and Suzen's. She likes lemons, but pistachios are a passion for her.
Roger is British. So the temperature and dimensions you'll see below may not match your oven settings or the cake rounds on your shelf. We did 325°F and a 7-inch round. No problem.
Pistachio and Lemon Cake
Yield: serves 8
Ingredients:
½ cup superfine sugar
½ cup water
1 lemon sliced
1 lime, sliced
½ cup [1 stick] utter, soft
¾ cup superfine sugar
3 eggs, lightly beaten
¾ cup all-purpose flour
Pinch of salt
½ teaspoon baking powder
¾ cup good quality pistachios, chopped
Juice and finely grated zest of 1 lemon
Finely grated zest of 1 lime
Preparation:
Preheat the oven to 310°F, and grease and line a 6 ¼ inch round and 2 1/ inch deep cake pan with parchment paper.
Make a sugar syrup by heat the ½ cup super fine sugar and ½ cup of water in a pan. Cook over low heat until clear, stirring continuously, then boil for a minute or so. Pass the liquid through a strainer. Removed from the heat and let cool.
Place lemon and the lime slices and sugar syrup in a pan and gently simmer for 10 minutes. Drain and let cool.
Cream the butter and sugar together until light and fluffy, and add the eggs on at a time.
Sift in the flour, salt, and baking powder, then add two-thirds of the pistachios, the lemon and lime zests, and the lemon juice. Mix well.
Pour the batter into the prepared cake pan, place the fruit slices on top and sprinkle over the remaining pistachios. Bake in a preheated oven 40 minutes or until a toothpick inserted into the center comes out clear.
Removed from the oven and let cool for 15minutes in the pan. Then turn the cake out onto a wire rack and strip off the parchment.
Ideally, serve with a glass of aromatic Turkish tea.
Source: World Class Cakes by Roger Pizey
Photo Information [top picture]: Canon T2i, EFS 60 mm Macro Lens, F/2.8 for 1/25th second at ISO-3200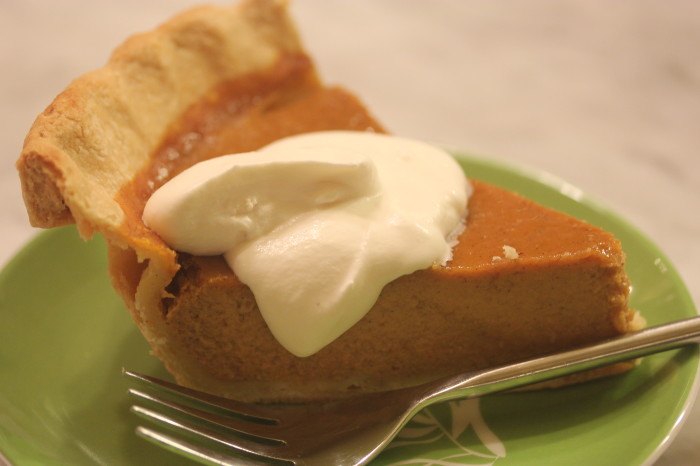 "Pumpkin pie," my grandson Daniel replied. He was ordering Thanksgiving dessert.
"Find that recipe," Suzen commanded.
We have this recipe, the recipe,  for pumpkin pie that is sensational. Haven't made it for a couple of years. I go to search to find it.
I search. And I search. It's not on the computer. My forehead is damp. I go through twenty cookbooks. I can't find it. My forehead is wet.
And, to make it worse, Suzen and I can't remember why it was so good. I think it was light and fluffy. I seem to remember that it had booze, but maybe not.
Failure. Total failure.
"Let me try," Suzen said. No beads of sweat on her forehead. In an hour more, she said, "Don't worry." She'd googled, compared, and found this very interesting pumpkin pie that is unlike anything we have ever sampled.
What make this recipe distinctive.  It uses coconut milk. No, the resulting pie does not have a coconut tinge to it, but it does have an exceptional smooth consistency that makes you think you are eating silk.
This is now our "holiday-special-gotta-have" pumpkin pie. One bite and it will be yours, too.
Jamaican-Spiced Pumpkin Pie
Yield: 1 9" pie, enough for 8 people
Ingredients:
One 15-ounce can pure pumpkin puree
1 ¼ cups unsweetened coconut milk [full fat only, stirred or shaken well before using]
¾ cup packed light brown sugar
1 teaspoon ground ginger
¾ teaspoon ground cinnamon
½ teaspoon table salt
⅛ teaspoon freshly grated nutmeg
4 large eggs at room temperature
2 tablespoons spiced rum [Captain Morgan]
1 blind-baked pie shell
Preparation:
Position a rack in the center of the oven, set a heavy-duty rimmed baking sheet on the rack, and heat the oven to 425°F.
In a large bowl, whisk the pumpkin, coconut milk, sugar, ginger, cinnamon, salt and nutmeg until smooth. Whisk in the eggs and then the rum, until the mixture is smooth. Pour the filling into the piecrust.
Put the pie on the heated baking sheet. Bake for 10 minutes and then reduce the oven temperature to 350°F. Bake until the center of the pie no longer wobbles when the pan is nudged [a slight jiggle is fine], an additional 45 to 55 minutes.
Transfer to a rack and cool completely before serving. The pie can be stored at room temperature for up to 2 days.
Source: Nicole Rees from Fine Cooking
Photo Information: Canon T2i, 18-53MM Macro Lens, F/2.8, 1/100th second, ISO 1000