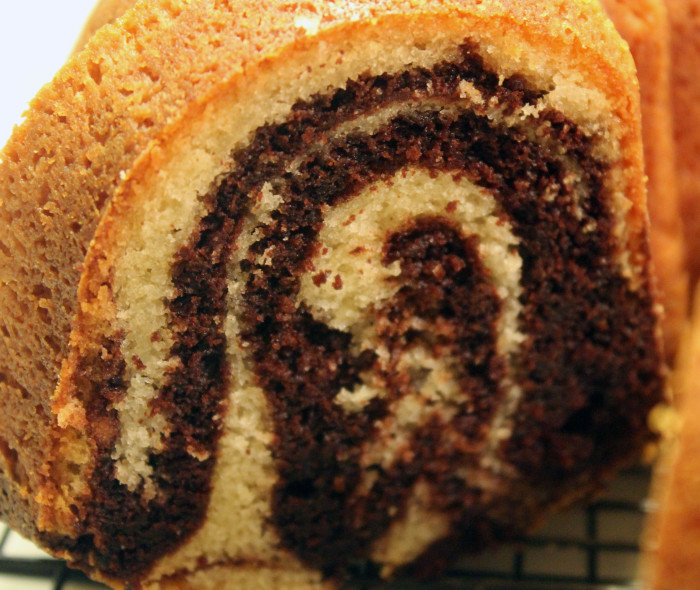 Grandsons often possess special powers. For example, if I want a marble cake, and I ask for it, Suzen is going to reply, "You have to watch your sugar intake! How many times …."
On the other hand, our grandson Reid was visiting from Austin. "Can I have a marble cake?" he asked.
"Brian, find the best possible recipe," Susan commanded me.
"Okay," I acknowledged and backed away. I bowed slightly so Suzen could not see the smile on my face. Reid was stone-faced, not showing one hint of conspiracy. I want the kid to be a lawyer, with his acting skills, but maybe with such skills he should just be an actor. Well, not just an actor. He's bound to get an Oscar, Emmy, Tony or probably all three. He convinced me at that moment of his angelic innocence.
I waited a reasonable amount of time, then reentered the kitchen with the recipe Reid and I had found the night before. Like I said: conspiracy.
In such a situation, where you may have only one shot before discovery, you make the shot count. There is a marvelous book, Cooking with Chocolate edited by Frédéric Bau, the Director of the École du Grand Chocolate Valrhona. This book was released in English in 2011. If you are a chocolate lover and have not yet discovered Cooking with Chocolate, it is time for an Amazon visit. I'll post a full review in a few days. But, in the meantime, …
The book, of course, is impeccable. You know that every recipe has run the gauntlet from a battery of the world's best chefs. There is a small picture on the recipe page for this cake, just a simple little snapshot of a slice of cake. Dark chocolate waves are embedded in a dough so richly yellow you just have to pause. What would this taste like?
Really good, actually. Moist with distinct chocolate and vanilla layers. The vanilla batter has 8 egg yolks [just like a good ice cream base!], so every bite is the definition of satisfaction. Extravagant satisfaction.
For something this good, the recipe is simple with a preparation time of just 20 minutes. It takes 50 minutes to an hour to bake and is dense, so after about 45 minutes you need to start checking for doneness with a long toothpick or, better, a skewer.
Quite honestly, this cake does not require frosting, sauce, whipped cream, ice cream or even just powdered sugar. It doesn't. But, in the interest of continuing the conspiracy, I will supply a few ideas for accompaniment over the next few days. Decadence, like conspiracy, is not a sin. Well, not if it's for a good cause. At least that's what I told my grandson.
For this coming weekend, here is a family-pleasing dessert. If you have young children, giving them a spoon or fork with order to "make the marblilng" is a moment they will always remember.
---
Chocolate-Vanilla Marble Loaf
Yield: serves 8

Ingredients:

For the vanilla batter:

8 egg yolks
1 cup plus 2 tablespoons granulated sugar
½ cup whipping cream
1 vanilla bean
1 ¾ cups cake flour
¾ teaspoon baking powder
4 ½ tablespoons butter, melted and cooled
For the chocolate batter:

2 ½ ounces bittersweet chocolate, 70 percent cocoa
4 egg yolks
⅔ cup sugar
⅓ cup whipping cream
1 cup [2 ¾ ounces or 80 grams] cake flour
2 teaspoons unsweetened cocoa powder
½ teaspoon baking powder
1 tablespoon plus 1 teaspoon grape-seed oil
A little melted butter to dip the spatula [optional]
Preparation:

Prepare the vanilla batter.

In a mixing bowl, combine the egg yolks with the sugar. Add the cream. Slit the vanilla bean lengthways and scrape out the seeds into the mixture. Sift in the flour and baking powder and incorporate them into the batter, then stir in the melted butter. Set aside.
Prepare the chocolate batter.

Chop the chocolate and melt it slowly in a bain-marie or in the microwave oven.
In a mixing bowl, combine the egg yolks with the sugar, then stir in the cream. Sift the flour, cocoa powder, and baking powder together into the mixture and stir in. Then stir in the melted chocolate and grape-seed oil until just blended.
Preheat the oven to 300°F (150°C). Line the loaf pan with parchment paper. For a really attractive marbled pattern (see p. 132), pipe out one-third of the vanilla batter over the bottom of the pan. Then pipe out half of the chocolate batter lengthways through the center. Cover this with one-third of the vanilla batter and pipe out the remaining half of the chocolate batter lengthways through the center. Cover it with the remaining vanilla batter. Dip a spatula into a little melted butter and run it lengthways along the batter, making an incision about ½ inch deep so that the cake rises nicely.
Bake for 50 minutes to 1 hour, until the tip of a knife or cake tester comes out clean.
Turn the cake out onto a cake rack and leave it for about 10 minutes on its sides so that it retains its shape.
Source: Cooking with Chocolate edited by Frédéric Bau

Photo Information Canon T2i, EFS 60 mm Macro Lens, F/5.6 for 1/15th second at ISO‑3200

---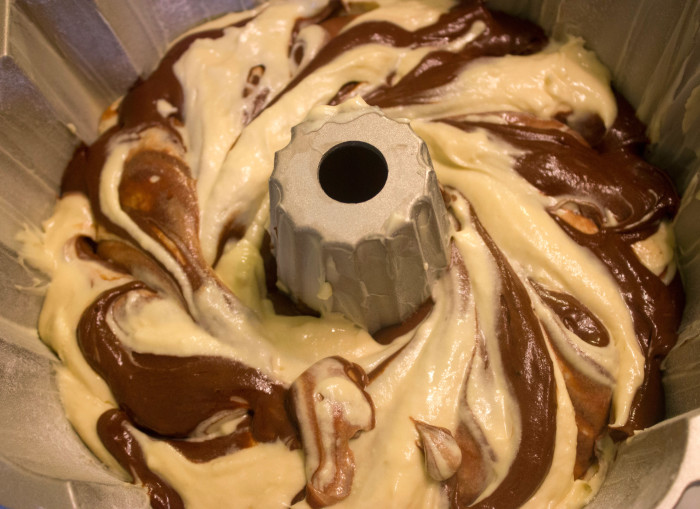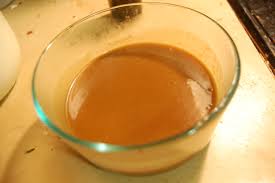 Last year, for the 4th, I suggested a Butterscotch Roll-up Cake. The cake was rolled in a combination of whipped cream and rich butterscotch sauce that had been folded into one diabetic dream. Butterscotch is a variant of caramel and, when well made, is outrageously satisfying. Just a tad can make all the difference to a dessert.
This year, I project we go more healthy. Here's the recipe just for the sauce which is lovely on ice cream. Look for a deeply rich French vanilla that can mate with the butterscotch and not be overwhelmed.
I have always presumed that butterscotch had to an ancient treat devised by Scottish clans to deal with those nasty winters or invaders from England. Not true. Perhaps because it uses what would have been pricey ingredients — butter and brown sugar — it is recent, first appearing in the literature only in 1848. And then it was described as "Doncaster Butterscotch" from the town of Doncaster right smack in the middle of England. The "scotch" part may come from an old verb "to cut or to score." Nothing to do with geography. Here the recipe is designed, not for cutting, but for pouring.
Although, I am told that a desperate man, with a full set of lungs, can use a straw and not a spoon.
Butterscotch Sauce
Yield: ~2 cups
Ingredients:
1/3 cup [3 ounces] salted butter
1 cup firmly packed dark brown sugar
1 cup heavy cream
1 tablespoon whisky
1 ½ teaspoons pure vanilla extract
½ teaspoon fine sea salt
Preparation:
Melt the butter over medium heat in a large heavy-bottomed sauce pan. Dump in the brown sugar all at once and stir with a wooden spoon to combine. Cook, stirring frequently, until the mixture begins to simmer and changes from a wet sand consistency to a liquid that fives off a lovely molasses smell and looks like taffy, approximately 3 minutes from the time it comes to a simmer. Drizzle ¼ cup of the cream into the mixture and vigorously blend the cram into the sugar and whisk in the remaining cream. Turn the heat up to medium-high and allow the sauce to boil, whisking occasionally, until it has darkened, about 8 minutes. Remove the pot from the heat and allow the sauce to cool for a few minutes before adding the whisky, vanilla, and salt. Refrigerate until cold.
Source: Vintage Cakes by Julie Richardson