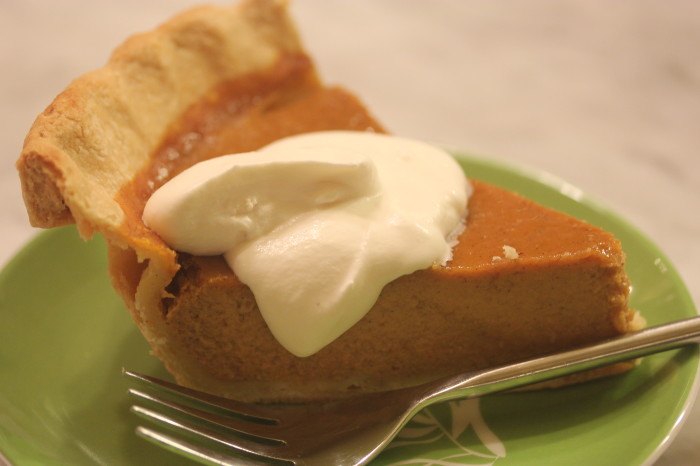 "Pumpkin pie," my grandson Daniel replied. He was ordering Thanksgiving dessert.
"Find that recipe," Suzen commanded.
We have this recipe, the recipe,  for pumpkin pie that is sensational. Haven't made it for a couple of years. I go to search to find it.
I search. And I search. It's not on the computer. My forehead is damp. I go through twenty cookbooks. I can't find it. My forehead is wet.
And, to make it worse, Suzen and I can't remember why it was so good. I think it was light and fluffy. I seem to remember that it had booze, but maybe not.
Failure. Total failure.
"Let me try," Suzen said. No beads of sweat on her forehead. In an hour more, she said, "Don't worry." She'd googled, compared, and found this very interesting pumpkin pie that is unlike anything we have ever sampled.
What make this recipe distinctive.  It uses coconut milk. No, the resulting pie does not have a coconut tinge to it, but it does have an exceptional smooth consistency that makes you think you are eating silk.
This is now our "holiday-special-gotta-have" pumpkin pie. One bite and it will be yours, too.
Jamaican-Spiced Pumpkin Pie
Yield: 1 9" pie, enough for 8 people
Ingredients:
One 15-ounce can pure pumpkin puree
1 ¼ cups unsweetened coconut milk [full fat only, stirred or shaken well before using]
¾ cup packed light brown sugar
1 teaspoon ground ginger
¾ teaspoon ground cinnamon
½ teaspoon table salt
⅛ teaspoon freshly grated nutmeg
4 large eggs at room temperature
2 tablespoons spiced rum [Captain Morgan]
1 blind-baked pie shell
Preparation:
Position a rack in the center of the oven, set a heavy-duty rimmed baking sheet on the rack, and heat the oven to 425°F.
In a large bowl, whisk the pumpkin, coconut milk, sugar, ginger, cinnamon, salt and nutmeg until smooth. Whisk in the eggs and then the rum, until the mixture is smooth. Pour the filling into the piecrust.
Put the pie on the heated baking sheet. Bake for 10 minutes and then reduce the oven temperature to 350°F. Bake until the center of the pie no longer wobbles when the pan is nudged [a slight jiggle is fine], an additional 45 to 55 minutes.
Transfer to a rack and cool completely before serving. The pie can be stored at room temperature for up to 2 days.
Source: Nicole Rees from Fine Cooking
Photo Information: Canon T2i, 18-53MM Macro Lens, F/2.8, 1/100th second, ISO 1000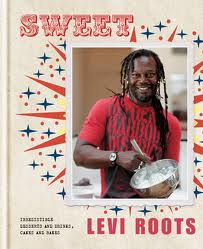 Levi Roots is a man whose background is charmed and has led him to a charming career in the food industry. He's now a British-based author whose latest book, Sweets, is tantalizing.
Levi grew up in Jamaica, living with his grandparents. At age eleven, he joined his parents in Great Britain. His grandmother taught him to cook, and Great Britain gave him the opportunity to expand. He has appeared on BBC as a guest, then had his own show. And a café and a string of cookbooks.
Sweets shows deep Jamaican roots but tops things off with British polish. For example, a fool is an English dessert, traditionally created by folding pureed stewed fruit [originally gooseberries] into a sweet custard. It's as English as Shakespeare.
Levi offers up Roast Apple, Rum and Maple Fool. There's his Jamaican rum plus North American maple syrup and apples from Eve's tree. It's a masterful mélange of old and new using the framework of that fool concept that actually first appeared at the time Shakespeare was writing his plays and poems.
Oh, if you like fools, on the facing page is Mango and Mascarpone Fool. Shakespeare never had that one.
There's a Caribbean flair to many of the recipes here:
Mango and Passion Fruit Cake
Chocolate and Lime Cake
White Chocolate and Vanilla Cake with Dark Chocolate Swirls
Cardamom and Allspice Brownies
Barbecued Pineapple with Lime Caramel Sauce
Passion Fruit and Orange Sorbet
Mango and Lime Ice Cream
When you read these recipes, and salivate over the photos, you begin to notice something. Yes, they are inspired by a climate where it's 80°F in February, but these are universal recipes, ones you can enjoy year round, no matter the temperature outside.
This book is a delight to page through, testing your will power, and constantly offering you the opportunity to surrender. The only thing you may have to do is go buy some limes, or mangos or passion fruit. You could rake the last fall leaves or barbeque some pineapple and make that lime caramel sauce.
The leaves can wait.