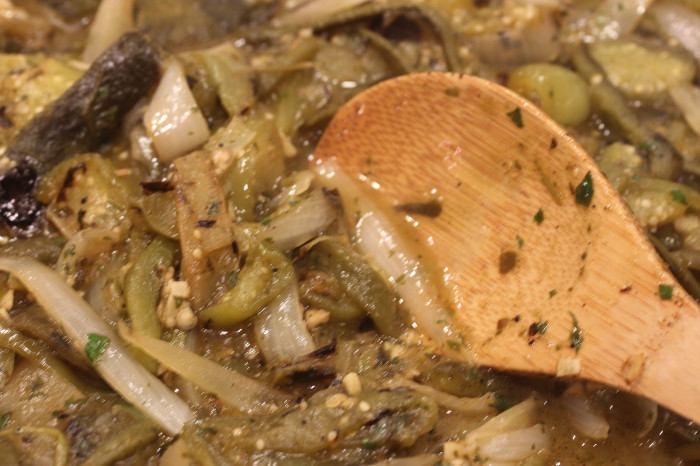 "How about this?" I handed Suzen the first recipe I had found thanks to Google.
"No," she said in a flash. Had she read the recipe? No. Did I mind? No. It was the first one. She always rejects the first one.
"Okay, how about this?" She got the second.
She paused, actually scanning. "No."
"Well, I think you might like this one," I said, handing her the third. I always give her the good one third. Works flawlessly.
"No."
"What?"
"No. Get out."
"What do you mean out?"
"Brian, cooking is a lot like baseball. Three strikes and you are out. Out of the kitchen."
I left. Humbled. Depressed. I get sent on missions to find recipes for Suzen and I often succeed. Often but not always. I need recipes. I am not a chef and I have never been culinary school. I may improvise in the kitchen, but I need that template, that recipe in front of me, to make sure I have all the ingredients and all the proportions. I simply cannot do it out of my head.
Suzen can. Her cooking school, Cooking by the Book, has had enough students to fill Giants Stadium. Twice. And she tested the 3000+ recipes in that last edition of The Joy of Cooking. All those recipes. And, the thousands more that were tried out but did not make the cut for the book. In all that cooking, she's become a kitchen ballerina.
The day's mission for me had been what to do with an abundance of peppers, and onions, and tomatillos. It was the end of the week, classes at CBTB were done, and we had leftovers and a challenge.
Suzen had some vision and she translated leftovers into that vision with immense success. This Southwestern Pepper Medley has a lively tang — from onion, garlic and surely those tomatillos — that makes this a substantial side dish. Pair it with any protein and you'll be successful.
Or, puree this into a sauce and use to top off a burger than has already been adorned with blue cheese. I guarantee your eyes will pop with the sharp, bright tang of this mixture.
I'm sharpening my google skills. Can I learn how to read her mind? Figure out what she really wants? We've only been married for 28 years. I'm just getting started. And Google? They have those glasses and the driverless cars and all sorts of advanced gizmos. Surely, Google can …
No. Strike four. I'm really out.
Southwestern Pepper Medley
Yield: serves 8+ as a side Ingredients:

1 pound poblano peppers, roasted, seeded and sliced
1 pound green bell peppers, roasted, seeded and sliced
2 jalapenos, roasted, seeded and sliced
1 pound tomatillos, husks removed, washed and quartered
1 large white onion, quartered
5 cloves garlic, roasted
Lime juice to taste
1 tablespoon cumin
½ cup vegetable oil
1 cup pepper jack cheese, grated
Salt and freshly ground black pepper to taste
½ cup chopped cilantro gar garnish

Preparation:
Place a small amount of oil in a cast iron pan large enough to hold all the veggies in a shallow layer.
Heat the oil on medium until hot. Add the spices and cook until they become aromatic. Add all the vegetables and sauté until soft. Season with lime juice and salt and pepper to your taste.
Lower the heat to simmer. Add the cilantro and cheese, mix rapidly to achieve a creamy texture.
Sources: Suzen O'Rourke
Photo Information: Canon T2i, EFS 60 mm Macro Lens, F/5.6 for 1/20th second at ISO-640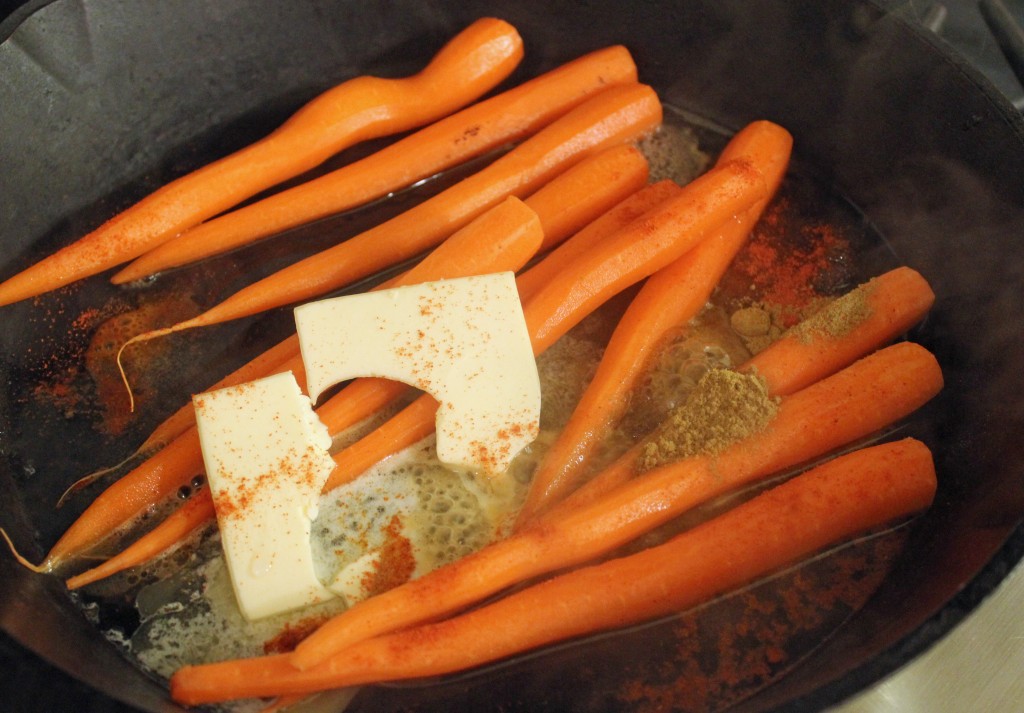 Our honey-based menu for the spring holidays continues here with these Cumin and Honey Carrots. There is only a little honey here, I admit, but it goes to great use. A gentle warning: if you make these carrots, you kitchen will radiate the smell of cumin for about 24 hours. The carrots themselves are sweet and spicy, not at all over the top. But cumin has that property of propagation, so be ready.
We made these with full sized carrots but baby ones are specified in the original recipe. In the pan, those full-sized monsters did look awesome. Be careful to monitor your carrots as they cook so they do not burn. You will get some black spots and carmelization, but that's the flavor you want.
Cumin and Honey Carrots
Servings: serves 4 generously
Ingredients:
1 ½-pounds baby carrots, peeled
2 tablespoons butter
1 teaspoon honey
1 teaspoon ground cumin
pinch cayenne
½ lemon fine sea salt and freshly ground pepper
Preparation:
Place the baby carrots in a large skilled with butter, honey and about ⅓ cup water. Heat over medium high heat and season the carrots with cumin, cayenne, salt and pepper and cook stirring occasionally, until lightly caramelized and tender, about 20 minutes.
Source: Avec Eric by Eric Rupert