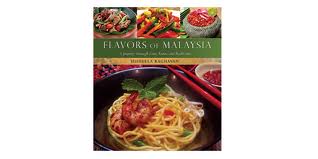 Okay, let's do a scavenger hunt. Go to your bookshelf, the bookshelf you have devoted to cookbooks.
Good. Now go to the row devoted to Asian food.
Good. Now go to the section devoted to Malaysian food.
Good? Or not good?
Oh, you don't have Malaysian books? Or any Asian books? Good God, no cookbooks?
I can suggest multiple solutions to this gap in your life. You could start with Flavors of Malaysia by Susheela Raghavan. A Malaysia native, she takes you on a brilliant food tour of her extensive land through 150 recipes. Good recipes. Different recipes, and yet not that different.
Take this salad, for example. You've had cucumber and tomato salad probably. But now, with some chilies and yoghurt, you get a different experience. This salad is easily made and more easily loved.
Flavors of Malaysia is filled with ingredients you know about but now assembled in new fashions to give you a wonderful new set of flavor notes. It's an easy book to read and follow, with well written recipes and pictures that will tempt you to buy some curry for your kitchen. Yes, a visit to an Asian market is in your future.
In terms of recipes, start with this salad, to dip you toe in, and then experiment with some challenging flavor combinations you've probably not put in your mouth:
·         Pickled Mango Salad
·         Pork Rib Soup
·         Spicy Egg Curry
·         Chinese Stir-Fried Rice Noodles
·         Braised Spicy Long Beans
Flavors of Malaysia is published by Hippocrene Books in New York. They specialize in world cookbooks, with volumes ranging from Estonia to Asia. There are many European cuisines in their repertoire, but it is the Asian books that caught my eye. Start with Flavors of Malaysia and then find other Hippocrene offerings. Then you can journey, foodwise at least, to Laos, Turkey, Lebanon, and a host of other lands.
Spicy Cucumber Tomato Salad
Yield: 5 to 6 servings
Ingredients:
The Salad
2 medium (about 1 pound or cups) cucumbers, peeled, cored, and julienned into 2-inch by ¼-inch pieces
¾ to 1 teaspoon salt
1 heaping cup (about 7 ounces) cubed tomatoes in 1-inch pieces
The Dressing:
1 to 1 ½ teaspoons cumin seeds, dry roasted and pounded or ground or simply use ground cumin
4 to 5 fresh green or red chiles (jalapeno, Fresno, Serrano, Thai, cherry, or cayenne), sliced and coarsely pounded (about ¼ cup)
¼ cup chopped shallots or red onions
2 cups plain yogurt
⅛ teaspoon turmeric powder, if desired
The Final Garnish:
1 tablespoon cooking oil
¼ to ½ teaspoon black or dark brown mustard seeds
8 fresh curry leaves
Preparation:
Rub cucumber slices with salt and let sit in colander with the cucumbers weighted down by a plastic bag of water for about 15 to 20 minutes, until all liquid is drained from the cucumbers. Alternative, place the cucumbers in a non-reactive bowl, add 3 cups  warm water or enough to cover, and let sit for about 15 to 20 minutes; drain in a colander and gently squeeze out excess water. Set the cucumbers aside.
Combine the dressing ingredients and blend well. Add cucumber and tomatoes and coast well with the dressing.
Before serving, heat the  oil in a small skillet. When hot, add mustard seeds and curry leaves, cover and let the seeds pop. When popping subsides, uncover and pour this savory mixture over the salad.
Source: Flavors of Malaysia by Susheela Raghavan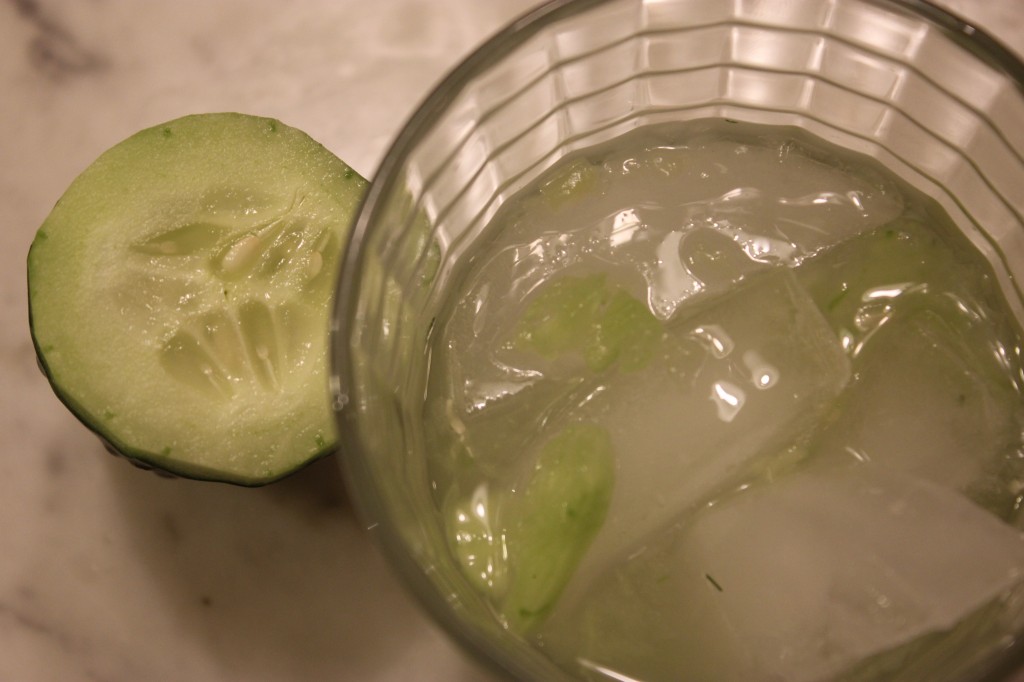 Cucumbers are wonderfully versatile and refreshing. The flavor is unmatched for vivacious clarity. And while it once was a summer food alone, now we find great kukes year round.
In a cocktail, the bright flavor of cucumbers is best matched with pure liquors, like gin or vodka. You need complimentary flavors, not dominance.
This martini was inspired by a recipe at www.diffordsguide.com but I have played with it. You'll want to experiment, too. The flavor can vary with the vodka you use and certainly with the ripeness and intensity of the cucumber.
Cucumber Martini

Yield: 1 medium-sized drink
Ingredients:
• 1 three-inch slice of a medium-thick cucumber, peeled, and cut into a half dozen chunks
• 2 ounces vodka
• 1 ounce sugar syrup
Preparation:
Remove any seeds that freely come from the cucumber chunks but do not obsess: you do not want to lose any of the cucumber juice.
Place the cucumber in the bottom of a cocktail shaker and muddle for at least one minute. It's impossible to crunch down every single fragment of cucumber, but that's your goal.
Add the vodka — you could use a lightly flavored vodka here, say, lemon. In that case, I would suggest 1 ounce of flavored and 1 ounce of pure. Add the sugar syrup, ice, and shake.
Pour into a cocktail glass filled with either ice cubes or shaved ice.