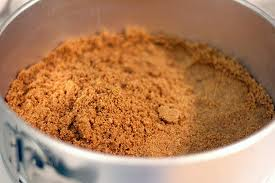 Graham cracker crust is a staple for many pies, particularly the summer pies that will soon be enticing us.
Getting a "crust" ready-made from the store is one option, and a bad one. Those ready-made creatures are often too thin, dry, and stale. They are a poor match for that wonderful pie you are about to craft. It is the combination of filling and crust that creates that total pie experience.
After experimentation, I've found a great technique for making your own crust. This crust is thick, not thin, and "rough" with various sizes of crumbs. Eating the crust itself is a treat. You make the crumbs by hand, not in that food processor. A range of crumb sizes, bonded with melted butter and perhaps flavored with spices, creates a matrix of textures and flavors that can complement the pie of your choice.
To make the crumbs, break the graham crackers by hand over a bowl, and then press your fingers into the larger fragments until they are broken. You don't want to create a uniform powder here. Your goal is a mixture: some powder, some small fragments, a larger chunk or two.
Flavorings? The crust is a template you can play with. The basic recipe calls for adding sugar. Beyond that, you can try:
A teaspoon of chili powder to compliment a chocolate pie
A tablespoon of cocoa powder to get a "chocolate-flavored" crust
A teaspoon of cinnamon if you are planning a fruit pie
The zest of a lemon or lime if you are making a citrus pie
You can experiment with these quantities and with other flavors. Do go gently with that chili powder, though. You want some heat to accent the chocolate, not put your mouth on fire.
Great Graham Cracker Crust
Servings: One thick crust for the bottom layer of a 9-inch pie
Ingredients:
1 ⅔ cups graham cracker crumbs
4 tablespoons sugar
Other desired flavorings, optional
6 tablespoons butter, melted
Preparation:
Heat the oven to 350⁰F.
In a medium blow, combine the graham cracker crumbs and sugar. Stir with a fork to blend. Add any other flavorings and again stir to blend.
Add 4 tablespoons of the melted butter and mix with a spoon or, better, with your hands. Depending on the dryness of the crumbs, you may need to add some or all of the remaining butter. The goal is to have the crumbs damp, not wet, malleable but not clumping into ball. You need a mixture you can gracefully manipulate in the pie shell.
Place the crumb mixture in a 9-inch pie shall. Spread the crumbs evenly across the bottom and the sides. To compress the crumbs, use your hands. Or press down with a pie pan of the same size. Make sure the edges have a solid barrier of crumbs all the way to the top.
Place the shell in the heated oven. Bake for 12 minutes and check for doneness. The cooking time should be 14 minutes, but you don't want a burnt shell. The crust is done when it is heated through and lightly browned.
Place the shell on a cooling rack and let it come to room temperature before using.
If you wish, you can freeze the crust for up to a month before defrosting and using.
Source: Brian O'Rourke with inspiration from Southern Pies by Nancie McDermott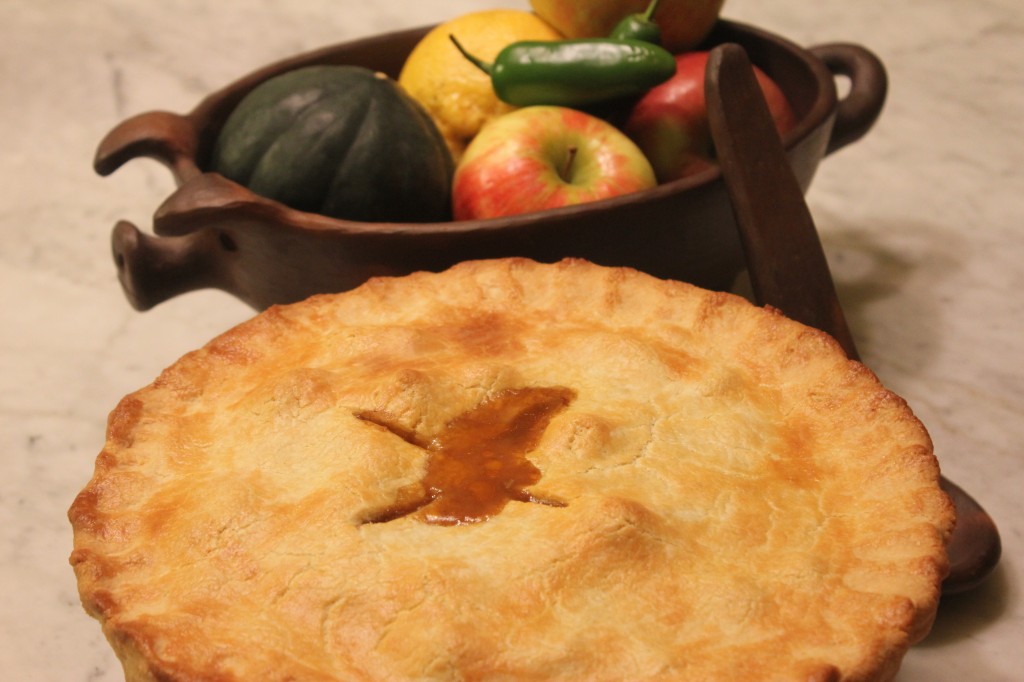 Yesterday's post called for a Rich Shortcrust Pasty. Here it is from Pie by Angela Boggiano. The "richness" here is achieved by using only butter for the fat and even 1 tablespoon more than in the "standard" shortcrust pasty in Pie.
Angela says that this crust is fine for both sweet and savory dishes. For sweet ones, she recommends the addition of confectioner's sugar. For additional flavor or texture, you can add spices, like cinnamon or nutmeg, or grounds nuts, like walnuts or almonds.
This particular dough is softer and more difficult to handle that a standard shortcrust recipe. So, you will want chill it thoroughly, at least for the 30 minutes stated in the recipe and ideally for a few hours. When you remove the dough from refrigerator, let it warm and soften slightly then roll out between two sheets of waxed paper.
The lemon juice in the recipe, perhaps an unexpected ingredient for you, has a very specific purpose. The juice slows gluten formation in the dough which would toughen the crust. This juice, and minimizing the amount of rolling you do, are key to having that soft, dreamy crust you really want.
Pie is a book filled with ideas to consume you year round, but particularly during these colder months. Chapters offer pie basics on dough and problem solving, savory pies for the table, handpies for individual delectability, noble pies that can centerpiece a holiday table, and sweet pies both old and new. All the recipes are grand but here are some specifics to tempt you:
Braised Lamb Shank Pie
Rabbit Pot Pie with Polenta Crust
Lamb, Mint, and Pumpkin Pie
Chicken, Leek and Tarragon Pie
Spanish Pepper and Chorizo Pie
Cheshire Cheese and Onion Pie
Authentic Cornish Pasties
Chocolate-Filled Pear Puddings
Chocolate and Pistchio Cream Pie
We've done that Chocolate-Filled Pear Pudding recipe which can only be described as stunning. Cored pears are filled with a chocolate and cream mixture, wrapped in puff pastry, then baked and consumed in ecstacy. I was to to take a picture, but my fork got in my way.
Rich Shortcrust Pastry
Yield: 10 ounces of dough, enough to top a typical pie
Ingredients:
• 2 cups [200 grams] all-purpose flour
• ¼ teaspoon salt
• 2 tablespoons confectioner's sugar, if making sweet pastry
• ¾ stick + 1 tablespoon [100 grams] unsalted butter, cold
• 1 egg, beaten
• 1 teaspoon lemon juice
• 2 tablespoons ice water
Preparation:
Sift together the flour and salt (and confectioner's sugar if making sweet pastry). Cut the butter in cubes and add half of it to the flour. Gently and swiftly rub the fat into the flour until it resembles coarse breadcrumbs. Add the rest of the butter and mix until it is the size of small peas.
Make a well in the center with our fist. Mix the beaten egg with the lemon juice and water and gradually pour into the well a little at a time, using a knife to mix the dough as you go. If the mixture looks like it has sufficient liquid to form a dough, don't add all the liquid as the absorbency of flours varies.
Turn out onto a floured board and knead lightly until smooth. Shape into a ball, wrap in plastic warp, and refrigerate for at least 30 minutes before use.
Source: Pie by Angela Boggiano [Published by Octopus Books]