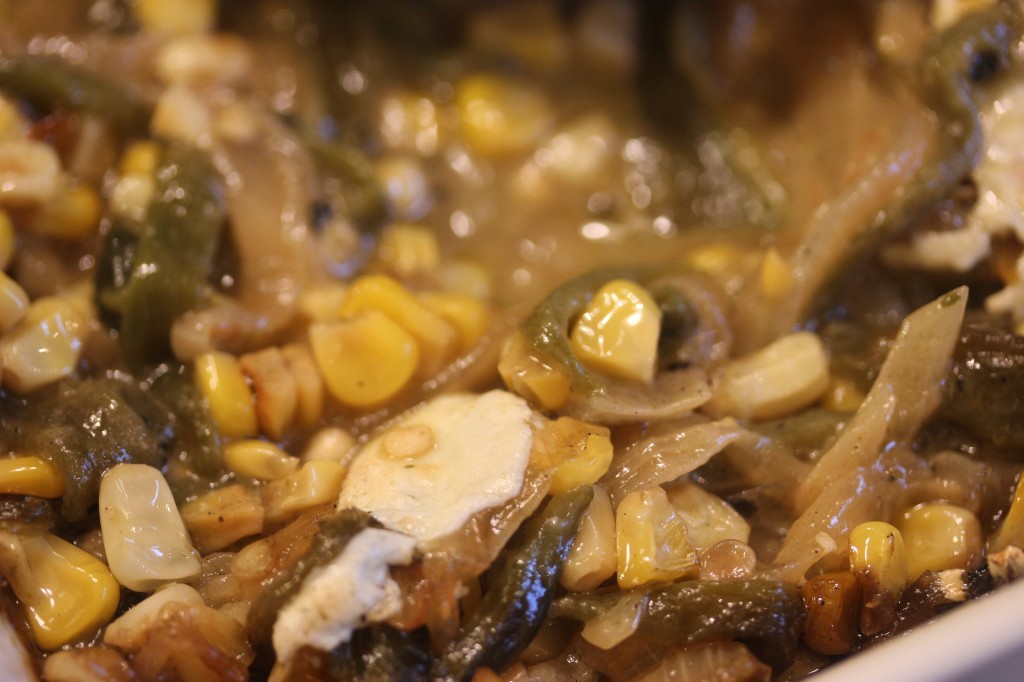 Creamed chilies are an almost daily staple on many Mexican tables. This recipe features milder poblanos, but you can go down the route of fire if you wish to. I actually think of this as a creamed corn dish with a touch of heat.
How do you use this? Suzen and I eat it as a side dish. But you can put this in tacos, topped grilled meats, or even combine this with a baked potato. Remember: starch + starch = good.
With the ingredients on hand, you can turn this dish out in minutes. With summer corn all around us, it's the perfect time to prepare this treat. Be prepared though. It is addictive and you may find it on your table several times a week, too.
Creamed Rajas
Servings: serves 4
Ingredients:
3 tablespoons vegetable oil
1 medium white onion, thinly sliced
2 cups fresh corn kernels (from 2 ears)
6 poblano chiles, charred, peeled, stemmed, seeded, and cut into strips
1/4 cup heavy cream
1/4 cup Mexican crema or creme fraiche
V2 cup shredded Oaxaca cheese or mozzarella cheese
Salt and freshly ground black pepper
Preparation:
Heat the oil in a large heavy skillet over medium heat. Add the onion and sauté for 5 minutes, or until translucent. Add the corn kernels and cook for an additional 3 minutes.
Add the chile strips to the corn mixture and cook for 5 minutes, or until the corn is tender. Add the heavy cream and crème and cook for 8 minutes, or until bubbling. Add the cheese and stir until melted and smooth. Season to taste with salt and pepper. Serve hot.
The rajas can be made 1 day ahead. Cool, cover, and refrigerate. Stir over medium heat until hot before serving.
Source: Fresh Mexico by Marcela Valladolid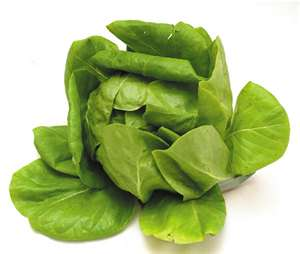 If you mention the name "Jacques Pepin" to someone at random, you stand a pretty good chance hearing, "That's somebody I've heard of, although …" Foodies, of course, can pinpoint this name of one of the world's top chefs. But non-foodies galore will look at you and struggle to answer. They have heard the name, but they just are not sure where. "Jacques Pepin" has become a phrase that has permeated our culture. From books, television shows, and all kinds of media presentations, Jacques has been on the American landscape for decades.
His latest book, Essential Pepin, describes itself as "more than 700 all-time favorites from my life in food." With his remarkable life, you know that this book is filled with exceptional ideas.
How do you approach a book like this? It's not really intimidating, but it is almost 700 pages long and it's heavy enough to press a chicken. With this book, the starting point is you. What do you have in your refrigerator, what do you need help with. Whatever your need, somewhere in this book there will be solution for you. And, it will be a Pepin solution, a recipe you know is tried and true.
Of course, you can start with easier things, dip your cooking toe into the water, and over time work your way up the ladder of recipe complexity. In fact, over the next months, Suzen and I will be trying recipes from the book and posting ideas here. There are many signature recipes here to share with you.
Where did Suzen and I begin? With this salad. On a cold, rainy day, our fridge held a steak ready to cook and a head of Boston lettuce. What could we do with that lettuce. We turned to Essential Pepin as a reference book, knowing that even "simple" things would be sumptuously offered here.
"My God, it's the first salad recipe in the book," I said.
"Let me see," Suzen said. She read, she thought, she uttered. "Look's perfect."
We took our first bites, and smiled. "Perfect" was an understatement. This dressing is the ideal match for buttery Boston lettuce. With cream as the dominant ingredient, the dressing is, naturally, very creamy to the palate. But there is spice from red vinegar and dashes of salt and pepper. The salad is a lovely complement to the taste and texture of a great steak. That's a starch-free menu for those of you working on those New Year's resolutions. You remember those, right?
Essential Pepin offers some features to make your recipe search and preparation easier. Each chapter, like Salads, offers its own table of contents so you can easily scan the wonderfully long list of recipes in each chapter. Secondly, the book comes with a CD where Jacques walks you through several dozen basic techniques. You've heard about home-made mayonnaise? You've never tried it? Then you need this CD to experience a brief moment of creamy nirvana.
Boston Lettuce Salad with Cream Dressing
Yield: serves 6
Ingredients:
½ teaspoon salt

½ teaspoon freshly ground white pepper

4 teaspoons red wine vinegar

6 tablespoons heavy cream

2 tablespoons canola oil

2 heads Boston lettuce, leaves gently torn into bite-size pieces (8-10 cups), washed, and dried
Preparation:
Combine the salt, white pepper, vinegar, and cream in a large bowl. Beat with a whisk for about 20 seconds. The mixture should be foamy and creamy in consistency; it will thicken as you beat it. Add the oil and mix with a spoon to blend it.
While the dressing can be prepared ahead of time, it should only be tossed with the lettuce just before service. The dressing will wilt the lettuces leaves if left standing.
Source: Essential Pepin by Jacques Pepin [Published by Houghton Mifflin Harcourt]