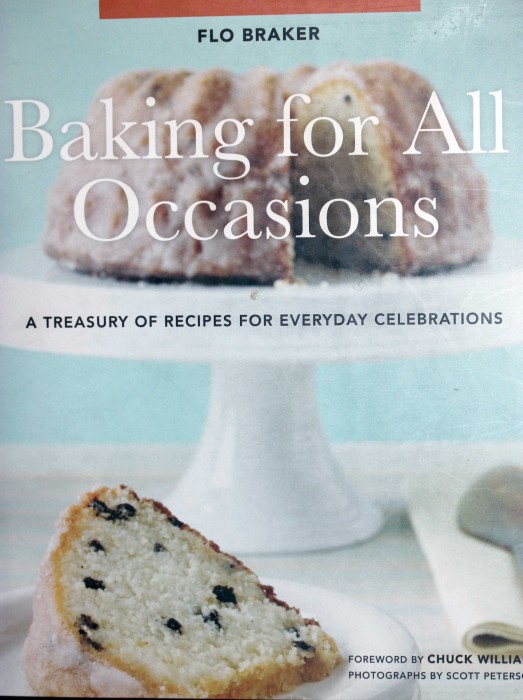 Yesterday I compared the spectrum of quick summer fruit desserts you can assemble: cobblers, crumbles, betties, grunts, slumps, … And I suggested that you can pair any of them with vanilla ice cream. Flo Braker has another idea: whipped cream sauce.
Have you ever eaten just whipped cream? Just the cream. No vanilla, no sugar. Just the cream. If the cream is fresh, it's delightful. The lesson there is that a point of whipped cream does not actually need a half cup of sugar when you whip it. Not that the cream won't hold it. It can. But, should it?
Flo's version here uses little sugar, which is a surprise because she does add considerable sour. The cream is whipped with crème fraiche producing a concoction that your taste buds will immediately notice. For desserts, such as a berry cobbler, that's exactly the flavor addition you want. Cobbler and crumbles are invariable sweet. The fruit is almost always dressed with sugar before baking.
So, out of the oven, comes a bundle hot sweetness. Pair that with the cool tang of this whipped cream and you have a sublime combination.
A second helping combination.
Whipped Cream Sauce
Yield: 3 cups
Ingredients:
2 cups cold heavy cream, as fresh as possible
1 cup crème fraiche
1 tablespoon granulated sugar
Preparation:
In a large bowl, whisk together the cream, crème fraiche and the sugar just until very softly whipped. You'll want this topping to slowly "flow" over the dessert, not stand rigidly and impolitely on its own.
Cover and refrigerate until serving.
Source: Baking for All Occasions by Flo Braker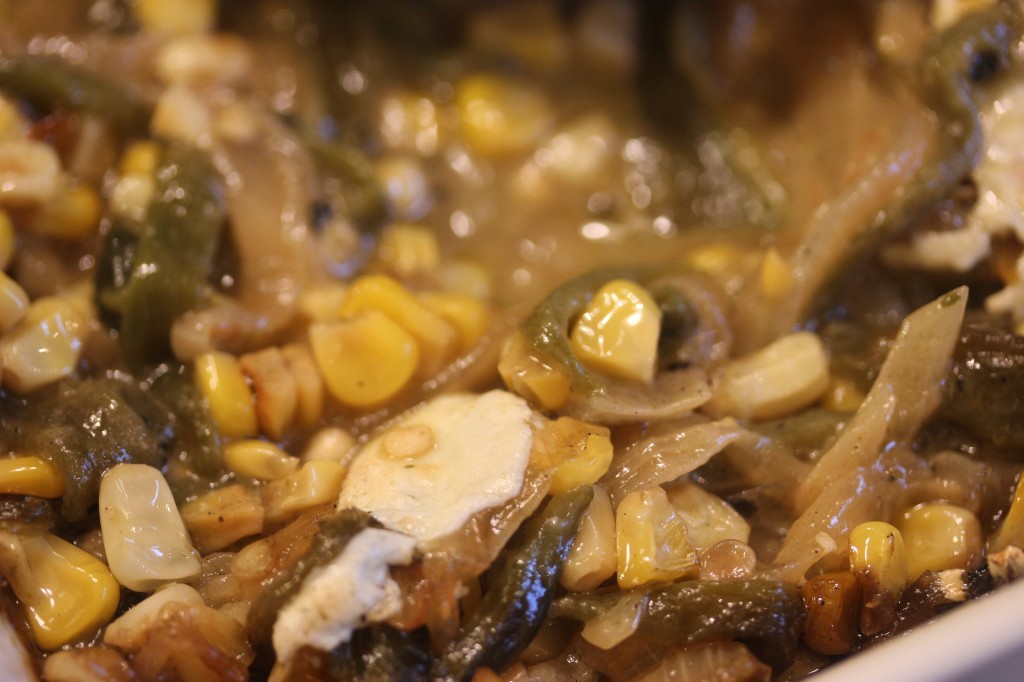 Creamed chilies are an almost daily staple on many Mexican tables. This recipe features milder poblanos, but you can go down the route of fire if you wish to. I actually think of this as a creamed corn dish with a touch of heat.
How do you use this? Suzen and I eat it as a side dish. But you can put this in tacos, topped grilled meats, or even combine this with a baked potato. Remember: starch + starch = good.
With the ingredients on hand, you can turn this dish out in minutes. With summer corn all around us, it's the perfect time to prepare this treat. Be prepared though. It is addictive and you may find it on your table several times a week, too.
Creamed Rajas
Servings: serves 4
Ingredients:
3 tablespoons vegetable oil
1 medium white onion, thinly sliced
2 cups fresh corn kernels (from 2 ears)
6 poblano chiles, charred, peeled, stemmed, seeded, and cut into strips
1/4 cup heavy cream
1/4 cup Mexican crema or creme fraiche
V2 cup shredded Oaxaca cheese or mozzarella cheese
Salt and freshly ground black pepper
Preparation:
Heat the oil in a large heavy skillet over medium heat. Add the onion and sauté for 5 minutes, or until translucent. Add the corn kernels and cook for an additional 3 minutes.
Add the chile strips to the corn mixture and cook for 5 minutes, or until the corn is tender. Add the heavy cream and crème and cook for 8 minutes, or until bubbling. Add the cheese and stir until melted and smooth. Season to taste with salt and pepper. Serve hot.
The rajas can be made 1 day ahead. Cool, cover, and refrigerate. Stir over medium heat until hot before serving.
Source: Fresh Mexico by Marcela Valladolid