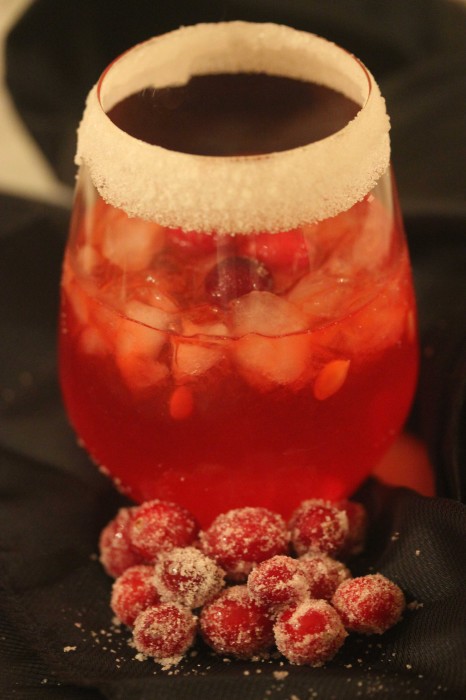 So, I had this girlfriend. And I got involved without really knowing her. Then one night at her place I was going through her magazine collection and I found she read Cosmopolitan. I had seen the magazine on newsstands but never picked one up. Never read one.
Now I did. I saw the content that Ms. Brown prided herself on as editor. I was appalled. I realized I had made a terrible mistake. But I was in too deep and on my own Cosmopolitan slide into relationship abyss.
It didn't work out.
Just a few years after the girlfriend went away, and about the same time I was able to somehow meet Suzen, the word "cosmopolitan" or "Cosmo" was given a new life, a new meaning, a new sparkle.
You know that saying: failure is an orphan but victory has many fathers? Well, the claims for creating the first Cosmo cocktail range far and wide, from coast to coast, and from the 1930s to the 1980s.
Personally, I like the version that credits Cheryl Cook, a South Beach bartender in the mid 80's. Her story, and she really exists although some claimed she was just a bartending myth, is that she noticed how people loved martinis, or in her words:
"What overwhelmed me was the number of people who ordered Martinis just to be seen with a Martini glass in their hand. It was on this realization that gave me the idea to create a drink that everyone could palate and was visually stunning in that classic glass. This is what the Cosmo was based on."
And "stunning" is just the word. Look at that holiday picture above with just a few cranberries added in and about the drink. Traditionally, Cosmos are made with vodka, triple sec, cranberry juice and lime juice, freshly squeezed if you please. Ah, what kind of vodka? Tradition now has it that the vodka has to be citron-flavored.
That's where this new recipe comes from. Charbay makes an excellent, truly flavorful Ruby Red Grapefruit Vodka. Charbay's version is simpler, no triple sec, and sweeter, lemon juice instead of lime. Cran-raspberry juices replaces simple cranberry juice, an idea that many have discovered and that adds new layer of flavor. Gone too in this recipe is any splash of simple syrup, that "secret" ingredient used by many bartenders but so often ignored in describing a recipe. Personally, I still add an ounce of simple syrup when I make this.
Ok, I'm on the road to diabetes. But I still remember being in Singapore, indulging in alternating rounds of sweetish Singapore Slings and Cosmos, as I debated two great questions: which drink was better and wondering how on earth I ever got tangled up with that crazy Cosmo woman.
The woman was bad, the Cosmo was the better tonic for recovery.
Charbay Ruby Red Cosmopolitan
Yield: 1 cocktail
Ingredients:
2 ounces Charbay Ruby Red Grapefruit Vodka
2 ounces cran-raspberry juice
1 ounce simple syrup [optional]
Juice of one lemon
Preparation:
Place the ingredients in a cocktail shaker filled with ice. Shake until thoroughly chilled. That means 30 seconds, not two or three jiggles.
Serve in a martini glass, ideally rimmed with sugar. For the holidays, add some cranberries to the glass. Sugar coated, of course.
Sources: Charbay Vodka and Wikipedia and Brian O'Rourke
Photo Information: Canon T2i, 60mm Macro Lens, F/2.8, 1/25th second, ISO 3200
"How long have you had these symptoms?" the doctor asked me.
"A week or two," I answered.
"About a month at this level. Decades at a reduced level." Suzen was contributing to my diagnosis. I did not appreciate the "decades" bit.
"So," the doctor continued, "your issue is confusion."
"Yes," I said.
"YES," Suzen said. I really must remember not to bring her next time.
"Who is the President of the United States?" the doctor asked me.
"You don't want to get into politics with Brian," Suzen remarked quickly. You know, she does serve a purpose.
"What month is it?" the doctor continued.
"November," I said. "But it seems endless to me. I just received more emails saying our blog has not put up any Thanksgiving recipes."
"And?" the doctor asked.
"Well, I figured Thanksgiving had to be over already."
"Why?" the doctor probed.
"Because Christmas decorations and store displays have been up for six weeks now. We have to be way past Thanksgiving," I argued.
"Thanksgiving is next week, Brian," the doctor corrected me.
"Yes, Brian." Suzen concurred.
"Oh, dear," I slumped back. "What can I do?"
"Well, I think you need to publish some Thanksgiving recipes on your blog," the doctor began. "And then you might consider moving to a society that is less commercially oriented. I hear Iceland is a very mellow place."
"Oh, great," Suzen was staggered. "Can't you just give him a prescription?"
So, we are six days from Thanksgiving 2011 and you may be wondering what to do. In the coming week I will, of course, supply you with some new holiday ideas. Fortunately, this blog is already flush with great menu ideas, from appetizers thru dessert. Here's a table showing the blog titles for several wonderful recipes. And, I've included the word to search on, using the blog's search feature, so you can easily isolate the recipe.
I'll say that the Arrows Roast Turkey recipe is now our standard. We've done it for five or six years running and it has become a tradition. Nick's Cranberry Sauce defines Thanksgiving for Suzen. Dorie Greenspan broadened everyone's food horizons last year with Around My French Table. The stuffed pumpkin is directly from the book and Suzen created a stuffing recipe, sans pumpkin, as an alternative.
Here you go. I'll be blogging more after my next doctor's appointment. I've never been to Iceland.
| | |
| --- | --- |
| Blog Title | Search Word |
| Arrows Roast Turkey | Arrows |
| Nick's Cranberry Sauce | Nick's |
| Pumpkin Stuffed with Everything Good by Dorie Greenspan | Pumpkin |
| Thanksgiving Stuffing 2010 with Thanks to Dorie Greenspan | Stuffing |
| Pumpkin Chiffon Cake for Thanksgiving | Pumpkin |
| Apple and Jalapeno Tailgate Pie | Tailgate |