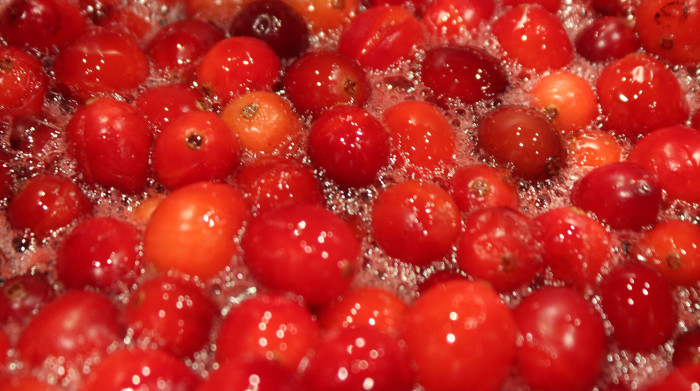 They are not just for Thanksgiving or Christmas any more. Cranberries bring a bright, tart flavor to whatever you choose to adorn, mix, or bake with.
This recipe is from The Great American Cookbook, the wonderful state-by-state array of recipes compiled 50 years ago by Clementine Paddleford. Mention "cranberries" and surely "Maine" pops into mind. This recipe is a classic combination of cranberries and orange, frosted with notes of cinnamon and clove.
What is a compote? It's another French creation, a mixture of fruit and sugar syrup, that first appeared in 17th century. What to do with it? Eat it. In a bowl. By itself. Or, you can have ice cream or yogurt in the bowl. Or, you can top off angel food cake or pound cake. Or, you can serve it as a side to roast poultry. This compote paired with dark, moist turkey meat is an experience that should not deny yourself.
Spiced Cranberry Orange Compote
Yield: serves several depending on
Ingredients:
1 cup water
2 cups sugar
5 whole cloves
2 2-inch cinnamon sticks
3 large seedless oranges, peeled, white pith complete removed, and sliced ½ inch thick
4 cups cranberries, fresh is best, defrosted will suffice
Preparation:
Combine the water, sugar, cloves and cinnamon stick in a large saucepan. Place over medium-high heat, bring to a boil, and boil for 5minutes. Add the orange slices, lower the heat to medium-low, and simmer for 3 minutes.
Add the cranberries and continue to simmer for 5 to 8 minutes, until the liquid becomes syrupy and the cranberry skins pop open. Pour into a bowl, cover and refrigerate for at least 1 hour.
Serve topped with whipped cream, or use as a topping for cake or ice cream.
Source:  The Great American Cookbook by Clementine Paddleford
Photo Information: Canon T2i, EFS 60 mm Macro Lens, F/5 for 1/60th second at ISO-1250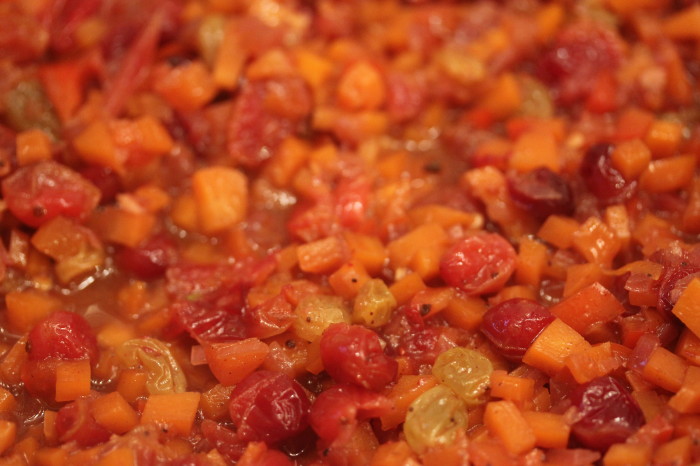 "How does this taste?" I asked Suzen.
"Like a dentist," she replied.
That was bad. Very bad.
Not because dentists are inherently bad. But because her first husband was a dentist. Ugly divorce.
Still, she had a point, the spice mix did kinda resemble that goop a dentist can apply before sticking a needle in your gum. I always hate the needle, but I actually like the spice stuff.
And so will you. No, you are going to love the spices, the carrots, the onions, the cranberries, the raisins, …
This chutney will bring an avalanche of flavors to your holiday table. This is Suzen's recipe, inspired by one in Chutneys & Relishes by Lorraine Bodger, published in 1995. Lorraine's Golden Carrot Chutney recipe has been extended here for the Thanksgiving table.
Here's a way to get your cranberries and your carrots, all packaged up in one sweet and spicy dish. Suzen added the cranberries. I added a lot more spices. The result is a dish that is simply packed with flavor. It's a great mate for turkey and can be served either cold or hot, although I think that hot is more aromatic.
Suzen's Thanksgiving Chutney: Carrots, Raisins, Bell Pepper and Cranberries
Yield: serves 8
Ingredients:
1 pound of carrots
2 tablespoons olive ol
1 Spanish onion, diced
1 red pepper, diced
2 garlic cloves, minced
½ cup golden raisins
½ cup light brown sugar, packed
½ cup vinegar
½ cup water
1 teaspoon salt
½ teaspoon ground cloves
½ teaspoon cinnamon
½ teaspoon nutmeg
½ teaspoon ground ginger
½ teaspoon ground allspice
1 tablespoon hot red pepper flakes
Preparation:
Trim and peel the carrots; mince them or cut them in small dice. Heat the oil in a large skillet, add the carrots and onion and sauté until the onion is translucent.
Meanwhile, cut the bell pepper in small dice. Add the bell pepper, garlic and raisins to the skillet and sauté just until the pepper softens.
Add all the remaining ingredients and stir well. Then cover the skillet tightly and cook over low heat for 20 minutes, until the carrots are tender but not mushy. Remove the cover and continue cooking for another few minutes until all the liquid evaporates.
Serve hot or cold.
Source: Inspired by Chutneys & Relishes by Lorraine Bodger
Photo Information: Canon T2i. EFS 60 macro lens, F/2.8, 1/100th second, ISO 2000