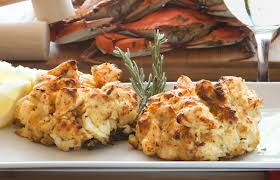 Here's another Super Bowl nosh that Suzen and I have recommended in the past. By halftime, you may be tired of nachos and dips. You may want substance. And an experience. I've had crabcakes aplenty — because going to graduate school at Johns Hopkins meant spending years in Baltimore, the home of crabcakes. The first recipe here, Faidley's, is from a restaurant in a public market. Well, more an eating place. The indoor wooden picnic tables are old, word and sagging. There is no attempt to cover them with newspaper. They just sit on a slopping concrete floor and patrons mingle on the benches enjoying the best lump crabmeat crab cakes in the world.
A close second place rating goes the second recipe from Seattle's Tom Douglas. You can go either way, or in between. Crab cakes are very, very tolerant of experimentation. So part of your entertainment can be to find some "secret" ingredients stashed deep away on pantry or refrigerator shelves.
Just check those expiration dates!
Faidley's Crab Cakes
Yield: Serves 4
Ingredients:
1                 Pound jumbo lump crabmeat, picked over
1                 Cup crushed saltines
1/2              Cup mayonnaise
1                 Egg
1                 Tablespoon Dijon mustard
1                 Tablespoon Worcestershire sauce
1                 Dash Tabasco Sauce
Preparation:
Spread the crabmeat out in a flat pan and sprinkle the crushed saltines over the top.
Mix together the mayonnaise, egg, mustard, Worcestershire and Tabasco in a small bowl.  Pour the mayonnaise mixture over the crabmeat and gently toss or fold the ingredients together, taking care not to break up the lumps of crabmeat.  Let the mixture sit for 2 to 3 minutes before forming the cakes.
Form the cakes by hand or with an ice cream scoop into 8 mounds about 3 inches in diameter and ¾ inch thick.  Do not pack the mixture too firmly.  The cakes should be as loose as possible, yet still hold their shape.  Place the cakes on a tray or platter lined with wax paper, cover, and refrigerate for at least 1 hour before cooking.
Pour oil into a heavy skillet to a depth of about 1 ½ inches.  Heat the oil and fry the crab cakes, a few at a time, until golden brown, about 4 minutes on each side.  Remove with a slotted utensil to paper towels to drain.
Or, broil the cakes: Slip them under a preheated broiler until nicely browned, turning to cook evenly, about 4 to 5 minutes on each side.
Or, sauté the cakes: Heat a small amount clarified butter or olive oil, or a combination, in a skillet and sauté the cakes, turning several times, until golden brown, about 8 minutes total cooking time.
Source: Chesapeake Bay Cooking by John Lewis.
Jacques Pepin's Crab Cakes
Yield: Serves 4
Ingredients:
½ pound either pasteurized or fresh crabmeat drained and picked clean of shell
1 ¼ cups fresh bread crumbs
2 tablespoons minced scallions
2 tablespoons chopped fresh cilantro
1 teaspoon minced garlic
3 tablespoons mayonnaise
¼ teaspoon Tabasco
¼ teaspoon kosher salt
⅓ cup sliced almonds
2 to 3 tablespoons peanut or canola oil [I actually used butter for flavor]
Preparation:
To make the crab cakes, put the crabmeat in a bowl and add ⅔cup of the bread crumbs, the scallions, cilantro, garlic, mayonnaise, Tabasco, and salt.  Mix lightly, just until the ingredients are well combined.
Put the remaining bread crumbs in the bowl of a food processor with the almonds, and process until the nuts are well chopped and combined with the bread.
Form the crab mixture into 4 patties, then dip each patty into the bread and almond mixture until it is coated on all sides.
Heat the oil in a large nonstick skillet over medium hat, and arrange the patties next to one another in the pan, handling them gently because the mixture is soft.  Cook until golden brown on both sides and hot through, turning once with a spatula, 3 to 4 minutes per side.  The internal temperature of a crab cakes should read 155° on an instant-read thermometer.
Source: I Love Crab Cakes by Tom Douglas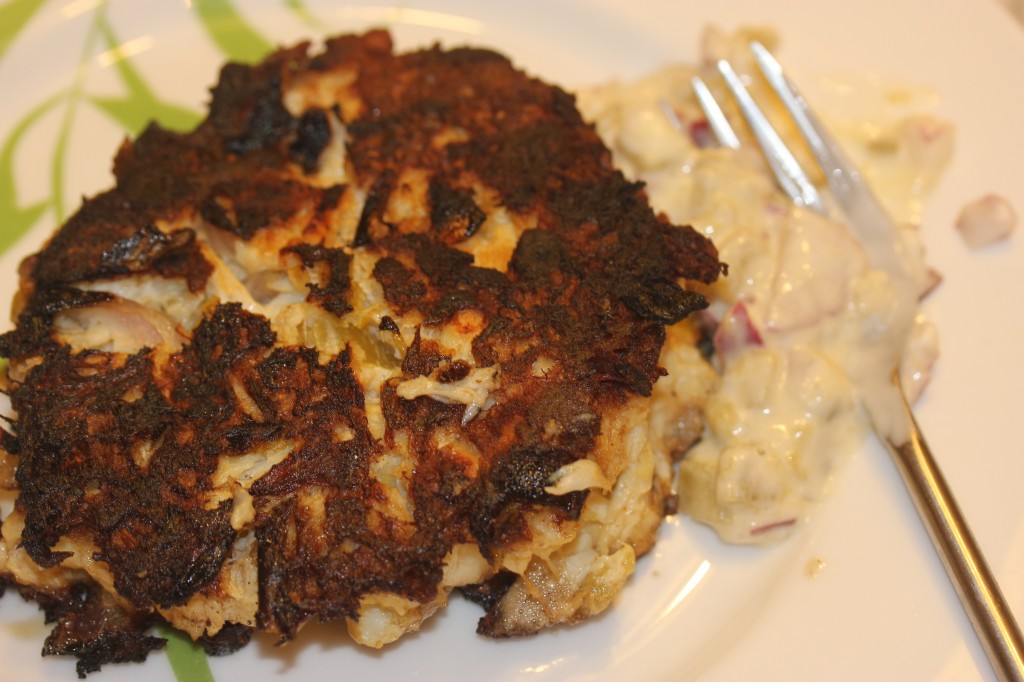 In my list of top 10 foods, crab cakes rank 4th and 7th. Yes, twice. Because there are lump crab cakes and then crab cakes made from crab meet fragments. Lump crab meat is exceptional, wonderful, and rivals gold in expense. Can those cans filled with little crab pieces offer you any truly great crab cakes? Yes.
My starting point is the book I Love Crab Cakes by Tom Douglas. It's a lovely little book with 50 recipes offering all kinds of ideas. I used the book this time, not for a recipe, but for inspiration. I saw all the ingredients used in the 50 recipes, thought about the flavors I wanted and scanned my pantry.
Crab cakes are one of those flexible recipes where you can totally improvise. Literally, go to your pantry and your refrigerator. There are goodies there that you can combine into your own great recipe.
I found one of those small cans, 4.5 ounces, of shredded green chilies, the kind you find in the Mexican food section. These green gems have very complex flavors. There is no searing chipotle-like heat. Just a soft warmth, coupled with sweetness. It's the perfect complement for the already sweet crab meat.
To serve these crab cakes, I made a green chili tartar sauce. The recipe follows, and it just a matter of using some of the ingredients you already have out for the crab cakes themselves.
Brian's Green Chili Crab Cakes
Yield: 2 large crab cakes
Ingredients:
8 ounces crab meat, small pieces are fine
⅓ cup mayonnaise
½ red onion, diced
½ teaspoon Tabasco sauce
2 ounces of green chili, the shredded kind from a can
1 egg
8 Saltine crackers, crushed by hand
Preparation:
In a large glass or metal bowl, put in the crab meat, mayonnaise, red onion, Tabasco sauce, and green chili. Break the egg over the mixture. Using your hands, mix until thoroughly combined. The contents will be quite liquid or slippery.
Break the crackers over the mixture, and again mix with your hands until fully combined. If necessary add an additional cracker or two. You don't want a dry mixture, but there should be no more free liquid.
Wash your hands.
Place the bowl in the refrigerator for 30 minutes to firm up.
Remove the bowl, and place the cake contents on a cutting board. Divide the crab mixture into two equal portions and shape into two cakes, each about the size of your palm and about 2 inches high.
Put 3 tablespoons of butter in a cast iron skillet. Turn the heat to medium, melt the butter. Adjust the heat to medium-high. Add the crab cakes to the skillet and cook for 4 minutes on each side. Turn only once, and carefully to avoid crumbling. The surface may blacken. That's fine. It will be the best carbon you ever ate.
Remove from the skillet and serve immediately. This dish pairs well with mashed potatoes.
Source: Brian O'Rourke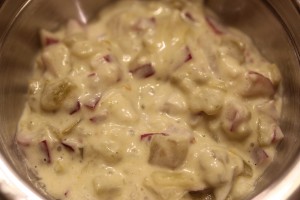 Brian's Green Chili Tartar Sauce
Yield: ¾ cup
Ingredients:
4 ounces of store-bought tartar sauce [yes, I'm cheating here]
2 ounces of green chili, the shredded kind from a can
½ red onion diced
Salt and pepper to taste
Preparation:
Place all the ingredients in a small bowl and whisk to mix.
Source: Brian O'Rourke