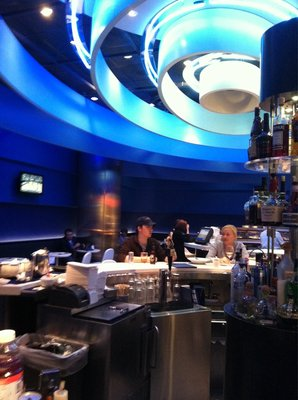 If you fly, certainly if you fly Jet Blue, then this post is for you.
The afternoon was getting complicated. It was 4PM and we had an 8:40PM flight from JFK. Jet Blue at their sparkling and massive Terminal 5.
"Do we eat now?" I asked Suzen. "Or get to the airport and eat there?"
"Airport? Airport food? What the devil is the matter with you?"
"Suz," I began carefully here because when Suzen is upset thing can spiral the wrong way, "I read this wonderful review about the Jet Blue Terminal. The restaurants are phenomenal."
"And this review was in The Post?" Suzen asked. Suzen has certain press prejudices about what is, admittedly, a tabloid. But, you see, The Post is a good tabloid. The girls on Page 3 are always fully dressed. Or at least in bathing suits. Okay, two piece suits.
"You know," I said, "I'm not sure where I read it. But I've heard from multiple people, actually, that there are good restaurants there."
"We'll try it," Suzen accepted. "But so help me, God, if …"
It turns out that, for this issue, I do not need God's help. At least in the United States, airport food has some remarkably common properties. It is very expensive. It tastes worse that recycled cardboard that has been dipped in runoff water and allowed to dry in an insect filled environment.
Eating at US airports is a lot less safe than getting on the planes.
But, Jet Blue, to its credit, has changed that. There are nine full service restaurants there at Terminal 5, all have intriguing menus posted, and the selection of one is not an easy matter.
We chose Deep.Blue, a modern sushi restaurant decorated in that deep, bold blue color of Jet Blue. The food is excellent, the prices very reasonable — given that it is sushi. We had two rolls —a Dragon and some wonder whose name is forgotten but was deeply appreciated — that were made on the spot, fresh, and radiated flavor. Big, thick rolls with enough content so that two were really a full meal for the two of us.
And then there was the Crab Fried Rice topped with a fried egg. It is quite impossible to convey how wonderful that rice is. Soft, moist but not wet, subtly infused with veggie flavors, and mixed with lovely fresh crab. No one flavor dominates, but all form an orchestra of sensation in your mouth.
Where did this food come from? It's Buddakan's Michael Schulson, a recognized master of food. Frommer's Guides has recognized Deep.Blue as one of the top 10 airport restaurants in the country.
Your travels may well involve a stop at JFK, either as destination or gateway to a distant country. If you can possibly arrange to do it, get to Terminal 5 and enjoy the special flavors and striking quality of Deep.Blue.
If anyone has a recipe for Crab Fried Rice that comes close to Deep.Blue, I would love to share it with everyone on this blog.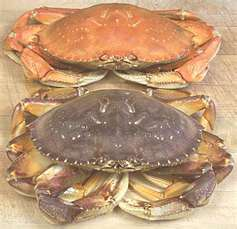 Crab. Dungeness Crab. When you grow up on the West Coast, the two terms are synonymous. And how to use that sweet, cool crab? Well, the most elegant way was Crab Louis, also known as the King of Salads. This crab creation first appeared on the West Coast around 1910, but its origins are not known. Claims for Crab Louis run from Seattle to San Francisco.
The one sure thing is that this dish, not commonly served now, is always taken as a special treat. In this holiday season, it's a wonderful dish for a party or your family. It can be a salad or the main course. This recipe from Northwest native Cynthia Nim's Crab is very traditional. Over the decades the salad has often been amended: slices of avocado are a natural addition, or some cooked shrimp, or … Use your imagination!
The salad is famous both for its pure use of crab and for the Louis Dressing. If you can, use homemade mayo, ketchup, and hot sauce to make this delight your "personal crab specialty." Have all the ingredients thoroughly chilled before you begin to assemble the salad Be sure to serve it, as recommended, on chilled plates with the crab cold out of the fridge. One of the treats of this dish is the iciness of every bite.
Iceberg lettuce was once the only lettuce in most supermarkets. Now, it's pushed the side as everyone grabs for that Romaine or some exotic green. Remind yourself has wonderful iceberg can be and do use it in this salad.
If you relish crab, then Crab by Cynthia Nims is a slim book crammed with ideas to enjoy every rich bite. Brunch ideas, apps, soups, sandwiches, salads and main courses are all there for you to savor.
Classic Crab Louis
Yield: Serves 4
Ingredients:
For the salad:
1 head iceberg lettuce, cored, leaves separated, rinsed, and dried
8 to 12 ounces of crabmeat
4 eggs,hard-cooked, peeled and quarter
2 small tomatoes or 4 plum tomatoes, cored and cut into 1-inch wedges
For the dressing:
¾ cup mayonnaise
⅓ cup chili sauce or ketchup
3 tablespoons finely chopped green onion
1 tablespoon minced flat-leaf [Italian] parsley
Dash Worcestershire sauce
Dash hot pepper sauce
Salt and freshly ground black pepper
Preparation:
For the dressing, combine all the ingredients except the salt and pepper in bowl. Stir to mix. Season to taste and refrigerate [covered, of course] until you are ready to assemble your salad.
For assembly, on 4 chilled plates, arrange a bed of 1 or 2 of the large lettuce leaves. Cut the remaining lettuce into thin shreds and pile it evenly in the center of each plate. Pick over the crabmeat to remove any bits of shell or cartilage, and arrange it over the shredded lettuce, saving any large leg or body pieces to perch on top. Arrange the egg and tomato wedges evenly around the crab, on the lettuce base. Spoon a bit of the Louis dressing over the crab, putting the rest in a serving bowl for your guests to sample. Serve immediately.
Source: Crab by Cynthia Nims