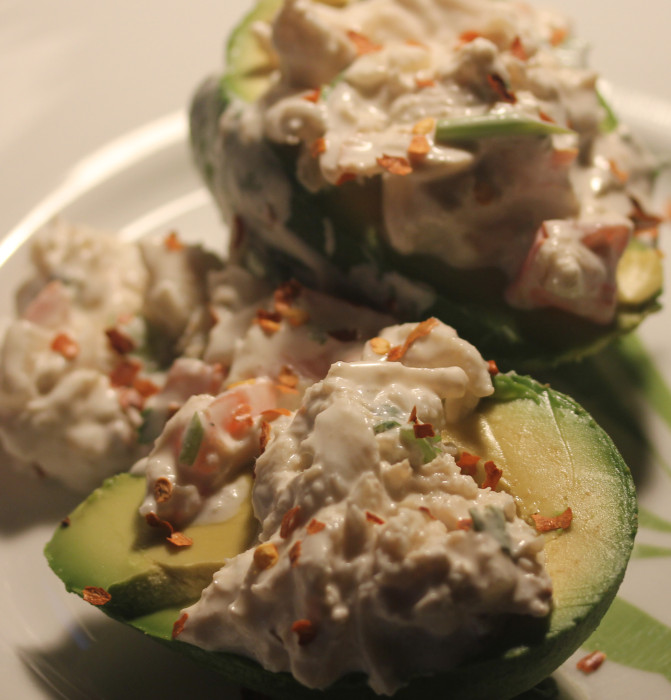 Certain marriages are just perfect. Like mine [no, I am not saying that under great duress]. And equally crab and avocado.
There are an infinite number of ways to match up crab and avocado. They do seem an unlikely pair, but in your mouth, well, there is nothing more satisfying. Here's my latest way to arrange that marriage using, unexpectedly, some left over salsa. The salsa was originally built for a Corn, Jalapeno and Goat Cheese Tartine from the new Le Pain Quotidien cookbook. That's tomorrow blog, in fact.
The tartine is served with a basic salsa. Take that salsa, augment with mayo and sour cream, add crab, and adorn the top of avocado halves. It's a ten minute operation that can serve as your first course or be the main for a brunch. The salsa is jalapeno free, so it's cool rather than hot. A dusting of red pepper flakes at the end addresses that little problem.
Brian's Crab and Avocado with Creamy Salsa
Yield: Serves 3 generously
Ingredients:
For the creamy salsa:
1 tomato, diced
½ onion, finely chopped
½ garlic clove crushed
2 tablespoons finely chopped cilantro
Juice of two limes
⅓ cup mayonnaise
⅓ cup sour cream
4-5 ounces of crab meat
Salt and pepper to taste
For the assembly:
3 avocados, halved and pitted
Red pepper flakes
Preparation:
Combine the tomato, onion, garlic, and cilantro in a bowl and mix. Add the lime juice and remix. Add the mayonnaise, sour cream and crab. Stir to mix. Then test for seasoning and add salt or pepper as needed.
To assemble the dish, place two avocado halves on a plate and scoop in a third of the creamy salsa. Sprinkle with red pepper flakes. Repeat for the two other avocados.
Serve with chilled white wine. Sparkling is an excellent option.
Source: Brian O'Rourke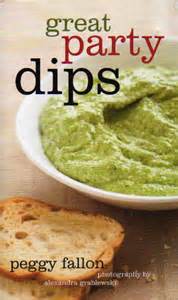 Crab. I love crab. Crab in salads. Crab cakes. Crab all by itself. Well, with cocktail sauce. [But NOT with tartar sauce]
Since we all enjoy crab, and since crab can be a tad pricey, here's a lovely way to enjoy crab flavor with many people at once. This Creamy Crab Dip appeals to all your senses. The smell of crab, the visual excitement of red peppers, and the smooth texture of cream cheese on your palette. Author Patty Fallon of Great Party Dips suggests serving this dip with water biscuits, toasted brioche or endive spear. Actually any cracker will pair marvelously with this dip. Blanched asparagus spears? Heaven.
I've enjoyed Peggy's recipes because they are balanced: they reflect lots of testing and tasting. Still, you've got your options here. A little more lemon juice, perhaps lime. More crab, of course. Another scallion or two. There's plenty of maneuvering room here for you to play and personalize.
This dip is distinctive, easy to make, and memorable. Don't count on having leftovers.
Creamy Crab Dip
Yield: 1 ¾ cups, enough for 6 to 8
Ingredients:
8 ounces cream cheese, at room temperature
½ cup mayonnaise
1 teaspoon fresh lemon juice
1 teaspoon prepared white horseradish
¼ teaspoon celery salt
8 ounces lump crabmeat, picked over to remove any bits of shell or cartilage, and well drained
2 tablespoons finely chopped red bell pepper
1 scallion, finely chopped
Preparation:
In a medium bowl, combine the cream cheese, mayonnaise, lemon juice, horseradish, and celery salt. Mix until well blended.
Stir in the crab, bell pepper, and scallion.
Transfer to a small serving bowl, cover, and chill for 2 hours or overnight to allow the flavors to develop. Remove from the refrigerator about 15 minutes before serving.
Source: Great Party Dips by Patty Fallon