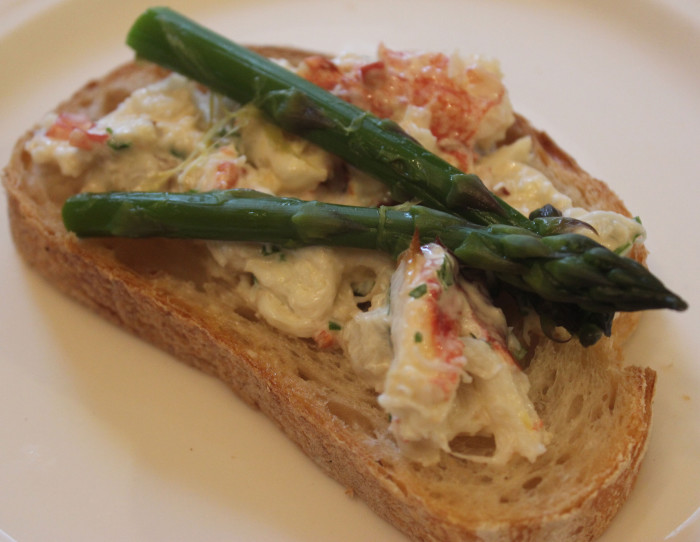 It's spring, officially, but on the same date, spring can be brightly different in different cities. Here in New York, the trees have blossomed and a few green leaves are poking out. Yet, it still seems cold in the daytime and you see winterish coats everywhere.
In Seattle, where my daughter happily resides alongside the rain, the daffodils are long gone, so are the tulips. Rhododendrons are in full bloom there. In New York City, we have buds.
Seattle is ahead in one other key category: asparagus. Fresh local asparagus abounds. Thin stems, to be sure, because Seattle has just set a record for rain, not sunny days. Last week, we saw mounds of asparagus at the farmers markets. And it's Seattle: there is crab in abundance, too.
From 30 Years at Ballymaloe, here is an ever so slightly hot combination of crab and asparagus, blended with some Thai mayonnaise. Now, Thai mayonnaise made with fish sauce is surely not a staple of Irish cuisine. But Darina Allen, creator of the grand cooking school Ballymaloe, has become an international figure and her pantry has ingredients spanning the world.
Our picture above shows a slight change from the directions below. Our asparagus spears were thin, so we did not cut them in half. We had had arugula, we had, but it was consumed the night before in our salad. With or without arugula, or any other greens, this dish is just ideal for Sunday brunch.
Crab and Asparagus with Thai Mayonnaise on Sourdough 
Yield: 4 servings
Ingredients:
For the crab and asparagus topping:
8 asparagus spears
Sea salt
8 ounces crabmeat
4 slices of sourdough bread, slicked no more than ½ inch thick
Extra virgin olive oil, for drizzling
Handful of arugula leaves 
For the Thai mayonnaise:
1 garlic clove, peeled and crushed
 ½ red chili, seeded and finely diced
Freshly grated zest of ½ lime
3 tablespoons fish sauce
2 teaspoons freshly chopped cilantro
¼ cup mayonnaise, ideally home made
Sea salt and freshly ground black pepper
Preparation:
Bring water to a boil in an oval casserole or saucepan that will hold the asparagus spears. Season with 1 teaspoon of salt per 2 cups of water. Prepare the asparagus spears by snapping off the touch end where it bends naturally. Lay the asparagus in the boiling water and cook for 4 minutes, depending on the thickness. The asparagus should still be crisp and al dente for this recipe. Removed the asparagus with a slotted spoon and plunge immediately into cold water. Refresh under cold running water and drain thoroughly.
To make the Thai mayonnaise, stir the garlic, chili, lime zest, fish sauce, and chopped cilantro into the mayonnaise. Taste and correct the seasoning if necessary. Mix the crabmeat into the mayonnaise and set aside.
To serve, broil or toast the bread. Drizzle with a little extra virgin olive oil and scatter a few arugula leaves over each slice. Pile the crab mixture on top. Toss the cold asparagus spears in a little olive oil and split each spear in half length wise. Arrange the asparagus over the crabmeat and serve immediately.
Source: 30 Years at Ballymaloe by Darina Allen
Photo Information [top picture]: Canon T2i, EFS 60 mm Macro Lens, F/5.0 for 1/50th second at ISO-1600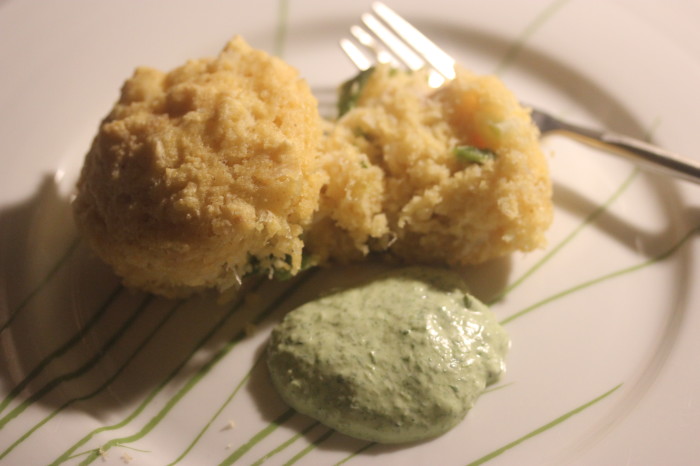 "What are you making?" Suzen asked me. I was upstate. She was in the city. It was dinner time, I was on my own, and I had the opportunity to do whatever I wanted. Whatever. Things I had wanted for decades and never, never got to have. I don't want to give you the impression I'm deprived. But, still, …
"Hush puppies," I answered with quiet confidence.
"Don't make a mess," she cautioned. I heard the panic: "what is that man about to do to my kitchen."
"I'm fine. It'll be fine." I tried to reassure her.
"I mean it," she emphasized.
I ended up cleaning for hours. The "hush puppy" pan I thought I had did not quite work out. Wrong shape. Wrong size. Wrong. I tried it, but … There was some spilling, some sizzling, heavy smoke, intense smell.
So for the rest of the batter, I used mini-cupcake tins which worked just fine. [And that explains the picture above!] The flavor of poblano and crab does not depend on the shape or size. It's all in the mixture.
From The Cast Iron Skillet Cookbook, these puppies are richly satisfying. They can be an appetizer or the main course. The Green Goddess Dipping Sauce was posted yesterday, because it truly stands on its own. There is synergy though in having these highly flavored puppies with the tarragon tang of Green Goddess.
Roasted Poblano and Crab Hush Puppies
Yield: 24 puppies
Ingredients:
1 poblano pepper
1 ½ cup yellow cornmeal, finely ground
1 cup all-purpose flour
1 tablespoon sugar
¾ teaspoon salt
½ teaspoon freshly ground black pepper
1 teaspoon baking powder
2/3 teaspoon baking soda
2 large eggs, beaten
1 cup buttermilk
¼ cup [1/2 stick] unsalted butter
3 tablespoons finely chopped green onion
 ½ pound fresh cap [or shrimp, roughly chopped]
¼ cup vegetable oil
Green Goddess Dipping Sauce [see separate post]
Preparation:
On an open flame of a gas burner, on a barbecue, or on a baking sheet under the broiler, roast the pepper until charred on that side. Rotate until charred all over. Transfer with gongs to a brown paper bag and close. Let the pepper steam for 5 minutes. When cool enough to handle, peel, seed, stem, and finely chop
Meanwhile, combine the cornmeal, flour, sugar, salt, pepper, baking powder, and baking soda and mix well. In a separate bowl, combine the eggs, buttermilk, melted butter, poblano pepper, green onion and crab [or shrimp].Fold the wet ingredients into the dry ingredients until combined. Do not ovemix.
Over medium heat place your hush puppy pan [ebeskiver] o the burner and allow to warm up. Add 2 teaspoons of vegetable oil to each well. Once hot, add heaping tablespoons of the butter to each well. Cook until they are golden and release easily, about 4 minutes, then flip with a skewer or fork. Cook for another 4 to 5 minutes, then plop all of them out onto a platter.
Serve at once with the sauce. Cool any remainders and freeze.
Source: The Cast Iron Skillet Cookbook: Recipes for the Best Pan in Your Kitchen by Sharon Kramis and Julie Kramis Hearne
Photo Information: Canon T2i, 18-55MM Macro lens, F/2.8, 1/100th second, ISO 1600