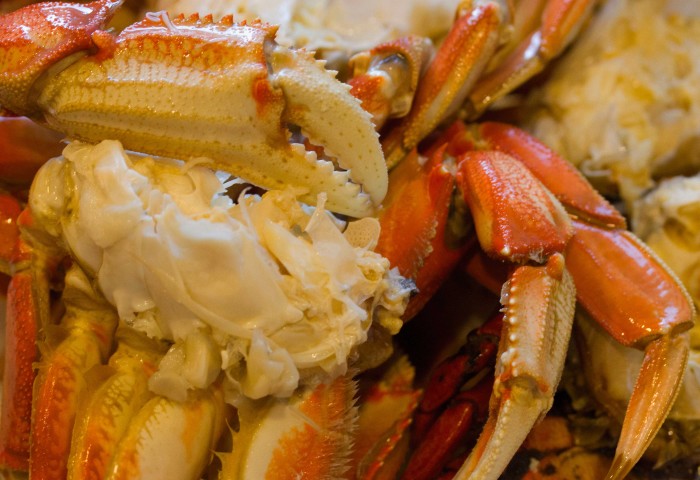 While half of all marriages end in divorce, no marriage of corn and crab ever has. Be it in a salad, a dip, a soup — or some other creation — the two flavors seem to automatically merge into one overpowering burst of pleasure. This dip is rich, so it can serve as the centerpiece for you cocktail party appetizers. This dip is rich, so you really don't want to "make a meal" of it.
Although, some of us …
Everything in moderation. I've adapted the recipe from the one in Comfort Foods by Better Homes and Gardens. Here I suggest fresh corn and fresh crab. Try to get your crab from one of those pictured crab legs, meaty and moist. Canned crab simply does not have the vitality of freshly cooked.
This recipe calls for Monterey Jack with jalapeno, but you can easily use another cheese of your preference and, again if you wish, add some heat with sliced jalapeno or other hot peppers. Adjust the amount of onion, if you desire, and the color as well: red or white instead of green. For some non-jalapeno zip, a single diced clove of garlic can be substituted. A dash or two of hot sauce will simple seal the deal between crab and corn.
If you were to use an abundance of cheese — 2 cups instead of 1, so the bubbly mass at the end is rather fluid, then you have an excellent adornment for baked potatoes.
---
Roasted Corn and Crab Dip

Yield: 10 servings

Ingredients:

1 cup corn kernels, off the cob
1 cup chopped red sweet pepper [1 large]
2 tablespoons olive oil
1 cup cooked crabmeat, cartilage removed
1 cup shredded Monterey Jack cheese with jalapeno peppers [or similar "hot" cheese], about 4 ounces
⅓ cup mayonnaise
¼ cup sour cream
¼ cup sliced green onion
¼ teaspoon ground black pepper
Broken tostada shells, toasted baguette-style French bread slices, and/or crackers
Preparation:

Preheat an oven to 375°F. Coat a 1-quart quiche disk or shallow baking dish with cooking spray and set aside.
Heat a small cast iron skillet on medium-high and add two tablespoons of olive oil. Add the corn and red pepper. Cook stirring constantly until the pepper has softened and the corn kernels are still al dente. You goal is to have pepper pieces and corn kernels just past the first point of being comfortably eaten.
In a medium bowl stir together crabmeat, cheese, mayonnaise, sour cream, green onions, and black pepper. Stir in the cook pepper and corn. Transfer the mixture to the prepared quiche dish.
Bake, uncovered, about 20 minutes or until bubbly around the edges.
Served with the broken tostada shells, toasted bread, or cracker.
Source: modified from Comfort Food by Better Homes and Gardens

Photo Information Canon T2i, EFS 60 mm Macro Lens, F/4 for 1/25th second at ISO‑1600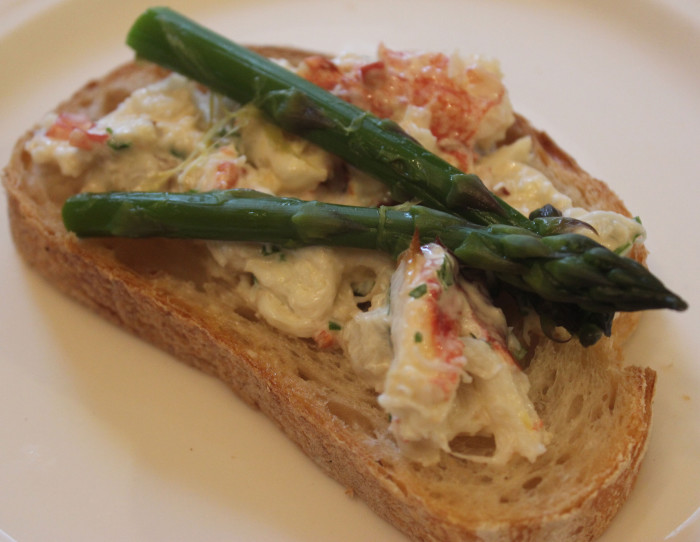 It's spring, officially, but on the same date, spring can be brightly different in different cities. Here in New York, the trees have blossomed and a few green leaves are poking out. Yet, it still seems cold in the daytime and you see winterish coats everywhere.
In Seattle, where my daughter happily resides alongside the rain, the daffodils are long gone, so are the tulips. Rhododendrons are in full bloom there. In New York City, we have buds.
Seattle is ahead in one other key category: asparagus. Fresh local asparagus abounds. Thin stems, to be sure, because Seattle has just set a record for rain, not sunny days. Last week, we saw mounds of asparagus at the farmers markets. And it's Seattle: there is crab in abundance, too.
From 30 Years at Ballymaloe, here is an ever so slightly hot combination of crab and asparagus, blended with some Thai mayonnaise. Now, Thai mayonnaise made with fish sauce is surely not a staple of Irish cuisine. But Darina Allen, creator of the grand cooking school Ballymaloe, has become an international figure and her pantry has ingredients spanning the world.
Our picture above shows a slight change from the directions below. Our asparagus spears were thin, so we did not cut them in half. We had had arugula, we had, but it was consumed the night before in our salad. With or without arugula, or any other greens, this dish is just ideal for Sunday brunch.
Crab and Asparagus with Thai Mayonnaise on Sourdough 
Yield: 4 servings
Ingredients:
For the crab and asparagus topping:
8 asparagus spears
Sea salt
8 ounces crabmeat
4 slices of sourdough bread, slicked no more than ½ inch thick
Extra virgin olive oil, for drizzling
Handful of arugula leaves 
For the Thai mayonnaise:
1 garlic clove, peeled and crushed
 ½ red chili, seeded and finely diced
Freshly grated zest of ½ lime
3 tablespoons fish sauce
2 teaspoons freshly chopped cilantro
¼ cup mayonnaise, ideally home made
Sea salt and freshly ground black pepper
Preparation:
Bring water to a boil in an oval casserole or saucepan that will hold the asparagus spears. Season with 1 teaspoon of salt per 2 cups of water. Prepare the asparagus spears by snapping off the touch end where it bends naturally. Lay the asparagus in the boiling water and cook for 4 minutes, depending on the thickness. The asparagus should still be crisp and al dente for this recipe. Removed the asparagus with a slotted spoon and plunge immediately into cold water. Refresh under cold running water and drain thoroughly.
To make the Thai mayonnaise, stir the garlic, chili, lime zest, fish sauce, and chopped cilantro into the mayonnaise. Taste and correct the seasoning if necessary. Mix the crabmeat into the mayonnaise and set aside.
To serve, broil or toast the bread. Drizzle with a little extra virgin olive oil and scatter a few arugula leaves over each slice. Pile the crab mixture on top. Toss the cold asparagus spears in a little olive oil and split each spear in half length wise. Arrange the asparagus over the crabmeat and serve immediately.
Source: 30 Years at Ballymaloe by Darina Allen
Photo Information [top picture]: Canon T2i, EFS 60 mm Macro Lens, F/5.0 for 1/50th second at ISO-1600