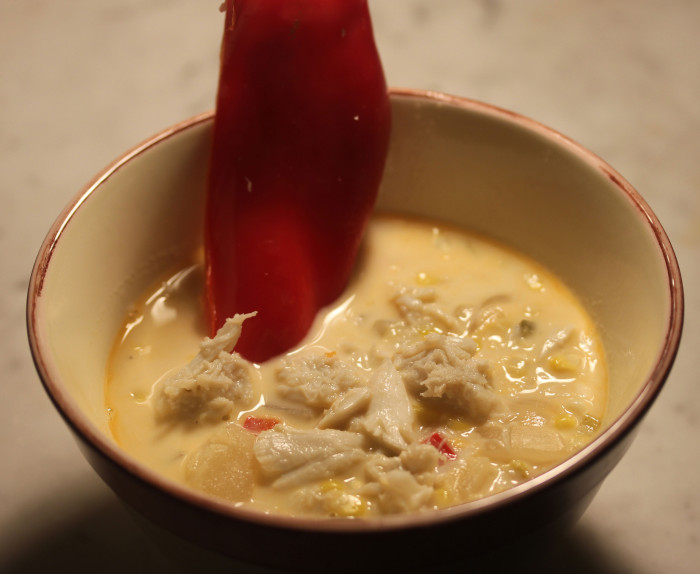 Domaine Chandon is a Napa Valley winery now owned by a French company. The setting is both beautiful and upscale. The winery features a Michelin-starred restaurant, étoile, that naturally features seasonal, regional food. The Domaine Chandon Cookbook offers 75 of the premium recipes from this restaurant with its particularly  sparkling view.
Of all those recipes, this one is my favorite. Corn and crab seem to be one of those natural food marriages that can always be loved and almost certainly never surpassed. I know it's summer, and it's hot, so the idea of a warm soup may seem peculiar. But on the warmest of nights, everyone will sigh in delight at this bisque where both corn and crab flavor offer their distinct notes.
If you make this dish, consider doing it a day ahead if you want the crab flavor to evolve even more. I used canned crab from my good, local market. It seemed to need that extra day for its full flavor to emerge.
Since this recipe comes from a sparkling wine producer, the obvious pairing here is a glass a sparkling wine. And then? Perhaps a lamb chop and potato gratin. This bisque is strikingly elegant and deserves matching dishes of exceptional quality. And where would you find a good gratin recipe? Why Domaine Chandon has a three-cheese potato gratin, soon to be tested by Suzi and blogged by me.
Corn and Crab Bisque
Yield: serves 6
Ingredients:
½ cup fresh chervil leaves, plus 2 tablespoons
½ cup extra-virgin olive oil, plus 2tablespoons
1 leak, white part only, cut into rounds ¼ inch thick, rinsed and drained thoroughly
1 yellow onion, diced
3 garlic cloves, minced
½ jalapeno chile, seeded and minced
2 medium white potatoes, peeled and diced
1 red bell pepper, seeded and diced
3 cups chicken stock
1 bottle clam juice
1 cup dry white wine
Salt
4 ears fresh corn, husks and silks removed
1 pound fresh Dungeness or other lump crabmeat, picker over for shell fragments and cartilage
½ cup heavy cream
Fresh ground pepper
½ teaspoon fine sea salt
Preparation:
In a small sauté pan or frying pan over medium-low heat, combine the1/2 cup chervil leaves with the 1/2 cup olive oil and cook, stirring occasionally, until the oil is hot and small bubbles around the edges, 3 to 5 minutes. Remove from the heat and let stand at room temperature for 1 hour.  Strain the chervil-infused oil through a fine-mesh sieve and reserve. Discard the chervil.
In a soup pot, heat the 2 tablespoons olive oil over medium heat. Add the leek and sauté until soft, about minutes. Stir in the onion, garlic, and jalapeno. Sauté until the onion is translucent, about 3 minutes. Add the potatoes and bell pepper and sauté for 3 minutes longer. Add the stock, clam juice, wine, and 1 teaspoon salt and stir to mix well. Raise the heat to high and bring to a boil then reduce the heat to low, cover, and simmer until the potatoes are tender, about 10 minutes.
Meanwhile, cut the kernels from the ears of the corn. Add the corn kernels to the soup and simmer until the corn is tender, about 5 minutes. Add the crab and cook for 2 minutes to heat through. Stir in the cream and remove from the heat. Season with salt and pepper.
Ladle the bisque into warmed bowls. Swirl 1/2 to 1 teaspoon chervil oil into each serving and garnish with the 2 tablespoons of chervil leaves. Serve hot.
Source: Domaine Chandon Cookbook
Photo Credit: Canon T2i, EFS 18-55mm Macro lens, F/2.8 for 1/80th second at ISO 160.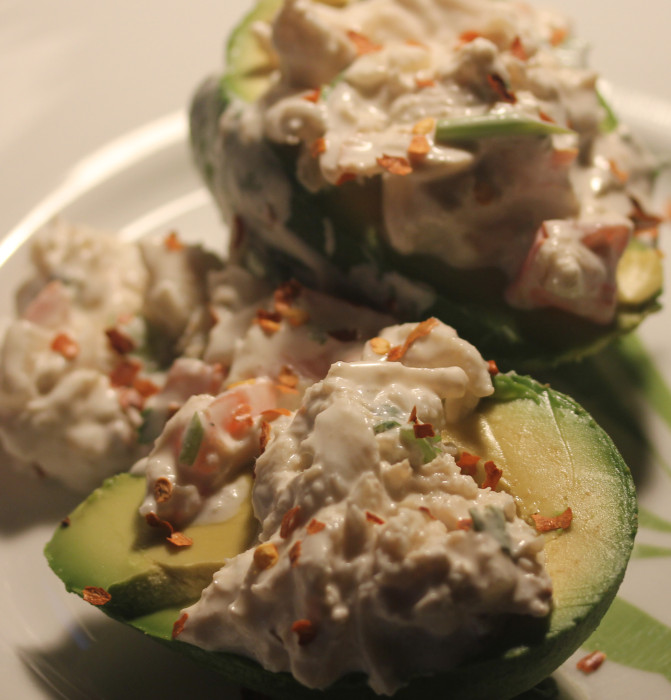 Certain marriages are just perfect. Like mine [no, I am not saying that under great duress]. And equally crab and avocado.
There are an infinite number of ways to match up crab and avocado. They do seem an unlikely pair, but in your mouth, well, there is nothing more satisfying. Here's my latest way to arrange that marriage using, unexpectedly, some left over salsa. The salsa was originally built for a Corn, Jalapeno and Goat Cheese Tartine from the new Le Pain Quotidien cookbook. That's tomorrow blog, in fact.
The tartine is served with a basic salsa. Take that salsa, augment with mayo and sour cream, add crab, and adorn the top of avocado halves. It's a ten minute operation that can serve as your first course or be the main for a brunch. The salsa is jalapeno free, so it's cool rather than hot. A dusting of red pepper flakes at the end addresses that little problem.
Brian's Crab and Avocado with Creamy Salsa
Yield: Serves 3 generously
Ingredients:
For the creamy salsa:
1 tomato, diced
½ onion, finely chopped
½ garlic clove crushed
2 tablespoons finely chopped cilantro
Juice of two limes
⅓ cup mayonnaise
⅓ cup sour cream
4-5 ounces of crab meat
Salt and pepper to taste
For the assembly:
3 avocados, halved and pitted
Red pepper flakes
Preparation:
Combine the tomato, onion, garlic, and cilantro in a bowl and mix. Add the lime juice and remix. Add the mayonnaise, sour cream and crab. Stir to mix. Then test for seasoning and add salt or pepper as needed.
To assemble the dish, place two avocado halves on a plate and scoop in a third of the creamy salsa. Sprinkle with red pepper flakes. Repeat for the two other avocados.
Serve with chilled white wine. Sparkling is an excellent option.
Source: Brian O'Rourke