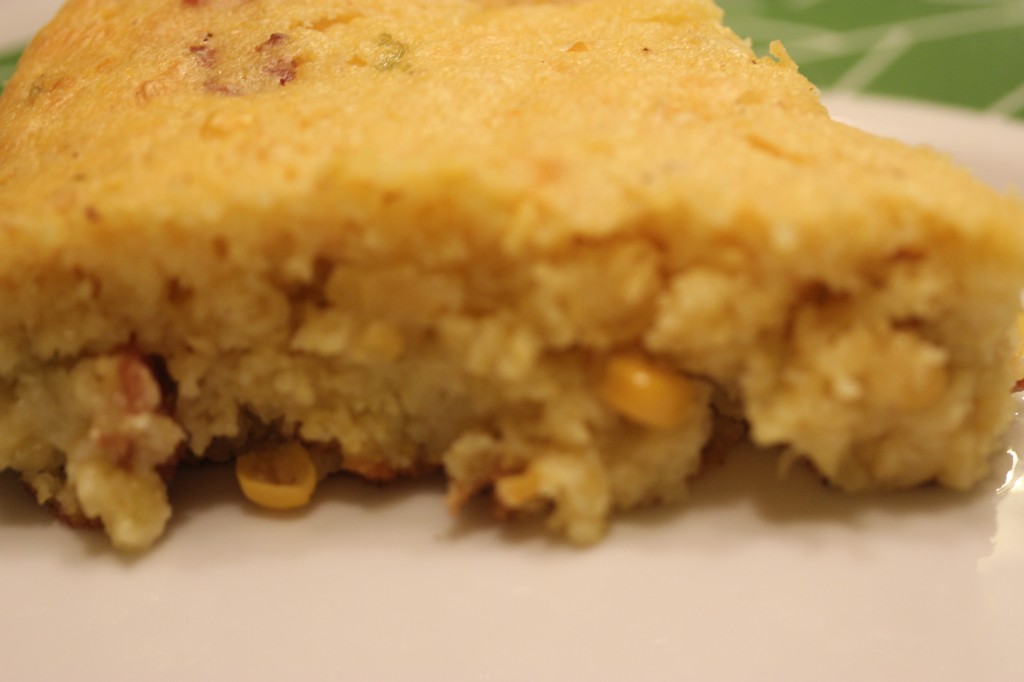 A few days ago, I posted a recipe for chipotle cornbread to use in stuffing. Cornbread recipes came, literally, in all flavors. And all cultures have adopted cornbreads. In Greece, they make cornbreads called bobota. The Greeks thankfully  bear us gifts. Cornbread can be dry. You've surely had some that seem to be as delicate as hay. Hence, the rage to add all kinds of things to improve cornbread flavor and texture: honey, creamed corn, peppers, onions, bacon, … You see some creamed corn kernels in that picture above.
The Greek solution for making cornbread delicious is to add flavor and liquid. This orange-honey syrup is made and poured into holes that have been poked in a freshly baked bobota. The result is sticky. And sweet. You don't need butter when you do this, but you are of course free to add it on. And, you don't need a bobota either. You can employ this syrup with any cornbread.
We've used this syrup with the chipotle cornbread to produce a rich amalgam of flavors. This is definitely finger lickin'.
This recipe calls for the juice of one orange, plus enough water to make 1 cup. I prefer not to have any water and simply make it all juice. It's stickier and sweeter.
This recipe is from the Cornbread Gospels, a book I have fallen in love with. It's winter here in New York, really winter. Cornbread can put a smile on your face for breakfast, as a side at lunch, and surely at dinner. You'll see some more wonderful ideas from Cornbread Gospels over the coming cold months.
Orange Honey Syrup
Yield: 1 ½ cups
Ingredients:
½ cup honey
3 tablespoons honey
Juice from one orange plus water to equal 1 cup
Finely grated zest of 1 orange, preferably organic
6 whole cloves
Preparation:
Combine all the ingredients in a medium saucepan. Bring to a boil, turn the heat down to a simmer, and cook until the sugar is dissolved and the mixture is a thin syrup, about 4 minutes. Let the syrup cool to room temperature. Remove the cloves and pour the syrup over the cornbread.
Source: Cornbread Gospels by Crescent Dragonwagon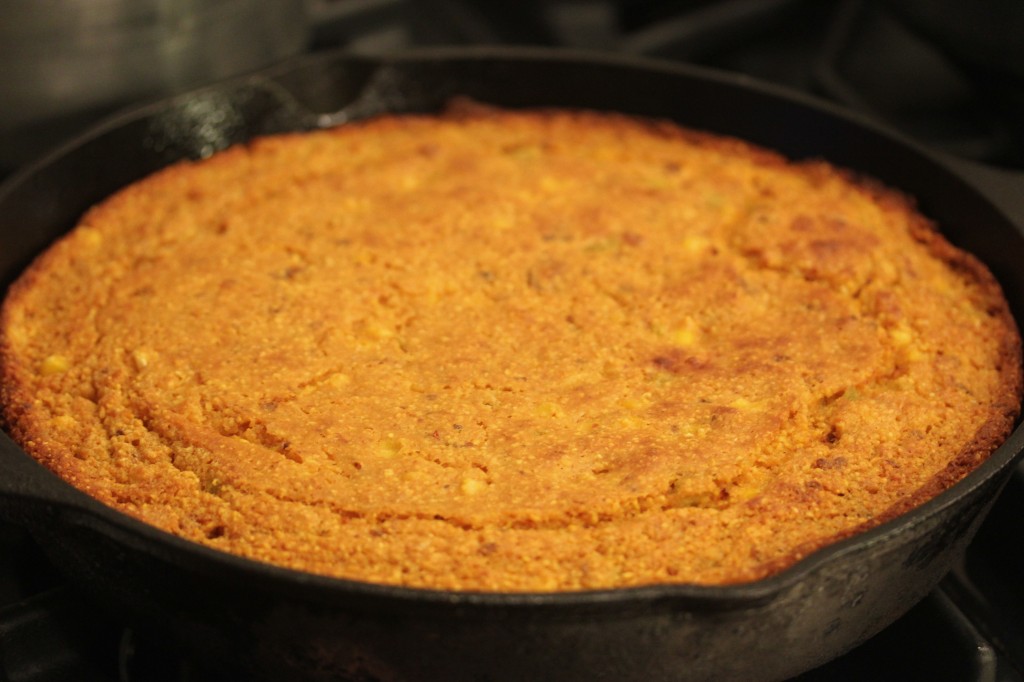 Yesterday I blogged about a cornbread stuffing that asked for "1 recipe" of your cornbread of choice.
Here's ours: Chipotle Cornbread. Depending on how hot you want this bread, you can add more or less chipotle. Because this cornbread is destined to be stuffing, with mushrooms and raisins, we've cut back on the chipotle for ourselves. The original recipe is shown below with 4 canned chipotle peppers plus the sauce. For the stuffing, we want just the hint of heat so we do not overpower those other flavors.
So, for stuffing purposes I suggest 1 chipotle and a dash of sauce.
This recipe is from The Cornbread Gospels, an appropriate title for this Christmas-time treat. The author, Crescent Dragonwagon, can only be said to have a rather Harry Potter name. She's a good author and this book, from 2007, is the best cornbread tome I've ever encountered. It has LOTS of wonderful recipe ideas. And Ms. Dragonwagon does seem to have an affinity for the hotter side of life. So, there are many recipes, like this chipotle one, that offer your mouth warmth and dense flavor.
Here's the original recipe, which would also make a great side dish for Christmas or New Year's or just a very fine way to start any winter morning.
Chipotle Cornbread
Yield:   8 big wedges
Ingredients:
Vegetable oil cooking spray
⅓ cup butter
1 cup coarse stone-ground yellow cornmeal
1 cup unbleached white flour
2 teaspoons sugar
2 teaspoons baking powder
½ teaspoon salt
2 eggs, lightly beaten
⅔ cup milk
4 canned chipotle peppers (stems removed and discarded) plus 2 teaspoons adobo sauce pureed
Preparation:
Preheat the oven to 400°F. Spray a 10-inch cast-iron skillet with oil and dollop in the butter.
Combine the cornmeal, flour, sugar, baking powder, and salt in a large bowl.
Whisk together the eggs, milk, and pureed chipotle-adobo mix in a small bowl.
Place the prepared skillet in the oven to heat up for a few minutes, allowing the butter to melt.
Combine the cornmeal mixture and the egg mixture, stirring until everything is just mixed. Then pull the skillet from the oven and pour about half the melted butter from the skillet into the batter. Stir the butter in, and working quickly so that skillet remains almost smoking hot, transfer the batter into it.
Put the whole shebang back in the oven and bake until it is deep golden brown, about 20 to 25 minutes.
Source:   The Cornbread Gospels by Crescent Dragonwagon