There are things I just always confuse: baking powder versus baking soda. Gee, I wonder why those buttermilk biscuits failed?
I'm always confused about concrete versus cement. One contains the other, but which is which? Right now there is a rumbling noise outside my window as a cement mixer is spinning so that the sidewalk can be repaired. No, actually, it is a concrete mixture. Concrete is made with cement. The cement is effectively the "paste" that holds aggregates of different kinds together. The Romans were the first masters of using concrete, not cement, creating structures that still stand.
Which leads me to my real topic: cornbread muffins. Especially the oversize ones you can encounter from those street carts selling bitter coffee, stale doughnuts, and gazunta cornbread muffins. Those street muffins have the structure of, well, concrete. Or maybe cement. They are not impossible to bite through so concrete may be too strong a term. But the muffins are inevitably dry and pasty, so I think comparing them to cement is perfectly legit.
Cement is good for us and our sidewalks. "Cementy" cornbread muffins are bad. Disgustingly bad.
When it comes to muffins, I am now trained to think of "big" as automatically "bad." It's not possible to make a muffin that is huge, tender, and tasty. Impossible.
And then there came along the book Piece of Cake: Home Baking Made Simple by David Muniz. Right there is a recipe for Texas Corn Cream Muffins. It's suggested that although this recipe is for 12, you can bake it oversized in a pan that holds only 6. I suppose that is where the "Texas" label comes from.
But this recipe is intrinsically different, not just in name but in composition. First, you add a cup of corn [or creamed corn!]. It has double the liquid of a typical recipe and that liquid is heavy cream not buttermilk. And over twice the flour, 2 ⅓ cups, instead of just 1. For me, the "typical" and very good cornbread muffin recipe is found in The Cornbread Gospels by Crescent Dragonwagon.
How can you have 3 cups of more stuff — corn, flour, and cream — and still get only 12 or 6 muffins? Won't they all be gigantic? Isn't this the pathway to denseness and that very pasty feel I hate?
No. These muffins are a miracle. Soft, tender, lazily falling apart as you apply butter and jam. The perfect consistency in your mouth, offering that warm cornbread flavor that seems endlessly homey. My perfect breakfast is one of these muffins, of either size, and hot chocolate. There's enough sugar and caffeine there to get me to at least 10:30.
When we make these again, we are going to use the batter for 12, not 6. That picture above shows a 6-sizer and it is as big as one of those streetcar muffins. But a thousand times better.
If the Romans had had this recipe, the Empire surely would not have fallen. We would all still be speaking Latin. No NFL on Sundays, but we'd all buy muffins from stands outside the local coliseum as we await the arrival of the gladiators.
I love these muffins. So will you.
Texas Corn Cream Muffins
Yield: either 12 or 6
Ingredients:
2 ⅓ cups all-purpose flour
1 cup cornmeal
⅔ cup sugar
4 teaspoons baking powder
½ teaspoon kosher salt
½ cup unsalted butter, melted and cooled
2 cups heavy cream
2 large eggs
1 cup fresh or canned corn [or creamed corn]
Preparation:
Preheat the oven to 350°F. Grease 6 jumbo or 12 standard muffin cups with melted butter or pan spray.
In a medium bowl, whisk together the flour, cornmeal, sugar, baking powder, and salt.
In the bowl of an electric mixer, combine the melted butter, cream, and eggs. On low speed, slowly add the flour mixture and mix just until the ingredients are combined and not lumpy. Add the corn or creamed corn [you can used dried fruit here, too].
This batter is quite thick, so don't be alarmed. Use a large ice cream scoop or spoon, divide it evenly among the prepared cups.
Alternatively the batter can be made ahead and refrigerated in a covered container for up to 3 days. Just remember to add 3 to 5 minutes to the baking time to compensate for the chilled batter.
Bake larger muffins for 30 to 35 minutes and smaller muffins for 20 to 25 minutes, or until golden brown. Don't panic if the edges are darker than the middle. That's the way a cornbread muffin should look.
Let the muffins cool in the pan for 5 minutes before turning them out to cool on wire racks.
Source: Piece of Cake by David Muniz
Photo Information: Canon T2i, EFS 18-55MM Macro lens, F/2.8 o 1/100 sec at ISO 1600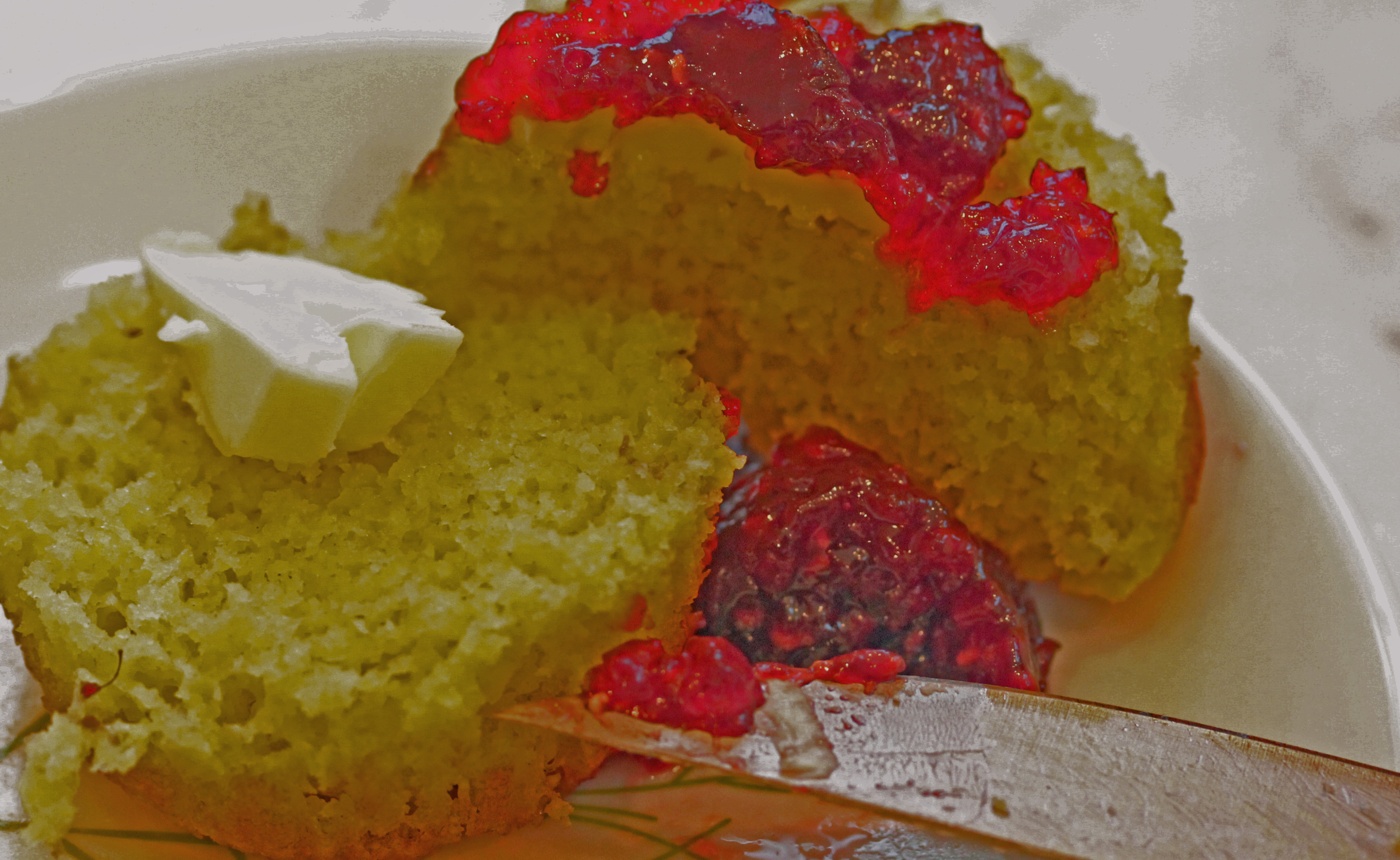 "What this country needs is a good corn muffin." I said it out loud, doing my best to emulate George C. Scott doing his best to emulate General George Patton.
"What are you doing?" Suzen poked her head around the corner.
I puffed up and made the announcement. "I'm going to run for Congress."
"You?"
"Yes. Moi."
"Who is our congressman?"
"Nadler."
"You voted for him last time, right?"
"Yes, but I think the country needs more people with my views."
"Brian, I won't vote for you."
That could have been crushing to me but I understood. The strain, the publicity.
"Suzen, I'll protect you and the family."
"It's not the family that needs protection. It's the country. You are to the right of Attila the Hun." She left.
Well, first of all, Suzen won't vote for me because she knows me but most people don't know me, which gives me a chance. Second, although this Brooklyn girl sometimes looks down her nose at my Portland-backwoods background, I think this is the perfect example of why she is so wrong. Attila the Hun gets a bad rap. Beyond the mayhem and the piles of skulls, he attempted to do some very positive things. For example, …
I've been searching here and it's a bit difficult. On second thought, after deep consideration and prayer, I have decided not to pursue political office.
But we still need a good corn muffin. I mean a good breakfast muffin. Not one filled with corn kernels, bacon bits, or parts of every conceivable chili or pepper on the planet. And it needs to be the right size, not weigh in at just under one pound as those horrid versions available all over the country from food carts. Those monsters are also anything but tender. When you make muffins a hundred pounds at a time with a huge mixer, there is no escaping this fact of life: you will way over mix some of the flour and the gluten will make it seem that the muffin has been created by a herd of elephants. I won't go into what "created" could mean here.
No, a simple, dainty, tender corn muffin.
Here it is, from the Cornbread Gospels by Crescent Dragonwagon.
Nothing can match this muffin when it is hot out of the oven, topped with butter and raspberry jam. Well, actually, that is hot pepper raspberry jam. Which may seem to contradict what I said earlier about avoiding chiles and peppers. I know, I am not consistent, I waver, I contradict my own positions.
I should run for office.
"HEY, SUZEN!"
Simply Corn Muffins
Yield: 12 right-sized muffins
Ingredients:
12 paper cupcake liners, standard size
1 cup unbleached white flour
1 cup stone-ground yellow cornmeal
½ teaspoon salt
1 1/4 cups buttermilk
½ teaspoon baking soda
2 eggs [large]
¼ to ⅓ cup sugar, preferably unrefined
⅓ cup melted butter
Preparation:
Preheat the oven to 400⁰F. Line a 12-cup muffin tin with the paper liners.
Combine the flour, cornmeal, salt and baking powder in a large bowl. Whisk to mix well. Set aside.
In a second bowl, combine the butter milk and baking soda until the soda has fully dissolved. Add the eggs, sugar, and melted butter.
Add the mixed wet ingredients into the dry ones, pouring slowly and mixing gently. Mix only until barely combined.
Divide the batter into the 12 slots in the muffin tin. Bake until golden brown — they will be golden — which should be about 15 to 20 minutes. Do not overbake. If you poke with your finger and the top is firm, you are done at the golden stage. You should never get to all brown.
Serve immediately. Butter, jam, and honey. Hot chocolate or coffee or espresso.
Yes, you can make lots, freeze and enjoy on future mornings. Or late at night when no one is looking.
Source: Cornbread Gospels by Crescent Dragonwagon