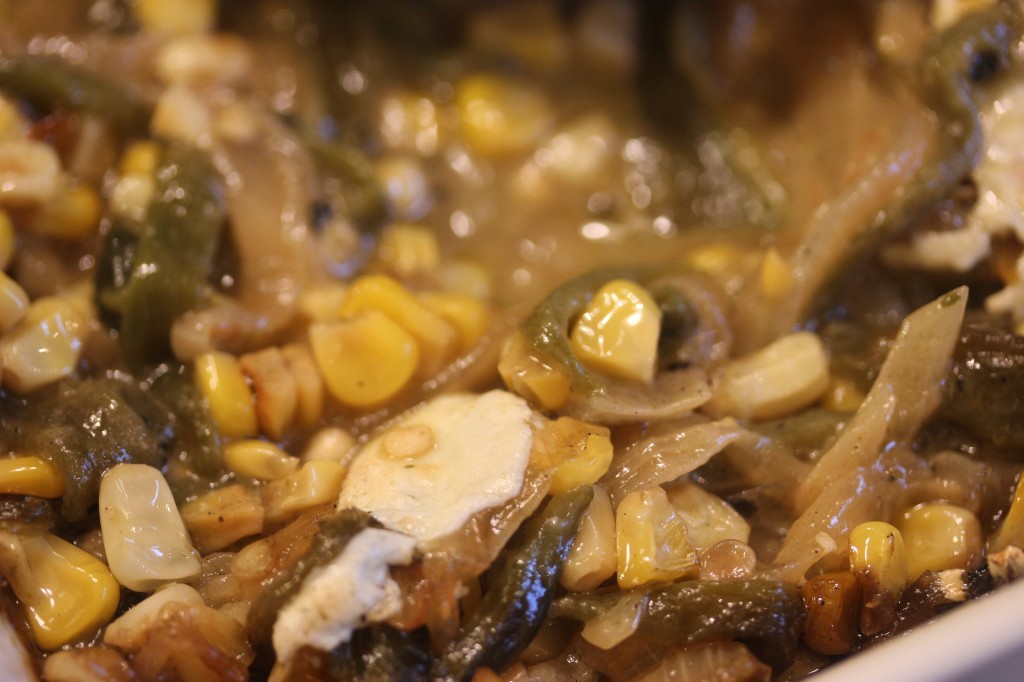 Creamed chilies are an almost daily staple on many Mexican tables. This recipe features milder poblanos, but you can go down the route of fire if you wish to. I actually think of this as a creamed corn dish with a touch of heat.
How do you use this? Suzen and I eat it as a side dish. But you can put this in tacos, topped grilled meats, or even combine this with a baked potato. Remember: starch + starch = good.
With the ingredients on hand, you can turn this dish out in minutes. With summer corn all around us, it's the perfect time to prepare this treat. Be prepared though. It is addictive and you may find it on your table several times a week, too.
Creamed Rajas
Servings: serves 4
Ingredients:
3 tablespoons vegetable oil
1 medium white onion, thinly sliced
2 cups fresh corn kernels (from 2 ears)
6 poblano chiles, charred, peeled, stemmed, seeded, and cut into strips
1/4 cup heavy cream
1/4 cup Mexican crema or creme fraiche
V2 cup shredded Oaxaca cheese or mozzarella cheese
Salt and freshly ground black pepper
Preparation:
Heat the oil in a large heavy skillet over medium heat. Add the onion and sauté for 5 minutes, or until translucent. Add the corn kernels and cook for an additional 3 minutes.
Add the chile strips to the corn mixture and cook for 5 minutes, or until the corn is tender. Add the heavy cream and crème and cook for 8 minutes, or until bubbling. Add the cheese and stir until melted and smooth. Season to taste with salt and pepper. Serve hot.
The rajas can be made 1 day ahead. Cool, cover, and refrigerate. Stir over medium heat until hot before serving.
Source: Fresh Mexico by Marcela Valladolid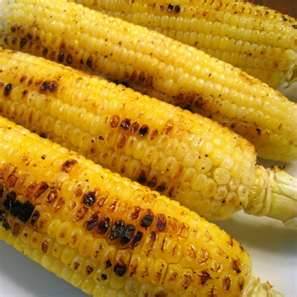 "62,800,000 RESULTS"
That's what appeared on my screen today when I googled "how to grill corn."
There are a lot of ideas and recipe out there. I won't say controversy quite rages, but there are distinct corn grilling schools of thought. It boils down to [no pun intended, we are grilling and not cooking in water]: do you grill with the husks on or off. Or partially off. Or after soaking the corn in water. Or, …
It goes on and on. Some recipes, such as one in the new I Love Corn by Lisa Skye, say to grill with the husks off. Lisa is cut and dried: husk off and no discussion.
In his several barbeque books, expert Steven Raichlen talks about both methods, husk on and husk off.  He prefers off, cooking 8 to 12 minutes until kernels begin to blacken and pop, because then they have a true grilled flavor. If you grill with the husk on, then he points out that you are really steaming the corn, although in one of his books, The Barbeque Bible, he does say corn with the husk on can still acquire a "mildly smoky" flavor.
To accelerate that steaming process with the husks on, some web sites recommend first soaking the corn in water for 15 minutes or so to get additional moisture in the husk. Then, we you do grill, there is even more steam to cook the corn. Steaming on the grill typically takes a bit longer, 12 to up to 20 minutes than grilling with the husk off.
My recommendation: husk off. And, better yet, do it over charcoal to really get flavor. The gas grill will char and blacken, but only charcoal generates the smoky flavors we naturally associate with barbeque.
Either grilling technique, husks on or off, is going to give you a better flavor than simply boiling that corn in water.
No matter how much salt you add.