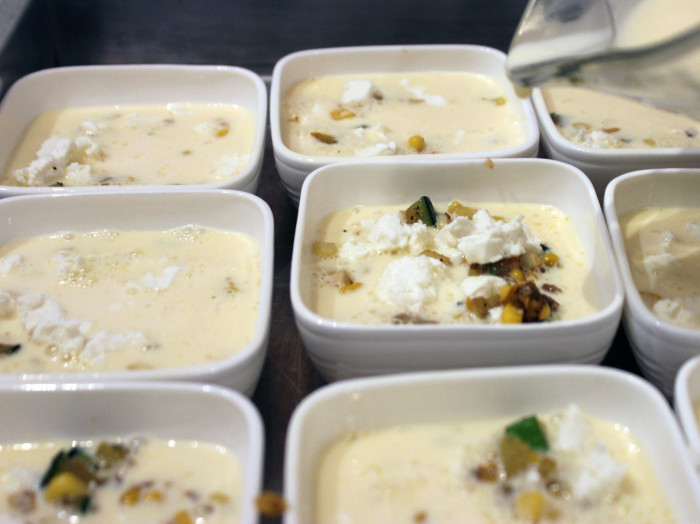 Heavy cream, milk and eggs. This is a particularly light way to start a summer meal.
It is. It really is. If eaten in moderation.
Suzen's busy season for corporate events is on. Firms come here, cook together, and eat what they have just polished in our kitchen. The first course of choice — seemingly by every client this summer — is this impeccably smooth summer flan. It's the flan that consumes eggs and dairy. Into the mix you add corn and zucchini, for just a little crunch.
This is a rich way to serve up summer bounty. You can swap in other veggies here: asparagus, carrots, scallions, … Just make sure that the veggies are fully, thoroughly cooked before incorporating them into the flan.
In place of the feta, you can supply another "soft" cheese for similar texture but different flavor.
Serve with a chilled white wine, follow with salad topped with a strong vinaigrette. After this start any main course will receive automatic smiles.
Summer Vegetable Flans
Yield: 6 servings
Ingredients:
1 tablespoon olive oil, plus more for the custard cups
1 shallot, finely chopped
2 garlic cloves. finely chopped
1 cup finely diced zucchini
¼ teaspoon coarse (kosher) salt
1 cup fresh corn kernels
3 ounces feta cheese, crumbled
3 large eggs
¾ cup whole milk
¾ cup heavy cream
Preparation:
Preheat the oven to 350°F. Brush six 6-ounce custard cups or ramekins with oil. Put a pot of water up to boil.
In a large skillet, heat the 1 tablespoon oil over medium heat. Add the shallot and garlic and cook for minutes, stirring, until tender.
Stir in the zucchini and salt and cook for 7 minutes, stirring occasionally, until the zucchini is tender. Stir in the corn and cook 1 minute longer.
Place the custard cups in a baking pan large enough to hold them in a single layer. Divide the vegetable mixture among the custard cups and scatter the cheese over the top.
In a medium bowl, whisk together the eggs, milk, and cream. Divide the mixture among the custard cups. Pour the boiling water into the baking pan to come halfway up the sides of the cups. Bake the flans for 25 minutes, until the custard is just set.
Remove from the water bath; let cool minutes, then run a-metal spatula around the edge of the cups and invert the flans onto serving plates. (Or, if you prefer, you can leave the flans in the cups and serve them that way.)
Sources: The Beekman 1802 Heirloom Vintage Cookbook from Brent Ridge and Josh Kilmer-Purcell
Photo Information [top]: Canon T2i, EFS 60 mm Macro Lens, F/4.5 for 1/60th second at ISO-800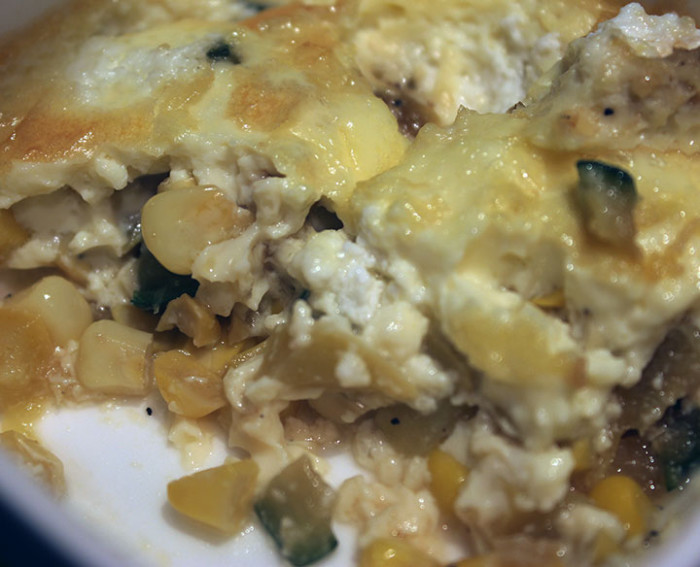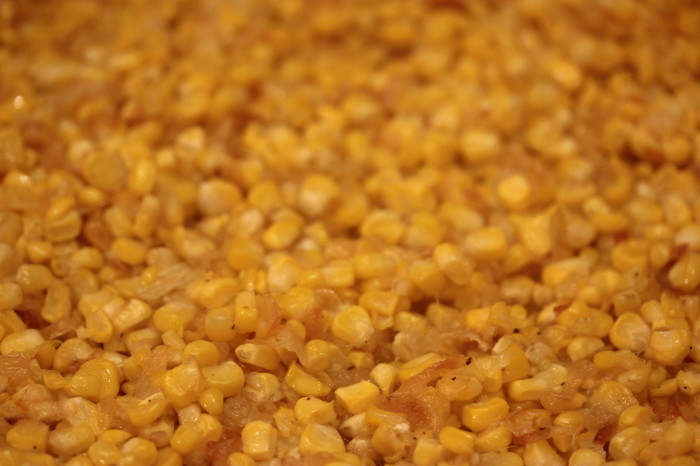 It's early October. Very early. October 1. In the supermarkets and at farm stands and farmers markets, there is corn aplenty. Oh, the government is shut down today, but eating goes on.
Corn is a basic food that can be employed in a myriad of ways. Sometimes, simple is the best.
With ears fresh from the farmers market, Suzen gave me the standard order: "Husk."
"Why don't you ever do this?" I asked.
"It's a guy thing. You know that," came the response.
It's not a guy thing. It's a messy thing. So, I did it. Of course, I cheated. I've written here about how to easily cook corn in the husk and then get the corn out: 2 ears for 4 minutes in the microwave with the husk on, take them out, cut off the stock end, hold them upright by the tassel, and shake until the corn slides out. You are left holding the intact husk with no mess.
I did not microwave for 4 minutes here, because the corn was headed for a skillet. But I did do the ears, 2 at a time, in the microwave for 2 minutes and then easily removed the husk. All intact. No corn silk floating in the air and landing all over the kitchen. Suzen was happy. The cats, however, were disappointed.
This is one of those "you can do it your way" recipes. It calls for shallots and you can add more or less. Or use onions. Add some garlic. Use the thyme or not. Add another herb. A pinch of sugar? I'm sure that's a typo. A few tablespoons of brown sugar would not hurt at all.
The husk may be long gone, but I would say the flavor here is "husky." Suzen ignored my pleas for more sugar, so this dish is not unduly sweet. Yes, the corn is "caramelized" but those natural sugars have a distinctive almost earthy flavor. "White" is not how I would describe this dish. "Delicious" is.
You can buy a lot corn, scale this recipe up, and then have the corn for leftovers for a few days. Warmed corn, again in the microwave, and a burger is a pretty good meal. French fries? No, try caramelized corn.
This recipe is from a great cookbook, I Love Corn, by Lisa Skye. I happen to love single theme cookbooks. If I have corn, how can I use it? I don't want just the 10+ ideas or so in a standard cookbook, I want a lot of ideas with imaginative variation from appetizers to dessert. You can find I Love Corn on Amazon for the bargain price of $8. That's a steal.
Yes. Dessert. Corn ice cream.
Caramelized Corn with Shallots
Yield: serves 4
Ingredients:
1 tablespoon unsalted butter
4 ears fresh corn, kernels removed [about 3 cups]
4 large shallots, cut into ¼ inch pieces
Pinch of granulated sugar
Kosher salt and freshly ground black pepper
2 tablespoons fresh thyme leaves, plus 1 large sprig from garnishing if you wish
Preparation:
In a large skillet over medium heat, melt the butter. Add the corn, shallots, sugar and salt and pepper. Cook, stirring occasionally to prevent burning, until the corn is caramelized, about 5 minutes
Stir in the thyme and cook for 5 minutes more. Season with salt and pepper to taste. To serve, Garnish with the sprig of thyme if you desire.
Source: I Love Corn
Photo Information: Canon T2i, EFS 18-55MM Macro lens, F/2.8 for 1/100 sec at ISO 1000