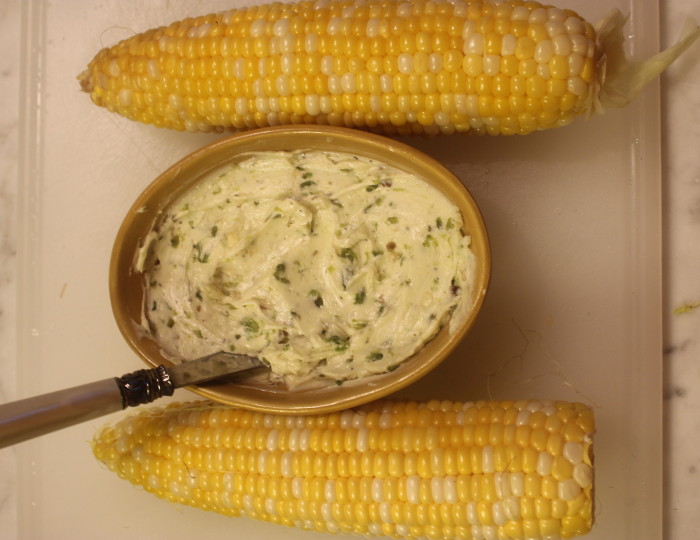 Last year I posted the lovely recipe below for Jalapeno Butter from Fresh Mexico by Marcela Valladolid. It's a perfect recipe for this 4th of July. Jalapeno Butter on corn or on barbequed steak turns goodness into greatness.
Lately I have seen some options and tried some extensions. So, while you can follow the recipe below, here are ideas to expand your flavor repertoire.
First, you can keep the garlic and parsley and/or add some scallions for a modest flavor shift.
Second, instead of mashing everything together, use a food processor to generate a very smooth texture. A few seconds with soft butter will do it. You'll want to pulse to mix, not to complete obliterate the jalapenos. What you should end up with is a lovely light green butter with speckles of dark jalapeno green.
Third, of course, you'll want to use unsalted butter, then taste test. Some salt will probably be needed but it's a matter of your preferences and the nature of your salt. This is the perfect time to visit that new salt store down the block and try something wild. A smoked salt would be perfect here.
Fourth, take out the parsley and replace with cilantro. Even more Mexican.
Ah, finally, if you have jalapeno and cilantro, you could put in half a ripe avocado for a guacamole butter.
And, really, really finally, if you have some or all of these suggested additions, you can edge towards a margarita flavor. Tread carefully here. Use 1-3 teaspoons of lime juice and/or 1-3 teaspoons of tequila. In the food processor, life is easy. Remember, you can't un-lime and you certainly can't un-tequila so start small and add.
In our latest batch, Suzen did the two jalapenos and one stick of butter.
"It's a little too subtle I …" I stopped talking and went in search of a beer. Particularly if you use a high quality butter, the butter flavor and smoothness may come forward. You are about to fooled. It can take a few seconds for the backend hit of the jalapeno to register. Oh, but it will! So when you make this, already have the beer cold, out, and open. You'll need it for the corn and steak anyway.
Jalapeno Butter 2012
Yield: ½ cup
 Ingredients:
2 jalapeno chilies
1 stick unsalted butter, softened
1 large garlic clove, minced
2 teaspoon minced fresh parsley
Salt and freshly ground black pepper.
Preparation:
Grill the jalapenos, turning them occasionally, until charred on all sides, about 10 minutes. Transfer them to a cutting board and let cool for 5 minutes.
Using a small paring knife, peel the jalapenos. Scrape out the discard the seeds and veins. Coarsely chop the chiles and transfer them to a medium bowl. Add the butter, garlic and parsley and mash together. Season to taste with salt and pepper. Spoon the jalapeno butter onto the center of a square piece of plastic warp. Roll it up into a 1-inch diameter log. Refrigerate for at least 30 minutes, until set, or for up to 1 week.
Source: Fresh Mexico by Marcela Valladolid with suggestions by Brian O'Rourke
Photo Information: Canon T2i, EFS 18-55mm Macro Lens, F/4.0 for 1/32

th

of a second at ISO 400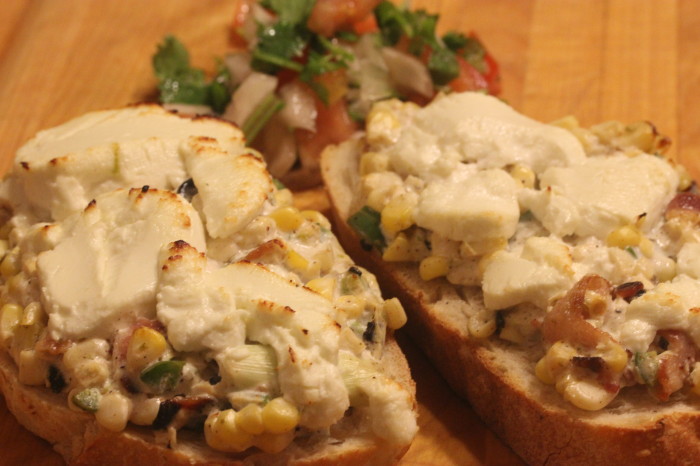 There is a new cookbook about to hit the stores: Le Pain Quotidien by Alain Coumont and Jean-Pierre Gabriel. If you know about the Le Pain Quotidien stores [restaurant, bistro, coffee shop all in one], then your curiosity is already stirring. If you never had the pleasure of dining at the long communal table that is emblematic of each Pain Quotidien site, then here is a recipe to stir your imagination.
In a nutshell, a corn cream — accented with lime zest and jalapeno — is spread over bread. Goat cheese is dotted on top, and the concoction is placed under the broiler to let the cheese melt down and mingle with the cream. It's very satisfying. Personally, I doubled the amount of corn, cut right off the cob. It is a meal unto itself.
Tomorrow I'll review the book in general, giving you more recipe ideas. Since "pain quotidian" roughly translates to "daily bread" there are a bevy of bread-based recipes. But, as this one shows, you can have magnificent style and a most satisfying meal by topping that bread with some basic treats.
Although this recipe says it serves 2, the recipe can be easily scaled. The bread slices can be cut once they are out of the oven and you can use this as a dandy warm appetizer. Make lots. People are going to gobble it down.
Corn, Jalapeño and Goat Cheese Tartine
Yield: Serves 2
Ingredients:
For the salsa:
1 tomato, diced
½ onion, finely chopped
½ garlic clove crushed
2 tablespoons finely chopped cilantro
Juice of one limes
For the tartine:
1 slice smoked bacon, cooked and crumbled
4 tablespoons cream fraiche
½ garlic clove crushed
1 teaspoon finely chopped jalapeno pepper
Grated rind of ½ lime
½ cup corn, canned or fresh [about ½ cob]
2 slices of sourdough bread, medium thickness, fairly wide
2 ½ ounces of young, soft goat cheese [or feta], sliced
Cilantro leaves for decoration, optional
Preparation:
Preheat your oven broiler.
Make the salsa by combining all the ingredients in a small bowl and mixing.
In a small saucepan, combine the bacon, crème fraiche, garlic, jalapeno and lime rind with 1 tablespoon of water. Place over low heat and bring to a gentle simmer. Simmer for 1 minute, then add the corn. Remove from the hat.
Spread the corn cream onto the bread. Divide the goat cheese between the two tartines. Then place them under the broiler for 3-4 minutes until the cheese is just beginning to melt. Removed from the boiler. Serve immediately with the salsa on the side.
If you desire you can dot the tartines with cilantro leaves for color, contrast, and flavor. To make them easier to eat, you can cut each one into 3-4 slices.
.
Source: Le Pain Quotidien by Alain Coumont and Jean-Pierre Gabriel