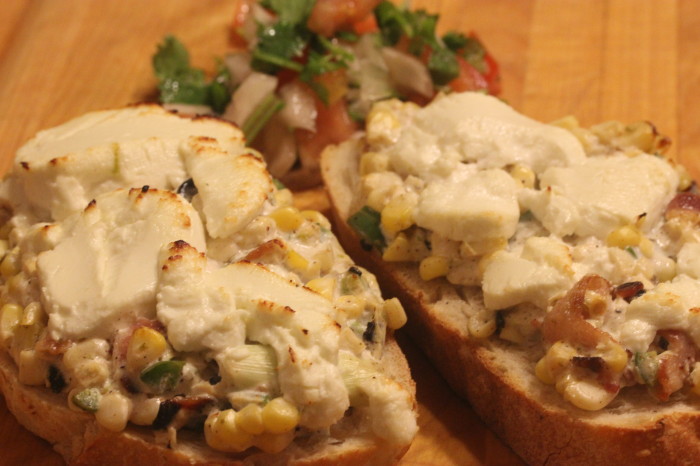 There is a new cookbook about to hit the stores: Le Pain Quotidien by Alain Coumont and Jean-Pierre Gabriel. If you know about the Le Pain Quotidien stores [restaurant, bistro, coffee shop all in one], then your curiosity is already stirring. If you never had the pleasure of dining at the long communal table that is emblematic of each Pain Quotidien site, then here is a recipe to stir your imagination.
In a nutshell, a corn cream — accented with lime zest and jalapeno — is spread over bread. Goat cheese is dotted on top, and the concoction is placed under the broiler to let the cheese melt down and mingle with the cream. It's very satisfying. Personally, I doubled the amount of corn, cut right off the cob. It is a meal unto itself.
Tomorrow I'll review the book in general, giving you more recipe ideas. Since "pain quotidian" roughly translates to "daily bread" there are a bevy of bread-based recipes. But, as this one shows, you can have magnificent style and a most satisfying meal by topping that bread with some basic treats.
Although this recipe says it serves 2, the recipe can be easily scaled. The bread slices can be cut once they are out of the oven and you can use this as a dandy warm appetizer. Make lots. People are going to gobble it down.
Corn, Jalapeño and Goat Cheese Tartine
Yield: Serves 2
Ingredients:
For the salsa:
1 tomato, diced
½ onion, finely chopped
½ garlic clove crushed
2 tablespoons finely chopped cilantro
Juice of one limes
For the tartine:
1 slice smoked bacon, cooked and crumbled
4 tablespoons cream fraiche
½ garlic clove crushed
1 teaspoon finely chopped jalapeno pepper
Grated rind of ½ lime
½ cup corn, canned or fresh [about ½ cob]
2 slices of sourdough bread, medium thickness, fairly wide
2 ½ ounces of young, soft goat cheese [or feta], sliced
Cilantro leaves for decoration, optional
Preparation:
Preheat your oven broiler.
Make the salsa by combining all the ingredients in a small bowl and mixing.
In a small saucepan, combine the bacon, crème fraiche, garlic, jalapeno and lime rind with 1 tablespoon of water. Place over low heat and bring to a gentle simmer. Simmer for 1 minute, then add the corn. Remove from the hat.
Spread the corn cream onto the bread. Divide the goat cheese between the two tartines. Then place them under the broiler for 3-4 minutes until the cheese is just beginning to melt. Removed from the boiler. Serve immediately with the salsa on the side.
If you desire you can dot the tartines with cilantro leaves for color, contrast, and flavor. To make them easier to eat, you can cut each one into 3-4 slices.
.
Source: Le Pain Quotidien by Alain Coumont and Jean-Pierre Gabriel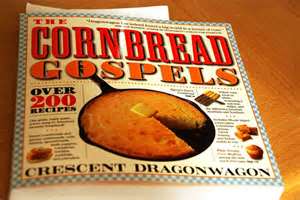 Well, thank God for Google alerts. You know, if you are an author, you can put up an alert for any post that Google might track. Any post using your name or the name of your book. Nice to know if someone has written about you.
Important to know if the blogger has committed some error or a major, tragic, dumb mistake.
My blog last week for Simply Corn Muffins called for 1 tablespoon of buttermilk. It's actually 1 1/4 cups. So, if you tried my poor version of the recipe and failed, I owe you a corn muffin. If you come by to Cooking by the Book at 13 Worth Street, New York, New York, I will happily issue you my penance.
You see, those muffins are so good they are now my standard breakfast. I bake, freeze, microwave, and adorn with butter and jam or honey. I have lots, made with the right amount of buttermilk. As for the batter you have from last week, if you still have it, I would suggest using it as mortar for your patio.
My thanks to author Crescent Dragonwagon for being alert and oh so understanding.