Posted by: Brian on | 1 Comment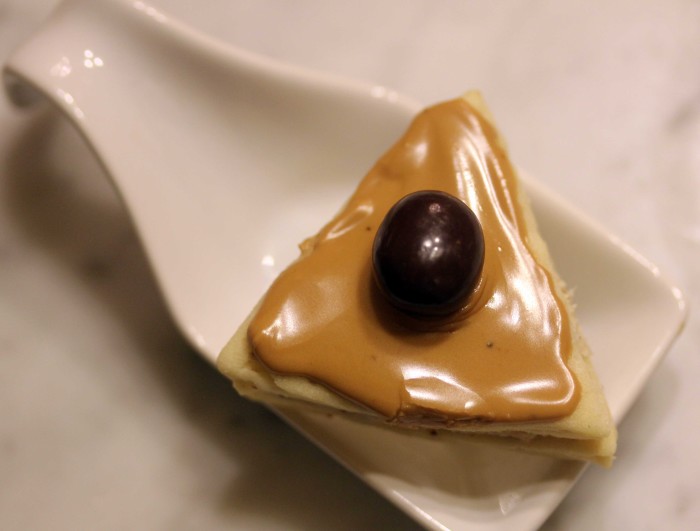 If you love cookies, if you love to bake, then Krisztina Maksai's new book, European Cookies For Every Occasion, is a must have addition to your bookshelves. It's brilliant, eye opening, and sure to transform the meaning of "cookie" for the rest of your life.
I'm serious.
The recipes are Eastern European and the cookies are elegant pastries, not the simple, dry wafers we call cookies. Your only regret will be not having sampled these wondrous treats. They are small and they are great.
In this book, no is no such thing as a simple cookie. There are layers and fillings and frostings. There are textures embedded within textures. When you eat one, you do it slowly and really rather marvel at how a "mere" cookie could be so powerful.
These Coffee Shots are an excellent example of what treats lie inside European Cookie. A Coffee Shot is a sandwich cookie, the layers made of ground almonds and flour. The cookies halves are married with a sugar-coffee paste. The cookie is adorned with a coffee frosting and then topped with a chocolate coffee or espresso bean.
Coffee Shots are not hard to make. They are not hard to eat. Addiction is, well, not my concern. And, you'll want a cup or two of espresso to enjoy along the way. This is a pathway to escape the inconvenience of sleep. If you have a big test tomorrow, start baking.
The instructions here call for switching from the usual mixer paddle to the dough hook during the mixing process. Our Kitchen Aid mixer has a bowl that is very big, and the dough hook simply would not have been able to "grab" on the bottom and mix suitably. So, Suzen said we would stick with the regular paddle but keep mixing for the times called for in the recipe: 3-5 minutes.
You will need to mix for that full amount of time. There is little "soft" or "liquid" content in this recipe. Along the way, the mixture is dry and it does take time to come together as a dough that you can roll out and cut. Have faith and patience. This is a magnificent recipe.
Coffee Shots
Yield: ~25 to 35 cookies depending on the size of your cookie cutter 
Ingredients:
Cookie Dough:
1 ¼ sticks (145 grams) unsalted butter, at room temperature
2/3 cup (70 grams) confectioners' sugar
1 medium egg yolk
½ cup (70 grams) ground almonds
1 ⅔ cups (200 grams) all-purpose flour
Filling:
1 cup (100 grams) confectioners' sugar
¾ stick (85 grams) unsalted butter, at room temperature
1 ½ teaspoons instant coffee
Decoration:
1 cup (100 grams) confectioners' sugar
1 teaspoon instant coffee
2 tablespoons cold brewed coffee
Coffee chocolate drops or chocolate-covered espresso beans
Preparation:
For the cookie, combine the butter and confectioners' sugar in the bowl of an electric mixer fitted with the paddle attachment and beat until the mixture resembles a smooth paste, 3 to 5 minutes. Add the egg yolk, ground almonds, and flour, switch the electric mixer to the dough hook attachment, and mix until the dough is smooth, 3 to 5 minutes. Form the dough into a small loaf. Wrap the loaf in plastic wrap and put it in the refrigerator for about 30 minutes.
Preheat the oven to 350°F.
Lightly flour a working surface and roll the dough to about 1/8 inch thick. Using a round cookie cutter cut the dough into 72 cookies.
Line a baking sheet with parchment paper and then transfer the cookies carefully to the sheet with a pastry spatula. Bake the cookies for 7 to 10 minutes or until the edges turn golden brown. Carefully remove them from the baking sheet with the pastry spatula and place them on a cooling rack to cool completely.
For the filling, stir the confectioners' sugar, butter, and instant coffee together in a medium bowl with a fork until it resembles a smooth paste. Using a spoon, spread a teaspoon of filling on half of each of the cookies, and then top them with the remaining cookies.
For the decoration, mix the confectioners' sugar and the instant coffee into the brewed coffee in a medium bowl until they are dissolved. Spread the mixture on top of the filled cookies with a teaspoon and decorate each cookie with a chocolate drop or espresso bean.
These cookies are good for about one week stored in an airtight container at room temperature.
Source: Savor Baking by Mary Cech
Photo Information Canon T2i, EFS 60 mm Macro Lens, F/2.8 for 1/100th second at ISO‑800
Posted by: Brian on | Leave a comment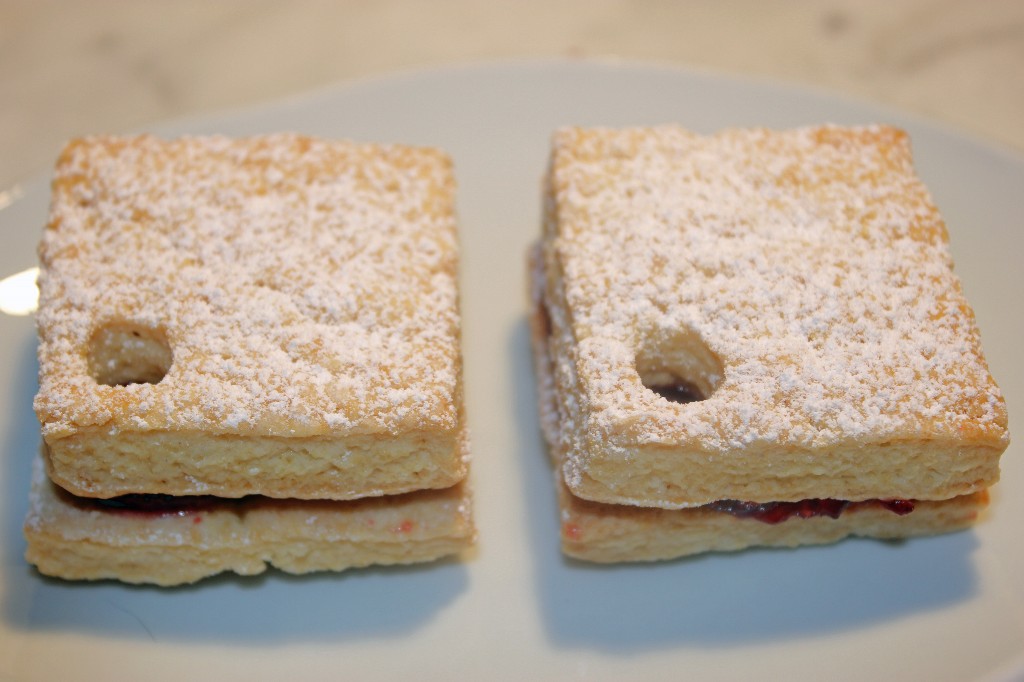 Tuition for my first year of college, at a good private school in Portland, cost $800. You may deduce that I wasn't born yesterday. By the time I graduated, it cost $1500. I got a great education. I was a physics major who minored in Russian. Look at me now.
Tonight, in Manhattan, dinner for two with good wine can easily cost $800. You can make it $1500 by just shifting from one column of the wine list to another.
Those great restaurants with the serious prices, and wonderful wine lists, often end the meal with some very surprising cookies offered next to the final tab. For example, Michael Hatnell, chef at Le Caprice at The Pierre, provides a Jammy Dodger. Dodger here has nothing to do with Brooklyn baseball. These are a popular British dessert with two shortbread cookies sandwiched using jam. One or two bites of these cookies, and the bill for dinner seems to bite you less.
Tracey Zabar has thankfully collected this Jammy Dodger recipe, along with many others from the best New York restaurants, in her compilation One Sweet Cookie.
There are many obvious temptations in One Sweet Cookie. My next experiments will include:
Double Chocolate fudge Cookies
Pecan and Chocolate Cookies
Sugar Topped Molasses Spice Cookies
Macadamia Milk Chocolate Peppermint Cookies
How to proceed? One cookie at a time. And these Jammy Dodgers are just the way to start. The shortbread gives the body and substance, and of course, the flavor to this cookie. Needless to say, use the best butter you can. Flour needs to be fresh. If your flour has been sitting around in that can for a few months, dump and get fresh. It does, truly does, make a difference.
Raspberry jam? It's a great choice here with that raspberry tartness challenging the shortbread for the flavor lead. But other jams are surely fine. Strawberry, blackberry, … Look on that shelf and find a treat for yourself and these cookies.
Jammy Dodgers
Yield: 7 large sandwich cookies
Ingredients:
1 ½ cups all-purpose flour
1 teaspoon salt
1 tablespoon g r a n u l a t e d sugar
½ teaspoon baking powder
½ teaspoon baking soda
7 tablespoons unsalted butter, softened
¼ cup plain yogurt
2 tablespoons milk
Raspberry jam, as needed
Confectioners' sugar for dusting [optional]
Preparation:
Preheat the oven to 375°F. Line two half-sheet pans with parchment paper.
In the bowl of a stand mixer fitted with the paddle attachment, combine the flour, salt, sugar, baking powder, and baking soda. Rub in the butter until the mixture is the consistency of bread crumbs. Add the yogurt and milk to form a rough dough. Do not overmix. Set aside, and allow the dough to rest for about 15 minutes.
Roll out the dough until it is about ½  inch thick. Cut out the dough with a 2 ½-inch square cookie cutter. With a ½-inch round cookie cutter [or smaller], cut out a small porthole in corner of half of the cookies. Place them all on the prepared pans.
Bake for 10 to 12 minutes, or until golden. Cool completely on wire racks.
Turn over the cookies without the holes and pipe or spoon a dollop of jam onto each one. Dust the tops of the cookies with the holes with confectioners' sugar tapped through a small sieve. Sandwich the top and bottom cookie together. Press to secure. Serve and enjoy.
Source: One Sweet Cookie by Tracey Zabar
Archives
Authors of Note
Foodie Finds