Posted by: Brian on | Leave a comment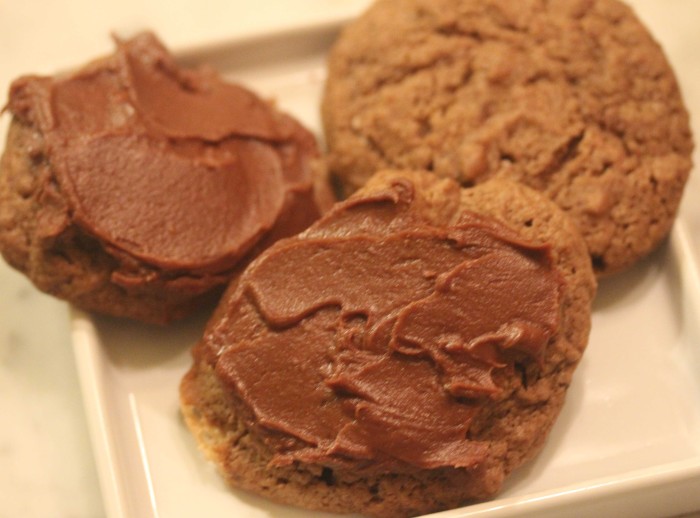 Sour cream and chocolate are intimately compatible. The overlay of flavors in your mouth is rewardingly confusing.
Here are two recipes from Mable Hoffman's Chocolate Cookery, a paperback gem from 1978. The cookie is puffy, but not soft. It bakes to the point of being firm, and the nuts inside provide a crunch. There is some chocolate here, but not the ounces and ounces you see in many recipes. It's just chocolate. NOT CHOCOLATE!
The subtle cookie is given sparkle with a sour cream chocolate frosting that has more direct sour cream tang. Now, with the frosting, the cookies begin to approach decadence.
If you prefer your caffeine without frosting or through coffee, the unfrosted cookies are beautiful to behold and just fine on your tongue.
Sour Cream Cookies
Yield: 40-48 cookies
Ingredients:
2 ounces unsweetened chocolate
⅔ cup butter [that 150 grams]
1 ½ cups sugar
1 teaspoon vanilla extract
1 egg
½ cup sour cream
1 ¾ cups flour
½ teaspoon baking powder
½ teaspoon baking soda
½ teaspoon salt
½ cup chopped nuts
Preparation:
Preheat the oven to 425°F. Melt the chocolate and set aside. Allow to cool to tepid so that it is not "hot" to your finger before using.
Line two half-sheet cookie sheets with parchment paper.
In a large bowl, cream the butter. Gradually beat in the sugar, one tablespoon at a time. Cream well. Add the vanilla and cream for another minute. Add the egg and beat until fluffy.
Stir in the melted chocolate, then sour cream.
In a large bowl, whisk together the flour, baking powder, baking soda and salt. Then add the flour mixture to the creamed mixture. Stir in the nuts. Do not over stir.
Drop by heaping teaspoonfuls onto prepared cookie sheets. Bake for about 8 minutes, until just firm to the touch. Cool slightly before placing on wire racks.
Sour Cream Frosting
Yield: enough for this batch of cookies or one 2-layer 8- or 9-inch cake
Ingredients:
6 ounces of semisweet chocolate chips
¼ cup butter
½ cup dairy sour cram
1 teaspoon vanilla extract
3 ¼ cups sifted powdered sugar
Preparation:
In a medium saucepan, melt the chocolate pieces and butter. Cool several minutes. Stir in the sour cream, vanilla and powdered sugar. Beat until smooth. Spread immediately, because it will "firm up" over time. Once firm, the cookies can be stacked on each other for storage.
Preheat Source: Chocolate Cookery by Mable Hoffman
Photo Information: Canon T2i, EFS 18-55MM Macro lens shot at F/2.8 1/60th second, ISO 3200
Posted by: Brian on | Leave a comment
p5rn7vb

How many times have you made chocolate chip cookies?  Honestly?  Yes, you have to start counting from childhood, when you tugged on Mom's apron and got one big serious lick of cookie dough.  That's when our common addiction started.  Long after Mom is gone, that craving for dough, for the smell of baking cookies and, of course, that taste of a warm cookie out of the oven will awaken memories deep inside.
Suzen is having a private party this weekend at Cooking by the Book. Her client has requested a supply of the best chocolate chip cookies possible. We knew immediately where to turn for the recipe. This post, originally form 2010, is timeless. You can never have enough chocolate chip cookies, and you certainly can never have enough of the very best ones. Once you have made this recipe, you will always, always return for more.
To be honest, that recipe on the back of the package of chocolate chips is good.  It really is.  As time has gone by, whole books have been created about chocolate chip cookies.  I've blogged about one of those books [http://www.cookingbythebook.com/blog/cookbook-reviews/essential-chocolate-chip-cookbook-elinor-klivans/].
So, truly sans ego, I am going to claim that I am chocolate chip cookie expert.  And that is why I can say with great confidence that I have found the world's very, very best chocolate chip cookie recipe.  It's from Tish Boyle in her book The Good Cookie.  The recipe is below and I will tell you her key secret: use melted butter.  Oh, and you make them big.
Suzen and I have made these a dozen times now, tested them on friends and family.  The first response is always something like, "Oh, my God, .."  Quickly followed by, "Can I have the recipe?  Is it a big family secret."
I am happy to share Tish's extraordinary recipe here.
Funny thing, I found this recipe by accident.  The book was published in 2002 and I have been using it for years.  There is a colorful forest of Post-it notes sticking out all over the place — and I will blog in the future on more of those recipes.
But I just found the chocolate chip recipe.  I am embarrassed to say, it is the very first recipe in the book.  I usually just pick up a book and start flipping pages somewhere.  I rarely start at the beginning, with that first recipe.  If I had with The Good Cookie, then for eight years I could have been savoring this masterpiece recipe.
Please, don't wait eight years.  Give this one a try and let me know how you love it.
Soft-Baked Chocolate Chunk Cookies
Yield: 18 Cookies
Ingredients:
2 ½                  Cups sifted all-purpose flour
1/2                   Teaspoon baking soda
1/8                   Teaspoon salt
3/4                   Cup melted butter [1 ½ sticks]
1                      Cup firmly packed light brown sugar
½                     Cup granulated sugar
2                      Large eggs
2                      Teaspoons vanilla extract
10                    Ounces chocolate cut into ¼-inch pieces [The chocolate can be bittersweet, semi, or milk]
¾                     Cup pecans, chopped
Preheat the oven to 350° F.  Line two baking sheets with parchment paper.
In a medium bowl, whisk together the flour, baking, soda and salt.  Set aside.
In a large bowl, whisk together the melted butter and sugars.  Whisk in the eggs one at a time, whisking until well blended.  Whisk in the vanilla.  Using a wooden spoon, stir in the dry ingredients until combined.  Stir in the chocolate and nuts.  [The dough can be refrigerated, well wrapped, for up to 4 days or frozen for up to a month].
Using a ¼ cup measure or ice cream scoop, drop the dough onto the prepared baking sheets, spacing them 2 inches apart.  Bake, two sheets at a time for 15 to 18 minutes, until the cookies are just brown around the edges; switch the position of the sheets halfway through the baking.  The centers of the cookies should be soft and slightly puffy.  Let look completely the on the backing sheets or wire racks.
Store in an airtight container for up to 2 days [which would be a miracle].
 Source: The Good Cookie by Tish Boyle
Archives
Authors of Note
Foodie Finds