Posted by: Brian on | Leave a comment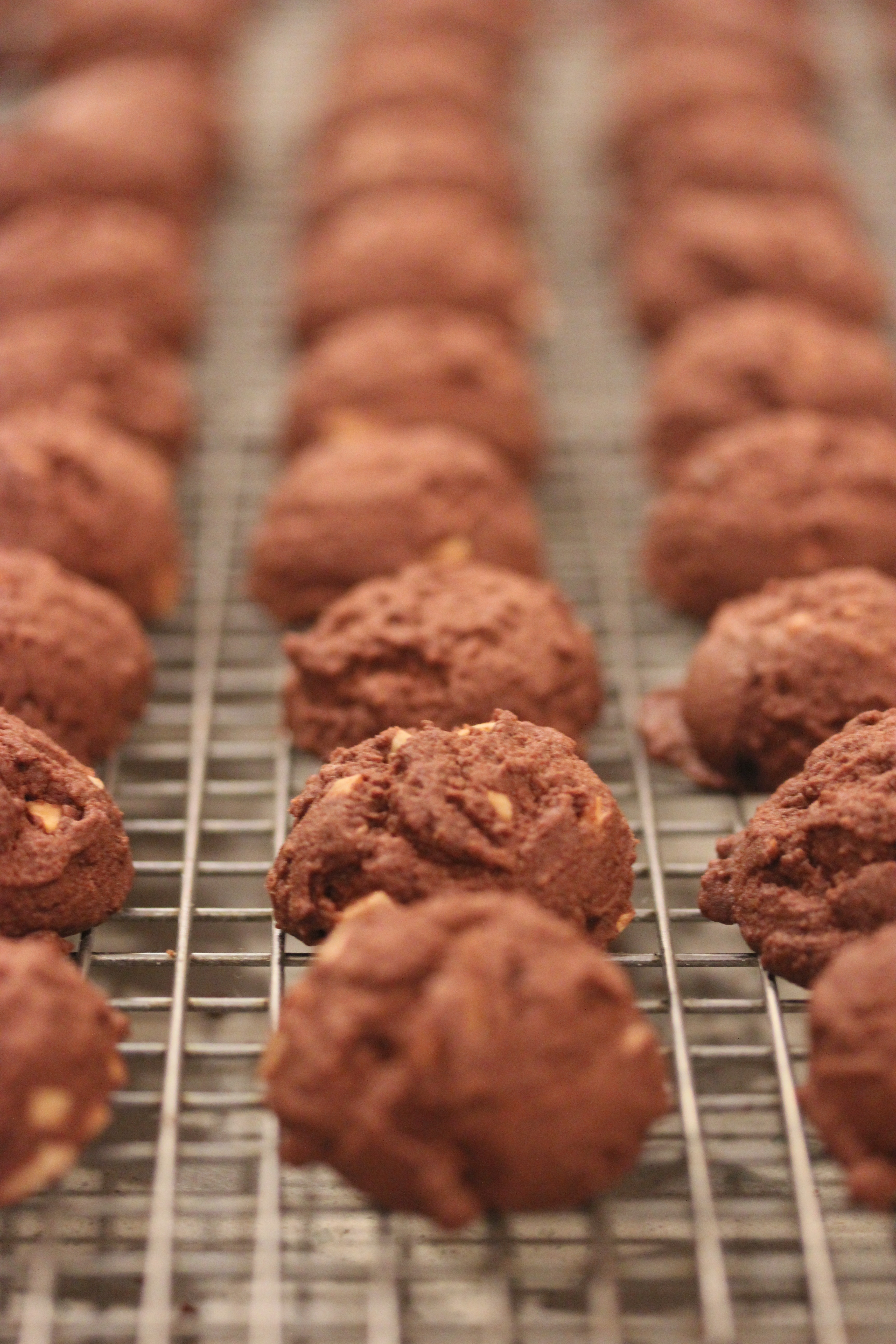 "Too big." I said. I know what I am talking about.
"They'll be fine," Suzen countered.
I bit my tongue. I waited. They baked. They cooled. Suzen made the filling and began to assemble these sandwich cookies.
"Too big," she said.
I said nothing. I just picked up "a half" and ate it very pleasantly without the filling. It's all to easy to become a tad exuberant when you bake these cookies. A simple teaspoon of dough seems too little so you add more and pretty soon each "half" of the sandwich cookie is just the right size just by itself.
I love these cookies so much that very often I will forgo the filling, decline to create sandwiches, and just enjoy the fragile beauty of a perfect kiss.
Our good friend and fabulous cookbook author Michele Scicolone created these sandwich cookies a long time ago. Suzen bakes them often as just the perfect end-of-meal treat. These cookies are breathtakingly soft — thanks in part to the cornstarch in the confectioners' sugar. By the time you put two of them together with filling, you have a cookie that requires you "open wide."
The secret to making this cookies just perfect is the butter. Try to find a good French or European butter that is rich in fat. Certainly, an upscale cocoa is important, too.
The downside to this cookie is its interaction with air. They appear to frequently just evaporate spontaneously. Just like those news stories you see about people dying from spontaneous combustion in the National Enquirer. I believe those stories. Suzen is skeptical about the fires and totally believes that some human being is responsible for the surreptitious disappearance of these cookies.
I am an innocent man.
Juliet's Kisses
Yield: 48 cookies
Ingredients:
For the cookies:
½ pound [2 sticks] unsalted butter, softened
½ cup confectioners' sugar
¼ teaspoon salt
1 teaspoon vanilla extract
1 2/3 cups all-purpose flour
1/3 cup Dutch-process cocoa powder, sifted
½ cup finely chopped toasted almonds
For the filling:
2 ounces semisweet chocolate
2 tablespoons butter
1/3 cup blanched almonds, toasted and finely chopped
Preparation:
Preheat the oven to 350°F.
In the large bowl of an electric mixer, beat the butter and sugar on high speed until light and fluffy. Beat in the salt and vanilla. On low speed, beat in the flour, cocoa, and almonds just until blended.
Roll teaspoonfuls of the dough into ¼ inch balls. Place the balls about 1 inch apart on ungreased baking sheets. Bake the cookies until firm but not browned, 10 to 12 minutes. Transfer to wire racks to cool.
To make the filling, in a small heatproof bowl placed over a saucepan of simmering water, combine the chocolate and butter, and heat until softened. Removed from the heat and stir until smooth. Stir in the almonds.
To assemble kisses as a sandwich cookie, spread about 1 teaspoon of the chocolate mixture on the bottom on one cookie. Place a second cooking bottom side down on the filling and press together lightly. Place on a wire rack until the filling is set. Repeat with the remaining cookies and filling.
Source: La Dolce Vita by Michele Scicolone
Posted by: Brian on | Leave a comment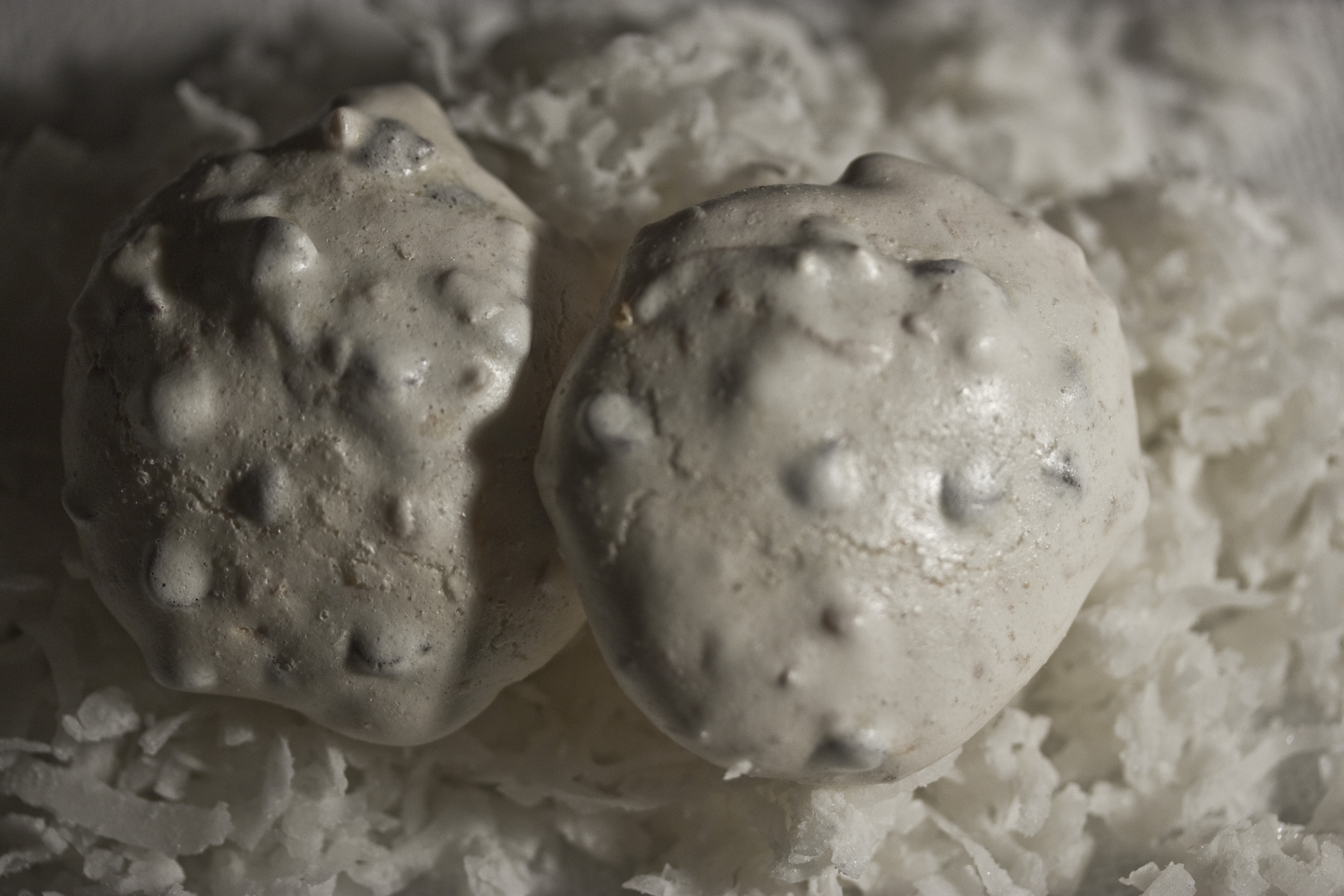 I have a new proof for the existence of God. It would take such superior designer to come up [and conceal] two very distinct but two very complex nut foods. Foods that are encased so deeply you cannot believe how people ever figured out to use them.
There is coconut, of course. And then there are the cacao pods which are transformed into chocolate only through a series of steps that impossible to have ever been devised. But thanks, perhaps to a gracious God, they were revealed. There are no chocolate atheists.
The combination of coconut and chocolate can be sublime. What better vehicle to transport those flavors to you than a perfect French meringue. I do mean perfect.
As soon as Suzen saw the title, Coconut Joys, she was onto this recipe. Surprisingly, I was entrusted with making them. And this only because in the brilliant new book Meringue by Linda Jackson and Jennifer Evans Gardner there is the technique for perfect meringues.
You'll want to use very, very fresh coconut flavor here. So, that half-used package of coconut from last spring that is sitting on your shelf? Use it for the photo. That's what I did.
Instead of using full-sized chocolate chips, the use of mini-chips here reinforces the daintiness of the cookies.
These are easy to make — 15 minutes. And long to bake — 3 ½ hours in your oven. It's a weekend treat. One you could use, say, to teach your children to be patient. [Or yourself.]
One thing about meringues. If it is raining out, don't even think about it. Humidity is the mortal enemy of meringue, so wait for sunshine.
Coconut Joys
Yield: about 40 small cookies
Ingredients:
4 large egg whites, room temperature
¼ teaspoon cream of tartar
½ cup superfine sugar
½ cup powdered sugar
½ teaspoon pure vanilla extract
¾ cup sweetened shredded coconut
1 cup mini semisweet chocolate chips
½ cup chopped almonds, optional
Preparation:
Preheat the oven to 200°F. [Yes, 200°F]
In the bowl of an electric stand mixer fitted with the whisk attachment, beat egg whites and cream of tartar, increasing speed to medium-high until soft peaks form. Add superfine sugar and then powdered sugar, about a tablespoon at a time. With a rubber spatula, very gently scrape down the sides of the mixing bowl because the powdered sugar is so lightweight it will fly up and stick to the sides of the bowl. Continue beating on high until peaks are stiff and glossy. Reduce to low and add vanilla, coconut, chocolate chips, and almonds; beat until combined.
Drop by well-rounded teaspoons onto baking sheets lined with parchment paper, about 1 inch apart. Bake for 90 minutes. Turn oven off and cool meringues in closed oven for 2 hours or until dry to the touch.
Cool completely before removing from baking sheets. Store in an airtight container.
Source: Meringue by Linda Jackson and Jennifer Evans Gardner
Archives
Authors of Note
Foodie Finds