Posted by: Brian on | Leave a comment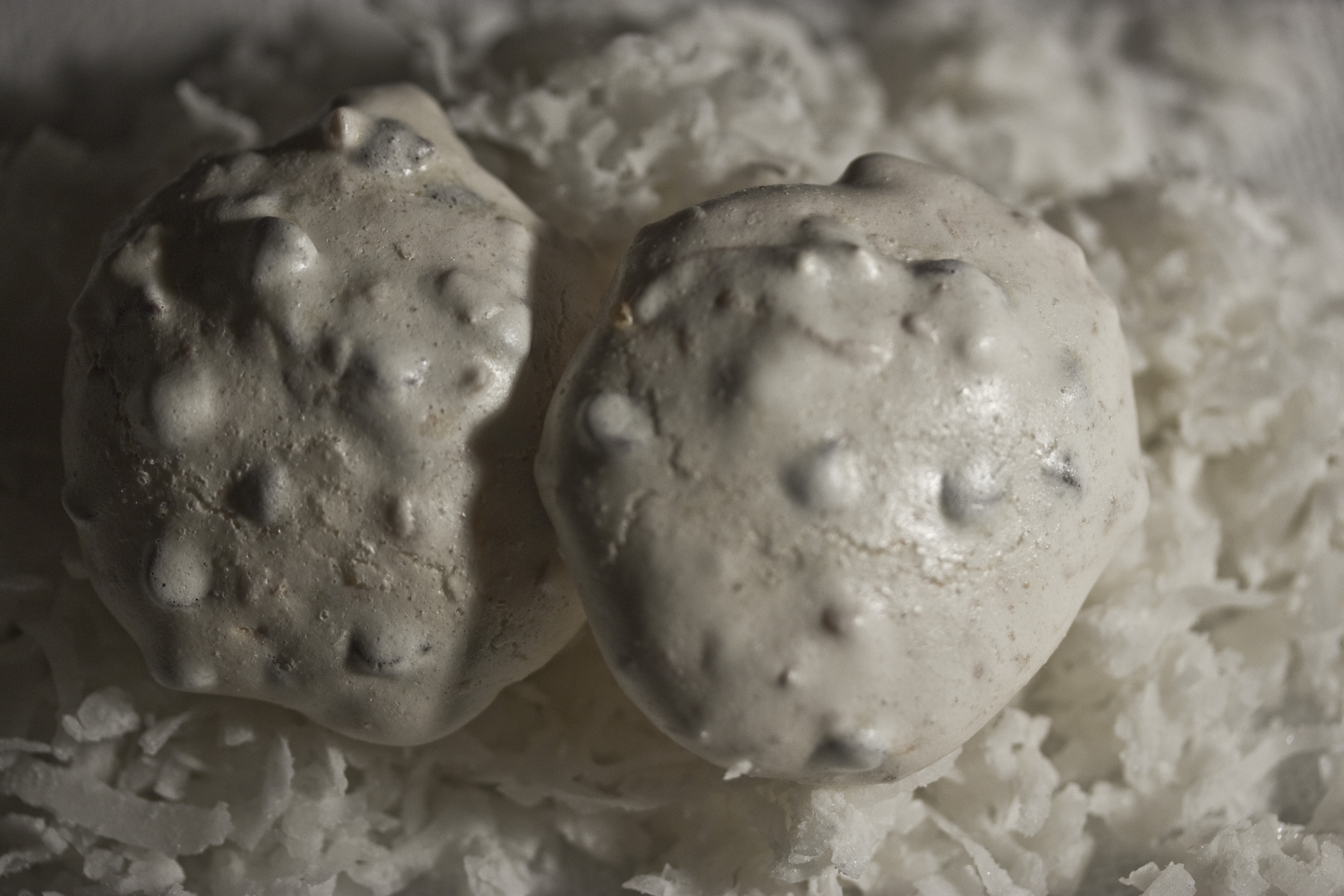 I have a new proof for the existence of God. It would take such superior designer to come up [and conceal] two very distinct but two very complex nut foods. Foods that are encased so deeply you cannot believe how people ever figured out to use them.
There is coconut, of course. And then there are the cacao pods which are transformed into chocolate only through a series of steps that impossible to have ever been devised. But thanks, perhaps to a gracious God, they were revealed. There are no chocolate atheists.
The combination of coconut and chocolate can be sublime. What better vehicle to transport those flavors to you than a perfect French meringue. I do mean perfect.
As soon as Suzen saw the title, Coconut Joys, she was onto this recipe. Surprisingly, I was entrusted with making them. And this only because in the brilliant new book Meringue by Linda Jackson and Jennifer Evans Gardner there is the technique for perfect meringues.
You'll want to use very, very fresh coconut flavor here. So, that half-used package of coconut from last spring that is sitting on your shelf? Use it for the photo. That's what I did.
Instead of using full-sized chocolate chips, the use of mini-chips here reinforces the daintiness of the cookies.
These are easy to make — 15 minutes. And long to bake — 3 ½ hours in your oven. It's a weekend treat. One you could use, say, to teach your children to be patient. [Or yourself.]
One thing about meringues. If it is raining out, don't even think about it. Humidity is the mortal enemy of meringue, so wait for sunshine.
Coconut Joys
Yield: about 40 small cookies
Ingredients:
4 large egg whites, room temperature
¼ teaspoon cream of tartar
½ cup superfine sugar
½ cup powdered sugar
½ teaspoon pure vanilla extract
¾ cup sweetened shredded coconut
1 cup mini semisweet chocolate chips
½ cup chopped almonds, optional
Preparation:
Preheat the oven to 200°F. [Yes, 200°F]
In the bowl of an electric stand mixer fitted with the whisk attachment, beat egg whites and cream of tartar, increasing speed to medium-high until soft peaks form. Add superfine sugar and then powdered sugar, about a tablespoon at a time. With a rubber spatula, very gently scrape down the sides of the mixing bowl because the powdered sugar is so lightweight it will fly up and stick to the sides of the bowl. Continue beating on high until peaks are stiff and glossy. Reduce to low and add vanilla, coconut, chocolate chips, and almonds; beat until combined.
Drop by well-rounded teaspoons onto baking sheets lined with parchment paper, about 1 inch apart. Bake for 90 minutes. Turn oven off and cool meringues in closed oven for 2 hours or until dry to the touch.
Cool completely before removing from baking sheets. Store in an airtight container.
Source: Meringue by Linda Jackson and Jennifer Evans Gardner
Posted by: Brian on | Leave a comment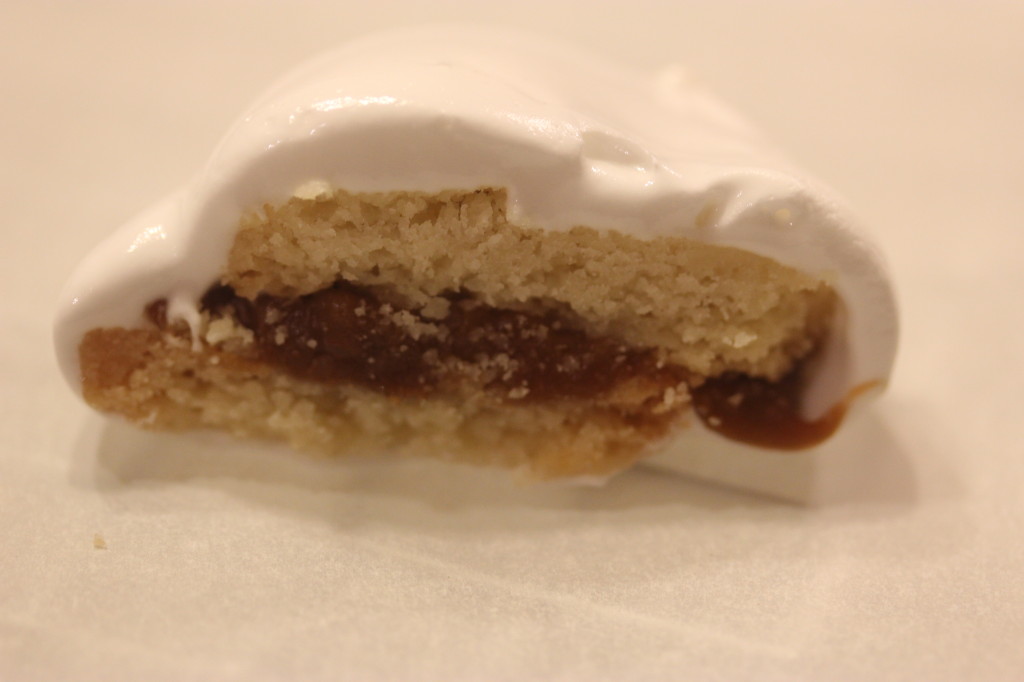 This not just a cookie. It is an experience. I'm posting this on the Saturday before Super Bowl. If you are partying and if you want to impress folks — and certainly give your own mouth a bushel of flavors — then you need to consider this marvelous cookie. It's from Meringue, a wonderful new cookbook from Linda Jackson and Jennifer Evans Gardner.
I've blogged recently about sables, which is  the French name for just a great butter cookie. One made with no egg and lots of butter. By themselves, sables are good. Their great value though is being a flavor vehicle. Here is Latin American treasure where sables are married into a sandwich with dulce de leche. And then the whole assembly is bathed in Italian meringue.
Decadent. Perfect for breakfast with espresso. Or at lunch. Or for dessert. Or for that 2AM kitchen raid that you make and you think your spouse does not know about but they do and you've begun to suspect it.
I will admit that these cookies are not "quick" or "easy" at least not for me. I found the sandwiched sables to be moving around because my dulce de leche was bit too fluid. Coating that moving target with meringue was not easy.
So, I chilled the dulce de leche. Then I made the sandwiches and refrigerated them. Then and only then, did I attempt to coat with meringue. And I put those critters right in the refrigerator to firm up quickly, too, so that the meringue would not slide off.
It's worth every step. The multiple layers of flavors and textures are a treat that, in one bite, will appear in everyone's eye. Then come the sighs.
Alfajores Con Bano Blanco
Yield: 22-24 sandwich cookies
Ingredients:
For the cookies:
2 cups sifted flour
¼ cup sifted powdered sugar
½ teaspoon salt
1 cup (2 sticks) unsalted butter, softened, cut into 1 tablespoon-size pieces
1 ½ cups dulce de leche, room temperature from a 13.4 ounce can or ajar of store-bought dulce de leche or, better, home-made and chilled
For the bano blanco meringue:
1 cup sugar
¼cup water
2 large egg whites, room temperature
Preparation:
For the cookies, preheat the oven to 350°F.
In the bowl of an electric stand mixer, beat flour, sugar, salt, and butter on medium speed until the dough comes together. Form the dough into a ball, cover in plastic wrap, and refrigerate for 20-30 minutes.
Sprinkle some flour onto your work surface and, with a rolling pin, roll the dough ⅛-inch thick. Cut into circles, using a 2-inch round cookie cutter, and transfer to parchment paper-lined baking sheets. Bring the dough scraps together and gently press into a ball. Flour your work surface again and re-roll the dough to ⅛-inch thick and cut out more circles. (You should end up with between 44 and 48 circles.)
Bake the cookies until they are golden and firm, about 15-20 minutes. Remove from the oven and let cool for 5 minutes before transferring to a wire rack to cool completely, about 30 minutes more.
Spread about 1 teaspoon of dulce de leche on the flat side of a cookie and top with the flat side of another cookie. Continue until all of your sandwich cookies have been formed. Set aside.
For the meringue, placed the sugar in a small saucepan then cover with water. Heat on medium, tilting and swirling the pan occasionally, but do not stir. In the meantime, start beating the egg white — instructions below. When all the sugar has dissolved, increase the heat to medium-high and boil until the sugar syrup reaches 235°F [soft ball stage] on a candy thermometer. Immediately remove from the heat.
In the bowl of an electric stand mixer fitted with the whisk attachment, beat the egg whites on medium-high speed until they form soft peaks. Slowly drizzle the sugar syrup into the bowl with the egg whites. Continue beating until the meringue is glossy but not stiff.
One by one, use a pastry brush to "paint" the meringue on the tops and sides of the dulce de leche-filled cookies. Transfer to a baking sheet lined with wax paper. Let the cookies dry for several hours or overnight so that the bano blanco forms a crust on the outside of the Alfajores. Store in an airtight container with the cookies separated by wax paper.
Source: Meringue by Linda Jackson and Jennifer Evans Gardner
Archives
Authors of Note
Foodie Finds