Posted by: Brian on | Leave a comment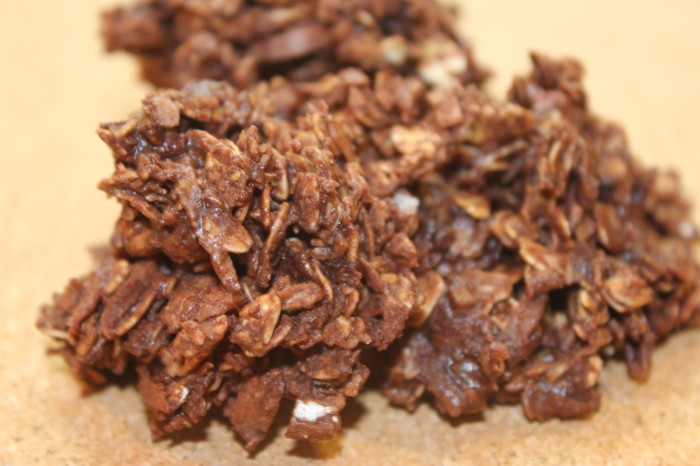 I first blogged this recipe three years ago. It's a childhood favorite that I keep returning to.  This time, though, I used one of the options: adding a cup of shredded coconut. A very good cookie was elevated to sweet perfection.
This cookie recipe has three special features. No baking. No flour. No eggs. For someone with food allergy issues, this may be just your treat. If you are "baking" with kids and want something fun and safe, there is no more delicious cookie than this one. Parents will have to boil the sugar and dairy part, but children love to stir up the oats at the end. With no baking, they just have to spoon the batter out and wait just a few minutes for the batter to dry. The batter is sticky so children will have to be instructed to periodically lick the spoon. In my experience, that is not a major problem.
I had this cookie a zillion times as a kid. I grew up, went to college, moved away, and for thirty years had this fond memory of some cookie that did not have to be baked. But I had no idea what it was. Fifteen years ago, while browsing through a bookstore, I opened up Cookie Time by Marilyn Miller Wasbotten. This fond memory was on the first page I looked at.
You should let the mixture cool just a bit if you are going to add chocolate chips if you want them whole; they will immediately melt if you have just made the syrup-oat mixture.
Nuni's No-Bake Cookies
Yield: 40 cookies
Ingredients:
2 cups sugar
¼ cup [2 ounces] butter
¼ cup cocoa
½ cup milk
3 cups uncooked quick rolled oats
½ cup peanut butter
1 teaspoon vanilla extract
Optional: 1 cup of nuts, raisins, chocolate chips or shredded coconut
Preparation:
Stir the sugar, butter, cocoa, and milk in a saucepan and cook until the mixture comes to a good boil, stirring constantly. Boil for 1 minute. Pour over the oats, peanut butter, and vanilla. Add optional ingredients. Drop by teaspoonfuls onto a cookie sheet lined with foil and let cool.
Source: Cookie Time by Marilyn Miller Wasbotten
Photo Credits: Canon T2i, EFS 18-55mm macro lens, F/5.0 for 1/20 second at ISO 400.
Posted by: Brian on | Leave a comment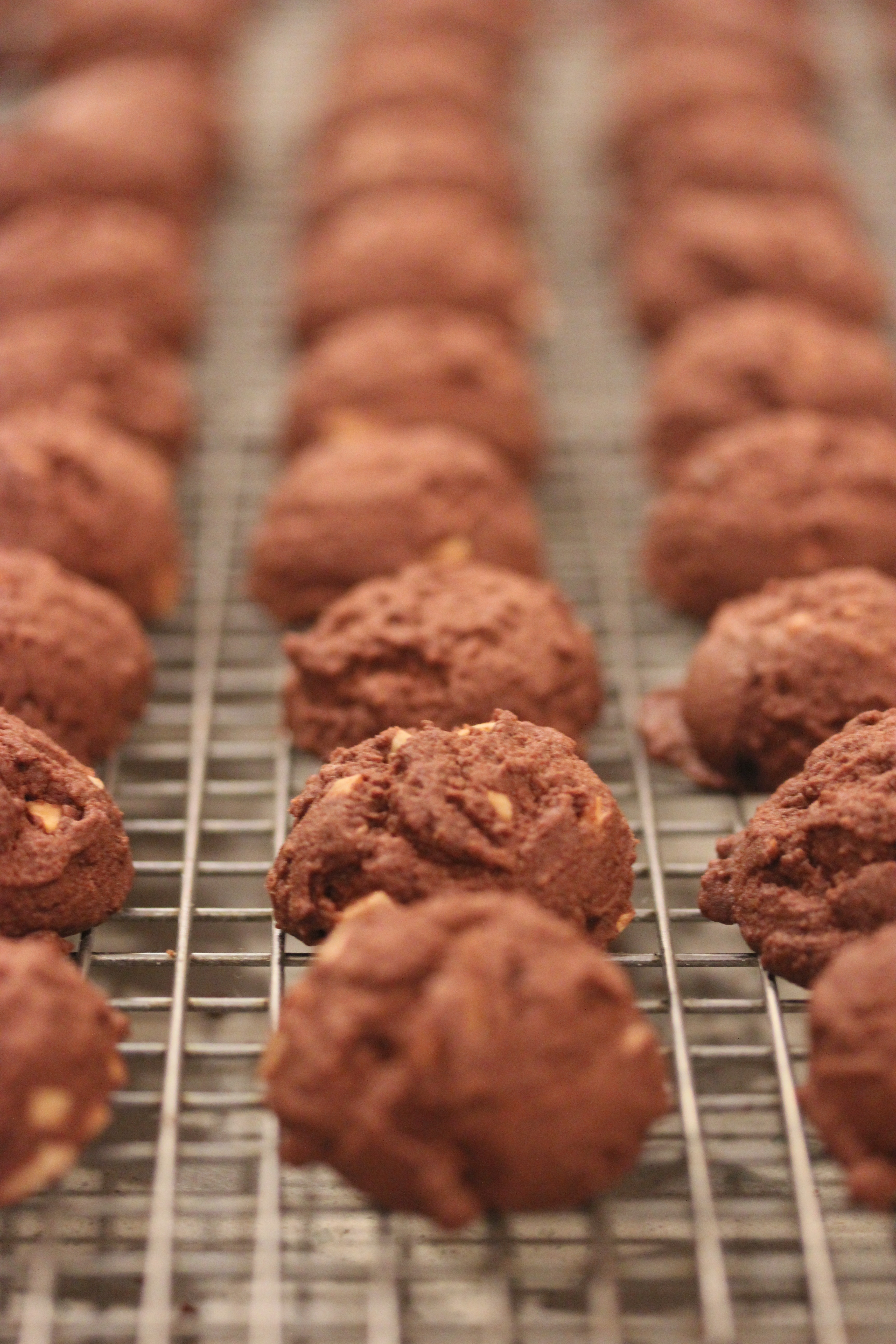 "Too big." I said. I know what I am talking about.
"They'll be fine," Suzen countered.
I bit my tongue. I waited. They baked. They cooled. Suzen made the filling and began to assemble these sandwich cookies.
"Too big," she said.
I said nothing. I just picked up "a half" and ate it very pleasantly without the filling. It's all to easy to become a tad exuberant when you bake these cookies. A simple teaspoon of dough seems too little so you add more and pretty soon each "half" of the sandwich cookie is just the right size just by itself.
I love these cookies so much that very often I will forgo the filling, decline to create sandwiches, and just enjoy the fragile beauty of a perfect kiss.
Our good friend and fabulous cookbook author Michele Scicolone created these sandwich cookies a long time ago. Suzen bakes them often as just the perfect end-of-meal treat. These cookies are breathtakingly soft — thanks in part to the cornstarch in the confectioners' sugar. By the time you put two of them together with filling, you have a cookie that requires you "open wide."
The secret to making this cookies just perfect is the butter. Try to find a good French or European butter that is rich in fat. Certainly, an upscale cocoa is important, too.
The downside to this cookie is its interaction with air. They appear to frequently just evaporate spontaneously. Just like those news stories you see about people dying from spontaneous combustion in the National Enquirer. I believe those stories. Suzen is skeptical about the fires and totally believes that some human being is responsible for the surreptitious disappearance of these cookies.
I am an innocent man.
Juliet's Kisses
Yield: 48 cookies
Ingredients:
For the cookies:
½ pound [2 sticks] unsalted butter, softened
½ cup confectioners' sugar
¼ teaspoon salt
1 teaspoon vanilla extract
1 2/3 cups all-purpose flour
1/3 cup Dutch-process cocoa powder, sifted
½ cup finely chopped toasted almonds
For the filling:
2 ounces semisweet chocolate
2 tablespoons butter
1/3 cup blanched almonds, toasted and finely chopped
Preparation:
Preheat the oven to 350°F.
In the large bowl of an electric mixer, beat the butter and sugar on high speed until light and fluffy. Beat in the salt and vanilla. On low speed, beat in the flour, cocoa, and almonds just until blended.
Roll teaspoonfuls of the dough into ¼ inch balls. Place the balls about 1 inch apart on ungreased baking sheets. Bake the cookies until firm but not browned, 10 to 12 minutes. Transfer to wire racks to cool.
To make the filling, in a small heatproof bowl placed over a saucepan of simmering water, combine the chocolate and butter, and heat until softened. Removed from the heat and stir until smooth. Stir in the almonds.
To assemble kisses as a sandwich cookie, spread about 1 teaspoon of the chocolate mixture on the bottom on one cookie. Place a second cooking bottom side down on the filling and press together lightly. Place on a wire rack until the filling is set. Repeat with the remaining cookies and filling.
Source: La Dolce Vita by Michele Scicolone
Archives
Authors of Note
Foodie Finds