Posted by: Brian on | Leave a comment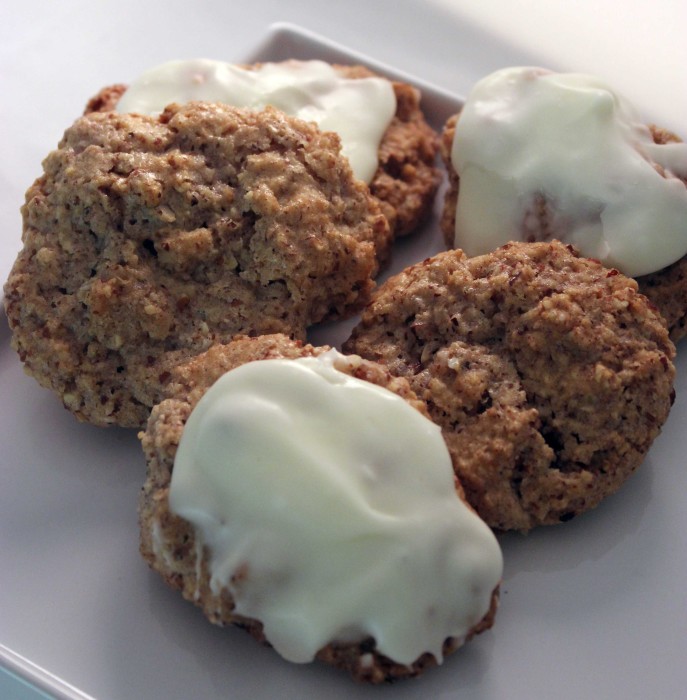 What if you could make an astonishing desserts in five minutes with just three ingredients? Too good to be true? No, not at all. This is an astonishingly good cookie.
I tested it last night on two good friends.
"What do you taste?" I asked.
"Coconut? Peanut butter? Cinnamon? …" The questions kept coming and I started to laugh.
This is the prototype Italian recipe. Simple. Swiftly created. A few ingredients, but carefully honed.
There is no coconut or peanut butter or any spices here. You simply take nuts and some sugar, put them in the food processor and blend away. Take that nutty sand, add an egg, shape, cut and bake.
It's incredibly easy. The recipe calls for walnuts, which Suzen is not the fondest of. So, I used pecans, which do have a more complex flavor. Apparently, to some people, pecans have overtones of coconut, peanut butter, various spices, …
The cookies are to bake base side up, not cut side down. I, uh, neglected to read that so my cookies are flatter here and wider than you'll achieve if you wisely follow the instructions. And these cookies to spread, so used full cookie sheet or divide the batter between two half sheets.
Author Rosetta Costantino found this cookie in the town of Maratea, the only town of Basilicata on the Tyrrhenian Sea [Southern Italy, west side, just above the boot]. It's a coastal town of beauty and culinary distinction. In the bakeries there, this cookie comes two ways: bare bones and with a thick layer of pure sugar frosting just roughly draped over the cookie as you see here. Rosetta loves the pure flavor of nuts alone. My test guinea pigs last night split: one liked bare and one loved frosted. I prefer frosted with the contrast of the cold clean frosting versus the nutty intensity of the cookie itself. Your choice.
Oh, some final notes. If you are someone you know has celiac disease, this no-flour delicacy is perfect for you. For celiac kids, its a great introduction to the kitchen. They can get their hands dirty as they make the cookies, lick their fingers and in a few minutes smile as they bite away.
If someone has a nut issue, then this dish is not for you.
Dolci di Noci
Yield: makes ~30 small cookies
Ingredients:
2 ½ cups walnut halves or large pieces
1 cup sugar
1 large egg
Preparation:
Preheat the oven to 375°F (190″C) with a rack in the upper third of the oven. Line a baking sheet with parchment paper or a silicone baking mat.
Combine the walnuts and sugar in a food processor and process to make a fine meal the texture of sand. Transfer to a bowl. Make a well in the middle and add the egg. Use a fork to briefly whisk the egg, then begin incorporating the nuts until everything is thoroughly combined, finishing the mixing with your hands. The dough will be quite moist and a little sticky.
Divide the dough into quarters. On a flat surface, shape one piece of the dough into a 6-inch log, flattening the sides to make a bar about 1inch wide by 1 inch high. Cut the bar into 3/4 inch segments to make eight pieces. Space the cookies evenly on the prepared baking sheet, standing on their base (not on a cut side) with 1 inch of space all around for spreading. Repeat with the remaining bars to make thirty­ two cookies.
Bake the cookies on the upper oven rack until they are golden all over, about 15 minutes. Let cool on the pan. Store leftover cookies in an airtight container for up to 2 weeks.
Source: Southern Italian Desserts by Rosetta Costantino
Photo Information Canon T2i, EFS 60 mm Macro Lens, F/5 for 1/60th second at ISO‑1250
Posted by: Brian on | Leave a comment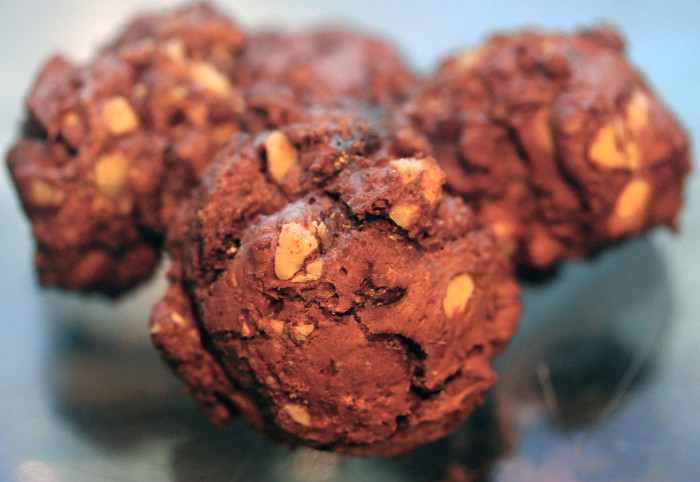 "Did you publish yet?" The publicist for Alice Medrich's Seriously Bitter Sweet just emailed me. Of course I published. I remember this beautiful cookie that tasted just impeccably perfect.
I searched my blog history. Gee, that's funny. Suzen and I made the cookie [okay, I watched and she made it because her trust level in me is a tad low. Again]. We loved the cookie and devoured them. I took great photos. I blogged it. I had to have blogged it.
And, it turns out I did not. It's not early onset. I know that. I remember that. Mostly.
It's not the drugs. We've been cutting back. But my caffeine intake is reduced. And, as you may have noticed, I'm trying to blog twice a day and I'm finding it just ever so slightly confusing. Two blogs a day often means you have twenty different things open on your desk and computer: Word files with recipes, Photoshop with photos, open books tagged with things made or to make or to somehow get Suzen to agree to make, books still stacked and waiting to be explored.
In summary, I'm confused. I'm very sorry. Particularly so because I really, really think these cookies are spectacular. Alice says that they are "ultra-chocolaty and richer than sin, slightly crunchy on the outside with a divinely soft center." If you put "sin" and "divinely" in the same sentence and label the recipe "decadence," you are either taking a great risk or have superb confidence.
This cookie is no-risk, complete satisfaction. By themselves, they are totally sumptuous. If you need a major jolt for the rest of day, one espresso and two of these will have you flying.
Alice has revised the recipe for this new book of hers, taking a very good recipe and elevating it to a definite "10." Made in bowl sitting on top of a skillet of boiling water, there's an old fashioned touch to making these. [Is that whisking some kind of penance?] But there is nothing old-fashioned about the rich sleekness of every sultry bite.
The proportions here, for cookie itself, are almost those of a classic brownie: little more egg, little less butter. The creativity here is the bushel of add ins: basically the dough serves to bind lots of nuts and chocolate chunks. The result is a complex, rewarding mouth feel.
Maybe, maybe just a little sinful, but what would life be with no decadence.
These cookies may be exceptional, but they also "typical" of the treats that await you in Seriously Bitter Sweet. Go, buy, bake.
Bittersweet Decadence Cookies
Yield: ~36 cookies [you'll need more!]
Ingredients:
¼ cup all-purpose flour
¼ teaspoon baking powder
1/8 teaspoon salt
8 ounces chocolate, coarsely chopped
2 tablespoon unsalted butter
2 large eggs
½ cup sugar
1 teaspoon pure vanilla extract
2 cups walnuts or pecans, broken or chopped into large pieces
6 ounces 54%-72% chocolate, chopped into chunks or store-bought chocolate chunks
Preparation:
Position the racks in the upper and lower thirds of the oven and preheat the oven to 350°F. Line two cookie sheets with parchment paper.
In a small bowl, mix the flour, baking powder, and salt together thoroughly; set aside.
Place the 8 ounces of chocolate the butter in a large stainless steel bowl in a wide skillet of barely simmering water and stir frequently just until melted and smooth. Removed the chocolate form the skillet and set it aside. Leave the heat on under the skillet.
In a large heatproof bowl, whisk the eggs, sugar and vanilla together thoroughly. Set the bowl in the skillet and stir until the mixture is lukewarm to the touch. Stir the egg mixture into the warm [not hot] chocolate. Stir in the flour mixture, then the nuts and the chocolate chunks.
Drop slightly rounded tablespoons of batter 1 1/2 inches apart onto the lined cookie sheets. Bake until the surface of the cookies looks dry and set but the center is still gooey, 12 to 14 minutes. Slide the cookies, still on the parchment, onto cookies racks, or set the pans on the racks. Let cool completely. Store in a tightly sealed container.
[Or, just eat them.]
Source: Seriously Bitter Sweet by Alice Medrich
Photo Information: Canon T2i, EFS 60 mm Macro Lens, F/2.8 for 1/30th second at ISO-3200
Archives
Authors of Note
Foodie Finds