Posted by: Brian on | Leave a comment
Yesterday came the frosting. Today it's that brownie lying underneath.
Classic brownies are often made with unsweetened chocolate, which typically is melted with the butter. The resulting brownies tend to have moistness and stickiness. This recipe title says both "classic" and "cake." Here cocoa powder substitutes for the chocolate. The butter is beaten, not melted. With those two factors, and a large number of eggs, the resulting brownie texture shifts from sticky to cakey.
The batter here will be stiff and seems to barely fill the pan. But the egg and baking powder do give you a modestly high brownie. If you want a thicker version, then move to a smaller pan [10" X 10"] would be best, but you will have to monitor the baking time carefully.
Using the Fudgy Frosting from yesterday's post gives you a clever texture contrast. The brownie is soft and cakey, offering no resistance to your bite. The frosting is, as the name says, fudgy and you'll find it clinging to the edge of your teeth. It will linger there, gradually dissolving, and generating a sugar high that only a true brownie lover can appreciate.
But you knew that from the picture, didn't you?
---
Classic Cake Brownies

Yield: 24 brownies

Ingredients:

1 cup butter, softened
1 ½ cups granulated sugar
½ cup firmly packed brown sugar
5 large eggs
2 teaspoons vanilla extract
1 ½ cups all-purpose flour
⅔ cup unsweetened cocoa powder
1 teaspoon baking powder
¼ teaspoon salt
Preparation:

Preheat the oven to 350°F. Spray a 13X9 inch baking pan with cooking spray.
In a large bowl, beat the butter and sugars with a mixer at medium speed until fluffy. Add the eggs, one at a time, beating well after each addition. Stir in the vanilla.
In a small bowl, combine the flour, cocoa, baking powder, and salt. Gradually add to the butter mixture, beating until just combined.
Spoon the batter into the prepared pan. Smooth edges and top to a uniform thickness over the entire pan. Bake for 30 minutes or until a wooden toothpick inserted in the center comes out clean. Let the brownies cool in the pan to room temperature before frosting.
Source: Cookies Brownies Bars & More from HoffmanMedia

Photo Information: Canon T2i, EFS 60 mm Macro Lens, F/4.5 for 1/25th second at ISO‑3200

Posted by: Brian on | Leave a comment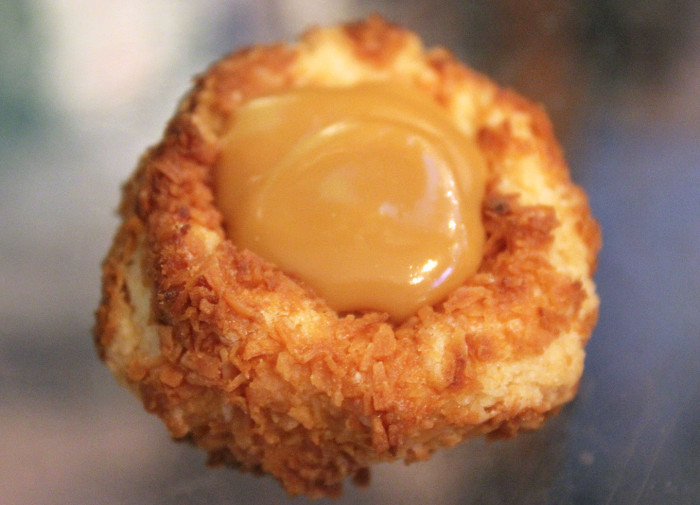 Good food is edible. Great food is edible art. Such is the story of this cookie which could double as a gem in Madison Avenue storefront. If you have a sweet tooth, if you love coconut, then this cookie is for you. Small coconut balls are given a thumbprint impression, then baked. The indent is filled with one of two things: salted caramel [the original recipe] or dolce de leche [Suzen's favorite].
To make dolce de leche, you can simple cook a can of sweetened condensed milk cover in water in a saucepan. When, as Suzen does, you are making dolce de leche for 50 people, all burners are active. Our kitchen becomes a production line.
This cookie is quite versatile. For dessert on a warm summer weekend night, when the barbeque dishes are not yet digested and you just want a tiny touch of dessert, then this cookie is perfect. It will cleanse away all traces of chicken, steak, onions and potato salad. A glass of sparkling wine is not mandatory but suggested.
If you want elegance, say for a fall or winter holiday feast, then a plate of these cookies — centered on the table and reflecting candle light in that dolce de leche — is understated sophistication. This year round cookie is one you will simply never tire of. Trust me. I've had a few dozen in the past year and my addiction is only intensifying.
Coconut Thumbprint Cookies with Salted Caramel or Dolce de Leche
Yield: ~ 50 cookies
Ingredients:
3 sticks unsalted butter, room temperature
1 cup sugar
1 ½ teaspoons pure vanilla extract
3 ½ cups all-purpose flour
Table salt
2 large eggs, lightly beaten
12 ounces sweetened flaked coconut
44 small soft caramel candies (12 ounces), such as Kraft
6 tablespoons heavy cream
Large, flaky sea salt, such as Maldon
Or, in lieu of the caramels, cream and Maldon, 1 ½ cups of dolce de leche
Preparation:
Preheat oven to 350 degrees. Beat together butter and sugar with a mixer on medium speed until pale and fluffy, then beat in vanilla. With mixer on low, gradually add flour and ½ teaspoon table salt, and beat to combine. Press dough together in plastic wrap, then roll into 1 ¼-inch balls. Dip each ball in beaten egg, and roll in coconut. Place balls on parchment-lined baking sheets, and press an indentation into each with your thumb. Bake for 10 minutes, then remove sheets from oven, and re-press indentations. Bake cookies until golden, 9 to 10 minutes more. Let cool on wire racks. Repeat with remaining dough.
If making a caramel filling instead of using dolce de leche, place the caramels and heavy cream in a small saucepan over low heat. Cook, stirring constantly, until the caramels are melted and mixture is smooth, 4 to 6 minutes. Spoon into indentations in cookies, and sprinkle with sea salt. Rewarm caramel if it hardens before all cookies are filled.
Source: Martha Steward Living, February 2012
Photo Information: Canon T2i, EFS 60 mm Macro Lens, F/6 for 1/40th second at ISO-3200
Archives
Authors of Note
Foodie Finds