Posted by: Brian on | Leave a comment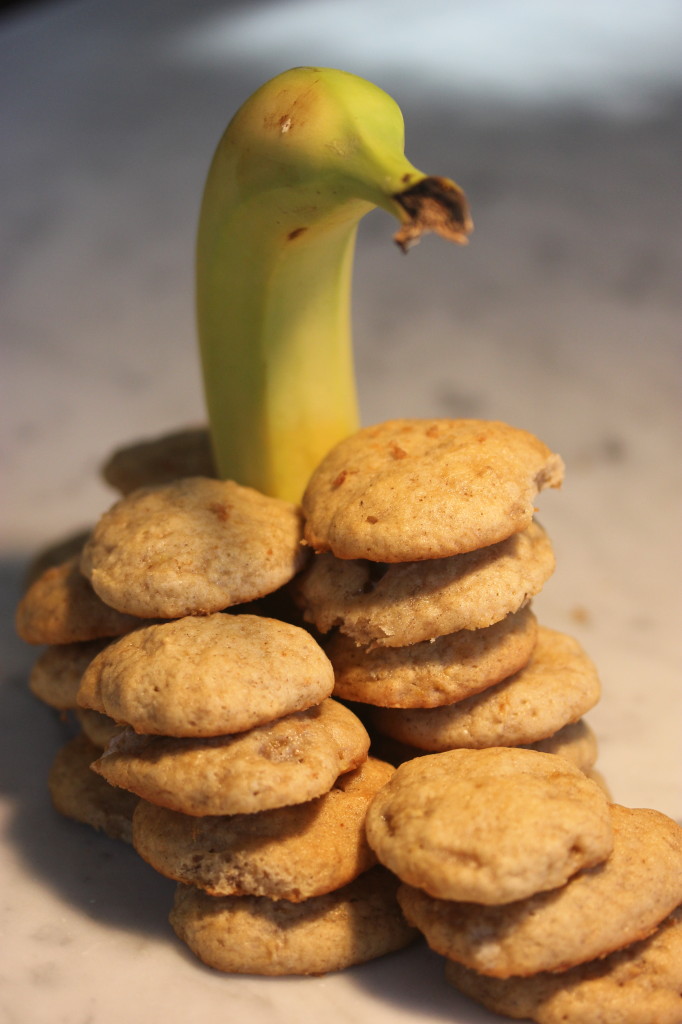 No, that is not the prow of a Viking ship. Or the head of some new species of featherless bird. It's a banana. Not quite ripe.
When it does ripen, what do you do. You know, that bunch of bananas you bought will all ripen at the same time, not one a day. So all of sudden, you are confronted with a half dozen perfectly lovely pieces of fruit. You can't eat them all. Even with rum, you can't drink them all.
So, you bake. Banana bread. Banana cake.
I have nothing against those. I love them both. But I do tire of picking poppy seeds from teeth.
And I have this memory, this very distant memory of banana cookies. I know it was long ago. Even prior to the prior marriage. I don't remember where or when. But I do remember eating a pure banana cookie, soft, mellow and filled with flavor.
I searched all our cookie books, but did not come up with what I remember. I mean all the books from all those authors: Nick, Maida, Carole, … The classic books do have some banana recipes, but always with oatmeal or chocolate chips. Even this recipe suggests nuts, which I left out. I wanted pure banana flavor.
This recipe, from simplyrecipes.com, is from a woman who inherited her grandmother's recipe box. She believes the recipe is about 70 years old and that would put in the right timeframe for a young kid in Oregon who had mouthfuls of these wonders.
You could frost them, of course, or dust them with powdered sugar. But honestly, they stand on their own. In fact, as the picture shows, they can even support a banana.
Banana Cookies
Yield: 30 Cookies
Ingredients:
• ½ cup of unsalted butter, room temperature
• 1 cup of sugar
• 1 egg, room temperature
• 1 cup of mashed bananas (about 2 ½ large bananas)
• 1 teaspoon of baking soda
• 2 cups of flour
• pinch of salt
• ½ teaspoon of ground cinnamon
• ½ teaspoon of ground mace or nutmeg
• ½ teaspoon of ground cloves
• 1 cup of pecans [optional, and you can substitute other nuts]
Preparation:
Preheat the oven to 350°F. Cream the butter and sugar together until light and fluffy. Add the egg and continue to beat until the mixture is light and fluffy.
In a bowl, mix the mashed bananas and baking soda. Let sit for 2 minutes. The baking soda will react with the acid in the bananas which in turn will give the cookies their lift and rise.
Mix the banana mixture into the butter mixture. Mix together the flour, salt, and spices and sift into the butter and banana mixture and mix until just combined.
Fold into the batter the pecans or chocolate chips if using. Drop in dollops onto parchment paper-lined baking sheet. Bake for 11-13 minutes or until nicely golden brown. Let cool on wire racks.
Source: Simplyrecipes.com
Posted by: Brian on | Leave a comment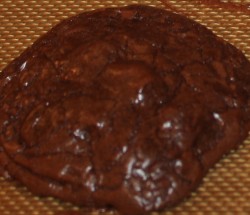 If you want to make to make chocolate cookies, you have some options. You can use semi-sweet chocolate, or bitter, or cocoa, or … You can use them all! At once. In the same cookie.
I hate to put this statement here but my lawyer insists: If you have sensitivity to caffeine, this recipe should be used only with clearance from your personal physician.
Lawyers and doctors aside, this cookie is dense and chocolaty and just incredible. There is a shock value to the cookie. It is soft and chewy so that you are suckered into devouring that first bite. And then your body is aware is you have just consumed your normal daily allotment of chocolate, all in that first bite. Suzen has served these cookies to dozens of people and there is always an immediate, stunned expression on the face. Followed by a smile!
No human can eat six of these at a time — I've tried and failed. The overpowering flavor will satisfy you in a cookie or two.
The cookies are soft, but they provide options. Use them to make an ice cream sandwich, then put in the freezer to harden. A rich vanilla or mint ice cream would be ideal. Chocolate ice cream? According to my lawyer, you are then personally responsible.
Outrageous Chocolate Cookies
Yield: About 3 dozen using a 1-ounce scoop
6 ounces semi-sweet chocolate, roughly chopped
8 tablespoons [1 stick] unsalted butter
½ cup all-purpose flour
¼ cup cocoa powder
½ tsp baking powder
½ tsp salt
3 large eggs
1 cup packed light brown sugar
1 tsp vanilla extract
1 package (12 ounces) bitter-sweet chocolate chunks
Preparation:
Preheat oven to 350°F. Heat chopped chocolate and butter in a microwave-safe bowl in 20-second increments, stirring in between, until almost melted, do not overheat. In another bowl, whisk together flour, cocoa powder baking powder, and salt.
In a mixing bowl, beat eggs, brown sugar, and vanilla on high speed until light and fluffy. Reduce speed to low; beat in melted chocolate. Mix in flour mixture until just combined. Stir in chocolate chunks.
Place dough 2 to 3 inches apart onto baking sheets, slightly flatten. Bake, rotating sheets halfway through, until cookies are shiny and crackly yet soft in center 8 to 10 minutes.* Cool on sheets 10 minutes, with a thin spatula transfer to rack to cool completely.
Do not bake the cookies to a crisp; they are meant to be soft and chewy.
Source: Adapted from Martha Stewart Magazine
Archives
Authors of Note
Foodie Finds