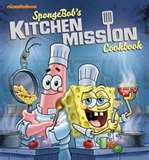 Cookbook season is now in high swing. The cookbook section of every bookstore is overflowing with a bevy of wonderful new books. While we all hear stories about how tough times are in publishing, sales of cookbooks are up. And the publishers have responded this fall with many very enticing new titles.
We'll be reviewing as many of these books as we can before the end of year, offering suggestions for holiday gifts or your own bookshelf. We'll discuss new recipes and techniques that are simply beautiful.
First up among these books? SpongeBob's Kitchen Mission.
Yes, I'm serious. This is a lovely little cookbook with the combination kids need: a favorite cartoon character presenting excellent, healthy recipes.
By personal experience, or by observation, we all know that children can be harsh food critics.
"Why don't you try this, sweetie?" a mother will say.
"NO," comes the very, very unambiguous reply.
Kids can just be tough in the kitchen and dining room table. And those early years, when their brains and bodies are both growing, is the time when nutrition is key and life-long habits are formed.
So anything that can intrigue kids to eat better and especially to become involved in the preparation of their meals is going to be a benefit. This book, SpongeBob's Kitchen Mission, hits the target.
The book is filled with kid-oriented recipes. In the Sea Star Casserole, you cut star shapes out of bread to top the casserole. You won't do that for yourself, probably, but if it entices you child to eat a casserole of spinach and cannellini beans, then it's a good idea. Or, you could just spoon up some spinach and put it in front of your child. What is likely to happen?
"NO.
There are some sweet treats in here, of course, but the book is brilliant in applying names to some very solid, almost adult, recipes:
Hot Polynesian Pops are barbeque skewers with pineapple, mushroom, pea pods combined with soy sauce and sesame seeds
Half Moons are Asian dumplings filled with cabbage, celery and carrot
Salt Sea Cucumbers are cucumber marinated with vinegar, dill seeds, and mustard seeds
If you have kids, this book can be a wonderful resource for you. Somewhere in your circle of friends and family there are certainly parents and kids who'll love every page and recipe.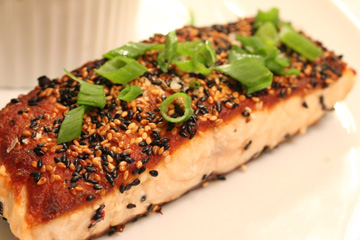 Salt is one of the most potent, essential ingredients in cooking. Its ability to draw out and intensify flavor is unmatched. The book Salted: A manifesto on the World's Most Essential Mineral with Recipes provides a wealth of facts and ideas for all of us salt lovers.
Author Mark Bitterman is the "selmelier" of The Meadow, a salt store created by his wife Jennifer with branches in Portland and New York City. The store is a hoot, because you can go in and taste test their world-wide array of salts. There is amazing diversity in their salt collection and you are almost sure to leave with a few bags, all filled with sodium chloride, but all having bright and different flavors.
How those flavors are created, where they come from, what it all means — those are the topics of the book Salted. History, craft and science are all presented in a beautiful laid out book that will surely make you want to sample and experiment. Dozens of salt varieties from around the world are described and compared. The descriptions here are simply unparalleled.
Upscale gourmet stores now offer multiple varieties of salt but they really pale to the world view presented in Salted and available at The Meadow. Bitterman calls salt the "crown jewels of great food." His passion is evident on every page.
And, there's a bonus to Salted. Those recipes. This salmon is a perfect example. We've all had salmon. We know how it tastes. Even how it feels. So this recipe really surprised me with its very different taste and the feel to the mouth. The use of sesame and peppercorns, in abundance, creates a salmon flavor that I had never experienced before. And, cooking the salmon with that seedy layer on top of sesame oil results in a definite crust that you have to snap through before reaching the tender salmon body. The effect is very noticeable and a taste treat.
If you enjoy salmon, but seek a truly different spin, then grab your sesame seeds and some smoked salt.
Grilled Sesame Salmon with Cyprus Hardwood Smoked Flake Salt
Yield: serves 4 people
Ingredients:
1 tablespoon black sesame seeds
1 tablespoon white sesame seeds
1 teaspoon Szechwan peppercorns, green or pink or mixed
¼ teaspoon powdered ginger
1 ¾ pounds wild salmon fillet (about 1 ¼ inches thick), pin bones and skin removed
7 tablespoon toasted sesame oil, preferably black sesame oil
4 two-finger pinches Cyprus hardwood smoked flake salt
2 sesame leaves, coarsely chopped, or 1 scallion, trimmed and finely sliced
Preparation:
Preheat a covered grill to medium heat (about 375°F).
Combine the black and white sesame seeds in a small bowl. Crush the peppercorns with the flat side of a broad knife, like a cleaver or a chef's knife. Add the pepper and the ginger to the sesame seeds and stir to combine. Set aside.
Coat both sides of the salmon with 2 teaspoons of the sesame oil. Scatter the sesame seed mixture all over both sides of the salmon and press lightly into the flesh.
Brush the grill grate thoroughly with a wire brush to clean it, and coat it lightly with oil. Grill the fish for10 minutes with the lid down, turning halfway through, until the surface is crisp and browned and the flesh feels slightly spongy when pressed at its thickest spot. Gently pull apart the flesh at the thickest part; the centers should still be a translucent, darker pink. Transfer to a platter using a wide spatula.
Drizzle the remaining teaspoon of sesame oil over the fish and sprinkle with the salt. Scatter the chopped sesame leaves [or scallion] over the top and serve.
Source: Salted by Mark Bitterman