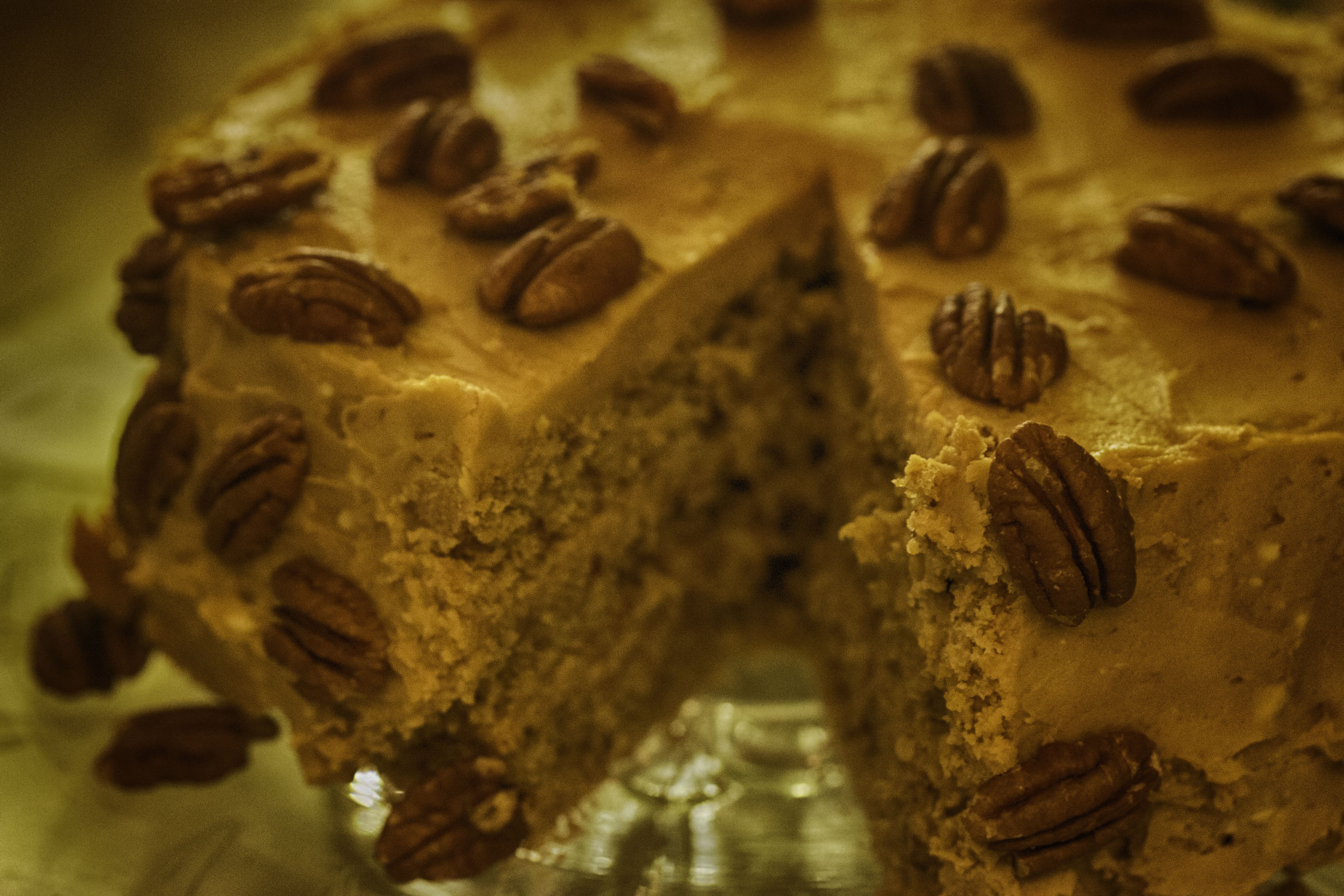 So darned good. I took one look at this cake, in Retro Cakes and Cookies by Wendy Sweetser, and I had to make it. Coffee flavor and nuts. Oh, this is an English recipe and they want walnuts. Suzen is not anti-English – she'd live in London – but she's not a walnut fan. So I made this with pecans.
Compared to American recipes, there is a lot of coffee here. In the cake and Lord knows in that frosting. I used Italian espresso powder and just the amounts specified. I got the coffee tang, but it was not over the top. The cake is moist, filled with flavor and quite sweet.
Now, in the book, there is a picture of this cake and it is well frosted. So is my cake in my picture. And that is because I doubled the amount of frosting in the recipe below. So, you have an option. Go with frosting that is more of an icing, or go for the gold. Or the brown. Or whatever.
Jeez, just go for it.
And to serve with it? Well, what else. Espresso.
Personally, I would not eat this after 9 PM at night unless you have an exam in the morning.
That picture of the cake above is one I made by combing three exposures with the HDR software from NIK, plus their special vignette effect to tone the entire picture. I think that the picture style here matches the idea of a retro recipe.
Retro Cakes and Cookies is filled with recipes from the home kitchens of Great Britain in the 50's and 60's. There are things here you've never seen or heard of before. There are things here you need to taste.
I may have made a mistake in that last paragraph. This cake may be much older than just 50's. Older than me, even. You'll see in the section describing how to make the cake. You don't cream the butter, add this, then that. Oh, no. You just put everything all at once in the bowl and mix. Everything. All at once. My grandmother would have made this cake.
I wish she had.
Coffee-Walnut Layer Cake
Yield: 1 3-layer cake
Ingredients:
For the cake:
Oil or butter to grease 3 cake pans
2 sticks butter, softened
1 ⅛ cups superfine sugar
4 extra-large eggs
1 ¾ cups self-rising flour
2 teaspoons baking powder
1 tablespoon instant coffee dissolved in 2 tablespoon hot water, and cooled
1 cup chopped walnuts [or pecans!]
For the frosting [remember, you may want to double this]:
1 ½ sticks unsalted butter
2 ½ cups confectioners' sugar
1 tablespoon instant coffee dissolved in 2 tablespoons hot water, and cooled
Walnut [or pecan] halves to decorate
Preparation:
For the cake:
Preheat the oven to 325°F. Lightly grease 3 8-inch layer cake pans and line the bottom with parchment.
Put the butter, sugar, eggs, self-rising flour, baking powder, and dissolved coffee in a large mixing bowl, and beat together with an electric hand mixer on low speed, or a wooden spoon, until smooth. Stir in the chopped walnuts.
Divide the mixture between the pans, spreading it in even layers and leveling the tops. Bake for 25-30 minutes, or until risen and springy to the touch. Leave the cakes to cool in the pans for 5 minutes, before turning out onto a wire rack to cool completely.
For the frosting:
Beat the butter until soft and creamy. Gradually sift in the confectioners' sugar, beating well after each addition. Add the dissolved coffee after three quarters of the sugar has been added.
Sandwich the cake layers with some of the buttercream, and spread the remainder on top. Decorate with a ring of walnut [or pecan] halves.
Source: Retro Cakes and Cookies by Wendy Sweetser [published by CICO Books]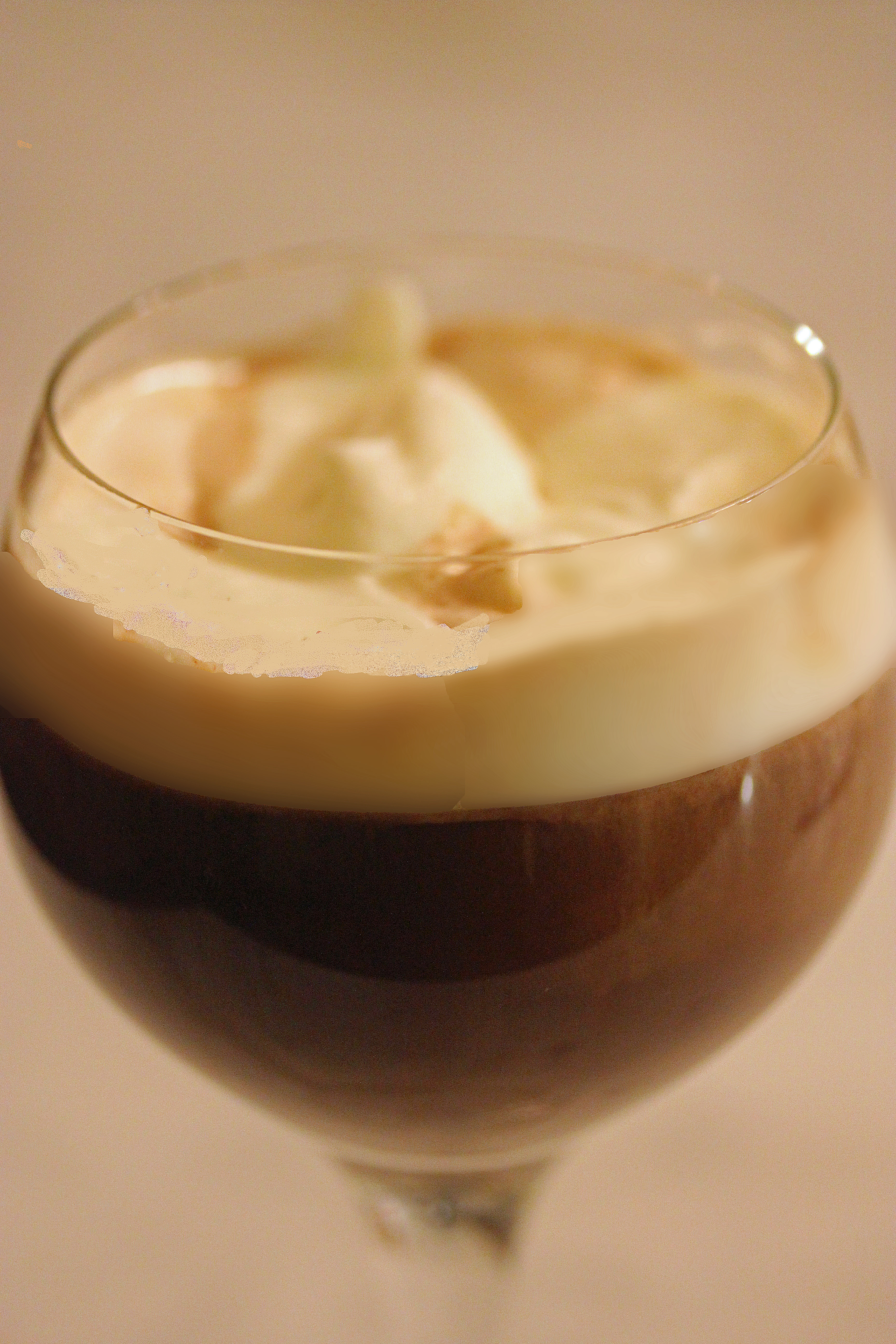 Quick now. What is mocha? Or moka? Or mokka? Or Mocca? Or Mocha?
In a land of coffee shops, no, in a land of Starbucks, we all know that a mocha is coffee plus chocolate.
It was not always so. The word mocha comes to us from the port city of Mocha on the Red Sea on the Western coast of Yemen. In the 15th through the 17th centuries, Arab traders dominated the coffee space and Mocha was the key originating port. The local variety of coffee was named Mocha and, even through modern times, "mocha" has been synonymous for "coffee," just like the word "java."
The thought of combining chocolate and coffee began in Turin, Italy where the beverage is still called Bicerin or "little glass." There, coffee, milk, cream, and chocolate were married in a combination that continues to be served on the sidewalks of that city — and many others. In a classic Bicerin, the chocolate, coffee, and cream are carefully placed into a glass in distinct layers.
There are variations and the Moretto below is one of them. The milk is replaced by water. Chocolate and espresso are mixed instead of layered. The cream is still layered atop. The result? This beverage tastes like … Like nothing I've ever had. I'm very used to milk and the texture it creates in your mouth and on your tongue. Here, the chocolate is melted in boiling water so the resulting drink is "thin" at least to my palette. That's automatically neither good nor bad. It is quite distinctive. I have to say the Moretto tasted like nothing I have ever had before. And, with no milk to add flavor, here you are confronted solely with bittersweet chocolate and espresso. You'll find a swirl of flavors rocketing around your mouth and you are going to pucker.
This recipe is from Michael Turback's Mocha. You may recognize the name because I've blogged several times about his first book Hot Chocolate. Turns out, Michael — a restaurateur from Ithaca — has crafted both Mocha and Coffee Drinks. These are both excellent books to sample, literally, and you'll see other ideas from them here from time to time.
Moretto
Yield: serves 1
Ingredients:
2 ounces bittersweet chocolate, fine shaved
4 tablespoons boiling water
3 ounces espresso
Whipped cream, lightly sweetened with powdered sugar
Cocoa powder [optional]
Preparation:
In a small bowl, combine the chocolate shavings with the boiling water and stir into a smooth liquid. Pour into a glass or cup. Add the espresso and stir until combined.
If you have not yet whipped your cream, do so, creaming to the point where the cream is thick but not yet holding peaks. Sweetened lightly. Top the beverage with whipped cream by spooning the cream over the top.
If you wish, dust with cocoa powder.
Source: Mocha by Michael Turback [published by Ten Speed Press]