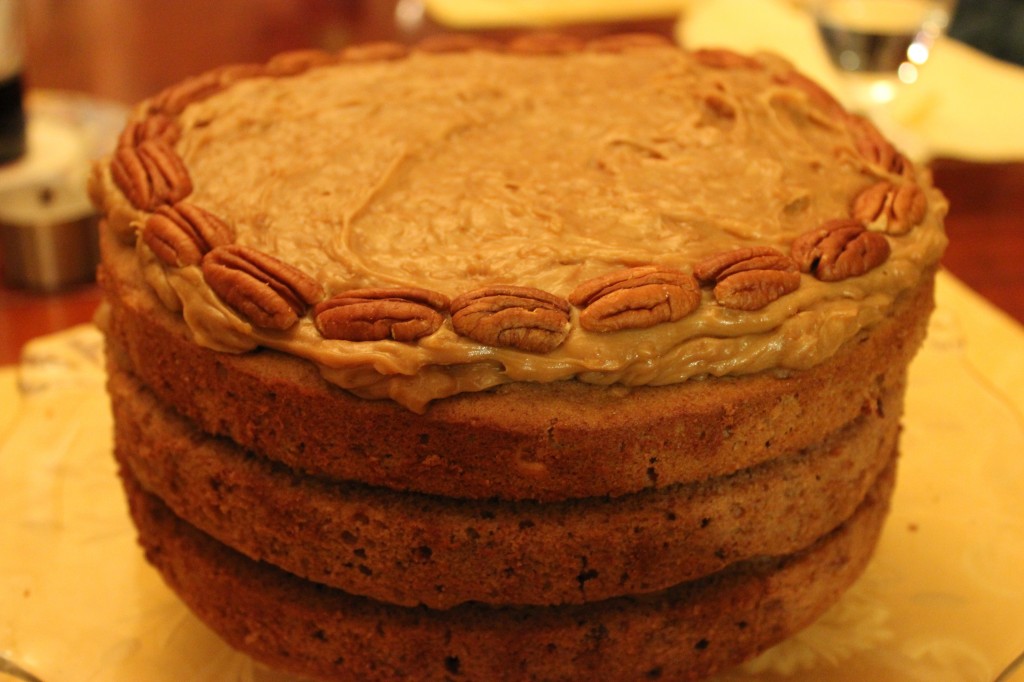 Exceptional. Elegant. Ecumenical.
I am not a raisin fan. Suzen is not big on walnuts. Yet we saw this picture and agreed to temporarily set aside our culinary differences. We would agree to raisins and walnuts. [Yes, we did put pecans on the edge!] I had no problem with the blackberry jam in the cake. And the coconut caramel glaze is something Suzen would kill for. You think I'm joking, don't you? Who do you think licked the pan? Who licked the spatula? Who would not share?
For the first time in our marriage, I considered giving her a timeout, but I settled for a second piece of cake. This combination of raisins, nuts, spices, jam, and buttermilk produces a flavor that you simply have not had before. It's not a "jammy" cake at all. It does not have the sour factor that buttermilk can inspire. No, this cake is just so carefully balanced in flavor that you will enjoy every single bite.
This recipe comes from a dessert book by Alisa Huntsman of the Loveless Cafe in Nashville. Desserts from the Famous Loveless Cafe will become a famous cook. You turn each page, and you just drool a little, mop up the page, try to establish some semblance of self control and proceed to drool on the next page. Forthcoming tests by Suzen and me, and therefore posts here, will include:
Brown Sugar Buttermilk Pound Cake
Double chocolate Fudge Cake
Lemon Icebox Pie
Mocha Pound Cake
Root Beer Float Cake.
Come on. Summer is here. Those long Saturday and Sunday dinners deserve a wonderous ending. So do you!
Big Momma's Blackberry Jam Cake
Yield: one 9-inch triple-layer cake serving 12 to 16
Ingredients:
For the Cake:
1 cup golden raisins
1 cup walnut halves or pieces
3 cups cake flour
1 teaspoon ground cinnamon
1 teaspoon ground allspice
1 teaspoon freshly grated nutmeg
½ teaspoon ground cloves
1 teaspoon baking soda
2 sticks (8 ounces) unsalted butter, softened
1 ½ cups packed dark brown sugar
½ teaspoon salt
3 eggs
1 cup blackberry jam, preferably seedless
1 cup buttermilk
Coconut Caramel Glaze [recipe follows]
For the Coconut Caramel Glaze
2 cups packed dark brown sugar
2 sticks (8 ounces) unsalted butter, softened
1 cup half-and-half
1 cup sweetened shredded coconut
¼ cup unbleached all-purpose flour
1 teaspoon vanilla extract
Preparation:
For the Cake:
Preheat the oven to 350°F. Grease three 9-inch cake pans. Line the bottoms with parchment paper and grease the paper.
Put the golden raisins in a small saucepan. Add water to cover and bring to a boil. Remove from the heat and let cool completely; drain well. Meanwhile, spread out the walnuts in a small baking pan and toast in the oven for 5 to 7 minutes, until lightly browned and fragrant. Let cool, then chop evenly.
Sift the flour, cinnamon, allspice, nutmeg, cloves, and baking soda into a bowl and set aside. With an electric mixer, cream the butter with the brown sugar and salt in a large bowl at medium-low speed until light and fluffy. Add the eggs, one at a time, scraping the bowl once. Add the jam and mix it in completely. Add the reserved dry ingredients alternately with the buttermilk, scraping the bowl once or twice. Fold in the raisins and walnuts. Divide the batter among the pans.
Bake for 28 to 32 minutes, or until a toothpick or cake tester inserted in the center comes out clean. Let the cakes cool in the pans for 10 minutes, then invert them onto a rack, remove the paper, and let cool completely.
To assemble the cake, place one layer bottom side up on a cake stand or dessert platter. Spoon one-third of the glaze over the cake, leaving a Winch border around the edge. Top with the next layer and repeat with more glaze. Set the last layer on top and pour the remaining glaze onto the cake. Spread just to the edge, letting the glaze drizzle down the sides. Let set for about 1 hour before cutting.
For the Coconut Caramel Glaze:
Yield: 3 ¼ cups
Place the brown sugar, butter, half-and-half, coconut, and flour in a large shallow, heavy saucepan. Set over medium-low heat and cook, stirring, until the mixture is completely blended and just begins to boil.
Continue to boil gently, whisking occasionally, until the glaze thickens slightly, 7 to 10 minutes. Remove from the heat, stir in the vanilla, and pour the glaze into a bowl. Let cool slightly.
Press a sheet of plastic wrap directly onto the surface to prevent a skin from forming and refrigerate until tepid and thickened but still runny enough to drop from a spoon like a thick sauce, about 1 hour.
Source: Desserts from the Famous Loveless Café by Alisa Huntsman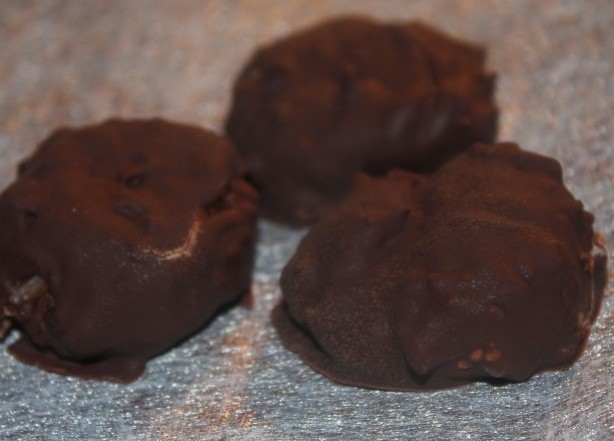 For some, Florida seems a weird place. For the rest of us, Florida is a weird place. Now the fourth largest state, Florida is a jumble of theme parks, trailer parks, strip malls, and highways.
But the "old" Florida, the Florida of 40 or 50 years ago was something else, mostly rural and quiet. Get off the interstate, and you can still find the old Florida. There are scenic byways that wind through modest hills and groves of all kinds of trees. The best place to stop? Any of those authentic old farm stands, clinging to the side of the road with a dirt parking lot and wooden walls that slope in all directions. There, you'll be hit by the smell of citrus as soon as you leave your air-conditioned car. The smell, and the taste of any of the juice there, can be overpowering.
No matter how much you love your skis, your snowboard, your snow shoes, you can't help standing in that parking lot and wondering, "What if?"
Next to the cash register in the farm stands, there is usually a shelf piled high with oblong cardboard boxes colored white or yellow. The boxes hold a tender goodie: coconut patties. You can buy them at the farm stand, at the airport on the way home [for $ more], or on Amazon [9 patties for $20 + shipping & handling].
I love the patties, I have not been to Florida in a while, and — I am not cheap — but I am being economical in these times. It's funny, but these patties are exactly the sort of thing you always buy, but never make. It never crossed my mind to do-it-myself. A couple of nights ago, at 3AM I had a bad hour. I had monkey brains and I could almost taste a coconut patty in my mouth. Almost taste. Like some vision in a scene from Shakespeare, there I lay: wide awake, rehearsing a speech to tell off some jerk in my life, and watching that chocolate-covered patty dance before me.
What did I do? I got up. My doctor says don't just lie there. I tried a glass of really good tequila [my doctor does not mention tequila but I do know how to improvise]. And, while sipping, I surfed the web. Since God likes coconut too, I found this recipe. Actually, I found several, all quite similar. One of them actually credits this recipe to Wolfgang Puck, so I don't want to leave him out of my chain of thanks. The recipe below calls for a semi-sweet chocolate covering. If you wish, substitute milk chocolate [but then add 1 tablespoon of vegetable oil or shortening and blend into the melted chocolate before dipping the patties].
These are easy to make. Really easy. They are easy to eat. Really easy. They are good for you. Kinda good.
Florida Style Coconut Cream Patties
Servings: 15+ patties depending on size
Ingredients:
1.25 cups powdered sugar
½ stick (4 tablespoons) butter, cubed
1 egg white
1.25 cups sweetened shredded coconut
1 teaspoon vanilla extract
1 cup semi-sweet chocolate 
Preparation:
Fill a medium saucepan with an inch of water and set it over medium heat to simmer.
In the bowl of a double boiler (or a bowl that fits snugly on top of your saucepan), combine the powdered sugar, butter, and egg white, and whisk together. Place the bowl over the saucepan of simmering water, and continue to heat and stir until the mixture is well-combined and very runny, about 5-10 minutes. [Note: you don't want to cook that egg white, so do stop if the mixture is quite warm but still viscous].
Remove the bowl from the heat and stir in the coconut and vanilla extract. Wrap the bowl with plastic wrap and refrigerate until it is firm enough to scoop, about 2 hours — overnight is fine.
Once the candy has firmed up, line a baking sheet with aluminum foil. Place the chocolate chips in a microwave-safe bowl and microwave until melted, stirring after every minute.
Using a teaspoon, scoop small balls of the coconut mixture and flatten them into discs between your palms.
Using two forks or dipping tools, dip the discs in the chocolate and drag the bottom against the lip of the bowl to remove excess chocolate. Place the dipped patty on the prepared baking sheet and repeat with the remaining coconut candy and chocolate.
Place the dipped patties in the refrigerator to set the chocolate, about 20 minutes. Store coconut patties in a sealed container in the refrigerator for 1-2 weeks [Note: I seriously doubt the lifetime of these things is beyond 1-2 days, not weeks, so just eat them!]
Source: About.com and Wolfgang Puck