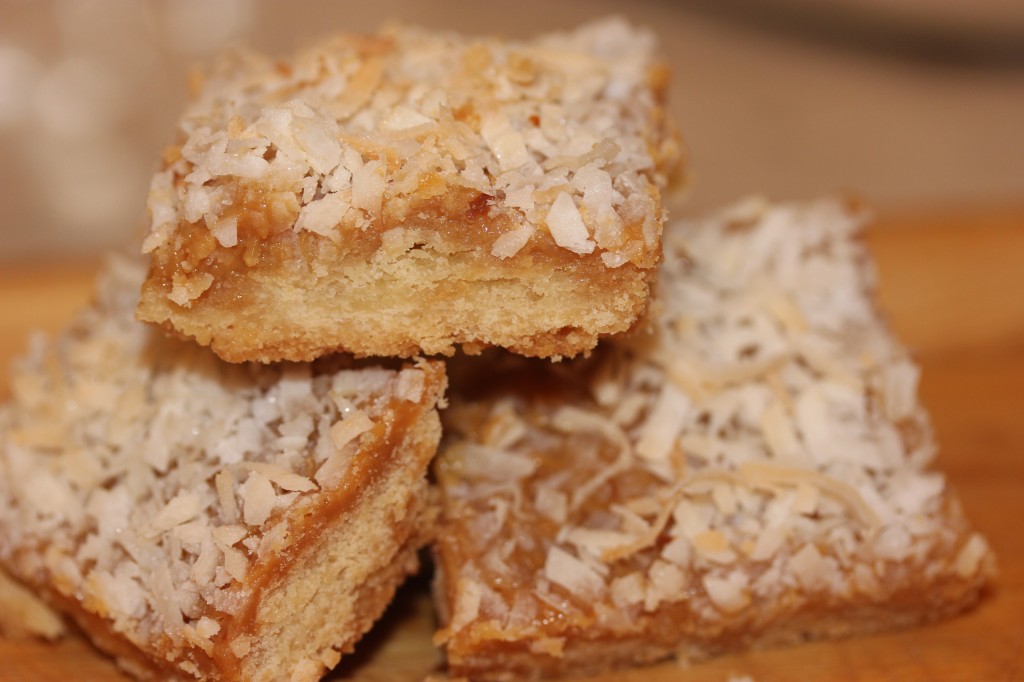 Last week I posted a recipe for dulce de leche swirl congo bars. Fantastic cookies combining the flavor of blondie cookies with chocolate chips and dulce de leche.
Here's another great idea from Simply Sensational Cookies. These are called Easiest-Ever Dulce de Leche Bars. Why "easiest?" Because amazingly, you don't use dulce de leche as an ingredient. No you make a shortbread batter, bake it off, then top it with sweetened condensed milk. Pop it back in the oven. The shortbread finishes cooking and that milk is transformed into dulce de leche. Oh, and you top it off with coconut.
It's really easy. It's decadently good. If you want to justify making this, get some children. Tell them you are going to demonstrate an important chemical reaction. In goes the shortbread base with condensed milk and out comes dulce de leche. Honestly, I think that's just the sort of lesson that can trigger a healthy interest in science or cooking.
Or eating.
Easiest-Ever Dulce De Leche Bars
Yield: 24 2" squares
Ingredients:
1 batch Simple Shortbread Bar dough [recipe follows]
2 14-ounce cans sweetened condensed milk
1 tablespoon vanilla extract
⅛ teaspoon almond extract or coconut extract
⅛ teaspoon salt
1 ½ cups shredded or flaked sweetened coconut
Preparation:
Baking Preliminaries: Position a rack in the middle of the oven; preheat to 350°F. Line a 9 by 13-inch baking pan with heavy-duty aluminum foil, letting the foil slightly overhang on the narrow sides. Lightly grease the foil or coat with nonstick spray.
If the shortbread dough has not been prepared ahead, ready it; press it evenly into the foil-lined baking pan. Bake for 20 to 25 minutes, until the shortbread is tinged with brown and just slightly darker at the edges.
Reset the oven to 325°F.
For the filling: In a medium bowl, thoroughly stir together the sweetened condensed milk, vanilla, almond extract, and salt. Evenly pour the mixture over the crust. Cover the pan tightly with foil. Bake (middle rack) for 40 to 45 minutes or until the filling is the color of caramel candies. Sprinkle the coconut evenly over the top. Bake, uncovered for 10 to 15 minutes longer, until the coconut is nicely browned and crisp.
Transfer to a wire rack; let cool completely. Using the foil as handles, lift the slab to a cutting board. Carefully peel off and discard the foil.
Cut away the overbaked edges using a large sharp knife. Cut the slab crosswise into sixths and lengthwise into quarters.
Source: Simply Sensational Cookies by Nancy Baggett
Simple Shortbread
Yield: one 9 by 13-inch pan
Ingredients:
13 tablespoons [scant 1 2/3 sticks] butter, unsalted, cool and firm, cut into chunks
½ cup granulated sugar, plus 1 to 2 tablespoons more for optional garnish
1 ½ teaspoons vanilla
2 cups unbleached all-purpose white flour
1 ½ cups dulce de leche, room temperature from a 13.4 ounce can or ajar of store-bought dulce de leche or, better, home-made and chilled
Preparation:
Baking Preliminaries: To prepare simple shortbread bars, position a rack in the middle of the oven; preheat to 350°F. Line a 9 by 13-inch baking pan with aluminum foil, allowing it to overhang on the 9-inch sides slightly. Lightly grease the foil or coat with nonstick spray. (If using the dough as a bottom crust for layered bars, after making the dough proceed as directed in the individual recipes — which is what is suggested above for this Easiest Ever cookie).
To make the dough with a mixer, let the butter warm up until just slightly soft. In a large bowl with the mixer on medium speed, beat the butter, sugar, vanilla, and salt just until evenly blended, scraping down the bowl as needed. On low speed, beat in the flour just until the mixture forms a mass. (If the mixer motor labors, stir in the last of the flour a large spoon; or gradually knead it in with your hands.)
If the dough too crumbly to hold together, gradually work in up to 4 teaspoons water until it holds together her smoothly. Press and pat the dough into the pan until evenly thick all over (Laying a sheet of wax paper over t h e surface may make it easier to smooth out t h e dough.) If planning to serve t h e shortbread as a cookie itself, garnish the t op by evenly sprinkling over a little sugar. Bake (middle rack for 23 to 28 minutes or until t h e shortbread is nicely browned all over, perhaps slightly darker at the edges, and just firm when pressed.
Transfer the pan to a wire rack to cool to firm up slightly and cool to warm.
Source: Simply Sensational Cookies by Nancy Baggett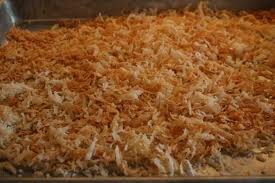 Baking, particularly cookies, often involves nuts or coconut. And there in that recipe you'll see the suggestion that they be toasted.
My first reaction: ah, gee, do I have to? I revert to being a 6-year old told to clean up his room. The thing is, toasting these ingredients really is important to bring out their full flavor and give you the right "bite." You've probably paid dearly for those nuts. Now, you don't want to waste them.
Of course, if you are going to do it, you need to do it well and that means paying some attention to time and temperature. You can't just put the oven on, toss things in, wait a few minutes and get the best results.
For nuts, use a 350⁰F oven and these very different times for the nuts:
| | |
| --- | --- |
| Nut Type | Baking Time in Minutes |
| Almonds (sliced) | 7-10 |
| Almonds (whole) | 10 |
| Chestnuts | 25 |
| Hazelnuts | 12-15 |
| Macadamia nuts | 12-15 |
| Pecans | 10-15 |
| Pine Nuts | 5 |
| Walnuts | 10-15 |
Yes, watch those tiny pine nuts. They need little time and an extra 30 seconds can give you some pretty disgusting black stones.
For coconut, pie expert Ken Haedrich suggests using a non-stick skillet over medium-low heat. You want the white coconut to adopt a golden hue, which should take no more than 3-4 minutes. Ah, distractions. Just one phone call, one kid question, one issue on the side and that coconut has been cooking for five minutes and you have black carbon.
So, as a slower, safer alternative, use a cooler 325⁰F oven and a cookie sheet. I line the sheet with foil. Bake for 10 minutes, stirring occasionally. The golden color and perfect aroma are your clues to doneness.
Sources: Ken Haedrick in Pie and BonAppetite.com