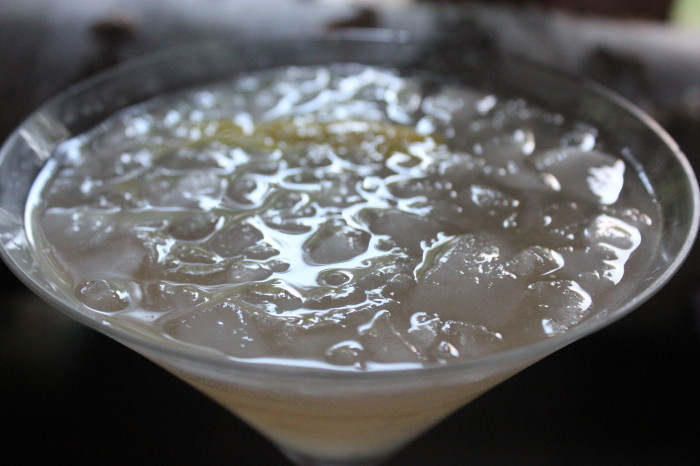 There are food mysteries and science mysteries. Sometimes they merge. And sometimes they expand.
Like into outer space. Or the lack of outer space.
Why are there no astronauts from Chile? Why does Chile not have a major, major space program? God knows they have fuel.
I've tasted the fuel. It's called pisco and it could either power a rocket or replace a large supply of muscle relaxants.
In the 17th century, Spanish explorers in South America were importing pomace brandy from Spain. Pomace is made from leftovers of winemaking, i.e., it is cheap. But the Spanish explorers realized they could go local and even cheaper. Peru claims the right to the use of the term "pisco." But Chile is a big producer, with a per capta consumption of 3 liters per year. Different manufacturers use different gapes in different amounts to achieve different levels of alcohol. Three grapes — Muscat, Torontel, and Pedro Jimenez — are used in the manufacturer.
The resulting liqueur is clear and often has a lovely, slight yellow hue. Drunk neat, pisco reminds me of grappa, which is a similar post-winemaking product. At 40 proof and room temperature, pisco has the kick of an Andes llama.
Which is why pisco is most often used in cocktails. You may have heard of a pisco sour, which classically uses egg white to produce a foamy top. For my Pisco Citrus Cocktail, I skipped the foam and just used three ingredients: citrus juice, simple syrup, and pisco. I've tried lemon juice, which is the recommended ingredient, but also lime juice, orange juice, and grapefruit juice. My favorite? Any and all. Well, I am partial to that grapefruit.
You can adjust the relative amounts of the ingredients here. I actually deviate from the classic formulas and use about half the pisco of the standard cocktail recipe. The result is certainly sweeter but also fruitier.
On a 90⁰+ day, I sip this and thank the ingenuity and dedicated drinking habits of those Spanish explorers.
.
Brian's Pisco Sour Cocktail
Yield: scale to your needs
Ingredients:
1 part citrus juice
1 part simple syrup
2 parts pisco
Preparation:
Place the ingredients in a cocktail shaker with ice and shake vigorously and long until well chilled. Pour into a cocktail glass. Add crushed ice and garnish with a strip of citrus [yellow lemon is good match for the natural yellow hint of the pisco].
Source: Brian O'Rourke and Wikipedia
Photo Credits: Canon T2i, 18-55MM Macro lens, F/5, 1/50th second, ISO 3200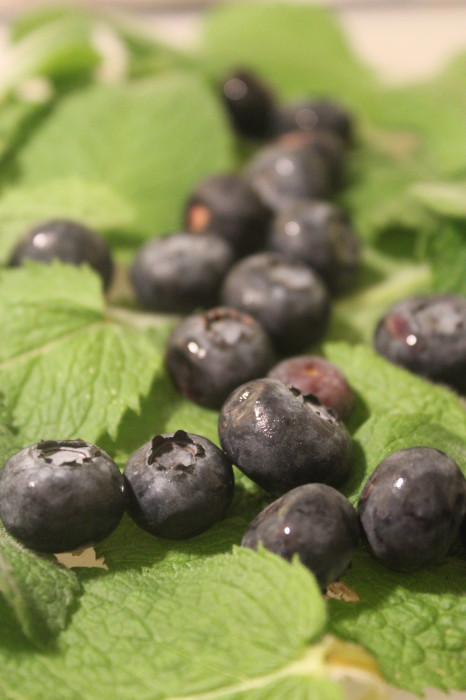 Last year was not a good one for our mint. It was late coming up, the stalks had few leaves, and the leaves were perforated by gobbling insects that I never saw. Or tasted. To my knowledge.
This year, all that rain and now intense heat have given us a mint forest. The plants are over two feet high and dense with leaves. The bugs are nowhere to be found and there are no holes in my leaves. I believe they did not know how to swim. I will not complain about a wet spring until the next one arrives.
So, we grow our own mint. Do we grow our own blueberries? No. Why? Bears. Humans think we are at the top of the food chain. If you live in Manhattan, that is pretty much true, assuming that you consider financial traders to be human. But, if you live in the Catskills, and if you want to live a long life, then you defer to the bears.
We buy our blueberries at the market. In abundance.
This drink is actually rather sophisticated. It does NOT taste like a blueberry shake with alcohol. With fresh, fragrant mint, this is still a mojito. But the color is now blueberry blue and there is just a sweet dash of berry that frames the mint in your mouth. Of course, the blueberries add a smooth viscosity to the drink that adds to your satisfaction.
When it's in the high 80's and you are sitting on your porch, watching for bears, a gun in one hand, then the other hand should be holding one of these.
I suppose the gun is a bad idea, in combination with an alcoholic beverage. You should not drink and drive and you definitely should not drink and shoot. Nobody ever asked Dick Cheney what was in his breakfast orange juice the day he shotgunned his buddy.
Blueberry Mojito
Yield: 2 large cocktails
Ingredients:
10-12 large mint leaves, rinsed and dried
1 tablespoon of granulated sugar
¼ cup of simple syrup
Juice of two lemons
6 ounces of white rum
1 cup of fresh blueberries, rinsed, dried and picked over for fragments, stems, …
Ice
Preparation:
Put the mint leaves in the bottom of a metal cocktail shaker. Add the sugar and muddle, seriously, for a minute. You are using granulated sugar here as a grinding agent to help break down the mint. Add the simple syrup and lemon juice. Muddle more, another minute until you just don't feel much resistance anymore. The mint leaves exist, but you've extracted the flavor.
Add the rum.
In a blender, add the blueberries and process until smooth. This is another example of where I suggest you use a Vitamix. A half minute at high speed and EVERYTHING is smooth. There is no need with the Vitamix to sieve the results.
Add the blueberry mixture to the cocktail shaker. Add ice. Shake. Again, take some time. It's not just one or two juggles here. You want to shake vigorously and until the outside of the shaker is truly cold to your hand.
Pour into two chilled cocktail glasses. Add ice cubes or, better, crushed ice. Adorn with blueberries or mint or both.
The blueberry flavor is subtle. You will not attract bears.
Source: Brian O'Rourke
Photo Information: Canon T2i, EFS 18-55mm Macro Lens, F/5.0 for 1/32

th

 second at ISO 3200