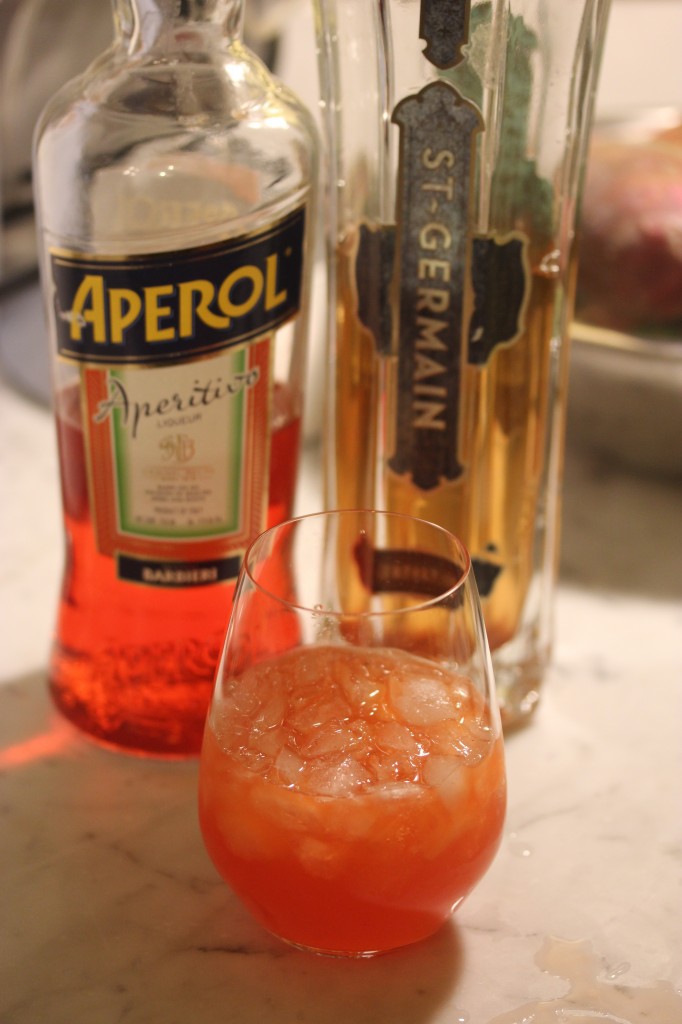 Two very popular liqueurs are Aperol and St. Germain. Popular and so different. St. Germain, made from the flowers of elderberry bushes, is sweet. I always detect grapefruit, but others get peach, pear, flowers of all kinds, and some even report lychee.
Aperol is different, offering sour flavors including rhubarb and orange. Aperol was created in 1919 and has always been compared to Compari. For many of us, Compari is, well, abrupt. So, lately mixologists [that's bartenders to us normal folks on the other side of the bar] have been using Aperol in such Compari classics as the Negroni.
Now, what happens if you take those two very different flavor combinations and mix them? It's true cocktail synergy. Several people to have invented this same mixture which goes by several names. The basic mix is often called an Aperol Sour or an Aperol St. Germain Sour. I prefer equal billing.
In the now classic combo below, it's just those two liqueurs with some lime juice. I am experimenting, however. The dominant Aperol sourness still begs, at least to me, for a tad of relief. So some simple sugar syrup is one idea. Lemon juice instead of lime. You can top this drink off with seltzer water or club soda to "tone" it down. Or, you can increase both sweetness and sparkle by adding some sparkling wine. Do not go dry here. Do go sweet with Proseco or Cava [yes, Cava comes in six classifications including both ranging from brut to sweet].
Start with this basic recipe, then experiment to your delight. It's a good introductory cocktail to kick off a meal, but the liqueurs have the substance to carry you through, say, a juicy steak and some cheesy potatoes.
Aperol St. Germain Sour
Yield: Serves 1
Ingredients:
1.5 ounces Aperol
.75 ounces St. Germain
.75 ounces fresh squeeze lime juice
Preparation:
Shake all the ingredients with ice. Serve in a chilled cocktail glass. Crushed ice is optional. Garnish would be a stick of your favorite herb.
Source: drinkdogma.com and shakestir.com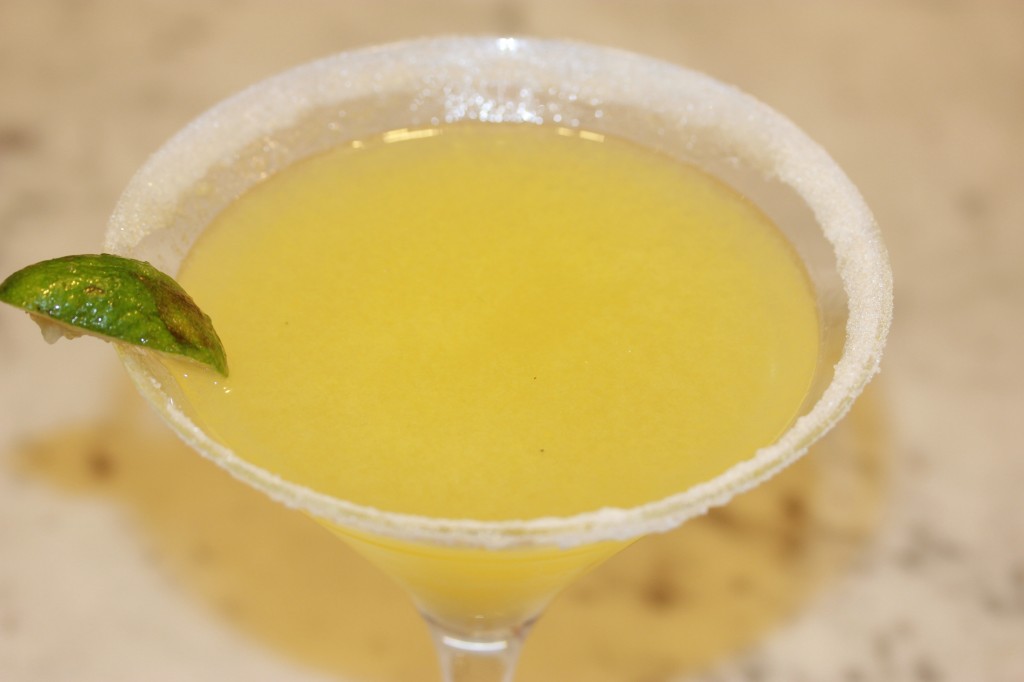 I was stunned. This recipe was sitting right there in front of me on a printed page — a page that is 26 years old — and it suggested something I never imagined. And it's all so simple.
I have made a zillion margaritas. Well, less than a zillion but lord knows more than a thousand. I've done lemons. I've done limes. Lemons and limes together in many different proportions.
And here, the idea was to use oranges [with a hint of lime]. The concept works. You get a different, sweeter flavor and this beautiful color.
For your New Year's Eve party — whether it is a party of 1 or 100 — this is a lovely way to greet the New Year.
And, Suzen and I both hope that 2013 is a better, brighter, happier year for you.
Killer Orange Margarita
Yield: serves 2
Ingredients:
Juice from 5 limes [about ¼ cup]
Juice from 2 oranges [about 1 cup]
2 tablespoons sugar
5 ounces orange liqueur [consider Mandarin Napoleon]
5 ounces gold tequila
Optional garnish elements: salt, sugar … [yes, sugar, don't knock it until you've tried it]
Preparation:
Shake the juice, sugar, and liquor elements with crushed ice in a cocktail shaker. Serve in a margarita glass, optionally rimmed with salt or sugar. Put a modest amount of crushed ice in the glass to keep the drink brightly cold.
Garnish with a citrus slice: orange, lemon, or lime.
Source: adapted from Southwest Tastes by Ellen Brown