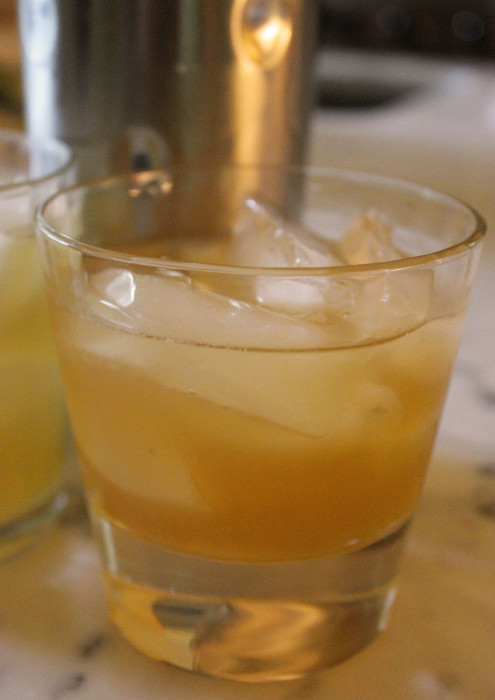 When I blogged a general overview of Pitt Cue Co: The Cookbook, I did mention this cocktail. It's accompanied by a full page picture with two hands holding a very big glass. I took that to be a warning: this drink is full flavored, full bodied and perhaps best consumed on a day when you are not traveling to and from work.
So, I am posting this on a Saturday, with the proviso that you do not attempt this beverage until all Saturday trips for soccer, baseball, football, swimming, dance, judo and ballet are over.
I sometimes wonder who is more exhausted after a weekend: parents or kids. It used to be you left for work on Monday morning rested. Now you leave the house to recover.
Well, I suggest this beverage for an early recovery. I made this drink, served it to my bourbon loving wife, and received a kiss. That's success.
The only change I made to the recipe below, was to use a niche Orancello instead of Cointreau. I traded sweetness for intensity. Of course, to recover sweetness, my "dash" of sugar syrup was ½ ounce in terms of the proportions below — 1 ounce when I made the actual drink.
To get that full glass in the picture, I did double the recipe you see below. I'm not sure why, cookbook recipes for individual cocktails have the liquor ingredients coming in a ½ to under 2 ounces. Never 2 or more. I find myself doubling down for one drink and multiplying by 4 if Suzen and I are both drinking.
Our calculator sits right next to our digital scale.
The Side Truck
Yield: 1 small cocktail [double to simulate the picture]
Ingredients:
1 ¼ ounces bourbon [good bourbon, no plastic bottles]
1 ounce Cointreau
1 ounce fresh lemon juice
1 dash orange bitters [1 dash = 4 drops in my world]
Dash sugar syrup
Orange slice [optional garnish]
Preparation:
Shake all the ingredients in a Boston shaker with ice, and strain over ice in an old fashioned glass. Garnish with a slice of orange if you like.
Sources: Pitt Cue Co.: The Cookbook Photo
Information: Canon T2i, EFS 60 mm Macro Lens, F/4.5 for 1/20th second at ISO-3200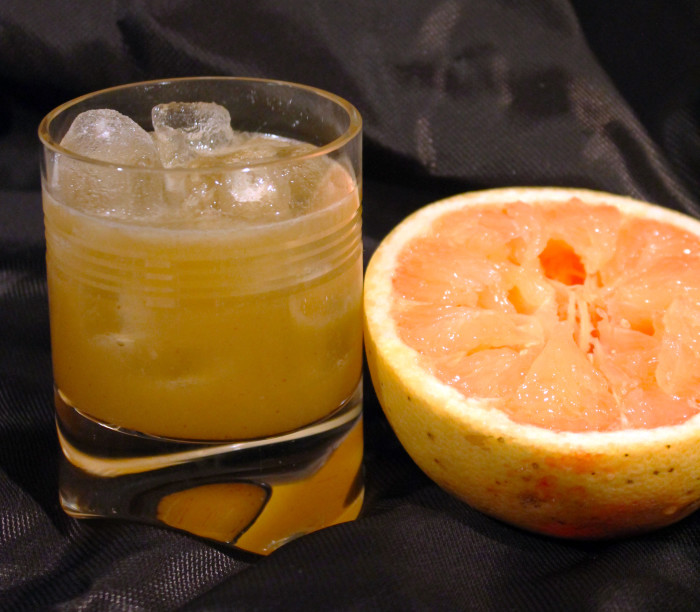 There are books with margarita recipes, lots of books. You may think that every possible idea has been explored, but that is far from true. I've presented my basic components for a margarita before:
Tequila
Orange liquor
Citrus juice
Simple syrup
The proportions can vary. I switch between 3:2:1:1 and 1:1:1:1. My favorite? Both. Yes, they do taste differently but in a blind test I'd have to think carefully about which is which. Good orange liquor and fresh citrus juice and that sugar syrup can be as compeling as the tequila.
In terms of specific ingredients, I do prefer lemon juice over lime. And that simple syrup is necessary. It really is. Even if you use lemon juice or lime, it is still not sweet enough. Bartenders far and wide have been slipping sugar syrup into their upscale versions of margaritas for decades. So, you may have to make up for some lost time.
However, the syrup in play does not have to be simple. I've posted a Habanero Honey Syrup here  [you can find it with the search box]  and in a margarita it is is a delightful powerhouse providing a second, lingering layer of heat for the drink. The citrus component can be dramatically shifted by using grapefruit juice. I find it offers the best of lemon and lime: there is sweetness ala lemon but there is characteristic edge that reminds me of lime.
Try this combination this weekend. Don't go down just one path. Do both. Go whole hog and be prepared for margaritas at a level you have never experienced. Or read about in any book. Trust me.