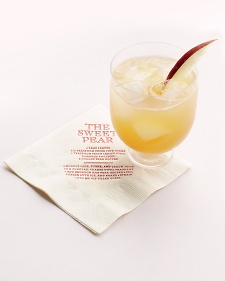 It's true fall and your farmers market is abundant with fruit, particularly apples and pears. I have this love/hate relationship with pears that cannot be solved. When good, a pear is the best fruit possible. Of course, a pear is at its peak for all of 90 minutes it seems.
Still, Suzen and I have been looking and we have some wonderful fall pear recipes to share with you. This is the first one, a pear cocktail from Martha Stewart. Now the recipe below is exactly what Martha says, and it uses pear nectar. The recipe is good, but there are alternative paths to explore.
For example, I prefer fresh pears, over nectar
And, this recipe uses bourbon. Martha is a bourbon woman. My Suzi is not. Sometimes, the power of bourbon can overcome the delicacy of pear. So, here is what I suggest. First, make this recipe as you see it below to get that base feeling for flavor. Then, try these changes:
·         Use a fresh pear, not nectar. Peel and slice the pear, then muddle it. To get a fluid [like nectar], and not just muddle mush, add some liquid like some simple syrup and the lemon juice. Then keep muddling away.   When you shake your cocktail, really, really shake it.
·         Alternatively, after muddling, put the whole thing, including a few ice cubes and the booze, into a blender — or, much better, a Vitamix. You'll get a "Pina Colada" style beverage that is cold, thick, and yummy.
·         Change the liquor from bourbon to something less intense. I've used gin, Suzen's favorite. A low alcohol silver tequila would work. Dark, aged tequila may just have too much flavor power for those pears. Pear vodka? Don't use the commercial versions. I'll blog a much better homemade version this week.
·         Change the sage for other herbs, certainly mint, perhaps rosemary
Pear Nectar Cocktail with Bourbon and Sage
Yield: 1 cocktail
Ingredients:
4 sage leaves
1/2 teaspoon superfine sugar
1 1/2 teaspoons fresh lemon juice
3 ounces bourbon
2 ounces pear nectar
1 red pear slice, for garnish
Preparation:
Muddle sage, sugar, and lemon juice in a cocktail shaker until fragrant. Add bourbon and pear nectar. Shake and strain into an ice-filled glass. Garnish with a pear slice.
Source: Base recipe from Martha Stewart Living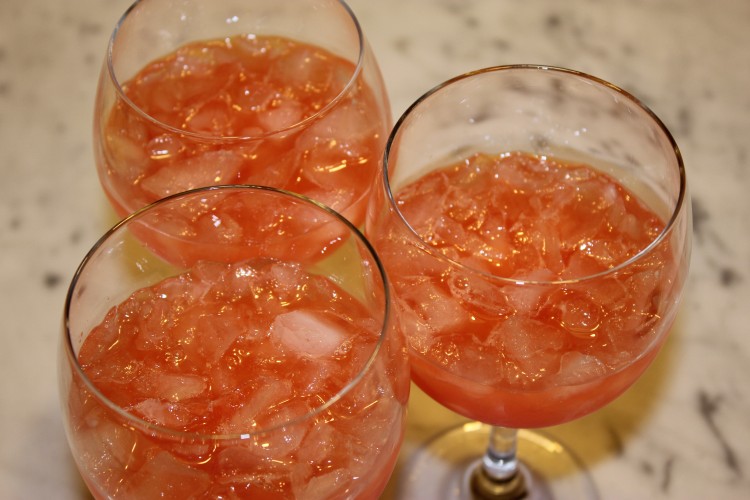 My sweet tooth makes me shy away from bitter liqueurs. I know the world loves Campari and I've tried but just one sip and my mouth always puckers so tightly my tongue has to move out of the way.
Very fortunately, an Italian friend has introduced me to Aperol. This is another bitter Italian liqueur, but on so different. Created by a family spirits company — the Barbieri — in 1919, Aperol is now produced by the same company that does that Campari stuff.
Aperol has half the alcohol of Campari, only 11% [15% in Germany because of local laws that help explain why the Euro will fail!]. It is the Aperol flavorings that make it less bitter and, I believe, far more versatile. These flavorings include some things familiar and some a tad obscure:
Bitter orange
Gentian, an alpine flowering plant [many species are used in a variety of European liqueurs]
Rhubarb
Cinchona: a family of medicinal plants from the Andes forests
Of course, there are other ingredients and a secret recipe, which is all fodder for you to guess about as you sip and keep asking yourself what could be in this liquid extravaganza. And how did some Italians near Padua in 1919 get their hands on plants from the Andes?
Aperol has a rich orange-red color and is a most versatile component for making wonderful cocktails. Here is an Aperol Sour recipe from Neue Cuisine by Kurt Gutenbrunner, a marvelous new cookbook toasting the elegant tastes of Vienna. There will more posts from Neue Cuisine in the coming days, but this is the appropriate aperitif to get us started.
This recipe for an Aperol Sour is a tad different from the one at the Aperol web site [www.aperol.com/cocktails]. The web site suggests using sugar syrup, which is one of my standard ingredients, but Neue Cuisine said to try confectioners' sugar. I was worried it might yield a cloudy cocktail, but as you can see from the picture above, it's all a sparkling gem
You can certainly play with the relative proportions of Aperol, lemon juice and sugar to drive from the sweet to the sour. And, I'm going to be trying lime juice, too. It is this flexible versatility of Aperol that will make you smile, and not pucker at all.
Aperol Sour
Yield: 1 serving
Ingredients:
Ice cubes
2 ounces Aperol
2 tablespoons fresh lemon juice
1 tablespoon confectioners' sugar
1 thin slice of lemon
1 small tarragon sprig (optional0
Preparation:
Fill a rocks glass with ice. In a cocktail shaker, combine the Aperol with the lemon juice and sugar. Shake well and strain into the glass. Garnish with the lemon slice and tarragon sprig, if using, and serve.
Source: Neue Cuisine by Kurt Gutenbrunner