This Friday will be Round 2 for Small Bites Big Sips, the new cooking classes here at Cooking by the Book. We've had many requests for classes open to the public and Small Bites Big Sips is our response. Uniquely, in these classes we start with the beverage and then find the foods that best complement those liquids.
Last week, we did four delicious wines from Paumanok Winery on Long Island. This Friday, with September already half gone, it's time for Oktoberfest.
This Friday at 6:30 PM beer expert Tom Gelinne will feature a tasting of four outstanding German beers typical of Oktoberfest. We'll sample the beers while Tom provides beer knowledge and some Oktoberfest history. Tom's beer discussion with go from dark to light beers and what makes each one distinctive.
Tom will discuss beer quality, including the hops and grains used, the fermentation styles and the very distinctive tastes of combination creates for you.
Then you'll take a tour, not of Germany, but our showroom kitchen. You'll get a demonstration about to how to make the very best pretzels you have ever had in your life. Suzen has conducted serious R&D here, along with testing and tasting, to get you just the perfect pretzel.
You'll return to the dining area for more beer and a tasting of four wonderful dishes:
Those homemade pretzels you just saw demoed
Beer soaked bratwurst
Spicy beer mustard for those pretzels and brats
Linzer tart [traditional, perfect and containing absolutely no beer!]
As with the wines, you'll be amazed at how differently each of the four beers now taste when complemented with food. Your personal favorites might just change. And you will truly experience the power of pairing food and beverage.
If you are a beer lover or a curious foodie, we hope you can join us. If you would like to register for the class, please go to
http://www.brownpapertickets.com/event/271080
If you can't come, please consider this idea for one of your fall parties. It's a great way to add some flavor to a weekend afternoon where some football fanatics need to cheer a victory or cry in their beer. Let's make that good beer.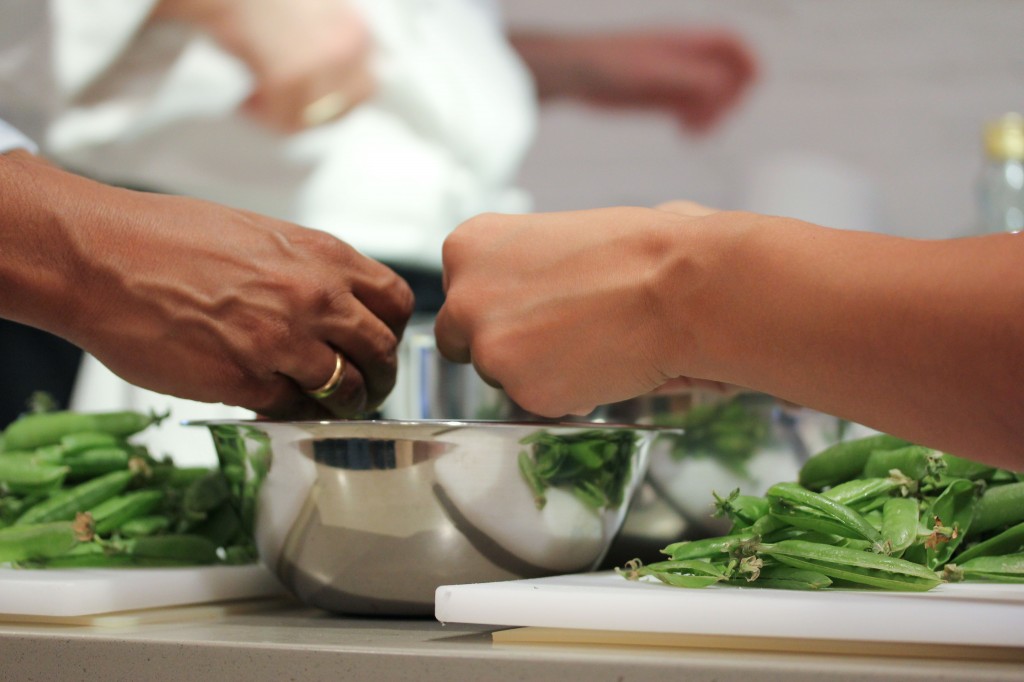 Are you half of a couple in search of a tasty Valentine's Day gift? If you or your better half loves food, then consider our Cooking for Couples classes.
Valentine's Day can be a tricky holiday to hurdle in New York City. Compelling gifts are hard to come by, and you don't want to add to that corner pile of robes, negligees, or forgotten ties in your closet. Although a dinner date can be a great foodie experience, dining on the 14th can be expensive and hectic.
Why not try something new with your partner. In our Cooking for Couples classes you'll how to prepare a fabulous gourmet meal with your significant other, a meal you can repeat or expand back in your home kitchen.
In your class, you will learn how to easily craft a delicious, exciting meal. You'll work alongside other couples in our showroom kitchen, and be instructed by our professional staff who will guide you to culinary success. Our 24 years of team building experience enable us to make you a better couple in the kitchen. Your time in our kitchen will be truly memorable and informative.
After you cook your meal, you'll dine in our gorgeous Tribeca loft, savoring your own scrumptious creations. Wines carefully chosen by our staff will complement the meal.
Our Cooking for Couples classes don't run on Valentine's Day, but do make the perfect gift Valentine's Day gift. We still have spots in our February 24th class and our March 14th class. The March 14th class will feature a special "pi" or π menu, to be posted soon on our website.
And, if you'd rather celebrate Valentine's Day as a group, we have just the answer for you! Our Dinner with Friends and Simply Delicious programs are a perfect way for friends to celebrate together at a price that works for you.
For more information visit our site, at: http://www.cookingbythebook.com/cooking-classes/cooking-for-couples/ for Cooking for Couples, and http://www.cookingbythebook.com/personal-celebrations/ for more information on planning a day with friends.