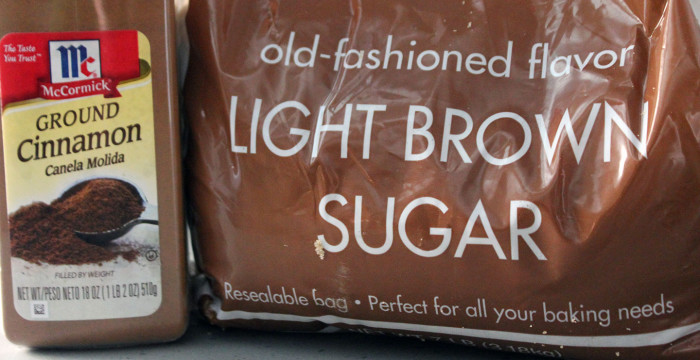 I don't remember when I first had a Cinnamon Sugar Crumb Topping. Maybe a neighborhood bakery there in North Portland. Maybe I my mom was killing a box of Bisquick. I know every other Friday in grade school we had a crumb cake for dessert with that signature spice-and-sugar topping with a crunch. At the end of lunch, when there were extra pieces, I was right there.
Michele Stuart, author of Perfect Pies and now Perfect Pies and More, has shared her ultimate, perfect crumb topping. You can employ this all-purpose topping on the pie or crumb cake of your choice. In fact, I'll be posting Michele's wonderful recipe for Blueberry Crumb Cake tomorrow! This topping is integral to the cake but do consider it any time you have fruit pie on your mind. Easy to make, easily employed, and deliciously consumed.
The great thing about a crumb topping is its ability to provide "completion" to a dessert. That crunch, the immediate intensity of sweetness, the attack of cinnamon on your tongue — all those aspects add to your underlying dessert. With a crumb topping, you really don't need ice cream or whipping cream or some sauce on the side or top. The crumbs do it all. Too bad "crummy" has such negative overtones. This recipe shows that crummy can be just dandy.
Cinnamon Sugar Crumb Topping
Yield: enough for a 9-inch pie
Ingredients:
½ cup unbleached all-purpose flour
⅓ cup firmly packed brown sugar [preferably dark but light is fine]
1 teaspoon ground cinnamon
¼ teaspoon salt
5 tablespoons unsalted butter, cold, and cut into ¼-inch cubes
Preparation:
In a large bowl, mix together the flour, brown sugar, cinnamon, and salt. Using a pastry blender or cutter, incorporate the butter by cutting it into the flour until the butter forms small, pea-sized pieces.
Pair the topping with a traditional pastry pie shell and the filling of your choice. Once the filling has been placed in the pie shell, sprinkle this crumb topping evenly over the filling until it is complete covered. Bake the pie as directed.
Sources: Perfect Pies and More by Michele Stuart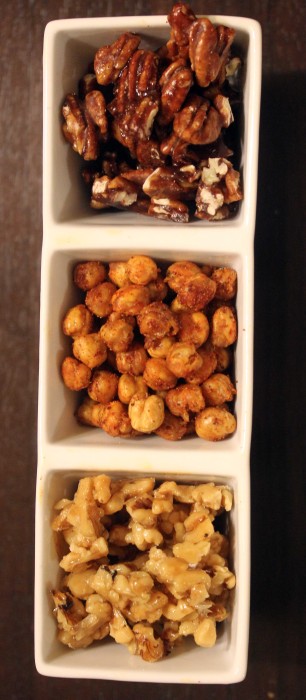 It is spring, I don't have to worry about the roads being plowed, who to call when I slide off the road, and we can all stop monitoring our thermostats. It's time to relax and to be social.
Most weekends Suzen and I have the luxury of either entertaining at our home or visiting friends. Staying here or traveling down the road, we always look for a meal to start with some enticing twist. Even I can get tired of guacamole. I don't want to see some over-indulged cheese-and-cracker combinations for the rest of my life. I want different. Ideally not terribly unhealthy. And a universals match for beer, wine, or cocktails.
I want nuts. Or, a faux nut. The middle treat in the picture above isn't a nut. It's Crispy Roasted Chickpeas. But you can pretend they are nuts.
This trio of treats is lively and portable: enjoy at home or tote to your friend's dinner party. At the top, there are Cinnamon Pecans from the spritely new book Lunch from experienced author Gale Gand. The nuts are candied, but of course, using cinnamon and orange zest. The recipe is below and I will say that these are my favorites of the three, just by a little.
Recipes for the other two, Candied Walnuts and Crispy Roasted Chickpeas, will be in the very next post.
Cinnamon Pecans
Yield: 2 cups
Ingredients:
¾ cup sugar
1 teaspoon grated orange zest
¼ teaspoon ground cinnamon [truth be told, I used a full teaspoon with no "too much" impact]
¼ teaspoon salt
2 cups pecan halves
Preparation:
In a deep saucepan, combine the sugar, orange zest, cinnamon, salt and ½ cup of water. Bring to a boil over medium-high heat. Add the pecans and cook, stirring frequently, until the water has evaporated. The glaze will be shiny and transparent at first, then turn opaque and appear frosted as the water evaporates. When the nuts are completely coated with sugar crystals, quickly spread them out on a baking sheet to cool. Completely. Store the cool pecans in an airtight container at room temperature for up to 2 weeks.
Source: Lunch by Gale Grand
Photo Information: Canon T2i, EF-S 60MM Macro Lens, F/2.8, 1/80th second, ISO-2000