Is it possible to figure out how many potatoes you have eaten in your life? At my age, and with my growing-up-in-the-50s background, my PPC — Personal Potato Count — is very, very high. Baked potatoes, French fries, hash browns, potato salad, … That veggie has been a major part of intake.
And my favorite? Well, for ease of use, I love them baked. However, I could use a baked boost. Just baked with butter is good — although I have been accused of adding too much salt and pepper. But that standard pairing day-in-day-out can get a tad boring. Sour cream and chives? I've been there. Worchester and other steak sauces? Spicy and interesting, but not every day. And there is salt there, too.
Yes, it was suggested that I lower my salt intake. And, yes, my lovely wife is monitoring my intake grain by grain.
Back to that butter. That unsalted butter by the way. This summer Suzen is offering her Cooking by the Book clients steak with an herbed butter. I expanded that idea this weekend to create this flavored butter that was just outstanding on my baked potato. The butter flavor is there, of course, but now augmented with the tasty boost of peppers, basil and cilantro. The best part of this? There is enough flavor here that you do NOT want to grab for the salt shaker.
Pepper and Herbed Butter
Yield: 12 tablespoons
Ingredients:
1 stick of butter [4 ounces or 8 tablespoons]
⅓ cup of canned red pepper, finely diced
5 basil leaves, finely chopped
1 tablespoon cilantro, finely chopped
Preparation:
Take the stick of butter from the refrigerator and finely slice it on a cutting board. Place the slices in a bowl and using a wooded spoon work the butter until it begins to soften. You'll need at least 2 minutes here.
Add the remaining ingredients and continuing working the butter. At some point you may want to use your hands, not a spoon, to gently fold the peppers and herbs into the butter. I had a lot of pepper to incorporate; dicing the peppers finely makes the incorporation stage easier.
Form the butter into a roll, seal in plastic wrap, and refrigerate for at least one hour before use.
Source: Brian O'Rourke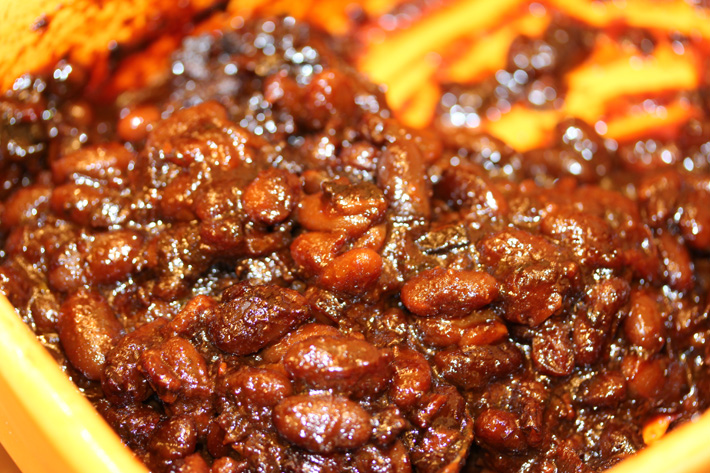 Slow food versus fast food. Slow food versus very slow food. Long cooking times can enable flavors and textures that simply are not possible with a microwave, a deep fryer or a simple broiler. Here's a perfect example. You start with cooked white beans, adorn them with a parade of additional flavors and let the combination bake away for hours. And the result? These are baked beans unlike anything you have ever had.
"More?" Brian asked me.
"I can make more," I said. I watched the tears fall from his eyes and all I could think was: leverage!
Your husband, wife or partner will beg you for these beans. Do not give up this recipe or your control. Slow is good. Very slow is very good.
Made according to this recipe, the chipotle here adds smokiness but only modest heat. The sugar and molasses of course add sweetness but also a stickiness that appeals. This a great complement to chicken wings or burgers. You will truly enjoy this complex combination of flavors.
Smoked Chipotle Baked Beans
Serves: 4 to 6 modestly, 2 persons hungrily
Ingredients:
One 16-ounce can cooked white beans
¼ cup chopped onion
¼ pound uncooked bacon, finely diced
¾ cup molasses
½ cup ketchup
¼ cup packed light brown sugar
1 smoked, dried chipotle pepper, seeded and crushed
1 teaspoons dry mustard
1 teaspoon salt
1 teaspoon Worcestershire sauce
1 tablespoon chopped fresh cilantro.
Preparation:
Heat the oil in a fryer to 350°F.
In a medium mixing bowl, combine the beans, onion, bacon, molasses, ketchup, brown sugar, chipotle, mustard, salt, Worcestershire, and cilantro. Mix well.
Transfer the mixture to a buttered 5- to 6-inch deep baking dish. Cover with foil and bake for 4 hours. Check the beans every hour for moisture content. If they become too dry, add a little water.
Serve piping hot.
Source: Wings Across America by Armand Vandersitgchel